We may earn compensation through affiliate links in this story.
3×1 jeans are the third brainchild of founder Scott Morrison, preceded by Paper Denim & Cloth and Earnest Sewn. Launched in 2011, their brick and mortar store is in New York's SoHo neighborhood, right on Mercer Street.
You may have heard of 3×1's bespoke program — loved by athletes and sartorialists who love having blue jeans with a perfect fit.
Other than their custom denim — which is catered to men — 3×1 also runs a successful women's business. Their aesthetic remains true and classic, with comfortable fabrics, and attention to detail that makes their denim remain consistent and popular.
Average Customer Satisfaction 4.04 /5
@3×1
with 57,000 followers
With a low price of $73.00, a high price of $320.00 and an average price of $218.00
Fit runs Very Slightly Big
Our Favorite 3×1 Jeans
our favorites
3×1's Best Jeans
Our favorite jeans — including straight leg and high rise — and a little about what makes each best pair special…
1/1
Skinny Fit
Skinny Fit

A true wardrobe workhorse, these high-rise jeans from 3×1 will seamlessly slip i.
---
1/9
Cropped Fit
Cropped Fit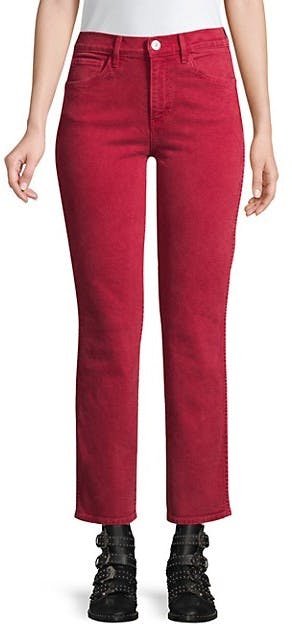 High-rise garment dyed jeans fall to a cropped straight leg.
---
1/6
Skinny Fit
Skinny Fit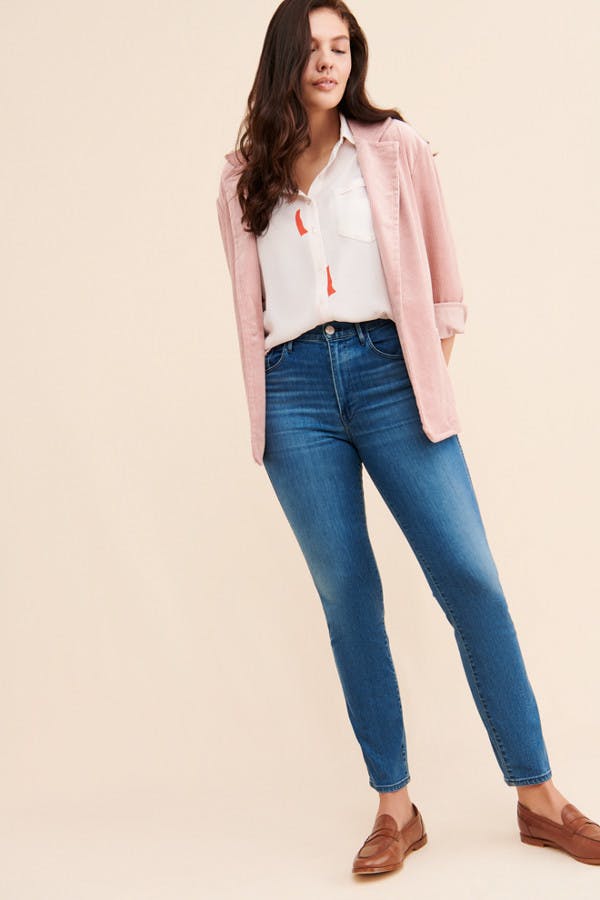 Denim vet Scott Morrison launched 3×1 in Manhattan in 2011.
---
1/3
Cropped Fit
Cropped Fit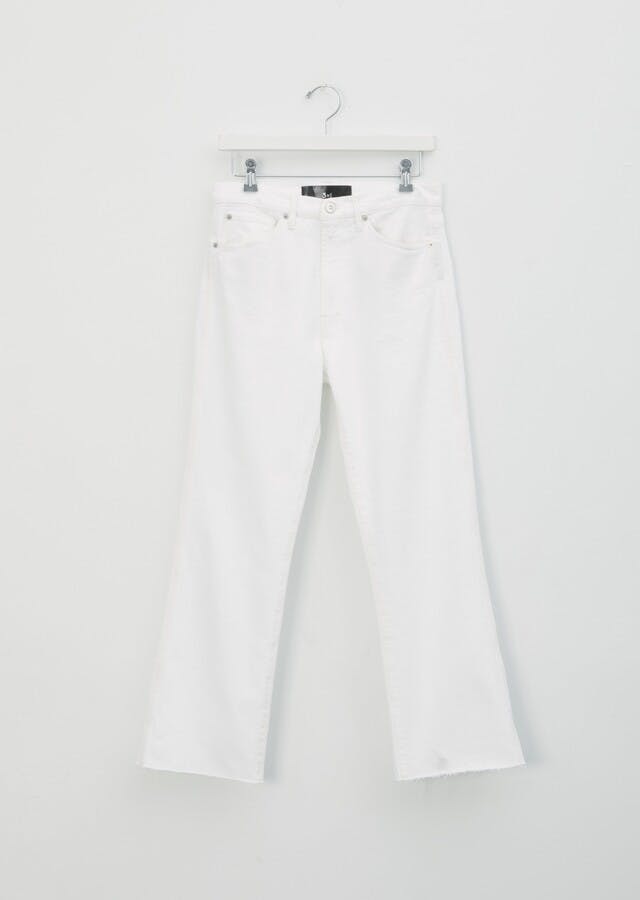 3x1Emma sneakerjeans inOptic White wash.
---
1/5
Cropped Fit
Cropped Fit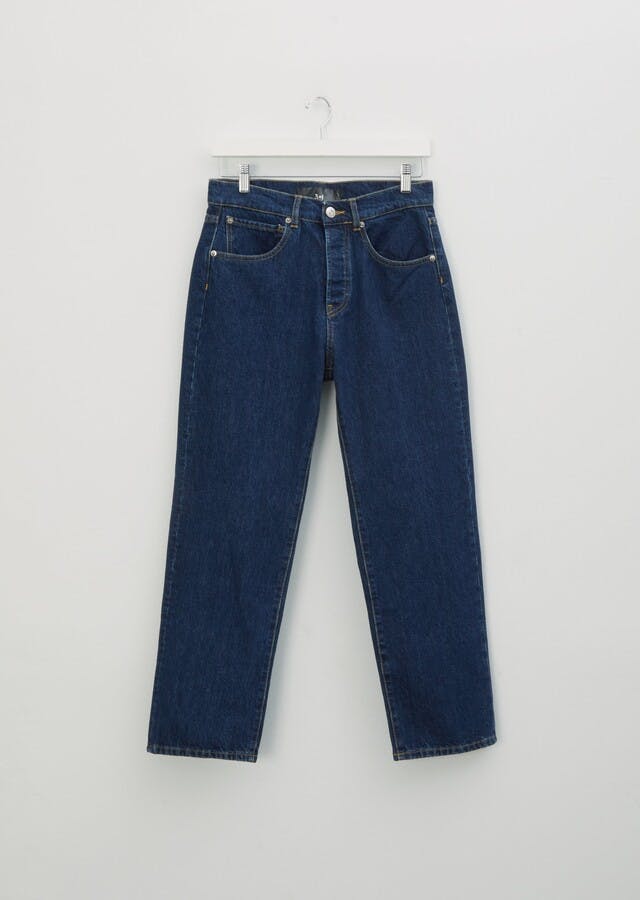 3×1 Sabina GirlfriendJeans in Brightstone wash.
---
1/2
Flare Fit
Flare Fit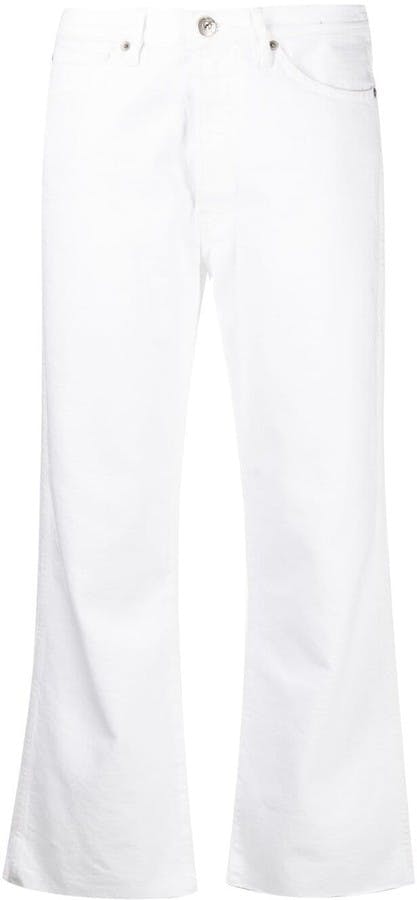 White cotton stretch mid rise flared leg jeans from 3X1 featuring flared, mid-ri.
---
1/8
Cropped Fit
Cropped Fit

White cotton blend cropped frayed-hem jeans from 3X1 featuring a high rise, a bu.
---
1/7
Cropped Fit
Cropped Fit

Fringed hem100% Cotton.
---
1/4
Cropped Fit
Cropped Fit

Blue stretch cotton blend high-waisted jeans from 3X1 featuring front button fas.
---
3×1 Fit Guide
Find the perfect size and rise for your jeans. 3×1 has a great selection of straight leg and high rise jeans and accessories.
Based on retailer reviews, 3×1 has gotten positive reviews, with a lot of their items already being sold out on many websites, including Rue La La, Yoox, Farfetch, Lyst, and Saks…and many other boutique vendors and designers.
Their stretch fabric items seem to be running a little large for the majority of the wearers, while their less stretchy denims fit true to size or a bit snug (especially slim straight pairs).
Keep in mind, people who are not used to 100% cotton may not realize how unforgiving the fabric can be on body, especially for long-wear.
When shopping for denim, especially online, make sure you carefully read the content of the fabric and how the brand describes the pant. Key words like traditional, authentic, or classic usually give you the inclination that the fabric has very minimal stretch and retention, therefore you can make the judgment of how to size your purchases, depending on how you like your jeans to fit.
For most non-stretch, or 2% stretch denims, keep in mind that while it will be a tighter fit when you first put them on, these will mold to your body and relax after multiple wears. 3×1 offers a great selection of raw, natural selvedge jeans for men and women and this rule is no exception to their assortment of traditional jeans.
Are 3×1 Worth The Price
In a world FILLED with denim brands that seem to be created every single day, it's hard to stay original and relevant without being overly gimmicky or hard to wear. This is where 3×1 really stands apart from the rest. Their jeans always have small nuances and details that wearers can and should appreciate. Their J-stitch shape, their thread and needlework, their quirky pops of details such as a 3M reflective striping are all unique and different without feeling contrived or over the top. It's a great brand that ensures your final looks are original and different. It's worth the price if you value originality with a classic finish.
The offered range within their women's collection is wide without being overwhelming or lost in translation. Their brand identity is strong with their clean, New York aesthetic, while effortlessly blending vintage inspired details that flow naturally into a modern and classic vibe.
Premium denim should be money well spent, making sure you are purchasing something of value and worth. 3×1 and their designs seem to keep this in mind and don't give you a lazy product, but rather a final piece that is well thought out and designed with the wearer in mind.
Their new collaboration with Joe Doucet Jean is forward and current and definitely worth checking out. Also, if you are looking for a sale, the section below has a bunch of 3×1 deals to check out…
What Customers Are Saying
"I absolutely adore the cut and color of this sweater, and wear it frequently. My low rating is caused solely by the fact that almost every single button fell off and I had to sew them back on. It was very annoying."
About the Fit Sizing: True to Size / As Expected
"I recently lost weight and decided to down a size. From a 27 to a 26. The jean was fantastic! I love 3X1 jean company. The quality of the jeans are just amazing. And this jean had it. It has just enough stretch to keep a great shape. But very comfortable. This jean has a double yoke, and a wonderful color.
I have a straight body and weigh 114 lbs. It fits me to a tee, and the color is just gorgeous."
About the Fit Sizing: True to Size / As Expected
"Such a fun color and a great fit. Really love the strap detailing and the on-trend cut. I am a curvy size 4/28 and the medium fits great! I am 5.5 and the length is perfect on me as well."
About the Fit Sizing: True to Size / As Expected
"I love these jeans. They are super cute and very flattering on. The fabric is soft and the fading is perfect. I plan to wear these often. The look is new yet classic."
About the Fit Sizing: Larger than Expected
"These jeans are very cute, but they don't fit me well. I found the waist too tight and the legs too loose. also the denim has very little stretch. Usually a 26, but the waist was super snug and the legs were too wide."
About the Fit Sizing: Smaller than Expected
More Articles About 3 X 1 Denim
Need the Perfect Pair of 3×1 Jeans? Read Our Editor's 3×1 Jeans …
2 days ago … 3×1 Jeans are premium denim straight out of NYC. Their chic look, excellent
washes and fabrics, and NY inspired design make them an …
Cara Santana in 3×1 W4 Boyfriend Jeans : DenimBlog
Cara Santana did some last minute shopping at Fred Segal in West Hollywood,
California ahead of the holidays. Cara wore her 3×1 W4 Boyfriend Jeans again, …
Designer Jeans Reviews Archives – Page 2 of 23 – DenimBlog
This article is all about DL1961, a premium denim brand based in NYC. … 3×1
Jeans Review … It's fair to say they are one of the OG premium denim brands.
Similar Brands To 3×1