We may earn compensation through affiliate links in this story.
AGOLDE is a premium denim label based in Los Angeles but available globally at select retailers. They focus on collective sets of designs and sustainability.
You can find them online at agolde.com and on instagram at www.instagram.com/agolde
After reviewing AGOLDE's reviews across all fits, they've scored a /5 for quality, while average fit tends to run slightly large. The average price for a pair of jeans is $151.36.
You can find their fit guide online at agolde.com/pages/fit-guide
They are carried by Nordstrom, Bloomingdales and Anthropologie
Below, we take a look at the most popular & highest rated styles, along with interesting information, like when sales are coming up and more.
Editor's Choice
AGOLDE from NET-A-PORTER $200.00
These jeans are made of organic cotton and are high-rise. They are distressed and straight-leg.
Research / Frequent Questions
Our Favorite Agolde Jeans
And a little about what makes each special…
1/9
Straight-Leg Jeans
Straight-Leg Jeans

Check out these comfy organic cotton denim jeans with a straight-leg fit! They're perfect for everyday wear and won't stretch out over time.
---
1/5
Straight-Leg Jeans
Straight-Leg Jeans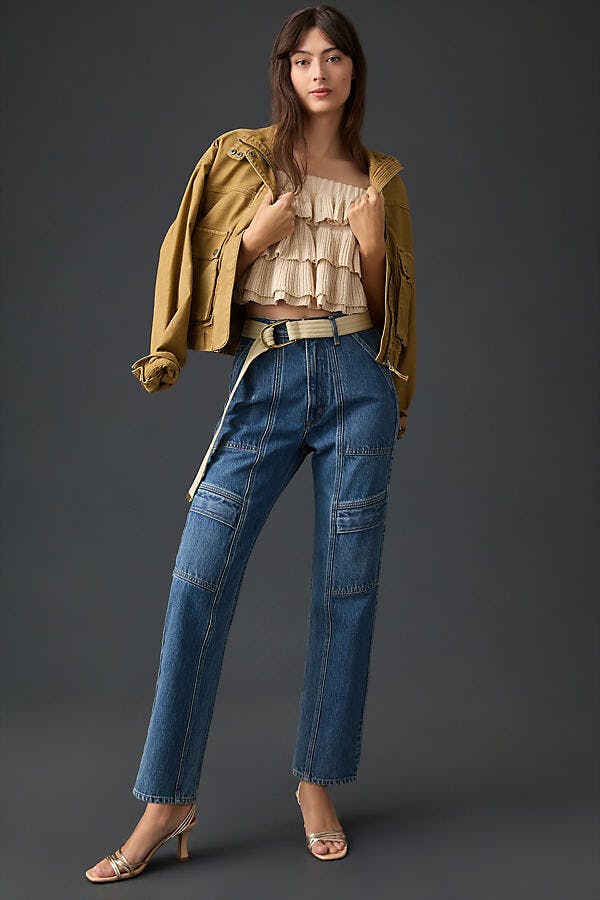 AGOLDE from Anthropologie $228.00
This pair of jeans is made with 100% organic cotton, has five pockets, a front zip, and is machine washable. It was imported from abroad.
---
Are Agolde jeans true to size?
Agolde's jeans are typically reviewed as true to size, but they have a nice fit guide to check out…
Who owns Agolde jeans?
Ron Herman and Adriano Goldschmeid founded AG jeans.
Where to Buy Agolde Jeans?
The best spots to find AGolde jeans online…
Brands Similar to AGOLDE
If you like AGOLDE, then check out…
What Customers Are Saying About AGOLDE
Of the 24 reviews we analyzed, 15 were positive, 4 were negative, and 5 were neutral. Below are a few snippets from the reviews.
"This jeans are 100% cotton and supposed to be non-stretch BUT they do stretch at least half a size more. Noone on the reviews or insta where I saw them said that, such misleading info, My waist is 27 and hips 37, I wear a 4/27 on every bottom piece and non-stretch jeans hard cotton I have to size up 28, so I ordered 28 and they are big and stretch even more when u walk so should had stayed with my regular size. I own madewell jeans size 27 hard cotton and I can barely zip them and walk so stiff with them bcuz there's no room at all no stretch when they say 100% cotton. But this ones DO stretch a lot. if u want them tight size down or normal size would be good enough and will always have the diaper butt it's inevitable. If I order another pair of this brand I will order 27."
About the Fit
"Can't say enough good things about these! Didn't find the fit larger like other reviewers, I bought my normal denim size and the fit it great around the waist and through the leg."
About the Fit Sizing: True to Size / As Expected
"For premium denim I am so disappointed. These fit true to size and look good for about a few hours. Then they stretch out so much and look dumpy. Something that happens to gap jeans but totally not what I'd expect from Agolde."
About the Fit Sizing: True to Size / As Expected
"These ran a size large on me and had to return. Super cute otherwise but the waist is pretty big. I'm normally a 25/26 and will try a 24."
About the Fit Sizing: Larger than Expected
"I tried the Dee high rise, the Parker loose fit and they were too big/baggy in my regular size (regular parker short). These fit perfectly and are super flattering with a longer hem than the regular parker shorts. Soft but well-structured denim that doesn't sag too much with wear. Perfect summer jean shorts for my post (second) baby bod."
About the Fit
What stores sell Agolde jeans?
The Agolde jeans are sold at the AGOLDE website.
Are Agolde jeans worth it?
There are many things to take into consideration when deciding if AGolde jeans are worth the price. The price for AGolde jeans ranges from $250 to $450. This is a high price for a pair of jeans, and you should really think about if this is the right price for you. Another factor to consider is how long the jeans will last. A lot of people say that AGolde jeans last a long time, but this is something you will need to decide for yourself.
More Articles About AGOLDE
Here are a few reviews we've written about Agolde