We may earn compensation through affiliate links in this story.
Los Angeles bespoke denim brand with an excellent women's collection.
We've been huge AMO fans since they came on the scene back in 2014. The garment quality and attention to detail make their jeans much more personal and long-lasting than larger premium denim brands.
They are on the high-end of premium retail, but the quality fabrics and 2% blend will give you a pair of jeans that last years, not months.
You can find them online at amodenim.com and on instagram at www.instagram.com/amodenim
After reviewing AMO Denim's reviews across all fits, they've scored a 3.80 out of 5 for quality, while average fit tends to run slightly small. The average price for a pair of jeans is $164.94.
You can find their fit guide online at amodenim.com/pages/size-chart
They are carried by Garmentory, Bloomingdales and Bergdorf Goodman
Below, we take a look at the most popular & highest rated styles, along with interesting information, like when sales are coming up and more.
Editor's Choice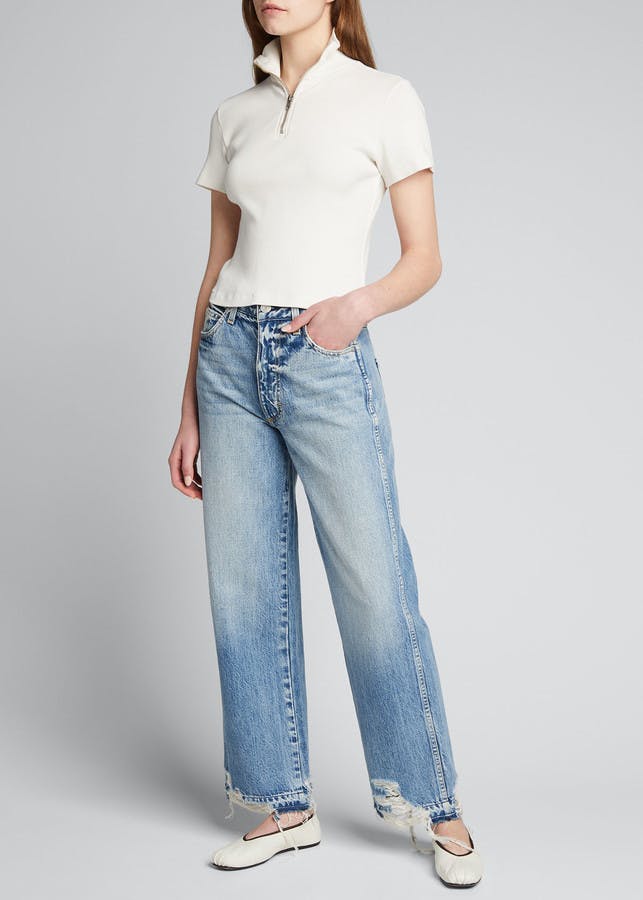 The AMO Denim Sophie Cropped Wide-Leg Jeans with Released Hem are a great option for a comfortable and stylish pair of jeans. The wide-leg is perfect for people with larger thighs and the released hem gives it a modern and fashion look.
Research / Frequent Questions
The Best AMO Jeans
Here are our favorites, including a little about what makes each special…
AMO Fit And Try On Hauls
Brands Similar to AMO Denim
If you like AMO Denim, then check out…
What Customers Are Saying About AMO Denim
Of the 10 reviews we analyzed, 6 were positive, 3 were negative, and 1 were neutral. Below are a few snippets from the reviews.
"Love love love this item so much!"
About the Fit Sizing: Larger than Expected
"Really nice cargo pants, beautiful fabric, super soft. A little on the roomy side but that works just fine being a cargo pant! Steal of a deal!!!"
About the Fit Sizing: Larger than Expected
"So feminine and cute! A practical, flattering white tee with a lil something extra. It's hard to tell in the pics, but this also has some light distressing around the collar and hemline, which is suuuch a nice detail."
About the Fit Sizing: True to Size / As Expected
"I love this – I have a short torso and it hits just right. It's a thicker material with a somewhat distressed look. I was going for a staple sleeveless short sleeve ribbed top and I'm very happy!"
About the Fit Sizing: True to Size / As Expected
"Great denim substitute and everyday wear casual pants. High waist. Tapered ankle. Size down one size."
About the Fit Sizing: Larger than Expected
How does AMO denim fit?
AMO jeans are designed for a more athletic, long, and lean body type.
Popular Styles From AMO Denim
The most popular styles…