Balmain Jeans are a design house started in 1945 by Pierre Balmain. Pierre Balmain had a bold feminine and very luxurious signature style for his jeans that he designed. It created the ultimate feminine look for the house which was popular amond royalty in Europe and "Hollywood" royalt. He used richy embroidered fabrics, slim waist looks, and fuller skirts. He was also famed for his post war revival of European culture after the German occupation during World War II.
Best Balmain Jeans
And a little about what makes each special…
1/8
Balmain Ripped Jeans
Balmain Ripped Jeans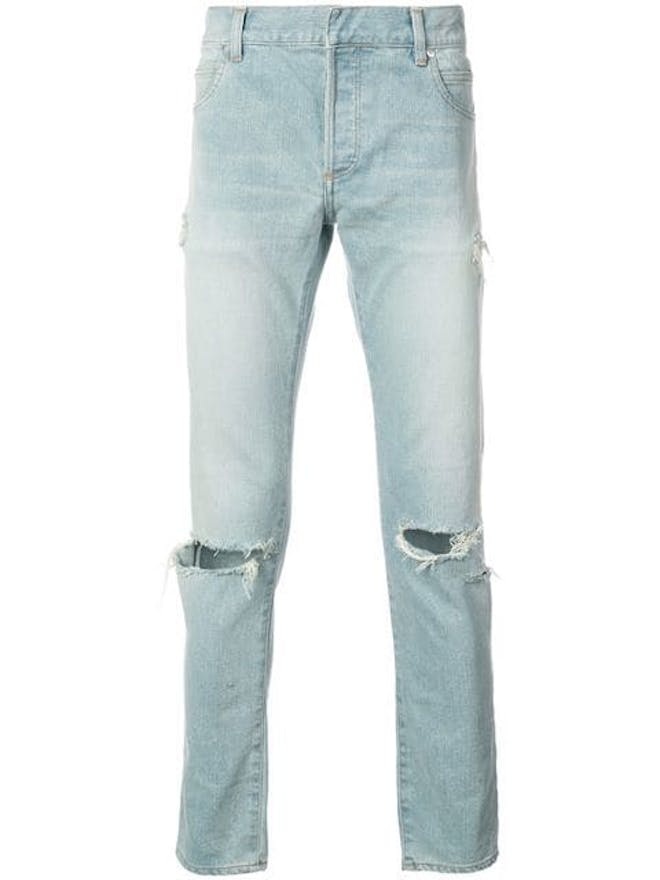 These Balmain cotton blend ripped jeans are great for any jeans wardrobe. You can wear them with anything depending on your mood. They have concealed front fastening as well.
---
2/8
Blue Balmain Jeans
Blue Balmain Jeans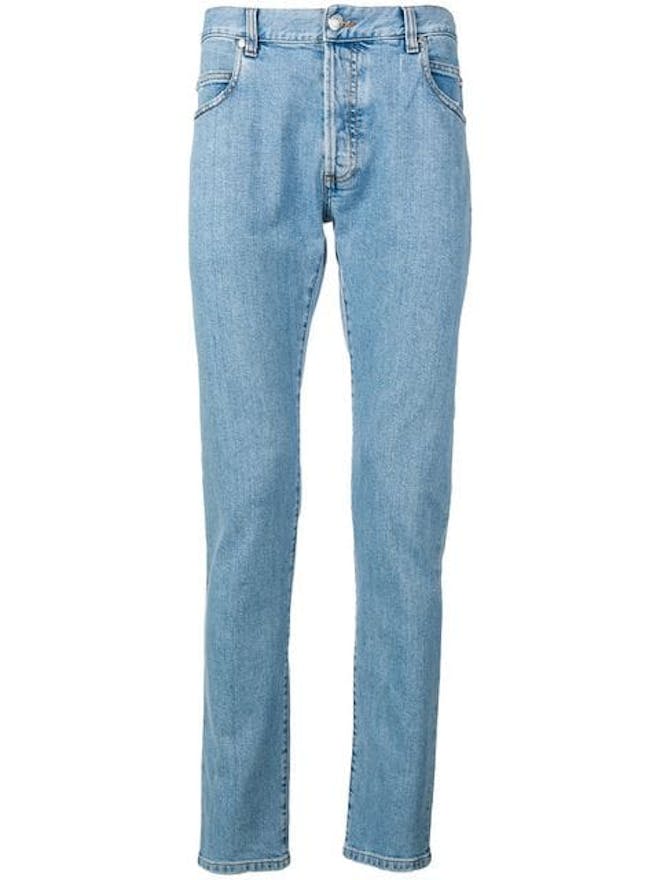 These skinny fit Balmain blue jeans are a classic look that is sure to please any denim lover. Made with stretch cotton, they have the classic pockets and easy to care for.
---
3/8
Grey Balmain Jeans
Grey Balmain Jeans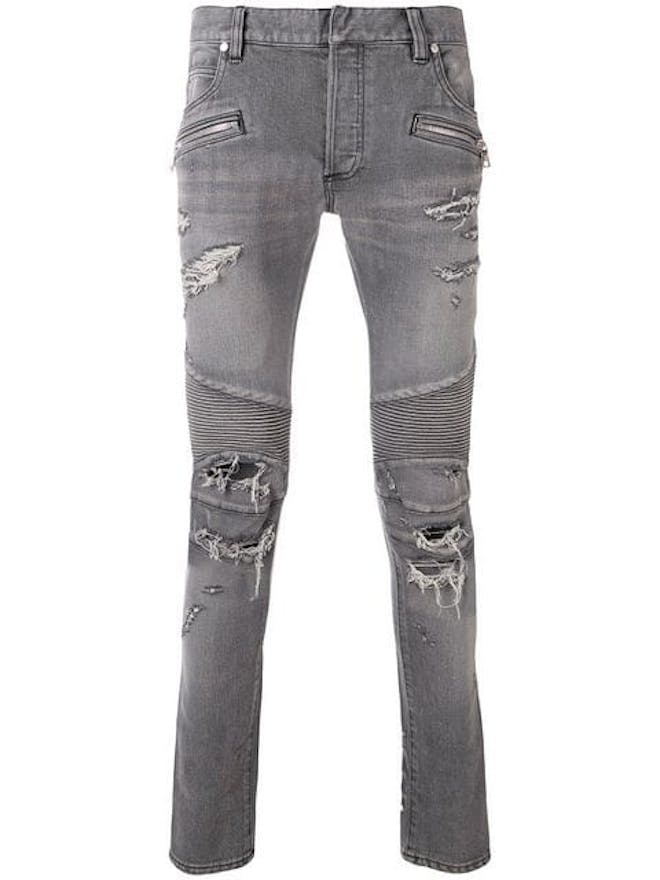 These Balmain gray military inspired jeans are a skinny fit distressed look for bikers who prefer this style. Ribbed panels, classic patch on the back and patch pockets, they are a great addition to any wardrobe.
---
4/8
Balmain Jeans With Zippers
Balmain Jeans With Zippers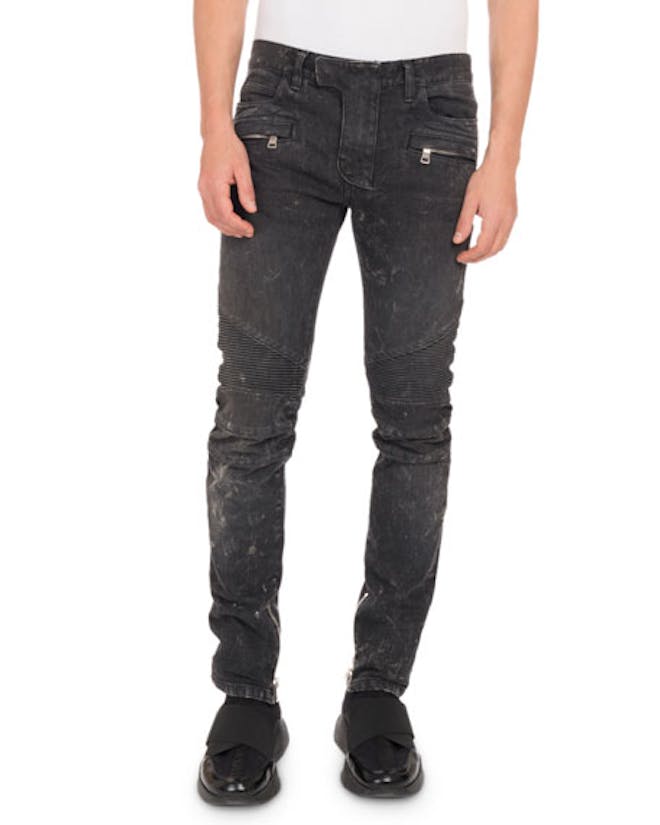 Balmain Balmain Jeans with zippers
These Balmain Biker Jeans with Zippers with the distressed features as well as the classic biker features with the pronounced seams and lines are sure to make even the most fickle consumer happy. Stretch blend denim and slim fit and easy to care for.
---
5/8
Balmain Black Jeans
Balmain Black Jeans
These black cotton Balmain destroyed jeans are the perfect look for jean lovers. This stretchy cotton blend is a sure fire fit and hit with all lovers of jeans.
---
6/8
Balmain Motocross Jeans
Balmain Motocross Jeans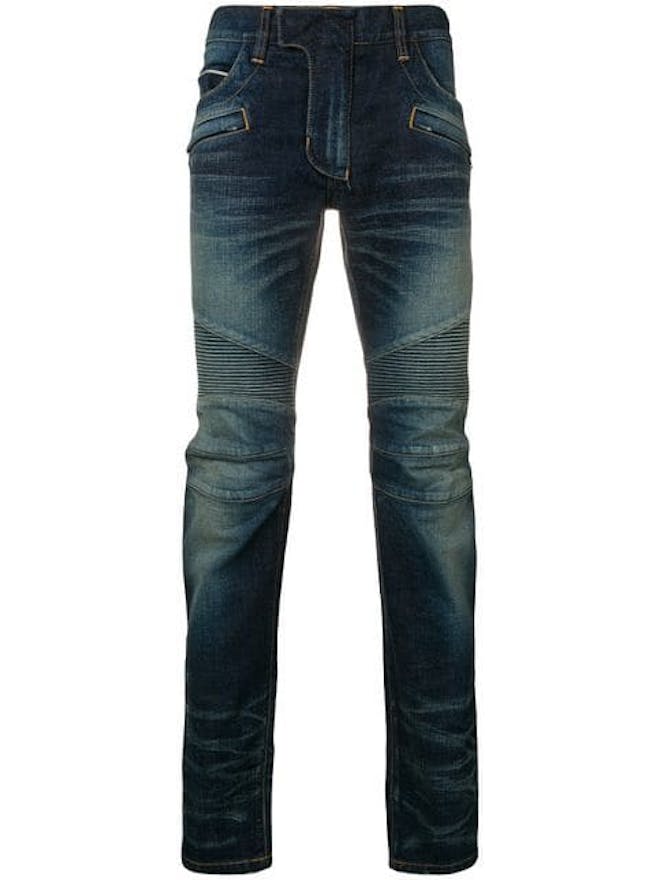 These blue stretch cotton tapered biker jeans are a mid rise jeans concealed front fastening and the classic five pocket design with patch back pockets. Easy to care for and sure to please.
---
7/8
Balmain Paris Jeans
Balmain Paris Jeans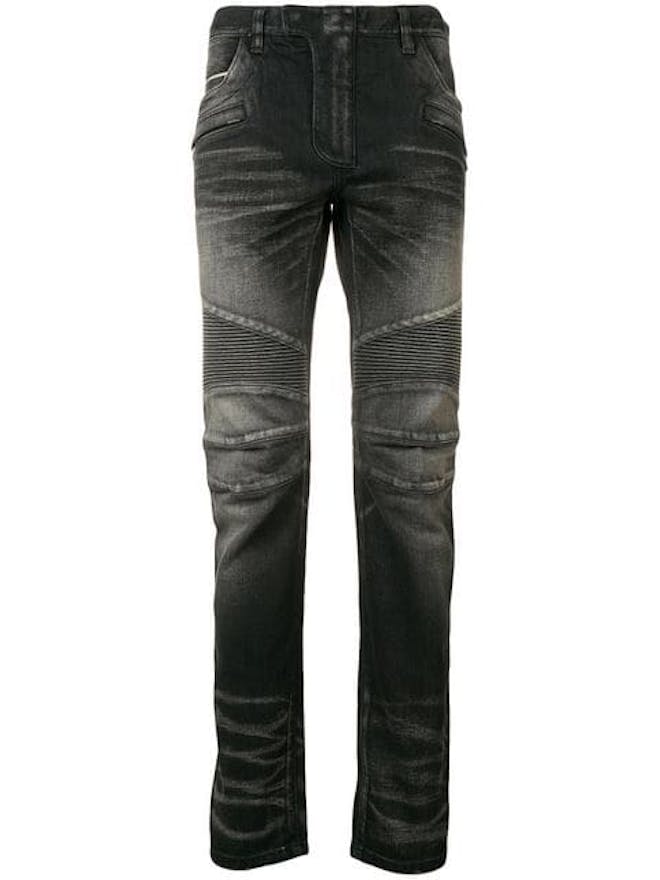 Crafted from black denim, these slim fit jeans are made from 100% cotton and have a concealed from fastening. They are easy to care for as well and can be great to wear for a night on the town
---
8/8
Balmain Biker Jeans
Balmain Biker Jeans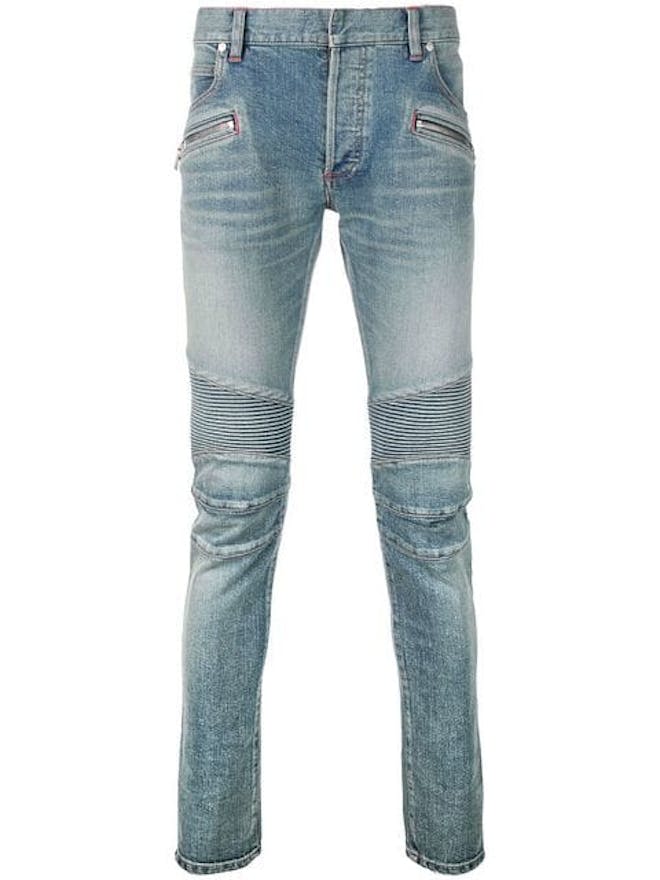 From Balmain, these denim biker jeans are a skinny fit from the SS19 collection. They showcase classic belt loops, button and zip fly, two classic patch pockets and are a sure fire hit for any denim collection.
---
Are Balmain Jeans Skinny?
Yes. That being said, they consider the 16cm ones that are more tapered are the skinny fit, while the 18cm are considered relaxed fit. The skinny jeans are more form fitting and are more flattering to the figure.
Who Is The Owner Of Balmain?
The Balmain fashion house was founded in 1945 in France by Pierre Balmain. In 1982, it was run by Erik Mortensen who was an assistant of the Balmain house. In 2016 Mayhoola investments bought the Balmain house of fashion and run it to this day.
How Do You Wash Balmain Jeans?
There are a couple ways you can wash jeans. You can do it in your washing machine setting it on a delicate cycle. Use a delicate cleanser such as woolite to reduce the harshness of chemical exposure to the jeans.
Make sure you turn the jeans inside out because they zippers and buttons can rub against other materials and cause them to become damaged. It is best to wash alone if you can do that.
After the cycle is done, it is best to let them line dry to avoid shrinking.
---