We may earn compensation through affiliate links in this story.
For the denimheads out there, you know Karen Phelps has been an iconic of the denim world forever.
Her creative direction has made Goldsign one of the "must haves" for any chic, big-city closet. I love their elegant, Modern denim collection…such a great choice for everyday jeans.
With this classic British influence of Karen Phelps — and a Los Angeles home — Goldsign offers a Modern, high quality denim line for the essential city living.
You can find them online at goldsigndenim.com and on instagram at www.instagram.com/goldsigndenim
After reviewing Goldsign's reviews across all fits, they've scored a 4.28/5 for quality, while average fit tends to run slightly large. The average price for a pair of jeans is $238.18.
You can find their fit guide online at https://www.shopbop.com/reviews/brand?folderID=1272
They are carried by Net a Porter, Shopbopand Farfetch
Below, we take a look at the most popular & highest rated styles, along with interesting information, like when sales are coming up and more.
Editor's Choice
Gold Sign from Saks Fifth Avenue $295.00
These scored a 4.5 out of 5 based on 590 reviews
Goldsign Jeans FAQs
Our Favorite Jeans From Goldsign Explained…
1/2
Straight-Leg Jeans
Straight-Leg Jeans

Gold Sign from Saks Fifth Avenue $295.00
A high-rise, straight-leg silhouette elongates these flattering jeans.
---
1/4
Straight-Leg Jeans
Straight-Leg Jeans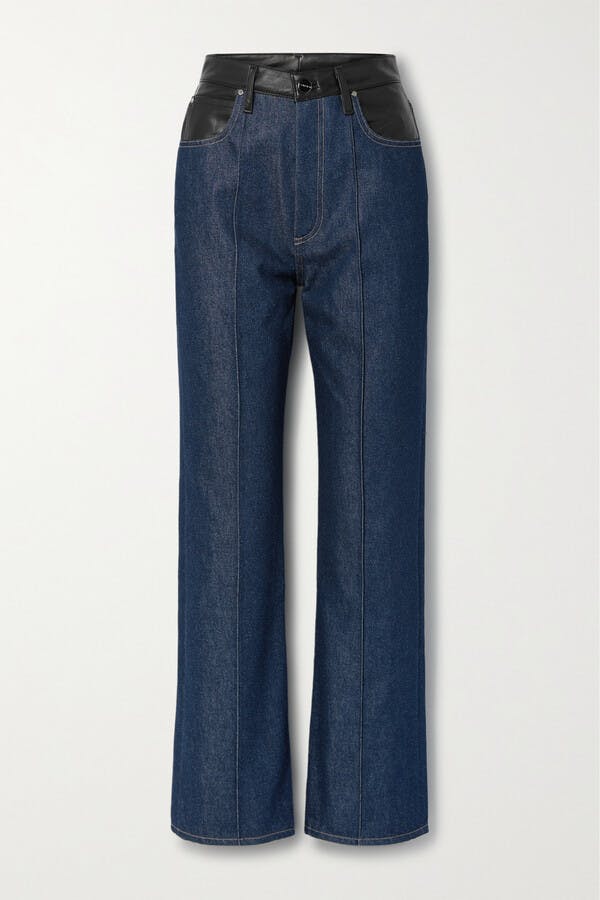 Gold Sign from NET-A-PORTER $425.00
GOLDSIGN's 'The Martin' jeans are designed with contrasting faux leather panels along the pockets and high-rise waist that give them a cool, distincti.
---
1/4
Wide-Leg Jeans
Wide-Leg Jeans

Gold Sign from Saks Fifth Avenue $425.00
Contrast leather trims these two-tone flared jeans.
---
1/1
Jeans
Jeans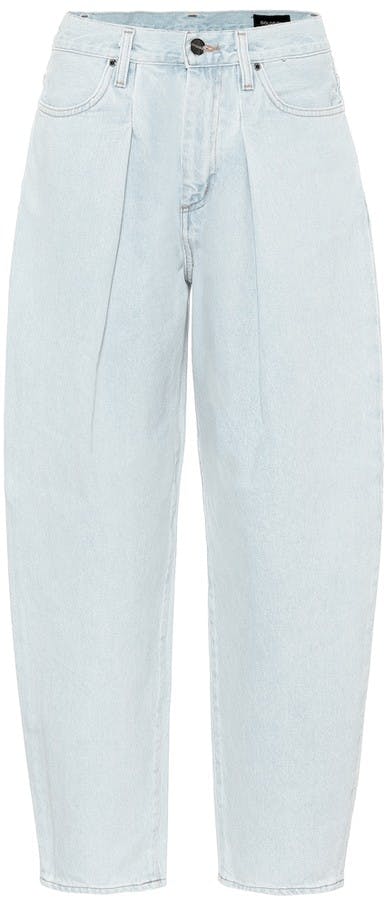 Gold Sign from Mytheresa $448.00
A signature silhouette from denim expert Goldsign, the Curved jeans are reimagined here in the "Marcell" wash â" a light indigo blue with vintage-styl.
---
Who Makes Goldsign Jeans?
Karen Phelps took over the Goldsign jeans design team. They are produced in Los Angeles is the small batch, artisan fabric district.
Brands Similar to Goldsign
If you like Goldsign, then check out…
What Customers Are Saying About Goldsign
Of the 0 reviews we analyzed, 0 were positive, 0 were negative, and 0 were neutral. Below are a few snippets from the reviews.
"I love everything about these jeans — from the wash to the silhouette to the "invisible" back pockets. I am definitely on the petite side and was more than willing to get these hemmed because I wanted it that much. I have never owned a pair of Goldsign denim so I was a bit concerned about sizing. I bought both my regular size and the next size down (since they are meant to fit a tad roomier). I'm currently in a pickle because I am smack dab in the middle of the two sizes! Since these are 100% cotton, there probably won't be much stretch to them even after a few wear. I am leaning towards my normal size because let's be real, it's Girl Scout cookie season."
About the Fit
"I missed the old Goldsign jeans, what happened now? I can tell that the style are going forward Instagramish Elin Kling low slung chic……But the fit is odd, the thigh feels tight, then the waist yes low slung loose……It's not flattering unless you are tall or skinny legs model figure probably. I'm an average woman, proportional, semi athletic build. I still love the fit of J brand and some Citizen Humanity. Dislike AGOLDE rear look. Please bring back the old Goldsign jeans!!!! I miss the Virtue style. I used to own so many Goldsign, from skinny to flares. Now they are just plain wrong, weird and not popular like before. Fitting problem, fix it!!!"
About the Fit Sizing: Larger than Expected
"These jeans just didn't live up to the nice picture. Something about the wash and the weight of the fabric made it oddly look like a cheaper stretch jean, instead of the work/dressy jean look I was aiming for (and would be justified by the price). They were also quite long for me."
About the Fit Sizing: True to Size / As Expected
"This is my first Goldsign purchase and certainly won't be my last. The rise is perfection, (sits above navel 5'4). Just the right amount of give so they are quite comfortable while maintaining the stiff cotton look."
About the Fit Sizing: True to Size / As Expected
"The color and cut are gorgeous they were just a little too stiff for my liking. I am a solid 26 in all jeans and while these fit I wouldn't have been able to sit on the floor with my my kids or run errands comfortably. Def size up. Sent back for the the beatnik ankle with a little stretch."
About the Fit Sizing: Smaller than Expected
Goldsign Denim Trend
Searches for Goldsign jeans have stayed consistent over the last 5 years