Mott & Bow denim, which launched in Spring of 2014, offers a premium and affordable denim collection that embodies a modern, clean yet sophisticated feel, ushering quiet confidence.
We took a look at their men and women's lines, putting together a little guide to the best.
Let's go!
Best Women's Mott & Bow
Here are our favorites from their women's collection, including a little about what makes each special.
1/1
Boyfriend Jeans
Boyfriend Jeans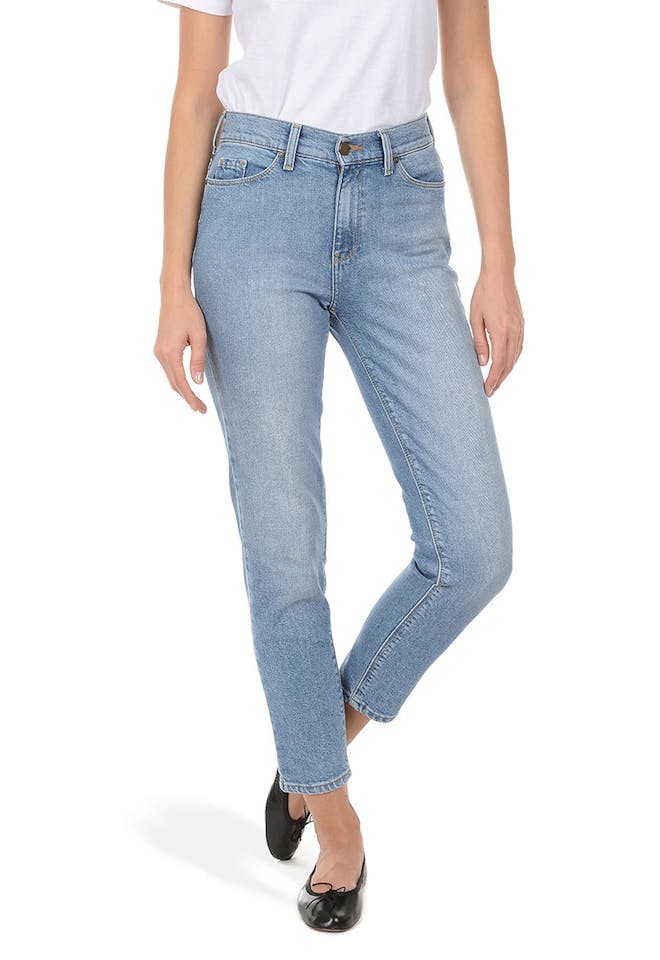 Relaxed fit, light was jeans made with a blended fabric — perfect as an everyday essential for your closet.

---
Research / Frequent Questions
Mott And Bow Returns
Just an heads up — Mott & Bow does not refund the cost of shipping and also charges a restocking fee.
You can learn about their entire return policy here.
mott and bow location
Mott and Bow is headquartered in New York, though their operation spans the globe, sourcing denim from South America to Turkey.
In fact, Mott and Bow are the names of two streets in Manhattan.
Mott And Bow Reddit
As always, I had a few readers reach out about Mott and Bow, looking for more customer feedback. Check out this link to the Mott and Bow Reddit thread.
For men's fashion, Reddit consistently has the most detailed, interesting conversations about brands and jeans.
About The Brand
Mott and Bow Jeans
Mott & Bow's #denimscience utilizes the finest denim fabrics from the best mills in the world to produce a superior fit and distinct washes. The collection includes 6 styles in 4 different washes, but they just also released the Thompson (black denim) and Horatio (grey denim), but will have new washes coming too!
Designed in the heart of Chelsea in New York City and made in Honduras from Turkish fabrics, they are the naysayers of $200 jeans. Mott & Bow was created for the nonconformist looking for superior quality at a bold price. Priced at $96 per pair, Mott & Bow is sold at mottandbow.com and offers a home try on program where customers can choose another size to try on and can return the extra pair using the free shipping label included. Cool right?
The designer, Alejandro Chahin's, appreciation for denim began at his first job, counting buttons at his father's denim facility in Honduras at the age of 13. He spent years learning every facet of his family's denim business from fabric sourcing to the fine artisan finishes.
At the age of 28, Alejandro's entrepreneurial vision came to fruition with the launch of Mott & Bow, a collection of modern denim available at an affordable price. Inspired by two streets in lower Manhattan that exemplify cool simplicity and a free spirit nature, Mott & Bow was born. So guys, what do you think of this new brand?
Where To Buy Mott And Bow Jeans
Looking to buy your own pair of Mott and Bow jeans? Can't find any in your local stores?
Well, they are a bit hard to find. But fortunately, the Matt and Bow website has plenty.
There, you'll find all of their best men's jeans and women's jeans. Plus, they have some great deals!
If you don't mind buying a used pair, check out Poshmark or eBay. There are a ton of people offloading their old Mott and Bow jeans on those platforms!
Mott & Bow – What's The Difference Between Skinny And Slim Fit?
The skinny jeans are very form fitting. They are made of a more lightweight material and they are very stretchy which is great for the comfort factor.
The slim fit is made of heavier denim. They do not hug the form like the skinny jeans do, which is a common things, but lightweight jeans are much more comfy and feel more like a second skin than a pair of jeans.
More Articles About Mott & Bow
Page 10 – DenimBlog
Designer Jeans Reviews. Mott & Bow denim, which launched in Spring of 2014,
offers a premium and affordable denim collection that embodies a modern, …
Best Jeans For Tall Men [November 2019] – Editor Selected – 12 …
Nov 19, 2019 … If you are a tall guy, you know shopping can be tough. This article gives you the
12 best jeans for tall guys, including where to find them in 2019.
DenimBlog Weekly Round-Up : DenimBlog
–Denim Review: MOTHER Denim The Muse Ankle Skinny in In It To Win It –5
Favorite Monthly Finds … –Mott & Bow Denim –The Rebel Red Leather Pants by
J …
Similar Brands
Love Mott and Bow? Here are some others to check out…
---
similar brands