One of Paige's flagship jeans, the Verdugo is a the perfect "essential" for the modern women's closet. Made with famous Paige fit, these jeans have an ankle, skinny, and bootcut version, along with tons of rich washes (black is my favorite).
Below, I show you 3 of the most popular ways to wear the Verdugo along with Lorna's full review of the fit, wash, and feel of the jeans.
Verdugo Ultra Skinny in Acadia
Paige's most popular jeans — the Verdugo — are the perfect work/play jeans. You can wear them to the office or out on the town and best of all, they are made with Paige's famous blended denim, making them one of the most comfortable jeans out.
Paige Verdugo Ankle
The cropped ankle version of the Verdugo have a stylish look that's perfect for the spring and summer. I love the Tristan wash for its rich indigo, but you can find these in a few great washes, including coated.
Verdugo Cropped Ankle in Black
The chicest of their cropped jeans, I love this pair in black. Like the other cropped pair I mentioned, these are perfect for spring or summer — in addition to being a simple go-to for work.
---
Verdugo Try & Review
Below, Lorna breaks down the Verdugo skinny jeans in a limited edition print.
Don't want to read? Here are the highlights…
The Verdugo is both comfortable and stylish, making it the perfect "essential" that you can wear to work and out for drinks afterwards.
The ankle cut is the most popular, though it's going to be hard to wear in the winter if live somewhere cold.
Paige's fabric is almost like a jegging (remember those?), so you will never find a more comfortable pair.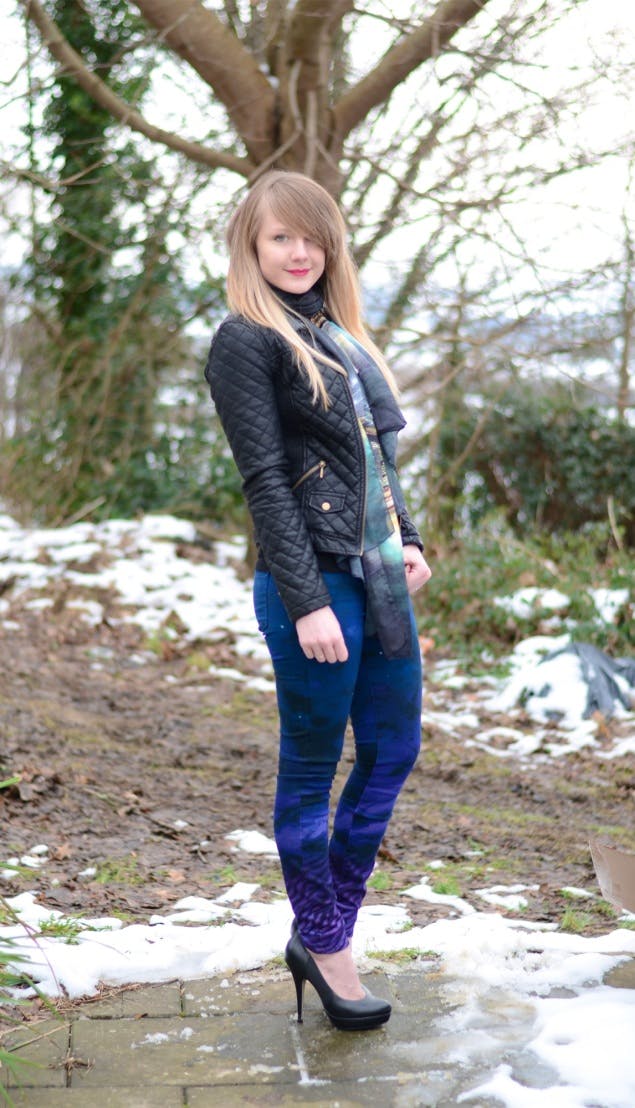 Lorna in Paige Verdugo Jeans
I've reviewed a few of the Verdugo jeans in the past as it's one of my favourite cuts from Paige, it's a super skinny jegging which is incredibly comfortable and very well fitted.
The rise is a good height for the majority of women, the inseam isn't too long or too short. Although, I would prefer it to be a little shorter on this pair because it bunches a bit at my ankles, which hides some of the print, which I don't like. I would either like my legs to be longer, or the jeans to come in a shorter length.
Since a lot of ladies don't have super long legs, I always think digital prints or scenery jeans should come shorter as standard so then more people can wear them. It wont be awful for the taller ladies either as wearing them cropped can look just as cute!
Verdugo Fit Review
Since I have recently tried out the Indio cut (here) I can actually say that I think I prefer the Indio to the Verdugo. It just felt a little more stable and durable as a jean, where as the Verdugo is quite light weight and flexible. I also found that with these, they do fit a little differently to the other Verdugo's I have tried. The rise seems a little lower than previous pairs and they also seem a bit tighter, even though I took my regular size of 27.
But I know these types of issues come down to the denim and washing processes used, so it's not something that can always be avoided. Just keep in mind that they do fit and feel a little different to regular denim Verdugo. Not by a huge amount at all, it's not that noticeable, but I just thought I would point it out. They are still really quite nice, just not the most flattering pair of Verdugo I own.
Verdugo Wash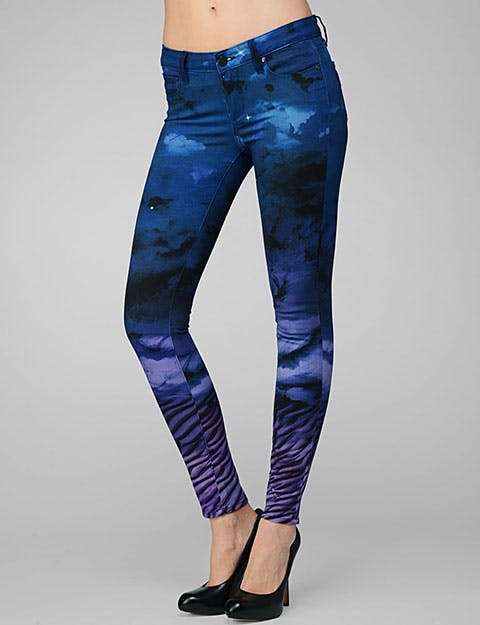 Paige Verdugo in Moonlight
Now what attracted me to these in the first place was the Moonlight print/wash. These are the first scenery print jeans that I own and I think they are absolutely gorgeous! I've always liked the idea of wearing a scene or picture on your legs in the form of denim, but I never found a print that I absolutely loved enough to want to try, until I saw these that is. I love the combination of the dark blue, purple and black, it's such a nice colour collection and the way the sea transitions up into the clouds with stars is amazing. It really does look like the ocean in moonlight, with more vibrant colours. You can see just below in the stock photo how pretty it is. It's definitely one of the best I have seen and I truly hope we see some celebs in them soon!
The only downside to this print is that it's not the most flattering. If you are worried about your hips or thighs in anyway then these will probably enhance them a little bit and draw attention to them. I found for me they make my thighs look bigger than they actually are, but that's obviously down to the illusion that the print creates on your eyes. I do also think they are incredibly hard to pair items with. I decided to try and match them with my city scape scarf as a contrast, against the beach and city, but I am unsure if I like the result or not. I definitely think they need to be paired with just black or light neutrals, like white. They are such a statement and a bold pair on their own, it's not a good idea to over power them. You need to keep them as the focal point of the outfit, in my opinion.
Overall, I do absolutely love the print, it's stunning, and I like the fit of the Verdugo, but they are hard to pair clothes with and they do enhance your legs and hips a little bit, but other than that, I do think they are a lovely pair of jeans that really draw attention and are definitely for the braver jeans wearers out there. Also, I forgot to mention above, even though these aren't black, they are almost like a twill material so they are a bad hair magnet, so they really do collect hair and lint.
Verdugo Wrap Up
You can buy Verdugos from Paige's website here. At the time of this writing, they were around $179.00USD.