We may earn compensation through affiliate links in this story.
I think there is something about acid wash that just says 'I'm casual' and that makes them so easy to wear. They almost look like a really old pair of jeans which are so washed out and stained, you have been living in them for years.
Acid wash used to be so popular in the 80's, but in the form of light blue and very light grey denim only. Brands today have upped the game and now release them in bright colors as well as prints, so there is something for everyone!
I have piled together most of the acid wash jeans that I found while looking online and these also include cheaper options, so there is a mix for everyone.
Editor's Choice
These slim acid-washed jeans made from nonstretch Japanese denim are just slightly slouched for a cool, boyish vibe. As most of you know, we are huge Moussy fans and this is why!!
Our Favorite Acid Washed Jeans
A shortlist of the best…
---
our favorites
Frequent Questions / Research About Acid Wash Jeans
Best Acid Wash Jeans
1/1
Relaxed Denim
Relaxed Denim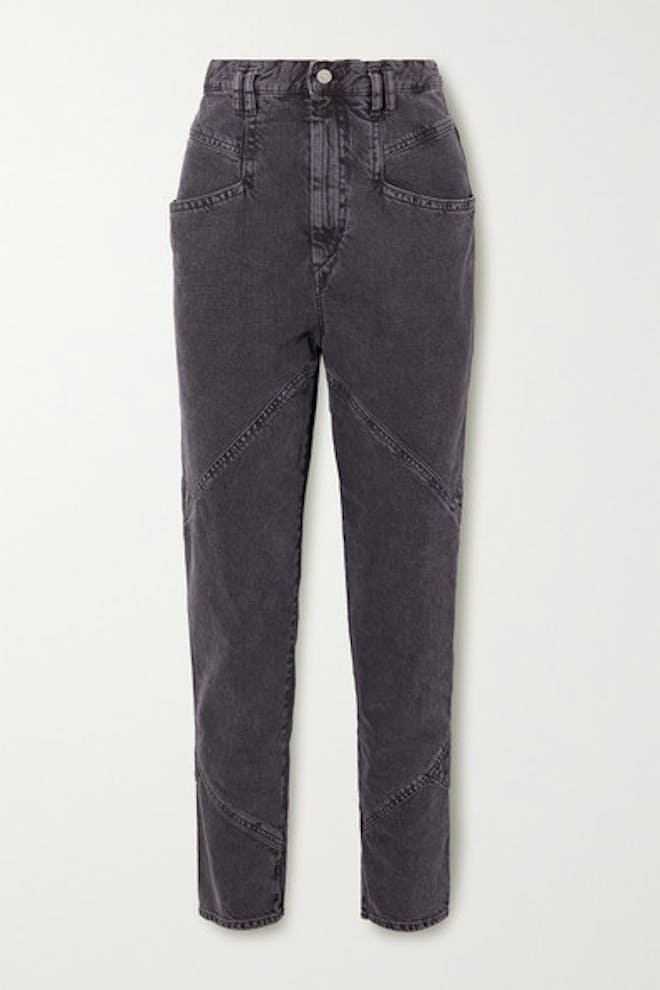 Isabel Marant from NET-A-PORTER $490.00
Isabel Marant's 'Eloisa' jeans have a relaxed boyfriend fit.
---
1/2
Bootcut Denim
Bootcut Denim

Light blue cotton blend high-rise bootcut jeans from FRAME featuring an acid was.
---
1/3
Straight Denim
Straight Denim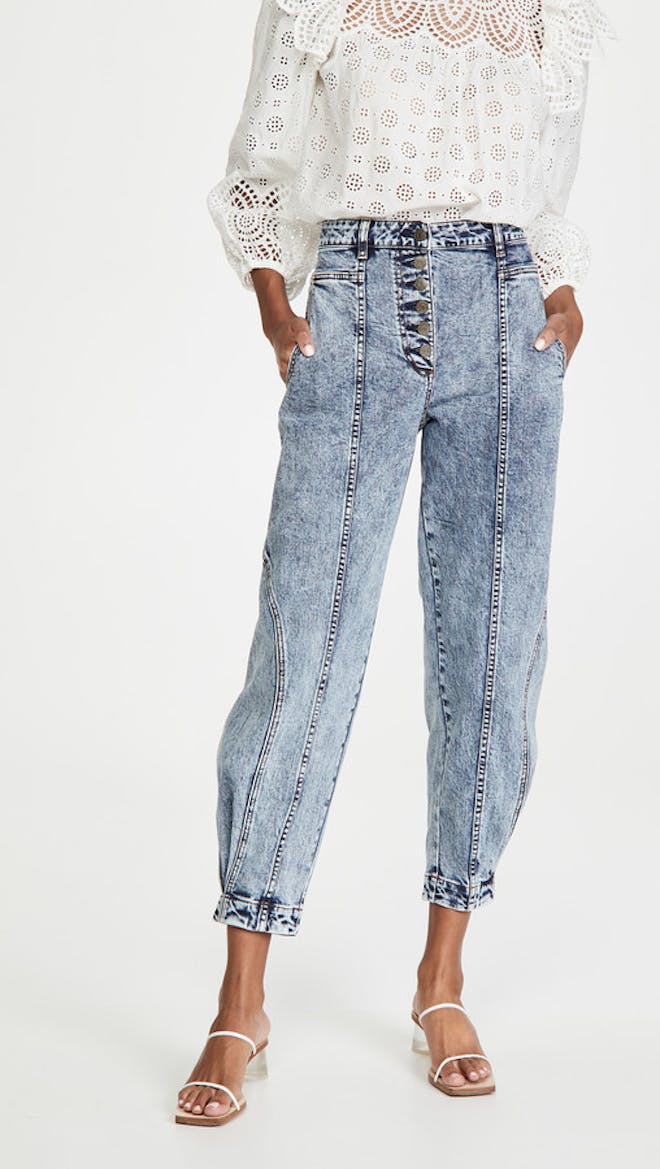 Ulla Johnson from Shopbop.com $425.00
∙Fabric: Heavyweight stretch denim ∙Pleated cuffs ∙Acid wash ∙Exposed button fly.
---
1/4
Relaxed Denim
Relaxed Denim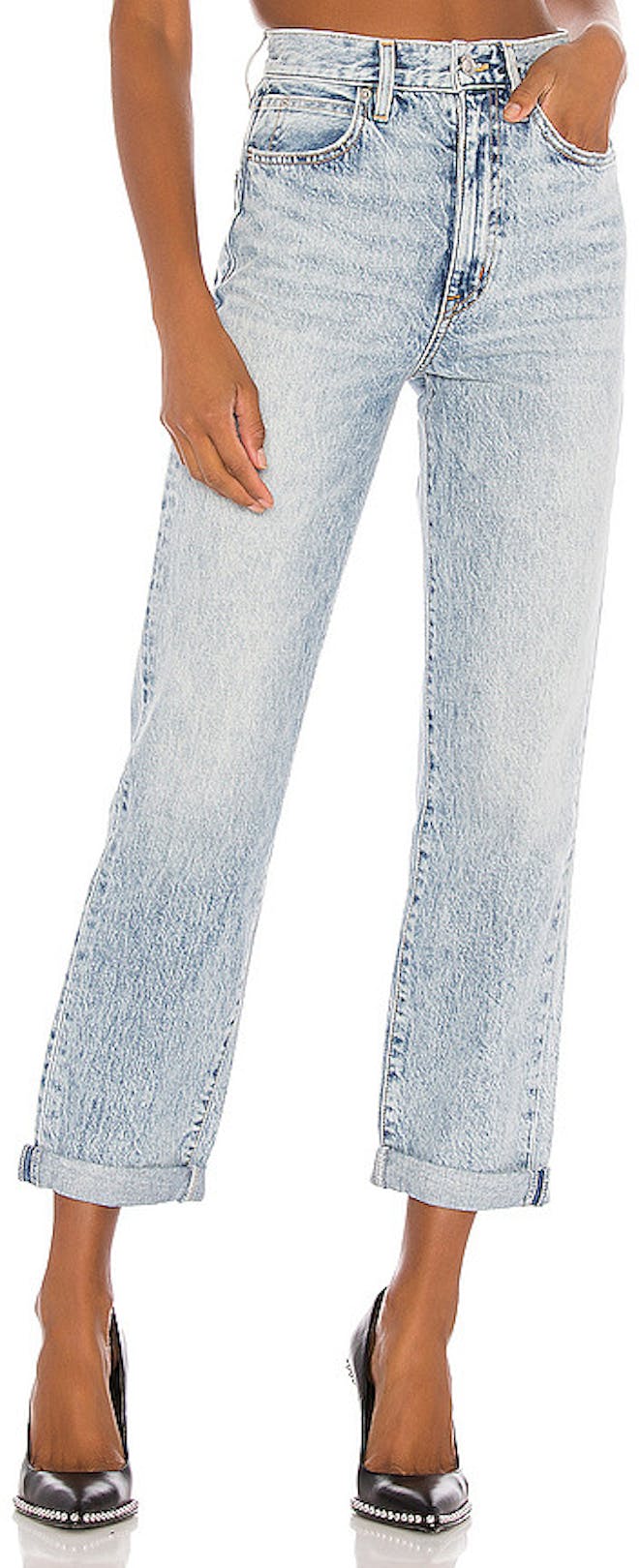 SLVRLAKE Dakota High Rise Relaxed Boyfriend in Blue.
---
1/5
Cropped Denim
Cropped Denim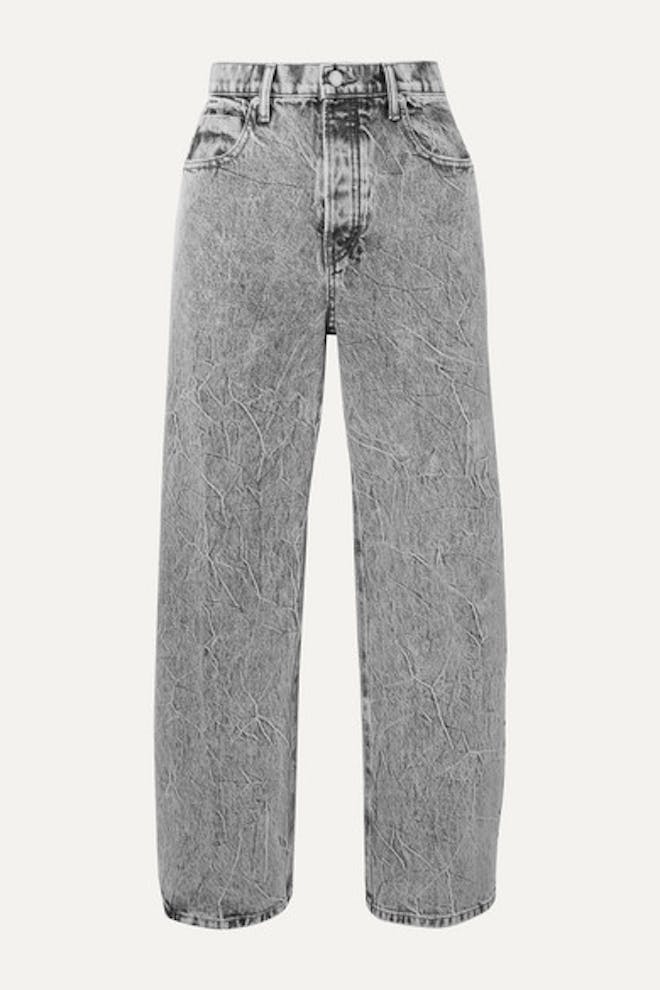 Alexander Wang from NET-A-PORTER $335.00
No Alexander Wang collection would be complete without a heavy dose of denim – t.
---
1/6
Flare Denim
Flare Denim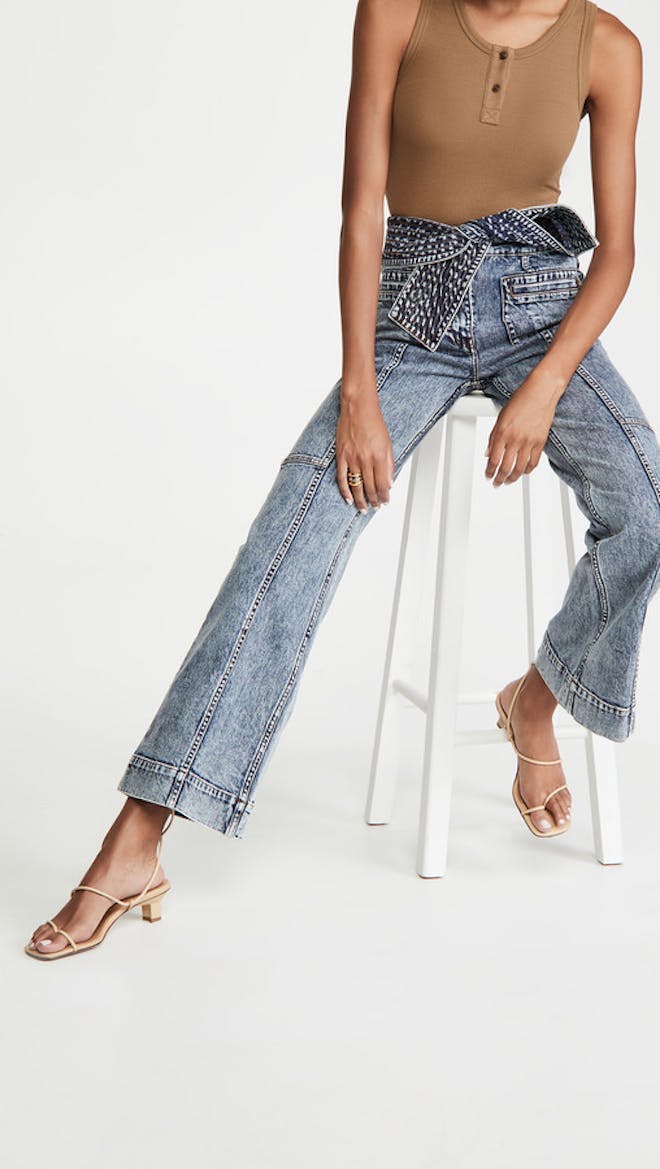 Ulla Johnson from Shopbop.com $425.00
∙Fabric: Mid-weight, low-stretch denim ∙Foldover tie at waist ∙Full length, wide.
---
How to Acid Wash Jeans?
To acid wash jeans, get a pair of darker color jeans that you don't mind bleaching.
You take the legs of the jeans and tie with rubber bands in the area of legs you prefer. If you desire a pattern, you can also do that.
You have to mix about 3 liters of cold water and then add about 1.5 liters of bleach to the water.
Submerge your jeans, turning the jeans every twenty minutes.
After you have achieved the pattern and whiteness you desire, you then let the jeans soak in the mix for a half hour to an hour depending on your preference.
Rinse your jeans in cold water ensuring you have watched all the bleach out of the jeans.
When you have completed that, wash and dry your jeans as you normally would.
What To Wear With Acid Wash Jeans
For this weeks "Going Out" look, I chose the Big Star Avalon High Rise Skinny in Halcyon. There is something about acid/bleach washed jeans at the moment that I am just loving. It may be the thrill of the search for something out of the usual clean blues and prints.
This pair here is one of my favorites that has come out over the years. They don't feel dated and are easy to style for a day look or for going out as they work just as well with neutrals as they do with vibrant colors, like a red. I went the neutral route and styled them with a vintage Chanel jacket, a tank by Ksubi, sandals by Saint Laurent and finished it with a necklace by Isabel Marant.
So how many of you are looking forward to trying out acid washed jeans again?
Acid Wash Outfits
Here's an outfit I think would look cool…
Wear an oversized sweater with acid wash jeans, just like they did back in the '80s. We love how Sienna Miller pulled together a simple sweater + acid wash jeans + sneakers look by choosing a monochromatic color scheme.
What Era Are Acid Wash Jeans?
Acid wash jeans were actually made popular in the 1980s. They were mainly worn by punk rockers who threw bleach on their jeans.
How To Fade Jeans Quickly?
With all the different ways to fade jeans, you need to figure how light you want the look. To achieve that look the quickest is just to apply bleach to the areas. You need to remember bleach will compromise the strength of the denim.
Are Acid Washed Jeans Back In Style?
Acid washed jeans are back in style twenty years after they first made their appearance in the eighties.
Acid Wash Jeans Trend
Acid wash jeans peaked in popularity in 2013
More Articles About Acid Wash Jeans
The Acid Wash Jeans by Rag & Bone
Acid wash is fixed to be the biggest trend right now and these new styles by Rag
& Bone are sure to be one of the most popular. You may have remembered the …
Grey & Acid Wash Denim
I had to blog it because I have noticed that grey and acid wash skinny jeans (no
matter how much you hate those acid wash jeans) are really hot right now!
Acid Wash Try On Hauls