Average Customer Satisfaction 4.5
@agolde
with 55400 follows and Medium Engagement
AGOLDE is a premium denim label based in Los Angeles but available globally at select retailers. They focus on collective sets of designs and sustainability. They draw inspiration from contemporary and emerging artists. Comfort is also a key aspect of their products: they source from some of the best fabrics in the world and personally test them for quality and fit.
Because sustainability is of great importance to them, they use clean and advanced technology such as lasers and ozone machines for their jeans. AGOLDE is future-thinking and dedicated to bringing the best denim of our time.
Our Favorite Agolde Jeans
And a little about what makes each special…
1/6
Straight Denim
Straight Denim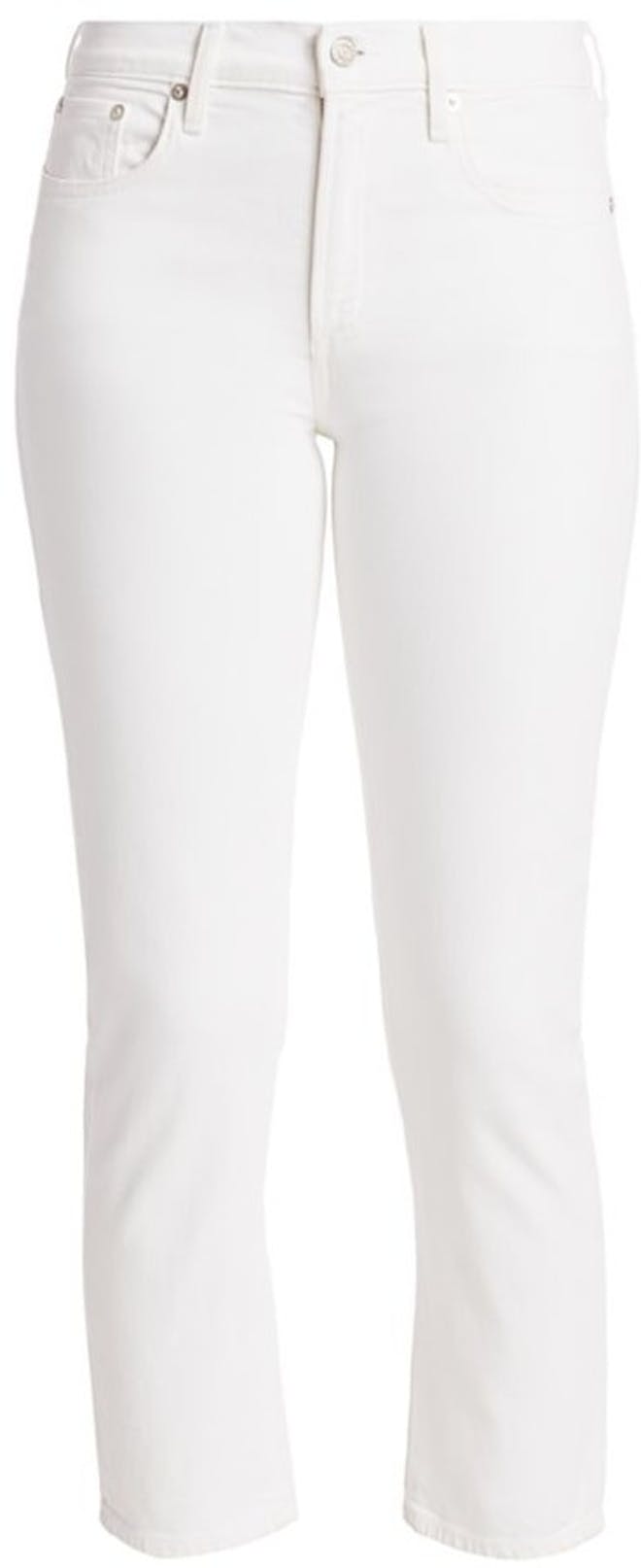 AGOLDE from Saks Fifth Avenue $158.00
Cut at the ankle, Toni features a straight leg, mid-rise waist, and can take you.
---
1/2
Cropped Denim
Cropped Denim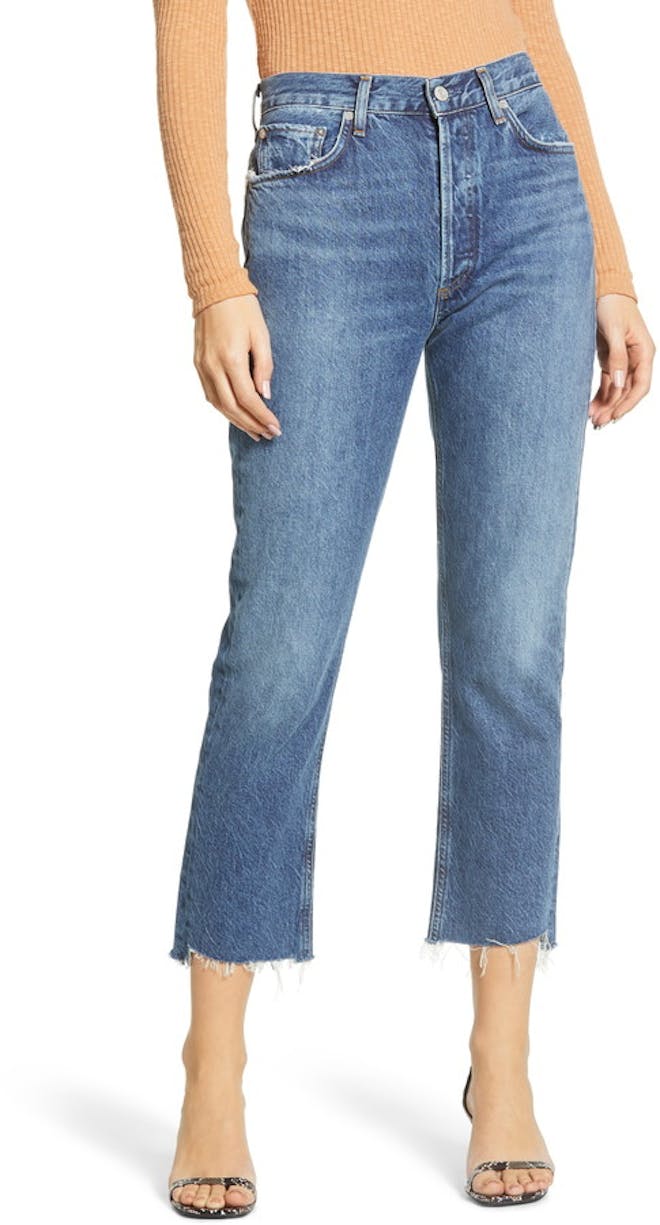 A cutoff step hem leaves a whisper of frayed threads at the ankle of these high-.
---
1/3
Denim
Denim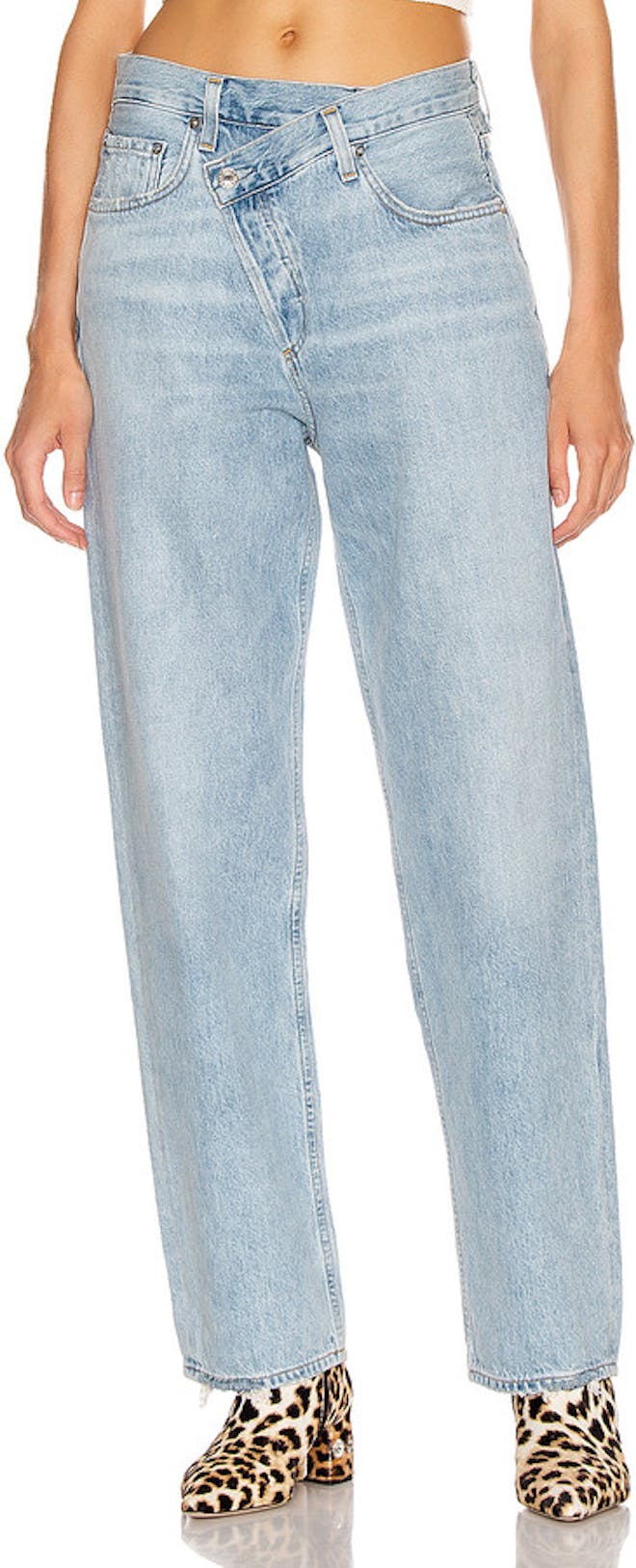 AGOLDE from Forward By Elyse Walker $178.00
100% cotton Made in USA Machine wash Asymmetrical waist Button fly Whiskering an.
---
1/1
Straight Denim
Straight Denim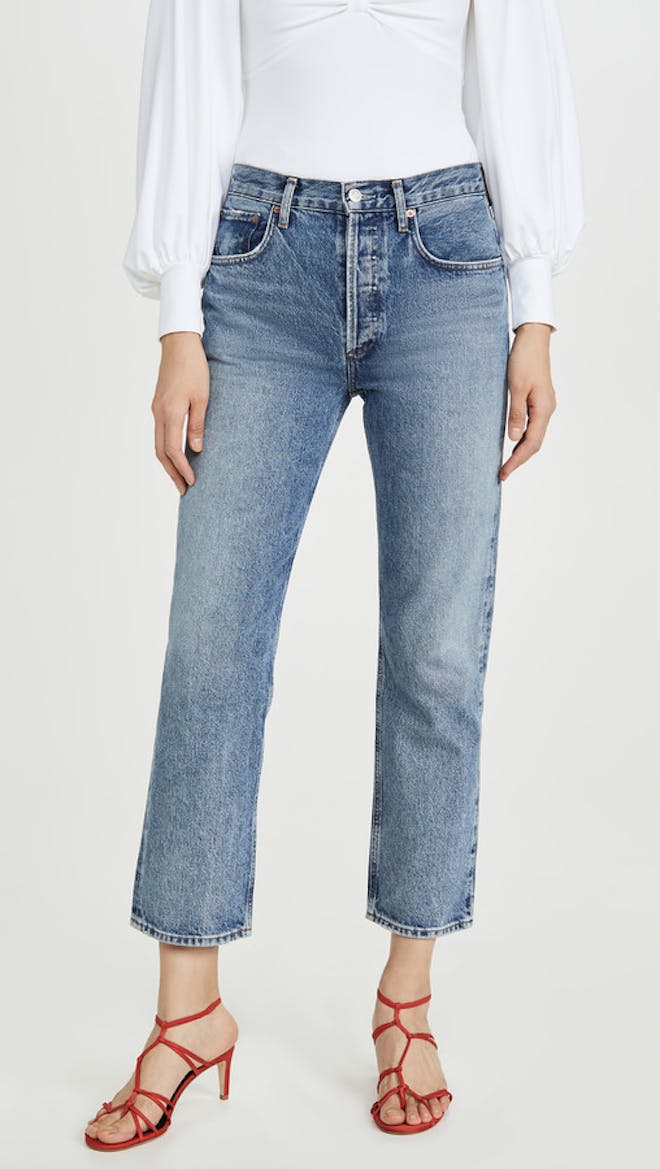 AGOLDE from Shopbop.com $188.00
∙Fabric: Mid-weight, non-stretch denim ∙Fading and whiskering ∙Button fly ∙5-poc.
---
1/4
Distressed Denim
Distressed Denim
AGOLDE Lana Low Rise Vintage Straight.
---
1/7
Stretch Denim
Stretch Denim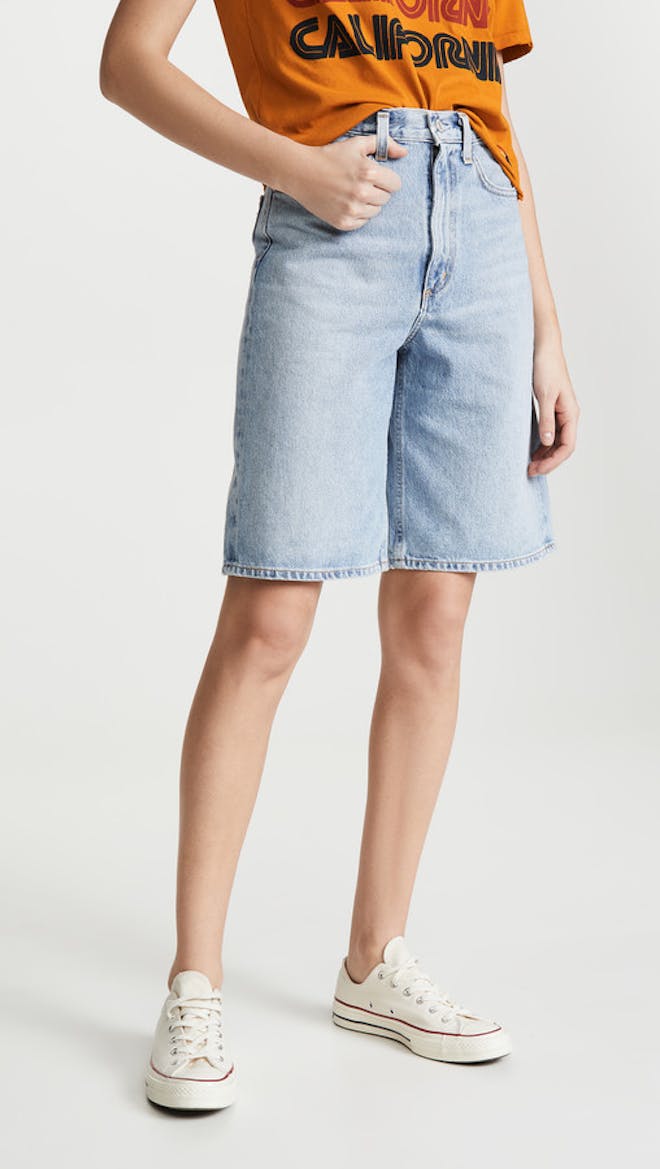 AGOLDE from Shopbop.com $188.00
∙Fabric: Heavyweight, non-stretch denim ∙Fading and whiskering ∙Button closure a.
---
1/5
Relaxed Denim
Relaxed Denim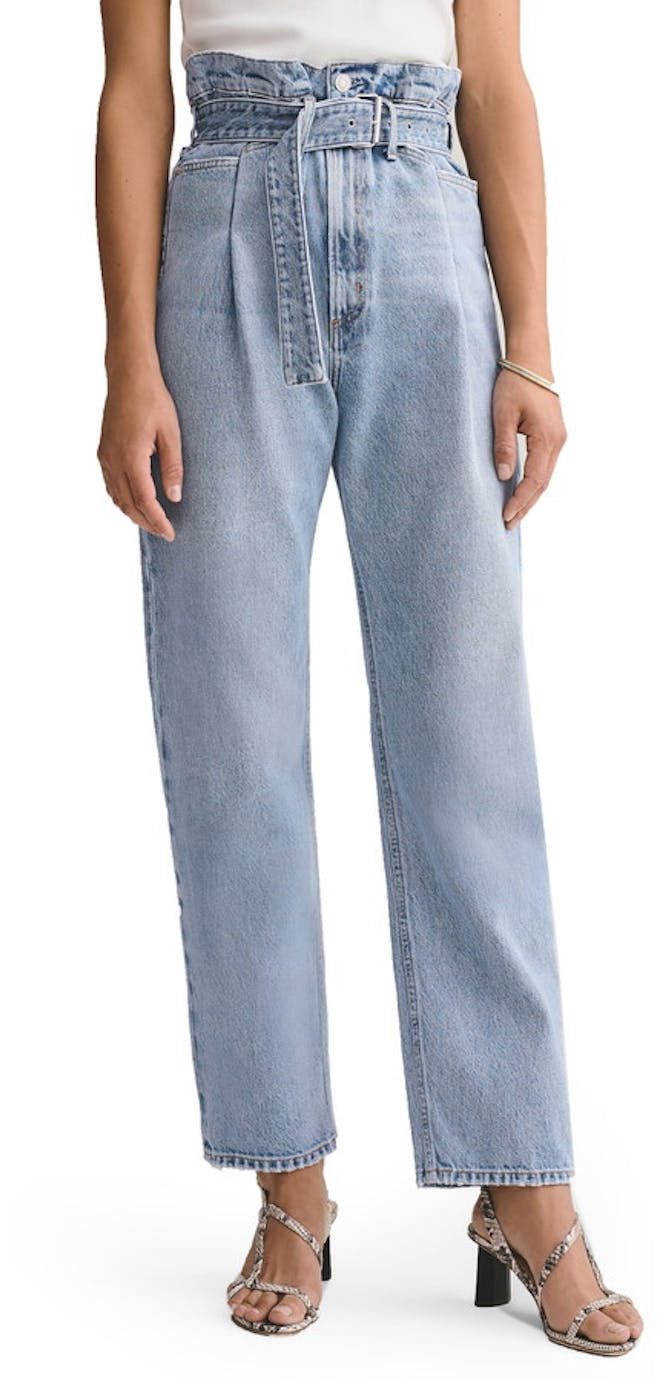 Go retro with these relaxed nonstretch jeans that are sewn for a closer fit thro.
---
1/8
Straight Denim
Straight Denim

AGOLDE from Saks Fifth Avenue $348.00
70s-inspired denim jumpsuit with a utilitarian charm.
---
Are Agolde jeans true to size?
Agolde's jeans are typically reviewed as true to size, but they have a nice fit guide to check out…
Who owns Agolde jeans?
Ron Herman and Adriano Goldschmeid founded AG jeans.
Where to Buy Agolde Jeans?
The best spots to find AGolde jeans online…
More Articles About AGOLDE
Here are a few reviews we've written about Agolde
What customers are saying
"I am always a 25- sometimes a 24 if there's stretch- I took the advice and ordered a 26- PERFECT! If you're super thin I think you could go with your normal size. There's NO STRETCH! I have 1 issue- I'm 5'1 and the bottom hits me lower, so to get the distressed bottom I have to roll once. Not a deal-breaker. I'm washing and drying them to see if they draw up slightly. Very flattering."
About the Fit Sizing: True to Size / As Expected
"these jeans are beautiful and so flattering, but definitely get a size up from your normal size because these have no stretch or give at all!"
About the Fit Sizing: Smaller than Expected
"I have two pairs of agolde denim shorts that I love but was getting frustrated with their jeans because they are so rigid and they are designed for someone with a small waist and large hips. I have a 27″ waist and 33.5″ hips (36.5″ widest point) so the rigid pairs just had tons of extra material on my hips. This pair is much better because its stretchy so it clings to everything just right and hits below the waist. I bought the 26 and it is a bit loose."
About the Fit Sizing: Larger than Expected
"The fabric is a good mix of rigid and stretchy. It looks more denim in person, without being too hard or uncomfortable.
My waistline is 25 inches, hips 34 inches. I'm normally a 00 or 24 in most jeans. I ordered a 24 and it fit quite nicely at first, so I decided keep it. I did already think the leg isn't skinny enough to stay skinny with wear– these are more of a straight jean for me from the start. These loosened A LOT within hours of wear. Now wishing I ordered a 23 instead.
Will keep using though, because they work as cute straight/loose jeans too. Just not what I expected."
About the Fit Sizing: Larger than Expected
"I like the wash color. It's bright and cool. I feel AGOLDE is a bit loose in size. I recommend you can wear it one size down. They has a good stretch so it makes feel comfortable. I picked up one size down after review, so it fits comfortable."
About the Fit Sizing: Larger than Expected
Popular Styles
---