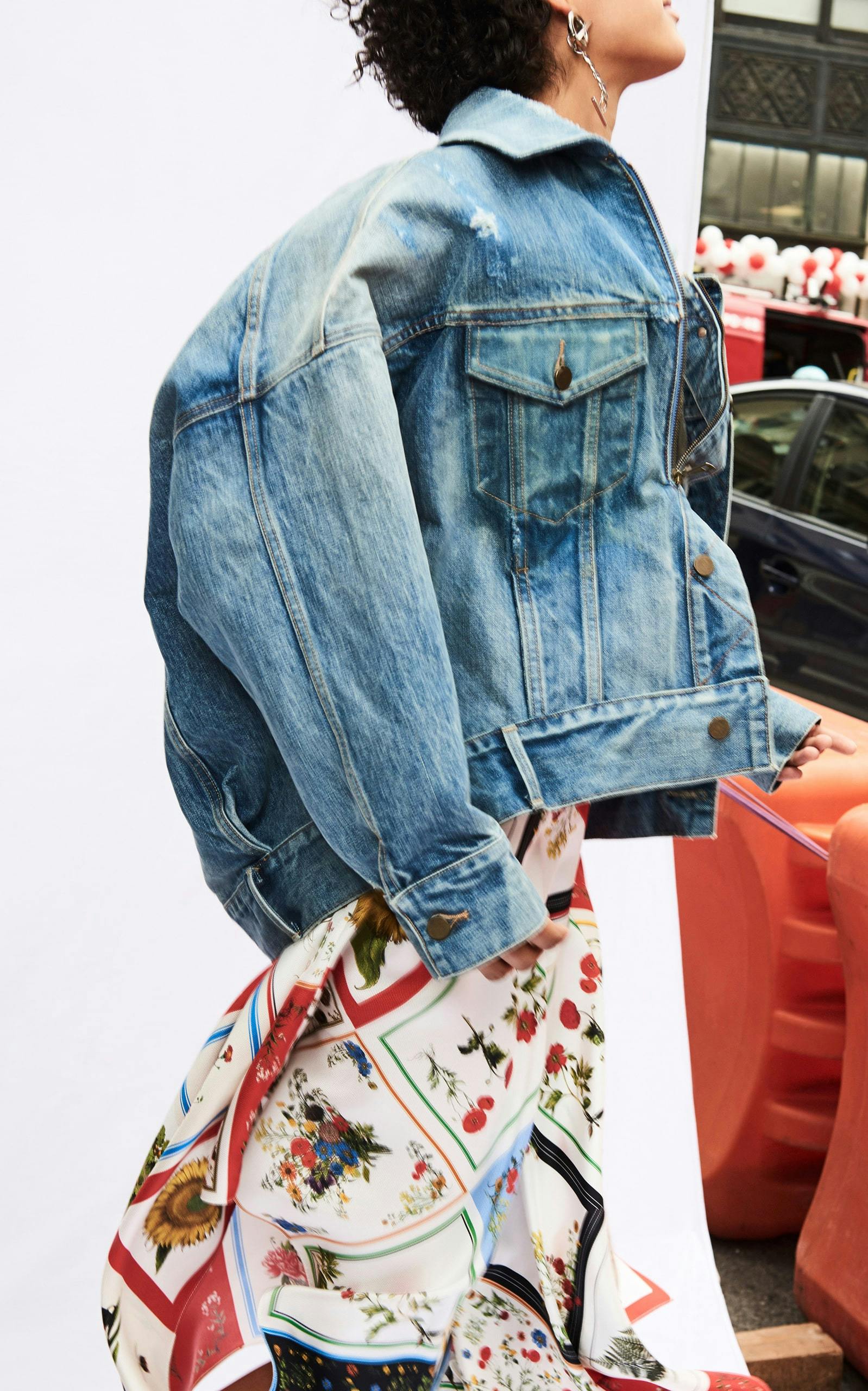 Photo by Moda Operandi
The denim jacket — or is it jean jacket — is as classic as look as a pair of 501s. They have been borrowed from the boyfriend so much that they became available oversized. They have been shrunken, patched, distressed, tailored and smartened up into a blazer.
Indeed, there is no territory that the denim jacket has not touched…and with new designs release every season, who wouldn't want to touch them?
EVE and KHAITE gave '90s minimalism to their jackets and there has been no styles that have had more fun with denim quite like the designs by KSENIA SCHNAIDER, someone who reworks denim into designs that give life to the "reworked" trend.
The Best Jean Jackets
Check out the denim jackets that will have you falling head over heels for below…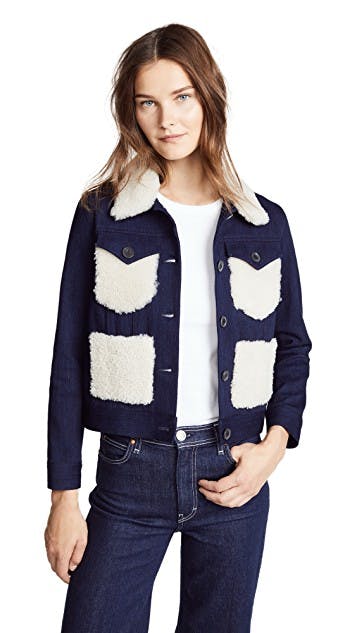 ADAM LIPPES Corded Denim Shearling Jacket $1,225.00
Shearling. Check. Color blocking. Check. This is a denim jacket that is on trend and still feeling like a piece that timeless.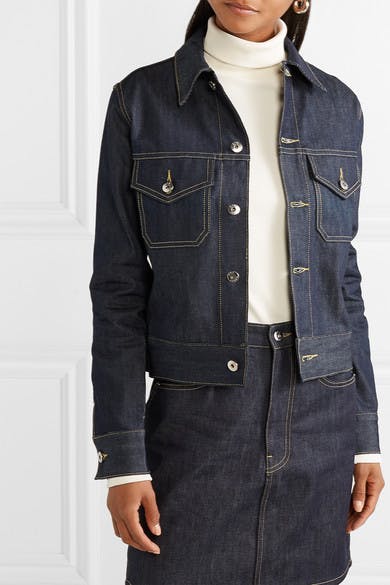 EVE DENIM Kaila Denim Jacket $335.00
A new denim jacket is a rare find. EVE gave a new take on the staple by minimizing the lines and keeping it in a clean dark wash. A perfect one to pair with a pleated skirt.
Best Denim Jacket for Fall
KHAITE Laura Sherpa Denim Jacket $890.00
You can always expect KHAITE to give the perfect feminine take on the denim jacket. This has flight vibes that will give any look a cool feel.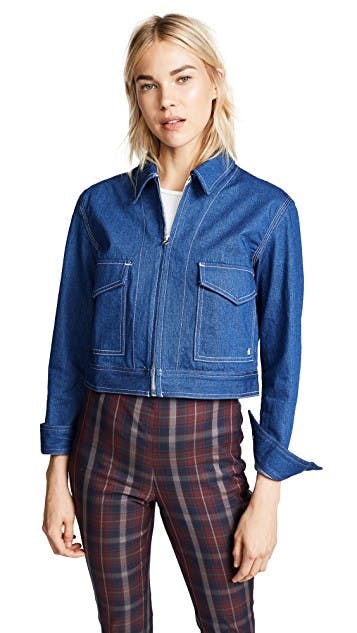 RAG & BONE Ajax Denim Jacket $210.00
RAG & BONE is all about cool and this jacket has a new minimal edge from the other denim jackets.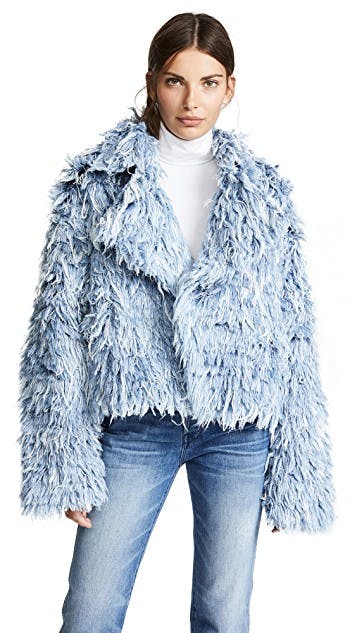 KSENIA SCHNAIDER Denim Fur Jacket $810.00
No one has reworked denim before KSENIA SCHNAIDER came along. She saw the potential of fraying more than just the usual distressed hem and made denim fur that feels so fresh.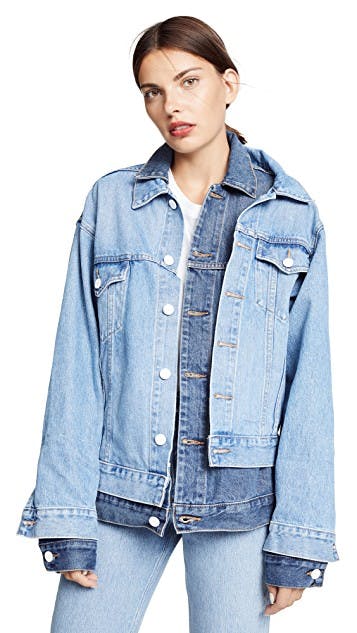 MONSE Double Collar Denim Jacket $710.00
Mixing is a MONSE signature. They gave the classic trucker a layered effect and played with lengths that will give your double denim looks a new attitude.
Best Western Inspired Denim Jacket
Best Western Inspired Denim Jacket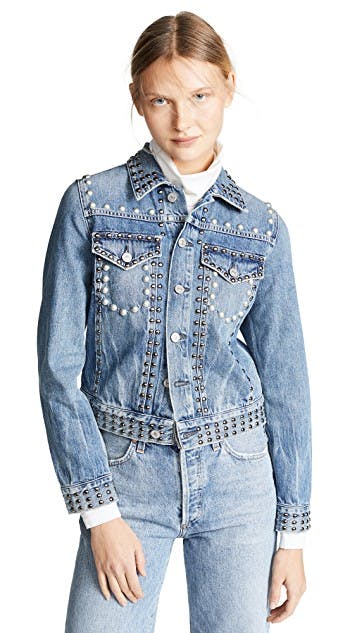 CITIZENS OF HUMANITY Cleo Studded Denim Jacket $578.00
CITIZENS OF HUMANITY has taken on the western trend by studding their Cleo jacket with gunmetal and pearls.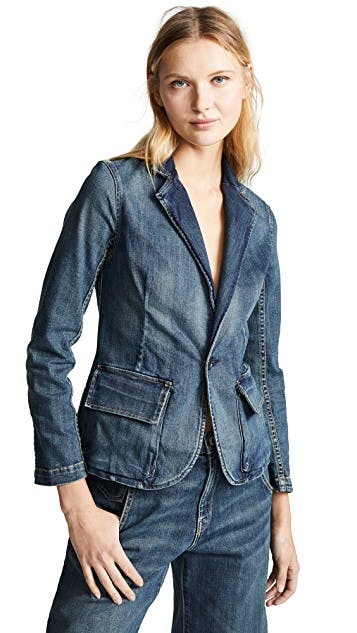 NILI LOTAN Addison Blazer $495.00
The versatility of denim just keeps growing. We had denim fur by KSENIA SCHNAIDER and NILI LOTAN, here, has a utility inspired blazer that is versatile. When paired with slouchy jeans, it will give a Japanese cool that we all admire.
Best Statement Denim Jacket
CURRENT/ELLIOTT The Baby Trucker $328.00
The new Baby Trucker by CURRENT/ELLIOTT carries over one of their signature prints, colored leopard. For this season they switched the usual oversized cut for a fitted style that you can be pulled off with a matching pair of jeans.
Editor's Favorite Denim Jacket
Editor's Favorite Denim Jacket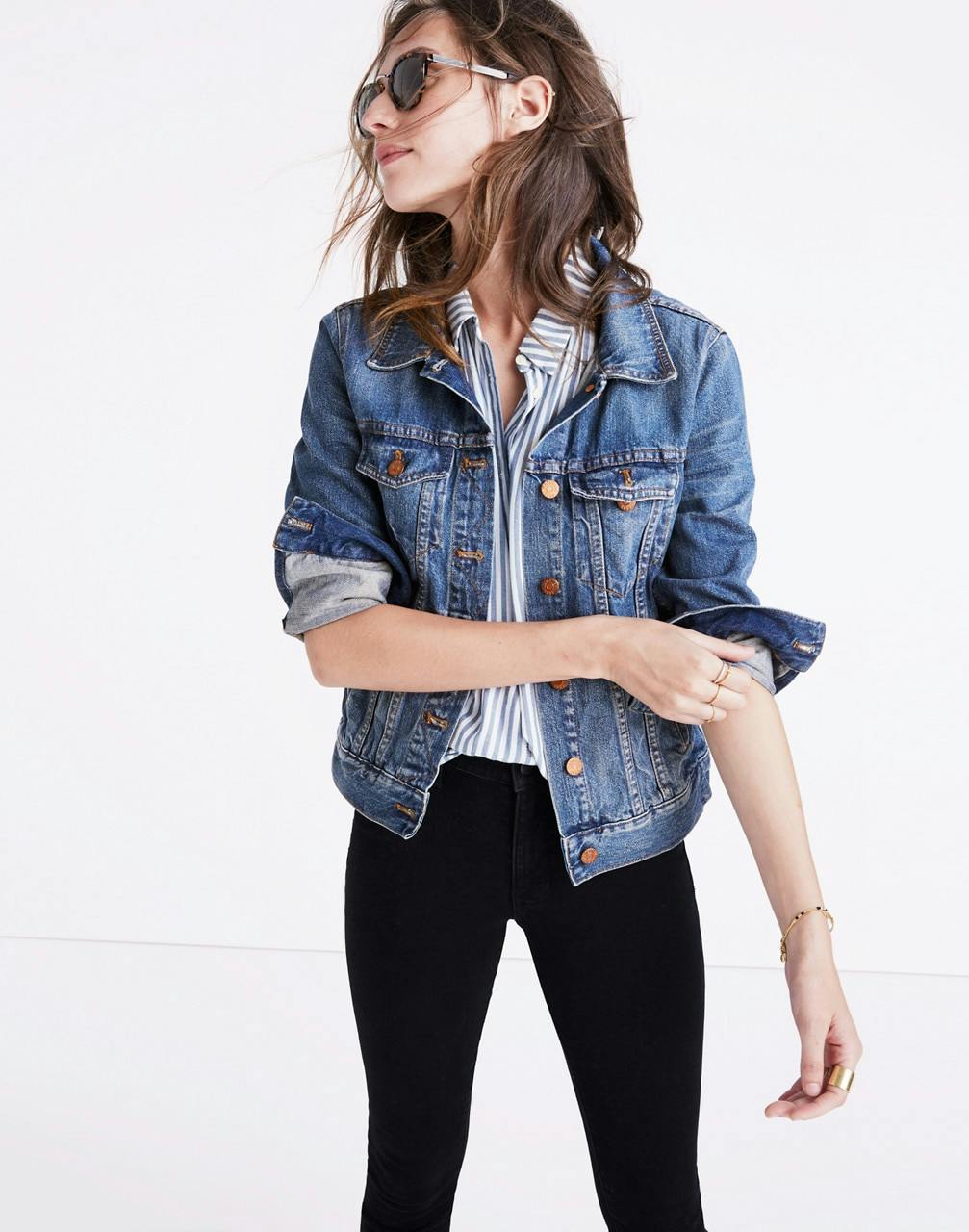 MADEWELL The Jean Jacket $118.00
The Jean Jacket by MADEWELL is as timeless as it comes. The wash will go from season to season and be relevant in years from now. Plus they offer the choice to customize with embroider. So why not get snatch up one for yourself that is a little more personal.
More styles we love…
Best Jean Jacket if You Are Looking to Save
Best Jean Jacket if You Are Looking to Save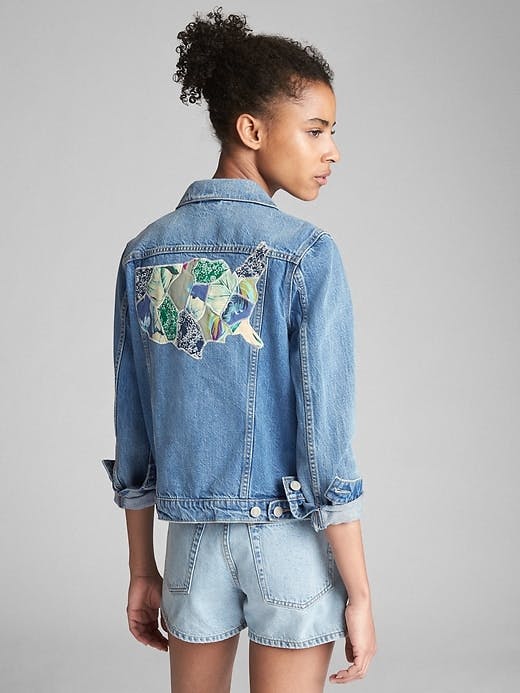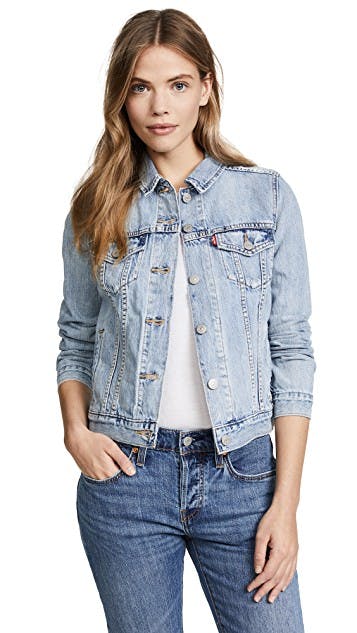 LEVI'S The Original Trucker Jacket $89.00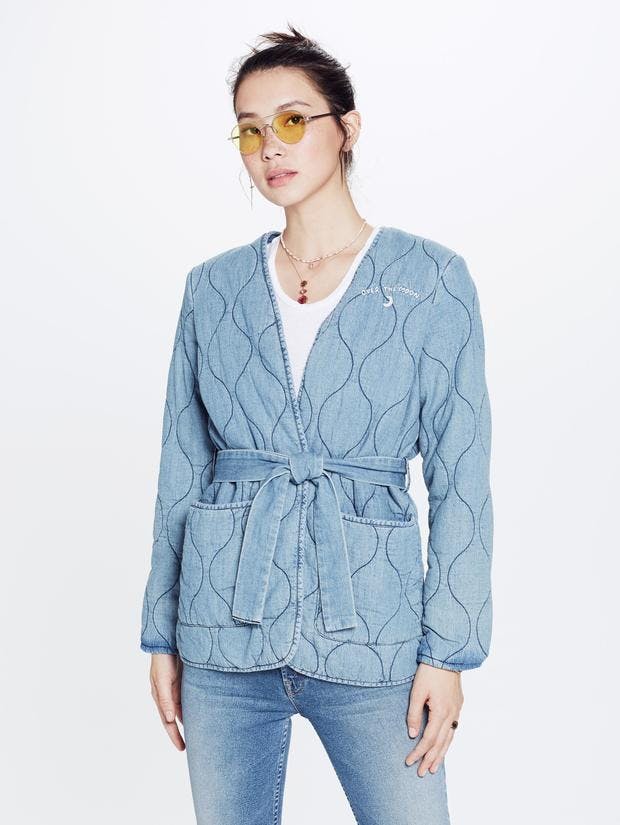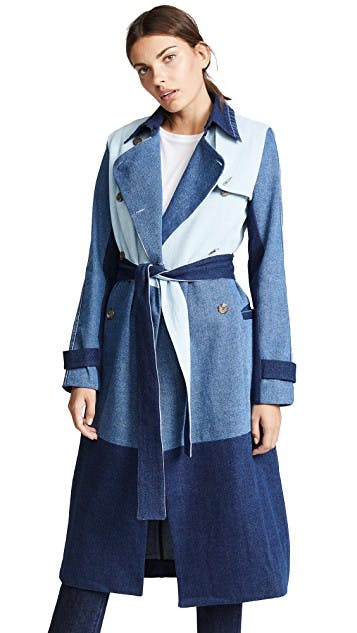 KSENIA SCHNAIDER Denim Patchwork Coat $925.00
Best Old School Cool Denim Jacket
Best Old School Cool Denim Jacket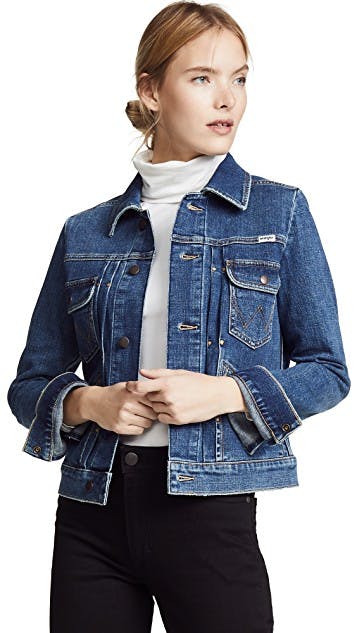 WRANGLER Pleated Denim Jacket $138.00