What could be better than a denim shirt? Rugged enough to work with your hands in, but chic enough to wear to a night on the town afterward. Dare I say that denim shirt matches style and functional better than any other shirt?
our favorite jeans
Best Denim Shirts for Men Explained
Our Recommendations for Best Denim Shirts for Men ♡
Our Favorite Dark Denim Shirt
A clean black denim shirt is one of the hardest finds and NUDIE made it easier with their Jonis shirt to fill that void in your closet.
---
Best Western Style
CALVIN KLEIN Foundation Western Blocked Shirt $64.00
Raf Simons transformed CALVIN KLEIN and has created a new core detail for the label with colorblocking that will make a fun addition to the denim shirt collection.
---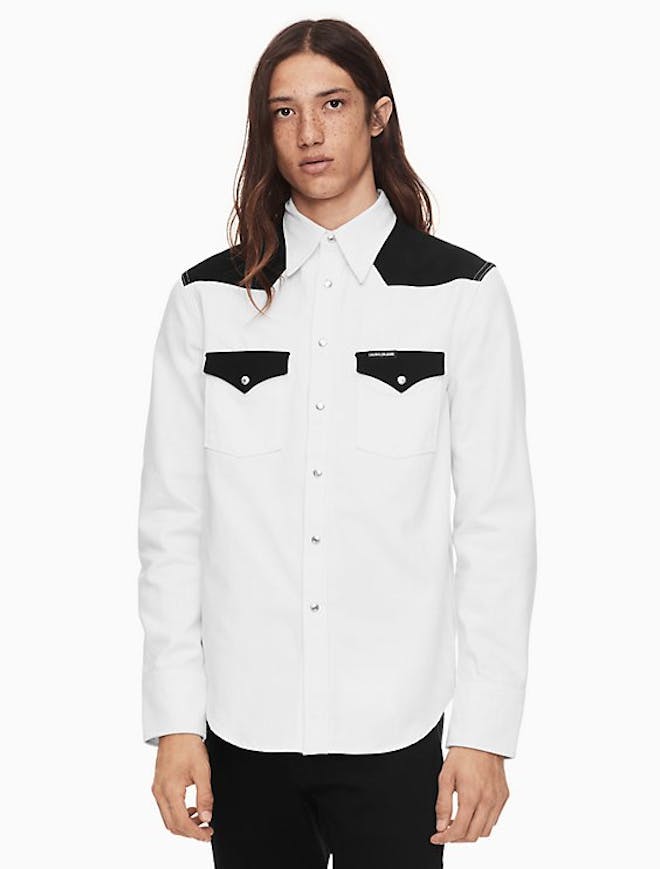 CALVIN KLEIN Foundation Western Blocked Shirt $64.00
A crisp take on the signature CALVIN KLEIN colorblocking with a white base and black paneling.

---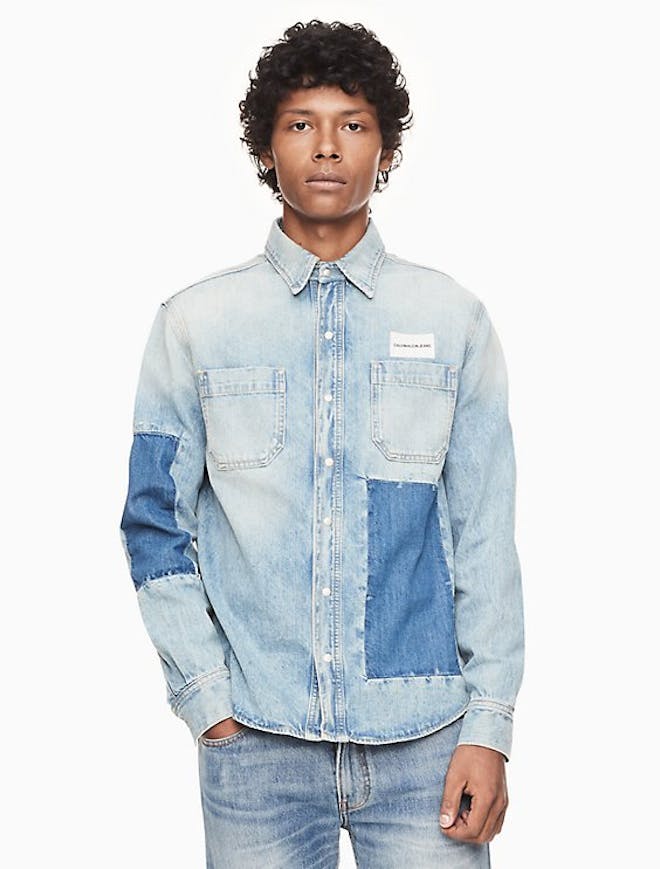 CALVIN KLEIN Patched Denim Utility Shirt $69.00
An artisanal take on repaired denim with tonal patches against washed denim.

---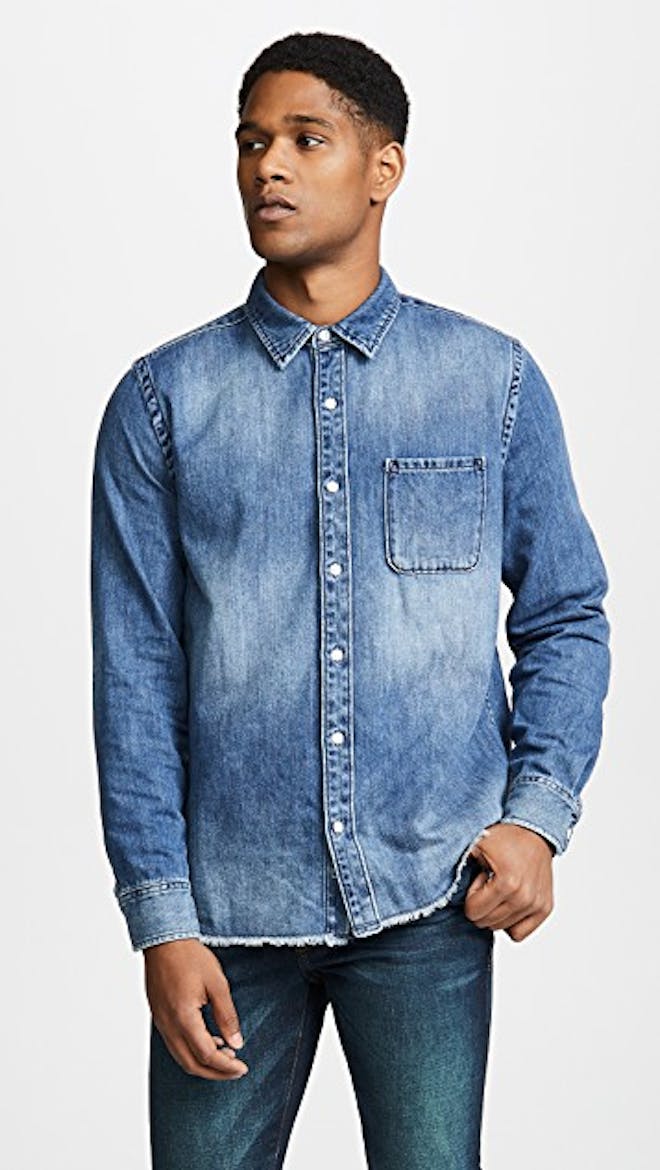 FRAME Raw Edge Denim Shirt $195.00
Never ones to stray from staples that everyone needs, FRAME kept their denim shirt with organic looking fades and a versatile medium wash.
---
Editor's Choice for Denim Shirt
Editor's Choice for Denim Shirt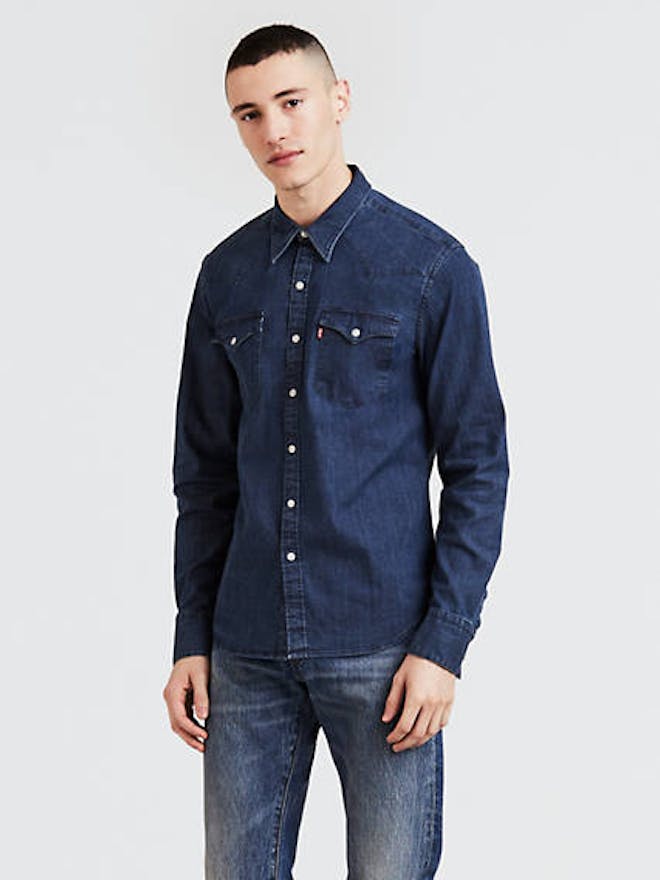 LEVIS Barstow Western Shirt $69.00
This is the dark denim shirt that will give a smarter feel to your double denim look.
---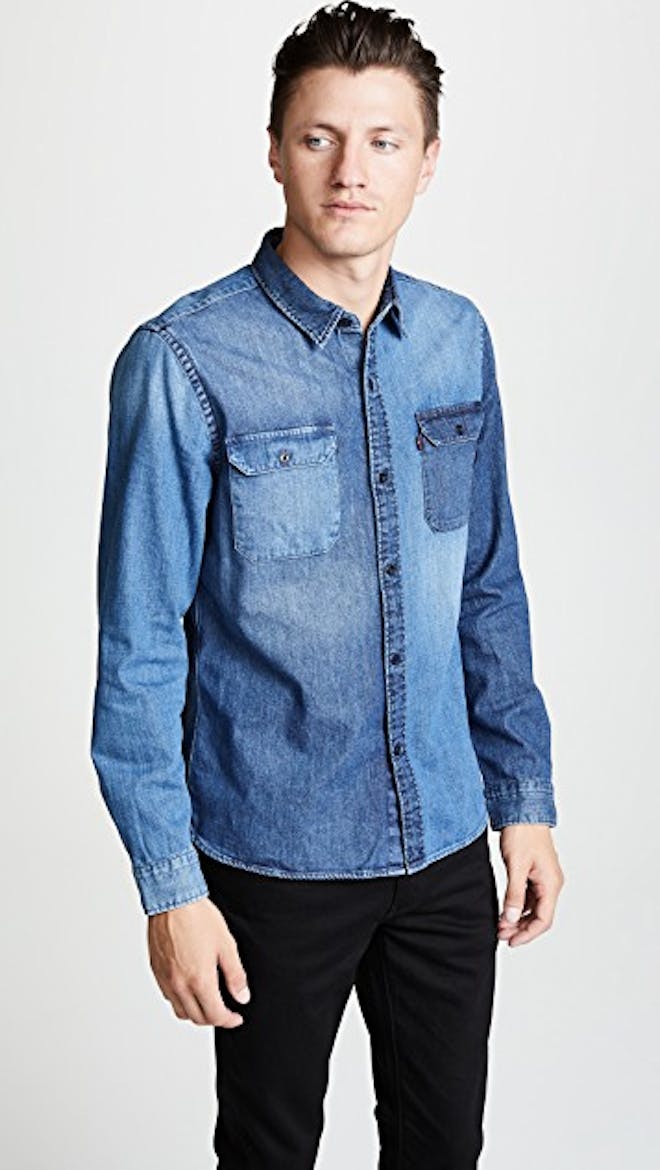 LEVIS Jackson Western Shirt $55.00
This is the denim shirt that you'd expect when you think of heritage and colorblocking. It is subtle and graphic, yet versatile.

---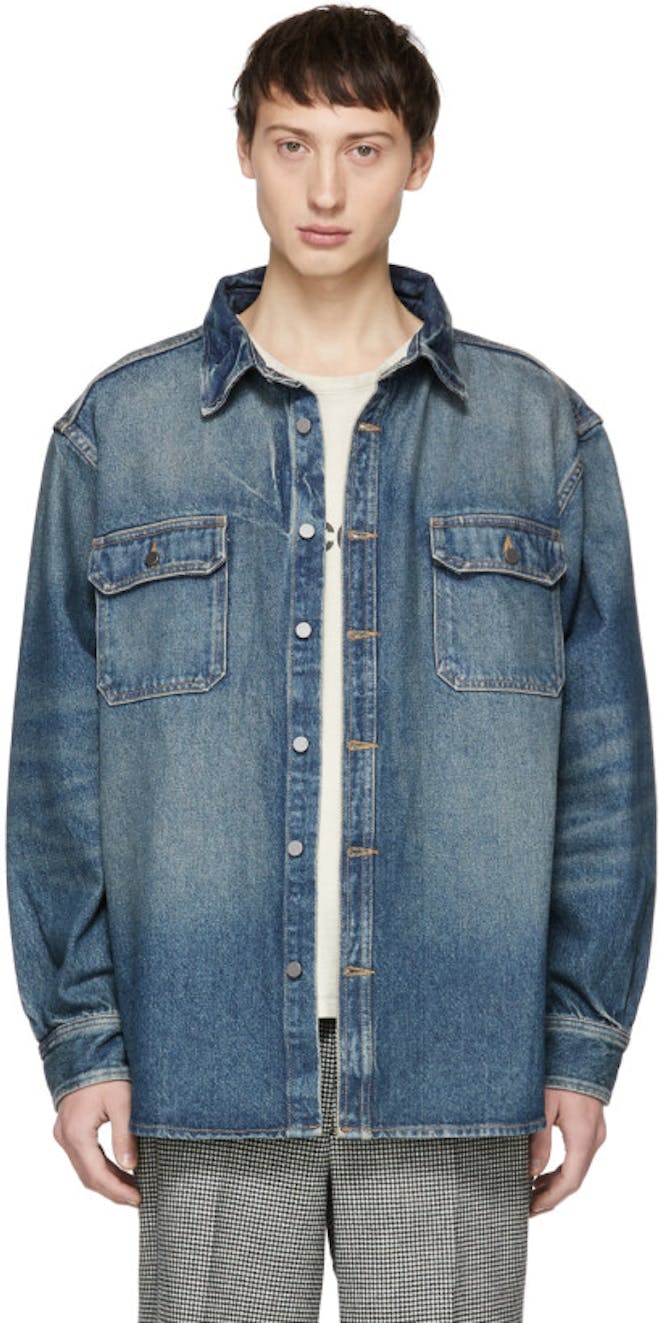 424 Denim Utility Shirt $475.00
Streetwear brand 424 took on the utility trend for their denim shirt by giving a boxy fit and some sanding for an organic worn look.

---
Best Short Sleeve Denim Shirt
AMI Short Sleeve Denim Shirt $97.00
This short sleeve denim shirt will make a great addition among the usual long sleeve styles that we have all collected over the years.
---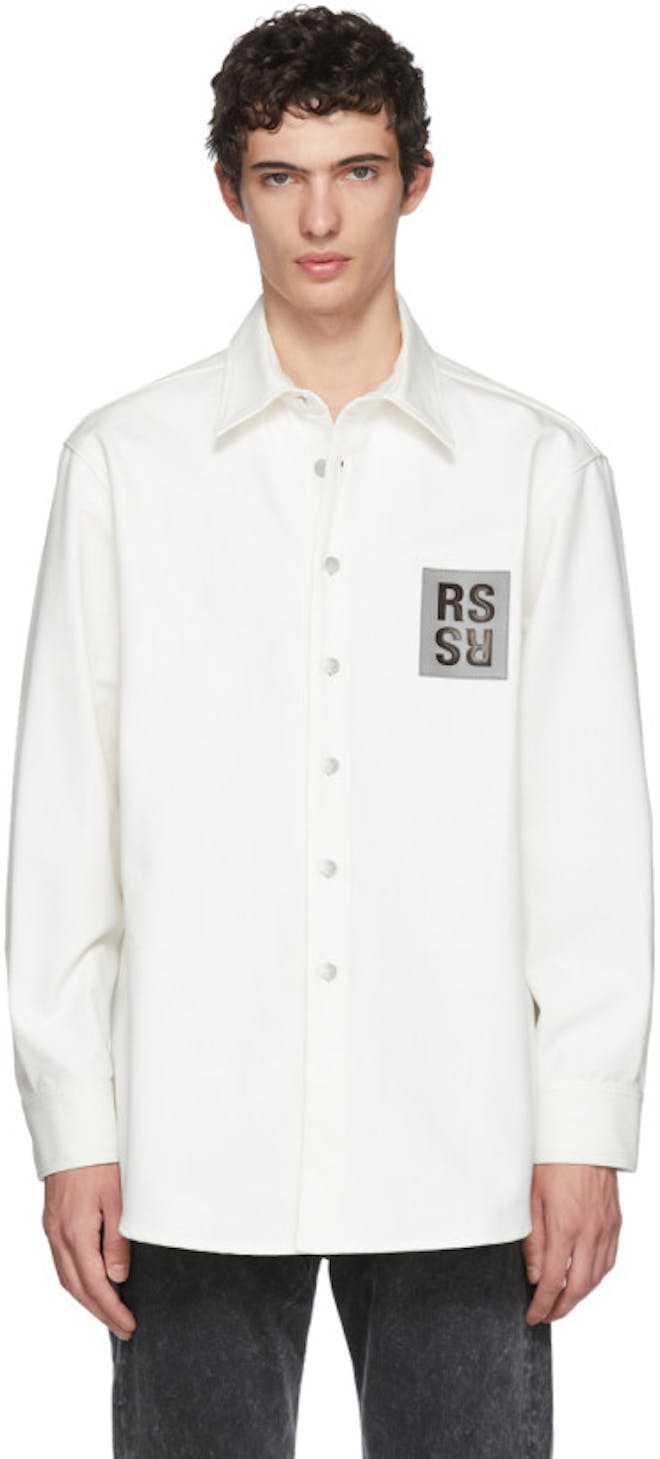 RAF SIMONS Patch Logo Denim Shirt $381.00
It's not just at CALVIN KLEIN that denim shirts have been given the RAF SIMONS touch. For his namesake label, the Belgian designer gave the denim staple his signature minimal touch.

---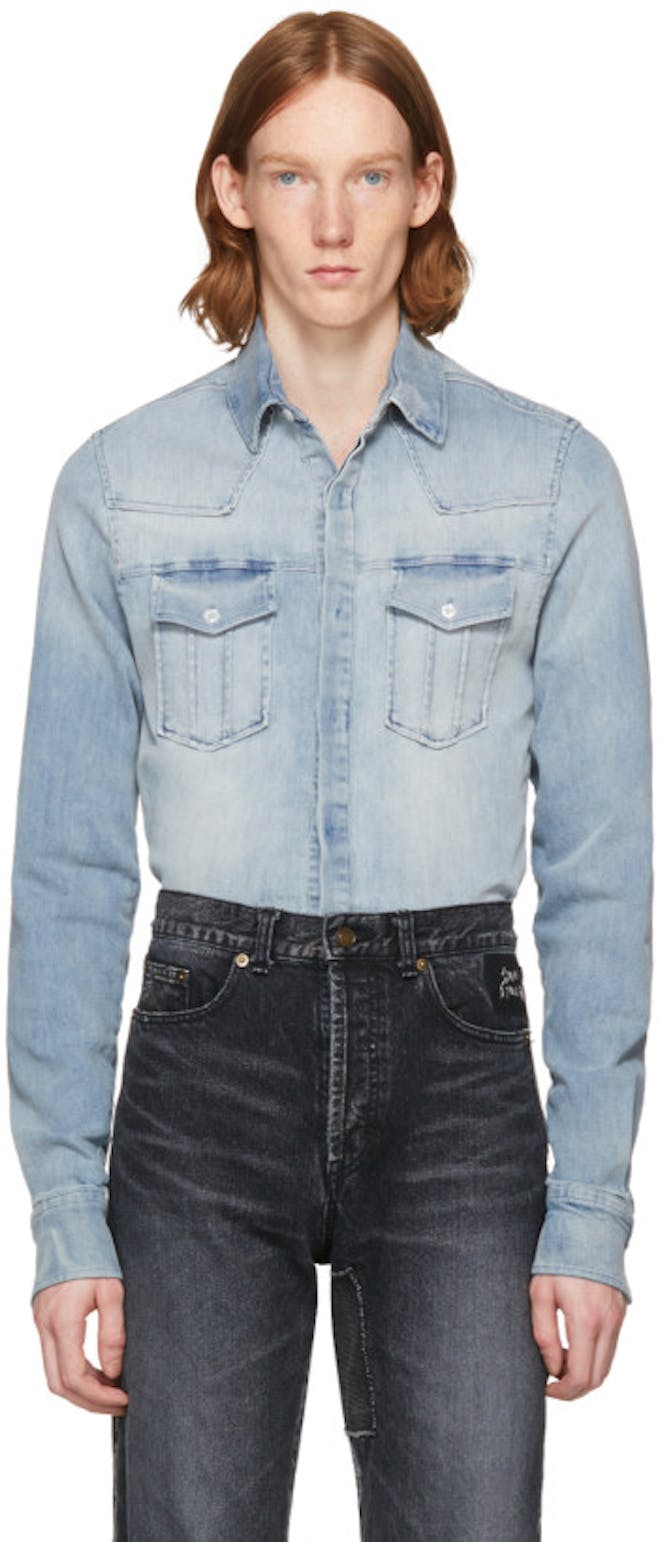 PIERRE BALMAIN Denim Shirt $177.00
This denim shirt by PIERRE BALMAIN has a lean silhouette with touches of tailoring from the brands main line.

---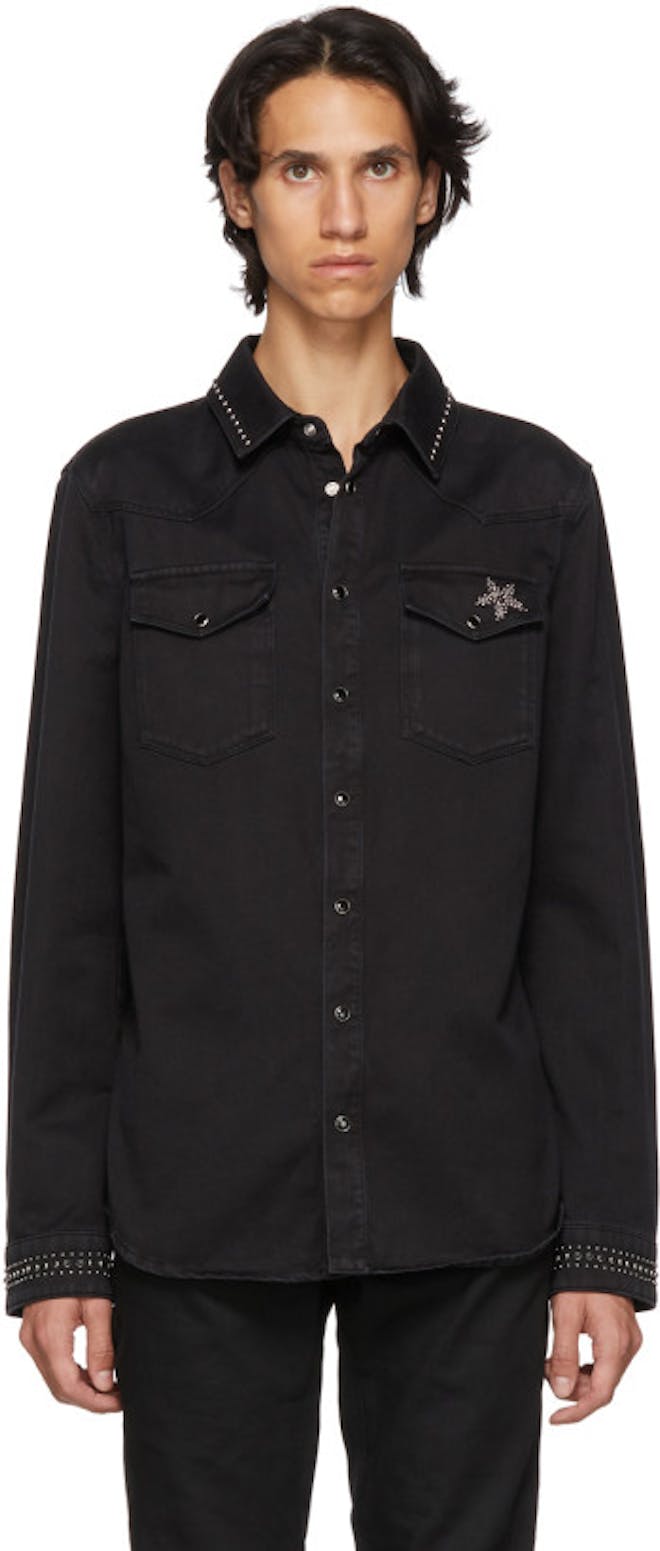 VALENTINO Embroidered Denim Shirt $500.00
Pier Paolo Piccioli of VALENTINO took the denim shirt a youthful bohemian spin with some studded details.

---