Chic look – denim shirt and white jeans via Stockholm Street Style
The denim shirt started as the perfect shirt for working people. The blue hue, durable fabric, and roll-able sleeves made it the perfect companion for a hard days work. (Just ask Rosie the Riveter.)
Yet with all things denim, as years passed, the look became more important than durability. Today, the denim shirt has been updated, styled, and refined as a chic boho, modern, and business casual look.
This article shows you 12 of our favorite denim shirts of 2019. I've also included chambray (a similar fabric to denim) as their as some great options that we were worth including.
Ready? Let's go!
Editor's Choice for Denim Shirt
Editor's Choice for Denim Shirt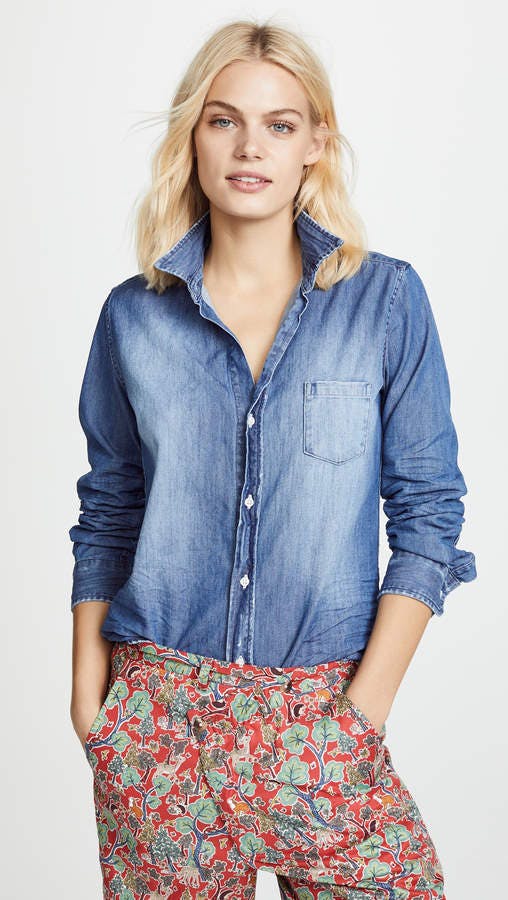 A classic Frank & Eileen button-down shirt, made casual in soft, frayed, faded denim.
The Best Denim Shirts
Below are some of our favorite denim and chambray shirts. A solid denim shirt is an essential for any modern wardrobe. Madewell leads the pack with 3 of the recommended 12 shirts.
1/8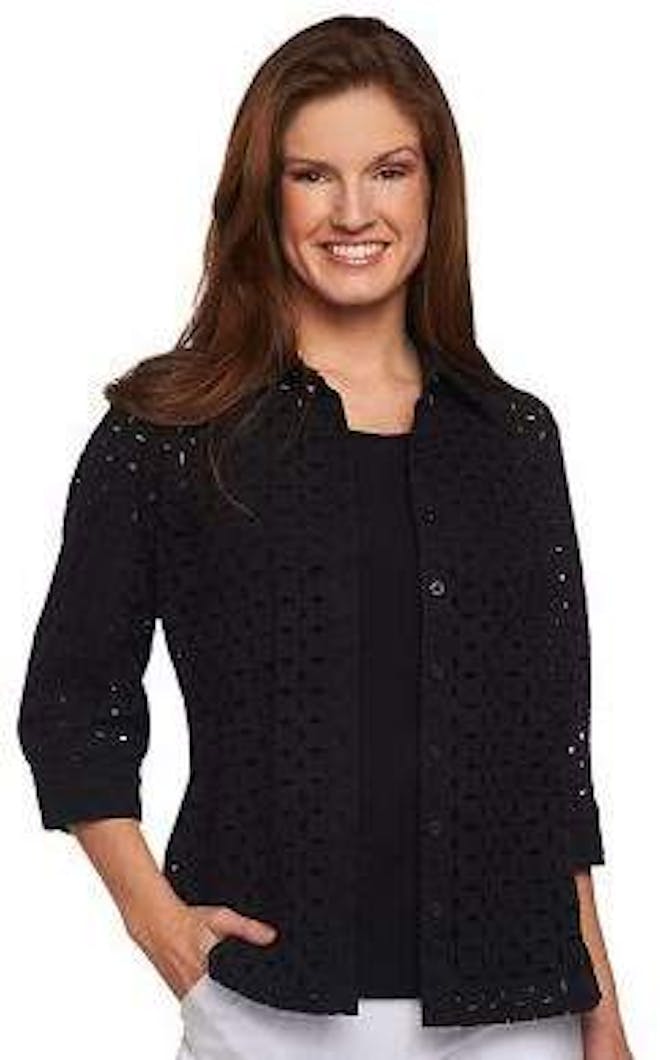 Breeze into the season with style! This lightweight shirt and tank set is just the thing to update your wardrobe for warmer weather. Page 1 Bree…
---
2/8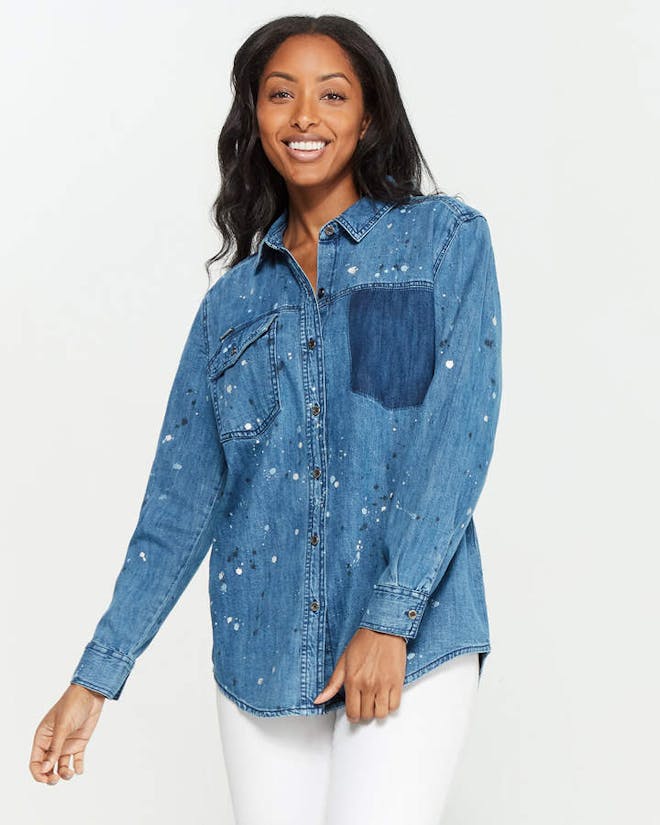 Point collar, button placket Flap pocket at chest, allover paint splatter 100% Cotton Machine wash cold, line dry Imported Ladies True to size M…
---
3/8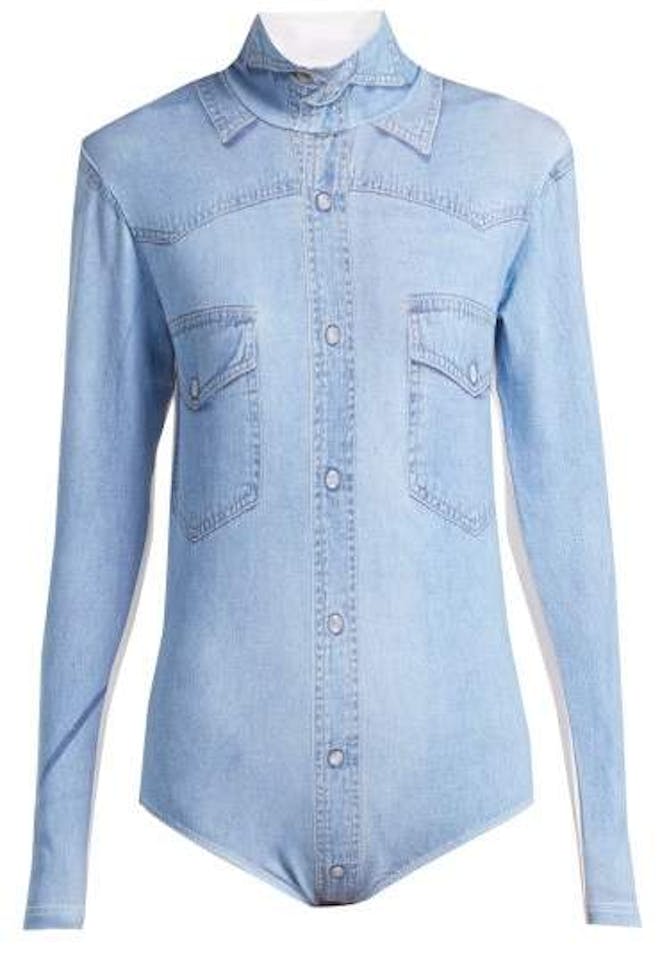 Vetements – Hybrid pieces are a trademark of Vetements founder Demna Gvasalia and the AW18 collection includes this blue bodysuit printed to loo…
---
4/8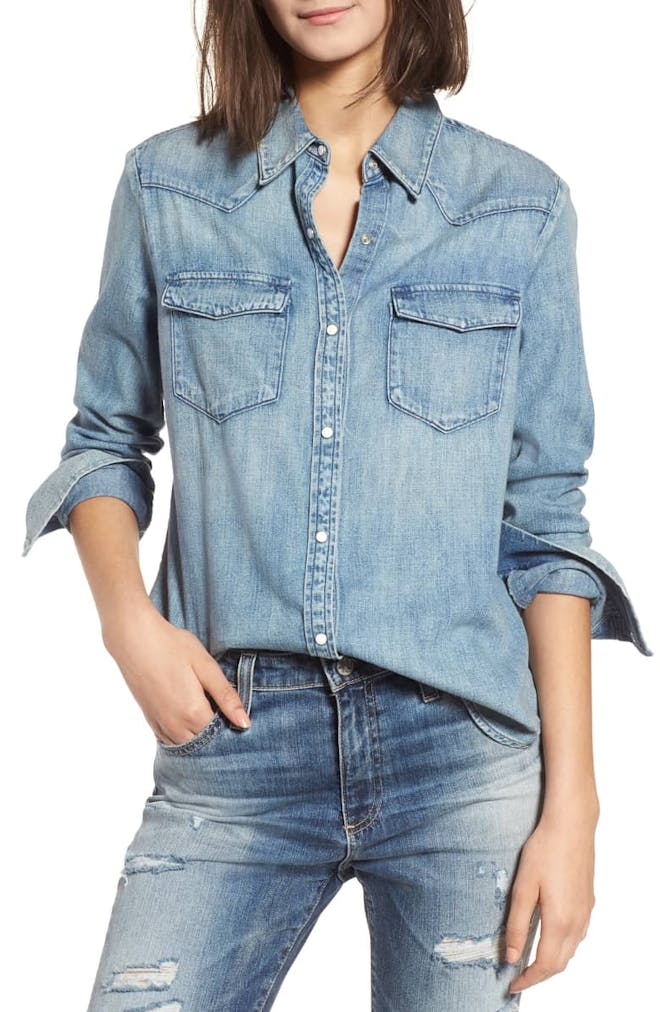 Another Western style shirt, this time from AG. Comfortable, easy to wear up or down, and perfect if you ever ride a horse.
---
5/8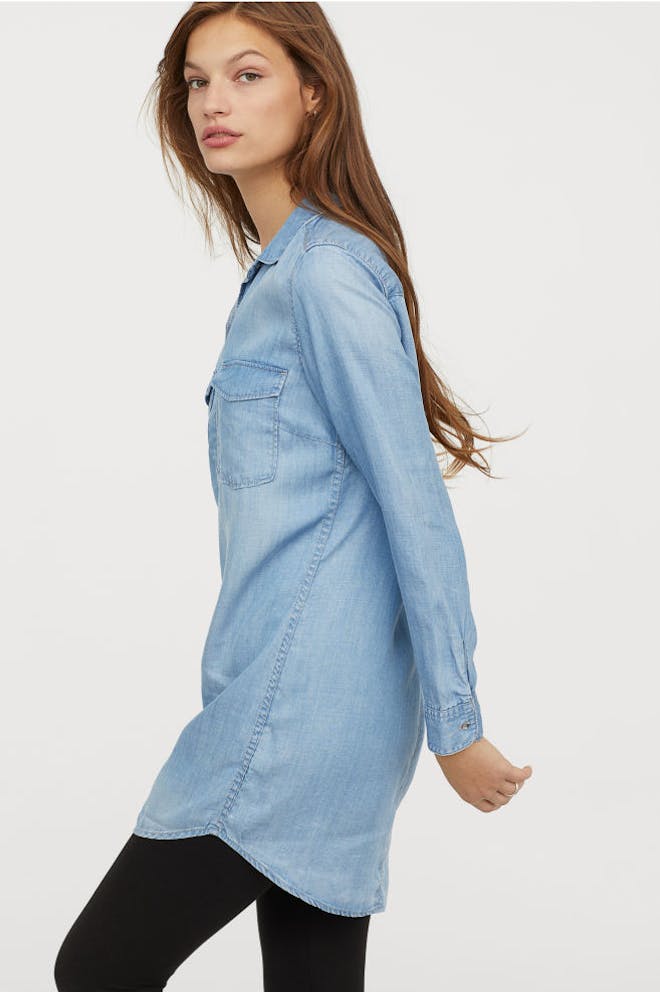 This shirt has a little bit of a smock vibe but I still dig it. Besides, at $16 you can afford to be a little fashion forward.
---
6/8
Best Chambray Shirt
Best Chambray Shirt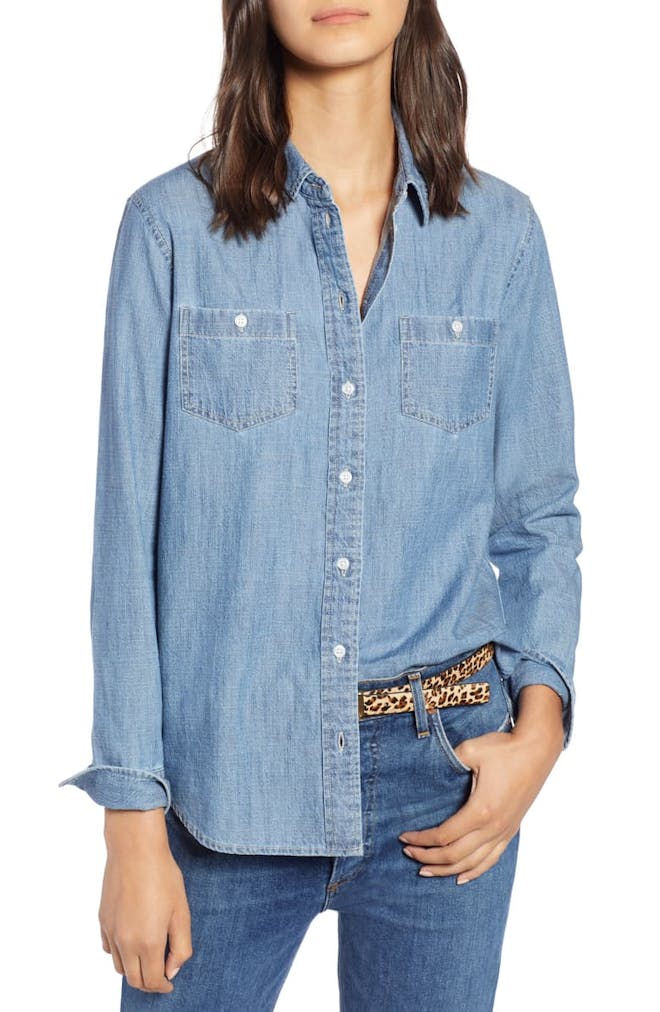 Sanctuary Classic Chambray Shirt $69.00
Another chic shirt — this time chambray — with a cute neck tie. This shirt is on trend with its rich blue wash and interesting detailing.
---
7/8
Best Dark Denim Shirt
Best Dark Denim Shirt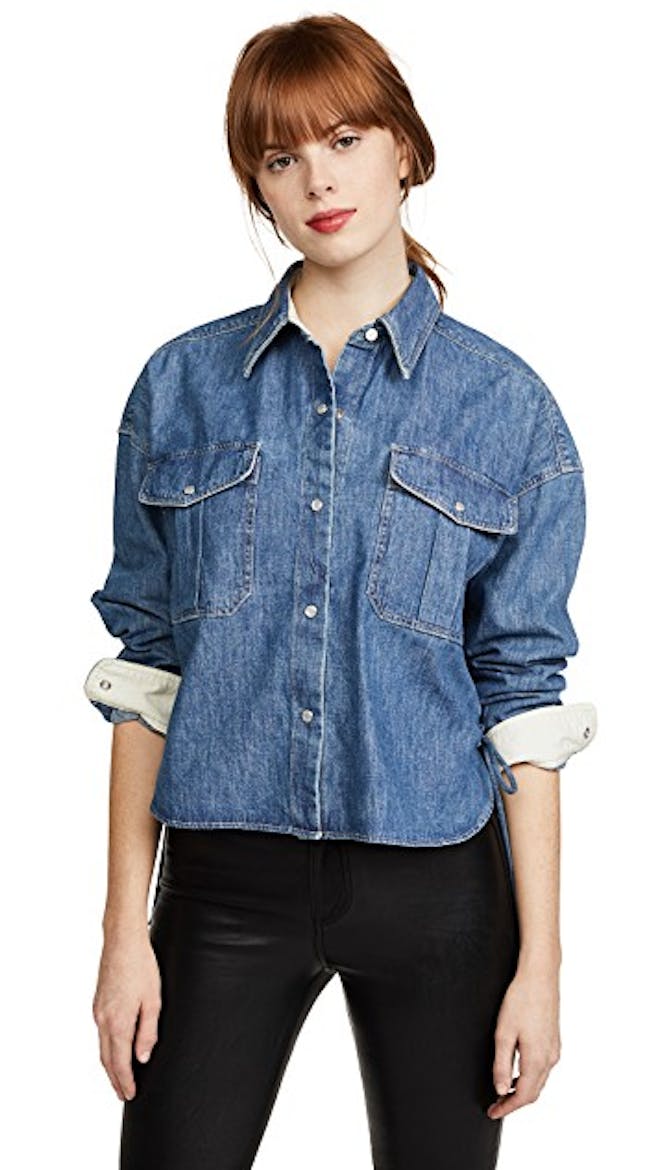 Rag & Bone Cropped Mason Chambray Shirt $350.00
We love Rag & Bone for their quality and style, and this shirt doesn't disappoint. If you are looking for a hardy denim shirt — that you can wear in the wintertime and for a long time — this is the one.
---
8/8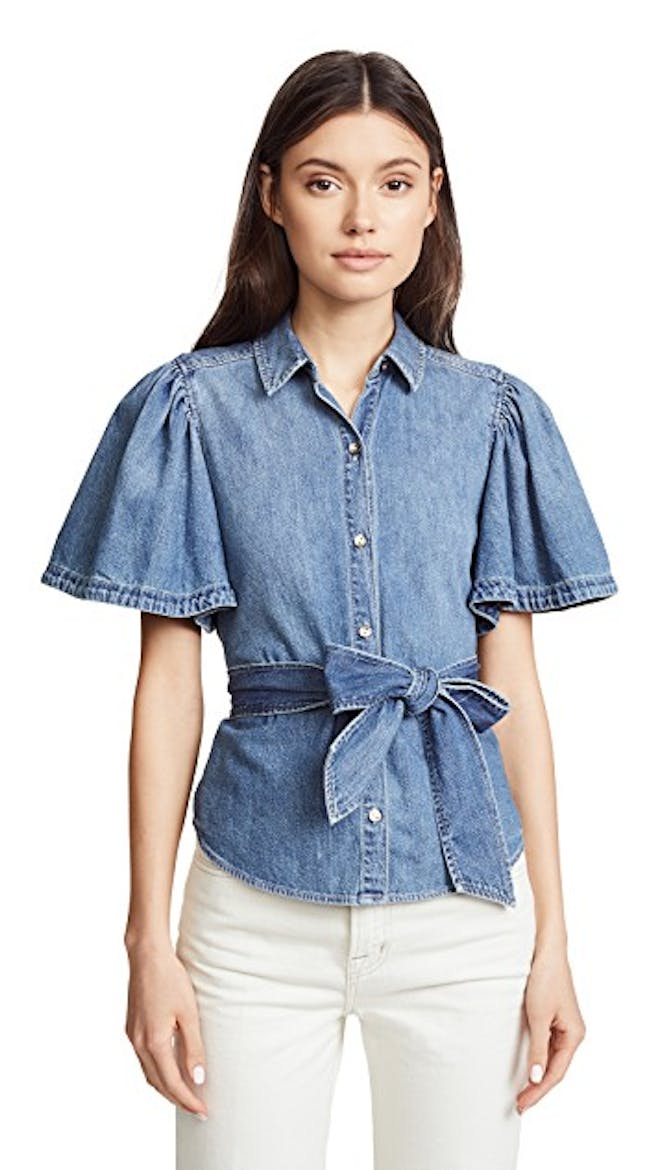 La vie Rebecca Taylor Short Sleeve Denim Top with Tie $225.00
Uber feminine blue jean shirt that is perfect for cute affairs. A little less practice than some of the others, but would be perfect for the right event.
---
10/8
Editor's Choice For Best Denim Shirt
Editor's Choice For Best Denim Shirt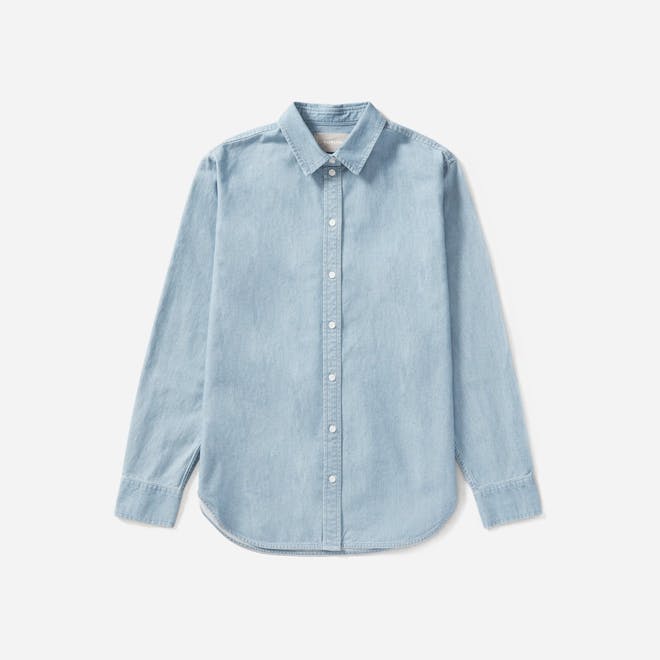 Everlane The Relaxed Jean Shirt $60.00
A perfect spring shirt if you need outfits for your closet that you can wear to work. The $60 price tag isn't too bad, and Everlane is very good quality.
Reasons We Love These
It is a great basic denim shirt.
So soft, cozy and elegant.
Things to Look Out For
Material is thicker than you would expect, so it can't really be warn in the summer.
---
10/8
Best Western Women's Denim Shirt
Best Western Women's Denim Shirt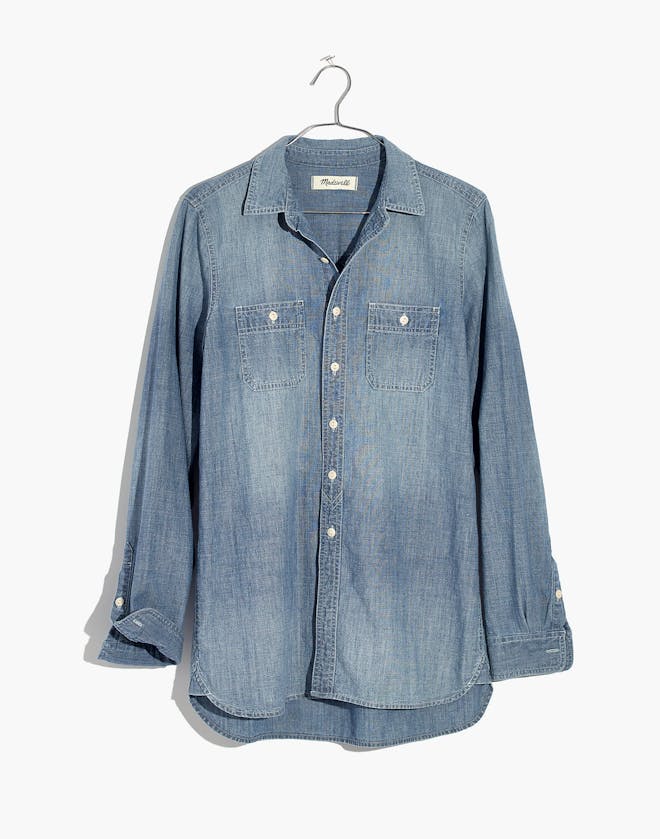 Madewell Denim Western Shirt $59.00
Authentic to the very last pearl snap, this Western-inspired denim shirt only gets better the more you wear it. The Western style denim shirt can be a little tacky, but this shirt from Madewell is subtle enough to be cool.
---
Research / Frequent Questions
How To Style Your Denim Shirt
You can literally wear denim shirts with anything and they look great! I have numerous denim shirts (maybe 10) and I wear them weekly with my different outfits. They go with shorts, mini skirts, maxi skirts, over dresses, with different wash jeans and more.
They are very versatile and come in so many variations! I have two ombre/dip dye shirts, an oversized light blue one, a light blue fitted one, a dark blue fitted one, a tie-dye sleeveless version, one with embellished elbows, one with studs and more! I find you can even wear them underneath denim jackets as well, if you want to go for a triple denim look!
how do you wear a denim button up shirt?
If you're doing a casual Friday look for work, you can wear wear leather pants with your denim shirt, and layer the look leaving a few buttons undone to make color pop.
You can wear denim on denim
Denim shirts also look great with pencil skirts.
Sparkle skirts look good with the denim shirt as well, lace works as well
White jeans are great for denim shirts now
Sweaters also look great with shirts
Colored jeans and maxi dresses almost make this look good
Even jean shorts look great with these shirts
What pants to wear with a denim shirt?
Dark jeans
Light jeans paired with a shirt that is two shades darker
Black jeans are becoming a trend with jean shirts now
White jeans
Skinny khakis are a new trend with jean shirts as well
Colored shorts that pop, jean shorts and white jean shorts are popular ways to dress up a denim shirt
Skinny joggers
Leather leggings are a popular choice with jean shirts
Regular cotton leggings, comfy and go with anything
Depending on the shirt, you can wear dress pants with it
Under a sweater and blazer, you can wear it with anything
Can you wear a jean jacket with jeans?
You definitely can. You must make sure that the denims involved are at least two shades different that whatever denim you are wearing
What is a chambray shirt?
A chambray shirt is like a denim shirt using plain weave fabric with colored yarn and white yarn in the weft. It is not a cotton twill like denim
is chambray a summer fabric?
Chambray is definitely a summer fabric. It is a lightweight cotton, so it will ensure that it breathes while being worn.
is chambray a cotton?
Chambray is a cotton. Although it is woven with material that makes it appear as a denim fabric, this is much more lightweight and breathable than regular denim.
Celebs in Denim Shirts
I have included 6 of my favorite celeb denim shirt looks, these include Ashley Greene, David Beckham, Vanessa Hudgens, Kate Bosworth, Zac Efron and Charlize Theron.
We have had countless sightings on DenimBlog of celebs in a denim shirt though, but I really liked these looks! It just proves how easy they are to wear and how unisex they are too! I even own a men's denim shirt as I loved the colour of it, so anyone can literally wear them!
---