If you were a popstar in the 80s, wearing real leather leggings might have been a good idea. Thankfully in the years since, we've learned a ton about the horrors of leather production.
Unfortunately, that leaves you in a tight spot if you want to let your inner Freddie Mercury sing out. Thankfully, the answer is here…faux leather.
Below I show you the best faux leather leggings, including vegan options.
Ready? Let's Go!
Our Favorite Faux Leather Leggings
10/11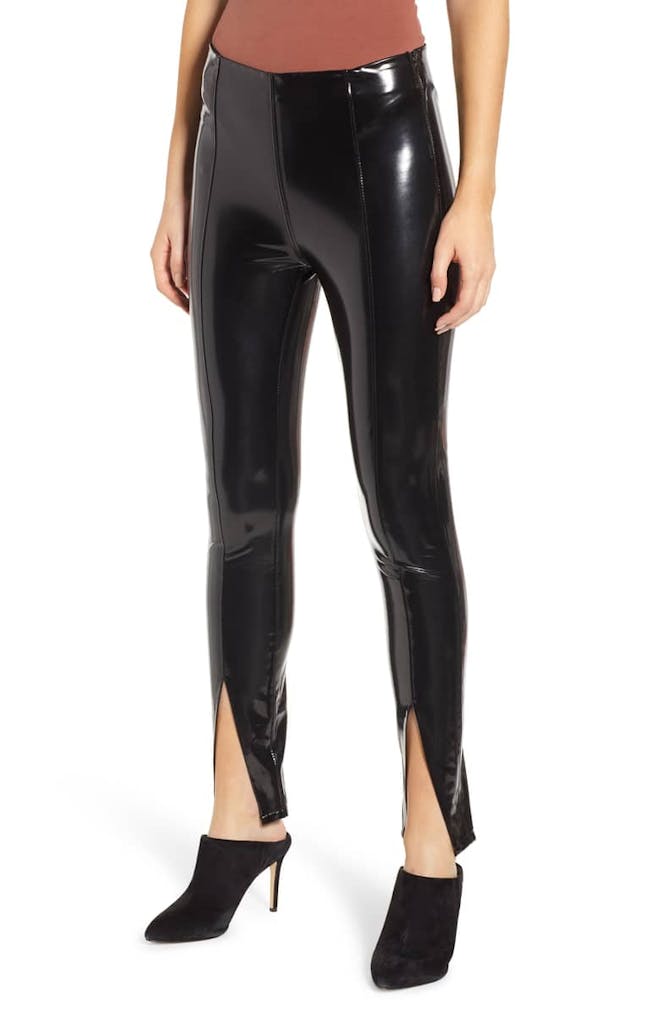 Dominatrix Faux Leather Leggings from $88.00
The front slit is a trend that is getting more popular by the day. These by BLANK gives a new edge to the patent leather look and why not sport a pair that shows off a killer pair of ankle boots.
---
10/11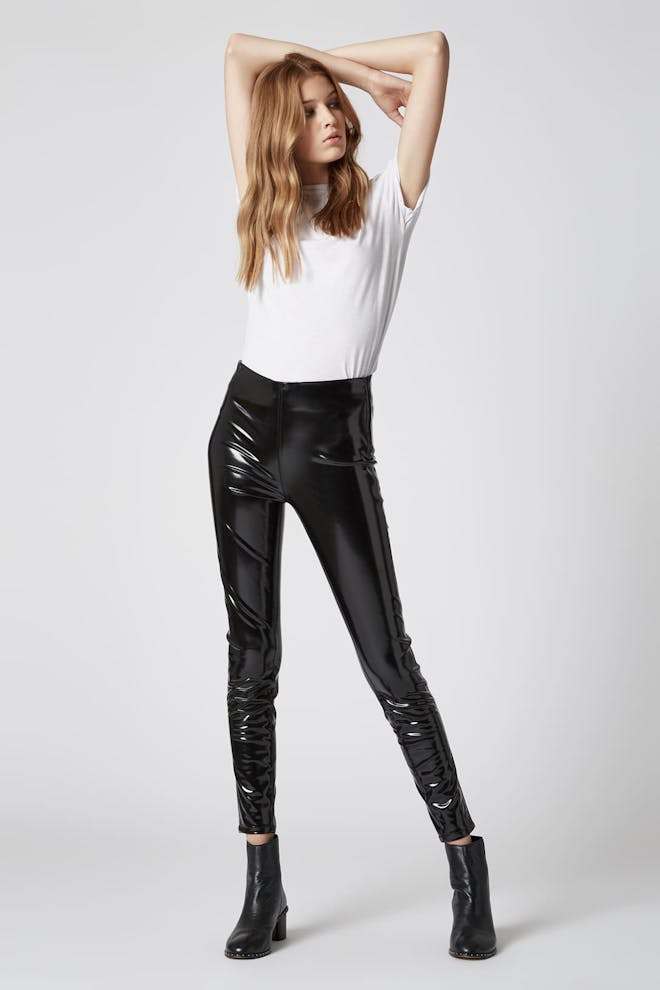 Dominatrix Faux Leather Leggings from $88.00
BLANK has been a brand that loves their faux leather pants. These are the perfect pair to don the vinyl trend that is still going strong at the moment. Their simplicity makes them the perfect pair to add a new attitude to your looks.
---
Editor's Choice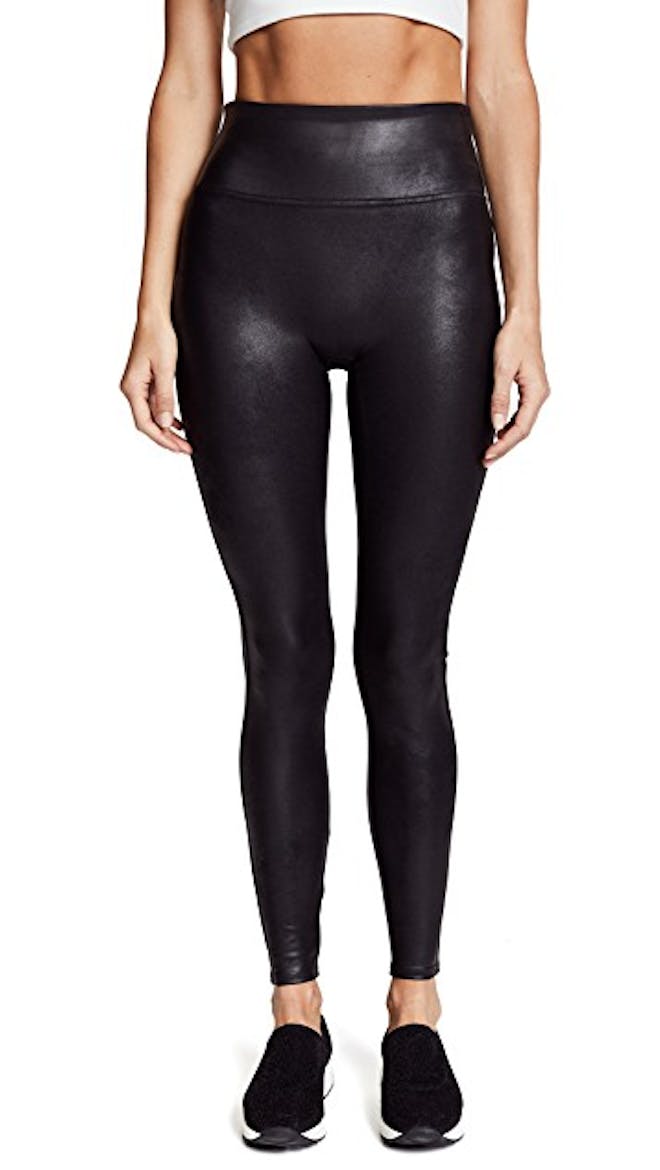 Now the classic style by the shapewear brand. It is timeless and has their signature technology of holding you in, but in an edgy leather-like look.
10/11
Best Imitation Leather Leggings
Best Imitation Leather Leggings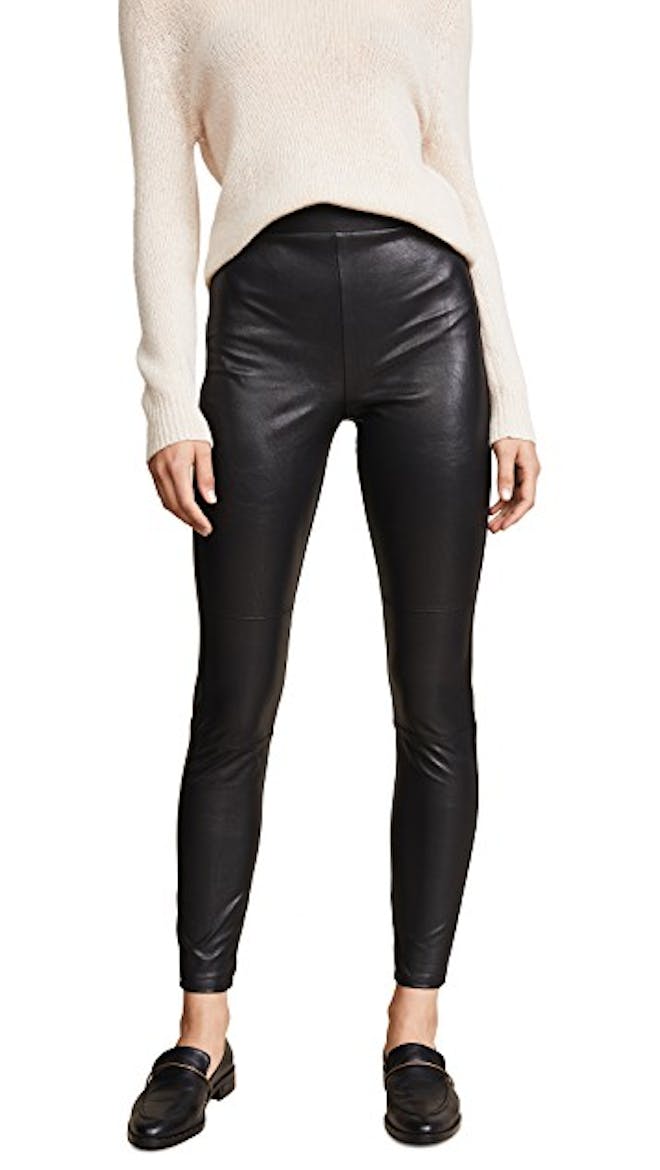 SPLENDID, didn't skimp on the details of their faux leather style. Keeping as true to the real thing as possible, they even included a center seam at the knees to mimic the real ones.
---
10/11
Best Brown Faux Leather Leggings
Best Brown Faux Leather Leggings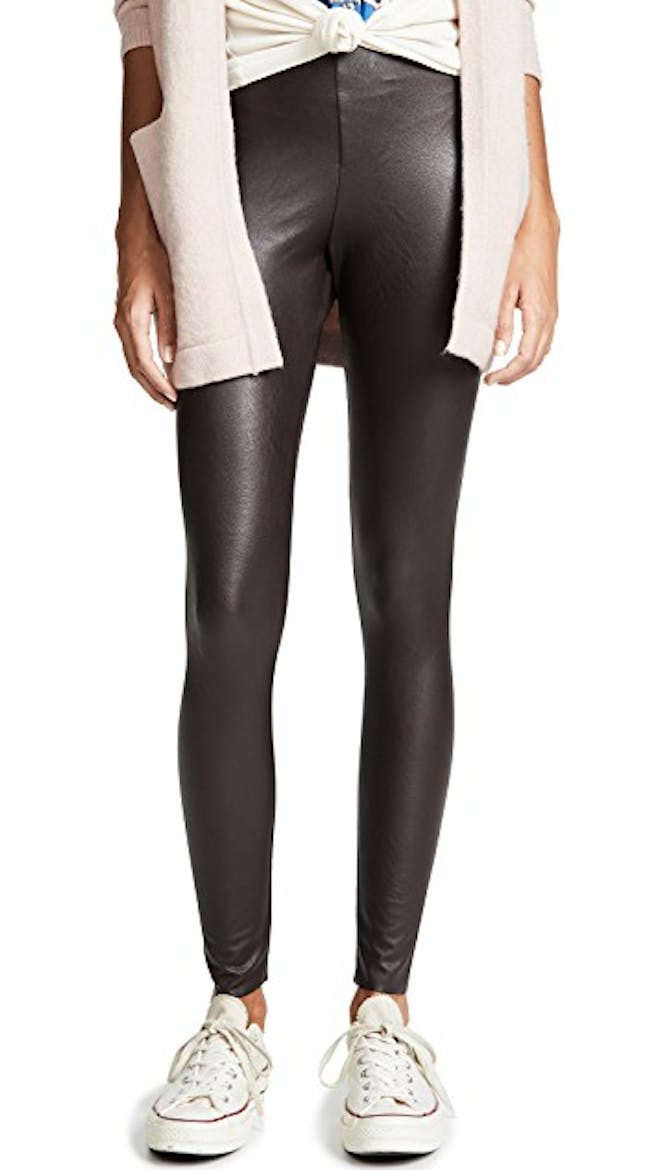 If you want a more muted pair, try out their classic leather looking style in Espresso – a deep brown – for change, here.
---
10/11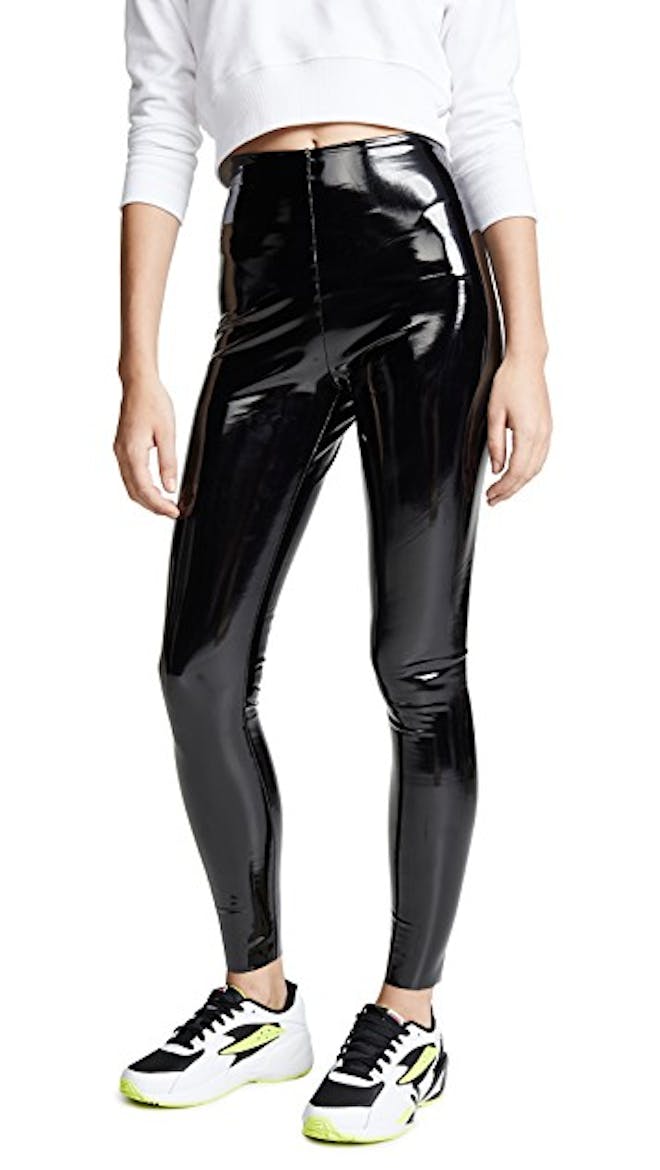 Faux Patant Leather Leggings from $98.00
If you were looking for a seamless patent leather style, check these out by COMMANDO. It is a signature of the brand to not have a side seam giving these pants an even more sleek look.
---
10/11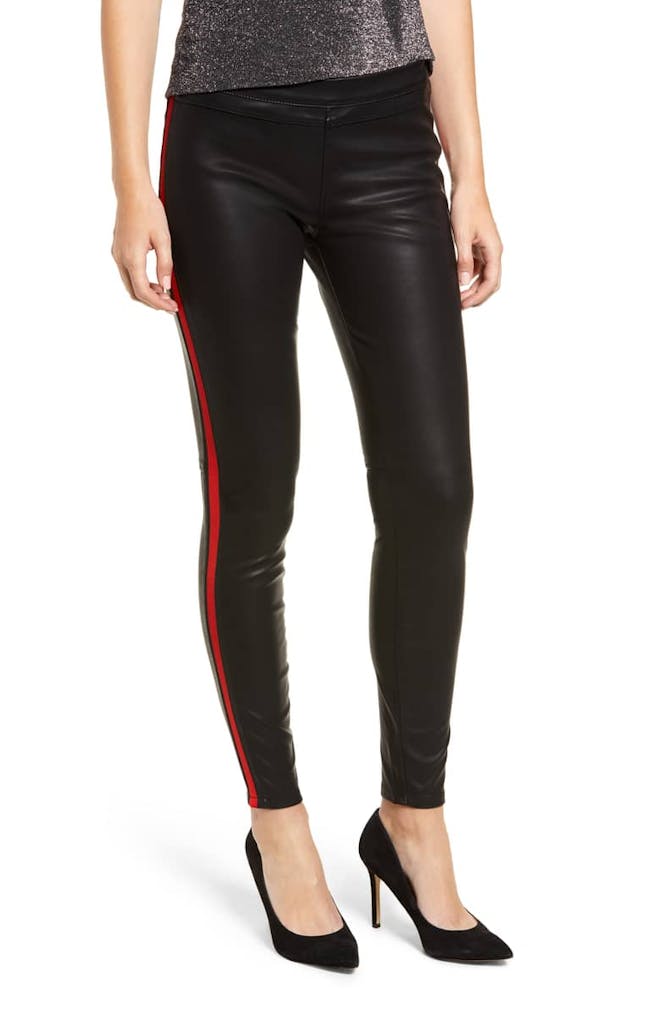 Light My Fire Faux Leather Leggings from $98.00
BLANK also dabbled in the trackpant trend giving one of their faux leather pants a cool update with a red stripe down the leg.
---
10/11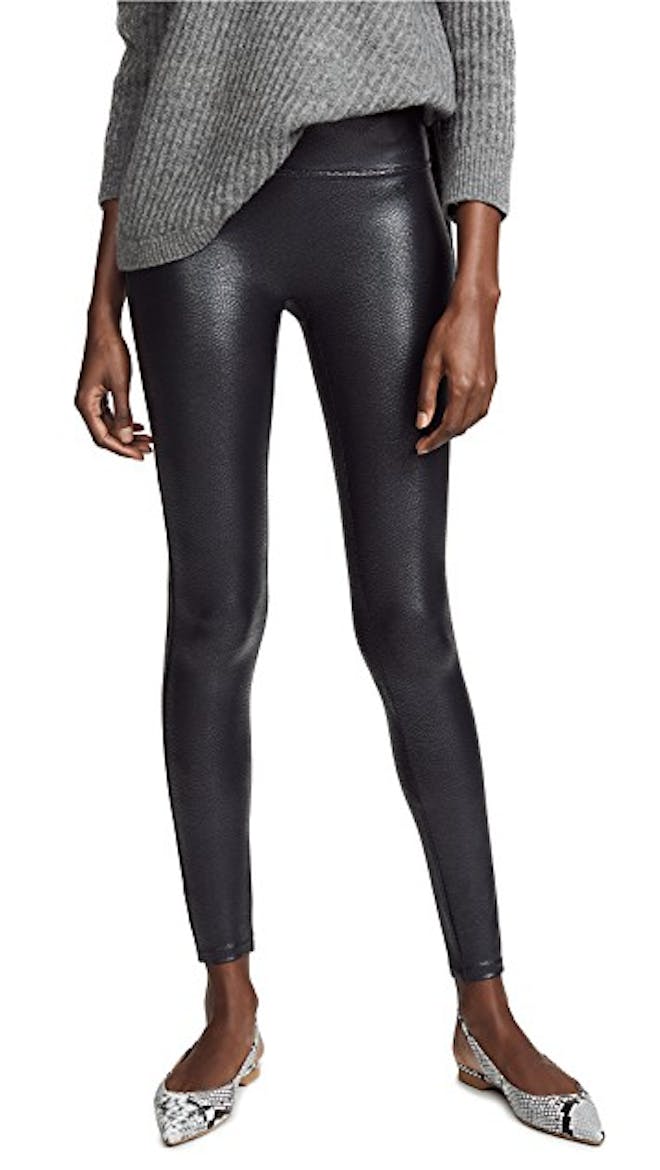 Pebbled Faux Leather Leggings from $110.00
One thing SPANX offers is variety. With this pair they are offering a new texture to the leather pants realm by pebbling. This gives them almost a snakeskin effect.
---
10/11
Best Maternity Faux Leather Leggings
Best Maternity Faux Leather Leggings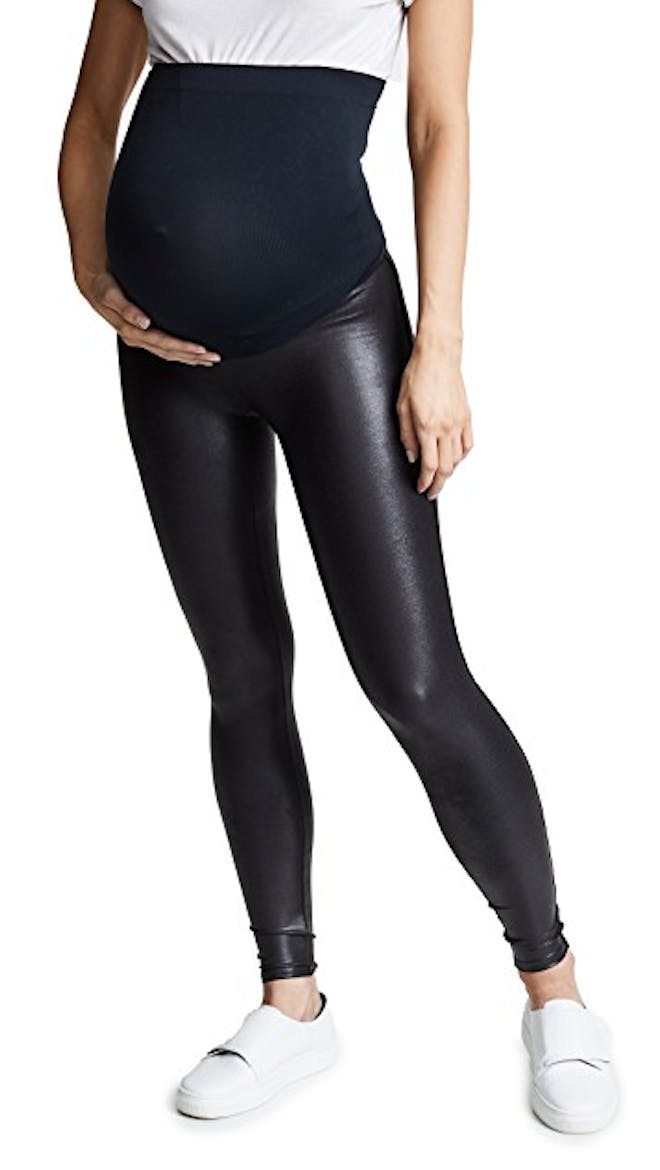 SPANX is really opening the range when it comes to their styles lately. They introduced denim not too long back and now have included faux leather. They didn't leave the expectant moms out either. Check out this pair here if you are looking to add some cool to your maternity looks.
---
10/11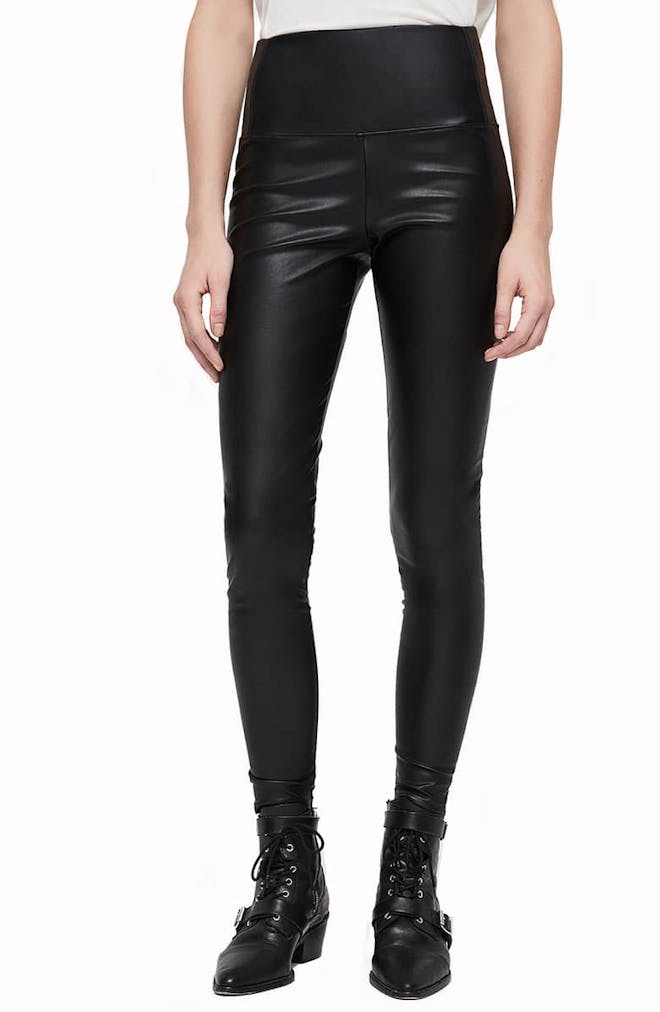 Cora Faux Leather Leggings from $198.00
ALL SAINTS is known for their leather, so these are the faux leather pair that are sure to rival an actual leather pair in look and feel.
---
10/11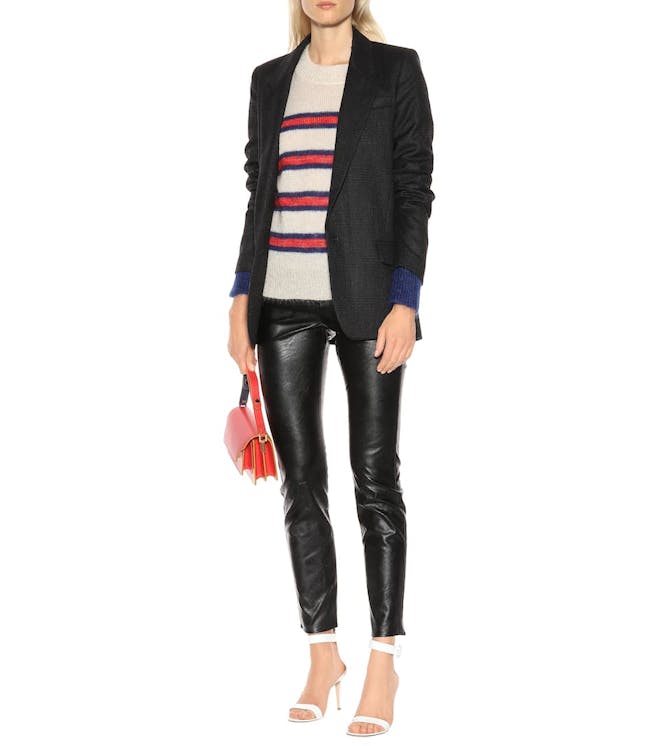 Zafferey Faux Leather Leggings from $275.00
The queen of laid back Parisian Chic, ISABEL MARANT designed a faux leather style for her ETOILE line that have her signature nonchalant way of dressing.
---
10/11
Best Vegan Leggings
Best Vegan Leggings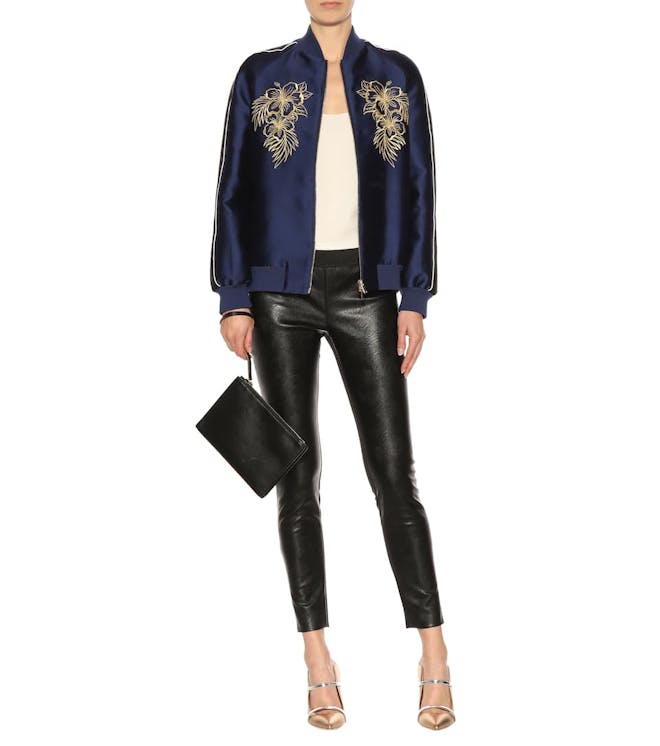 STELLA MCCARTNEY is the first vegan high fashion label, so you can only expect that her take on faux leather will be at the utmost quality that puts the real ones to shame.
---
What Shoes Look Good With Leggings?
For the most part, the most popular shoes to wear with leggings are sneakers. A comfy pair of flats are also a popular choice, depending on the occasion.
Is Faux Leather Better Than Real Leather?
It is more a matter of taste when it comes to using faux leather. Most like customers feel the need to use faux leather as a matter of taste because of animals being used in the process. For durability, faux leather is just as good. Faux leather is much more affordable as well.
What Can You Wear With Faux Leather Leggings?
You can wear faux leather leggings with many different things to show off your style.
Denim jackets, sweaters, blazers and heels as opposed to sneakers are all dependent upon the occasion you are dressing for.