Maternity jeans have gone through a renaissance in the last couple years. Yesterday's maternity wear had a lot of sundresses and hand-me-downs but today is a different story.
All the best premium denim brands have maternity styles, with extra support, accommodating fits, and little extras to make your pregnancy as chic as possible.
Here are the top 10…
Maternity Skinny Jean
Maternity Skinny Jean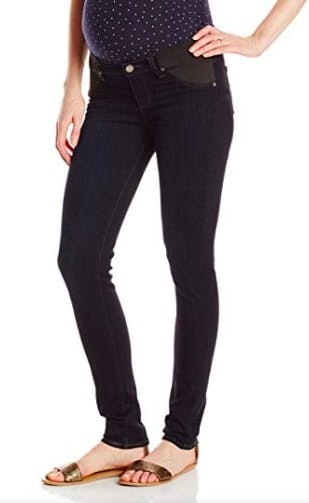 PAIGE PAIGE Women's Maternity Skyline Skinny with Elastic Insets $199.00
These true to size, mid-rise skinny maternity jeans by PAIGE Jeans feature deep set elastic side panels to give an easy stretch throughout. Made of a blend of Rayon, Cotton, Polyester, and Spandex, they are meant to remain soft and stretchy as your belly grows. This pair comes in a dark wash with a light fade and can be easily dressed up or down.
Here's a little insight into what makes each pair special.
Best Maternity Jeans Explained
3/9
Maternity Jean Shorts
Maternity Jean Shorts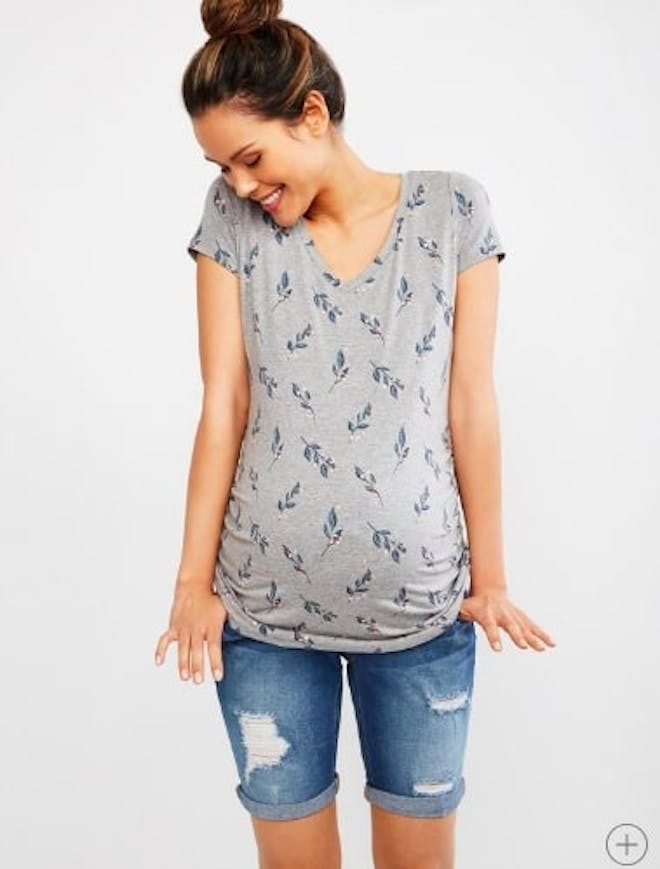 Motherhood Maternity Secret Fit Belly Roll Hem Destructed Maternity Shorts $29.00
These jean shorts by Motherhood Maternity are made with comfort in mind. Made of high quality cotton and spandex, they are designed to feel stretchy but never sag at the waist and are ideal for activity and are perfect for wear in warmer temperatures.

---
1/9
Maternity Jean Capris
Maternity Jean Capris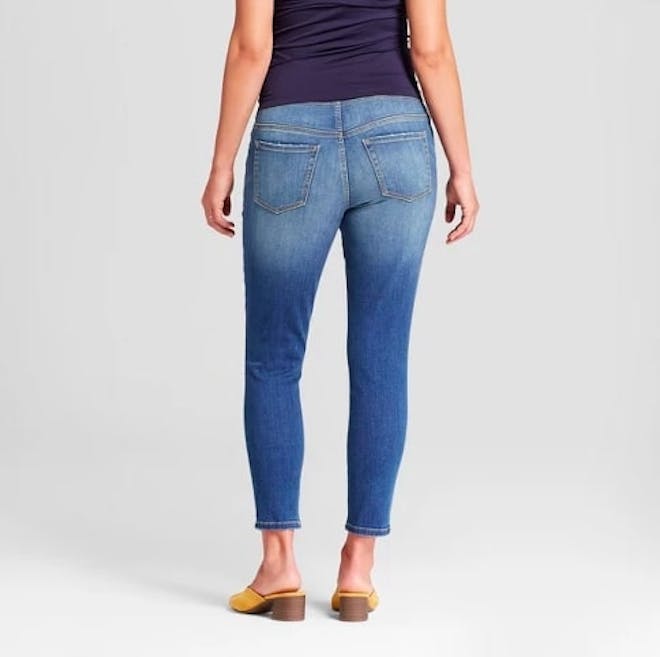 Ingrid & Isabel Maternity Crossover Panel Skinny Crop Jeans $29.00
These Crossover Panel Skinny Crop Jeans by Ingrid & Isabel are designed to support, sculpt, and shape as your belly grows.
The crossover panel provides comfy lower back support, and the jeans themselves are a casual medium-wash denim perfect for everyday wear. One of the major highlights with these jeans is that they don't sag or loosen anywhere over time.

---
6/9
Maternity Jean Leggings
Maternity Jean Leggings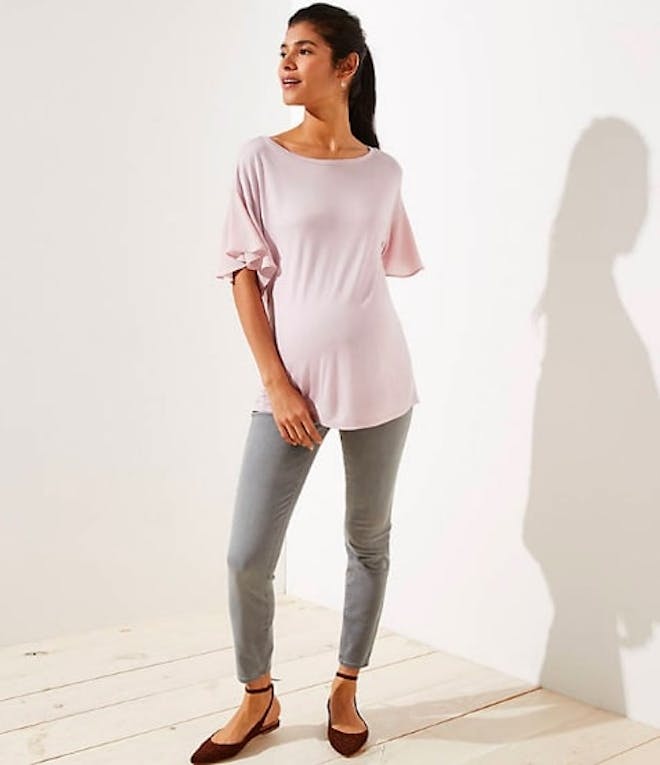 Loft MATERNITY DENIM LEGGINGS IN PURE GREY WASH $34.00
These denim leggings are perfect if you're looking to wear extremely comfy pants disguised as luxurious jeans. They generally fit true to size or on the slightly larger end, so don't purchase a size up because of your growing belly. These jeans easily stretch with you, and the light grey wash won't fade over time.

---
8/9
Maternity Jean Shirt
Maternity Jean Shirt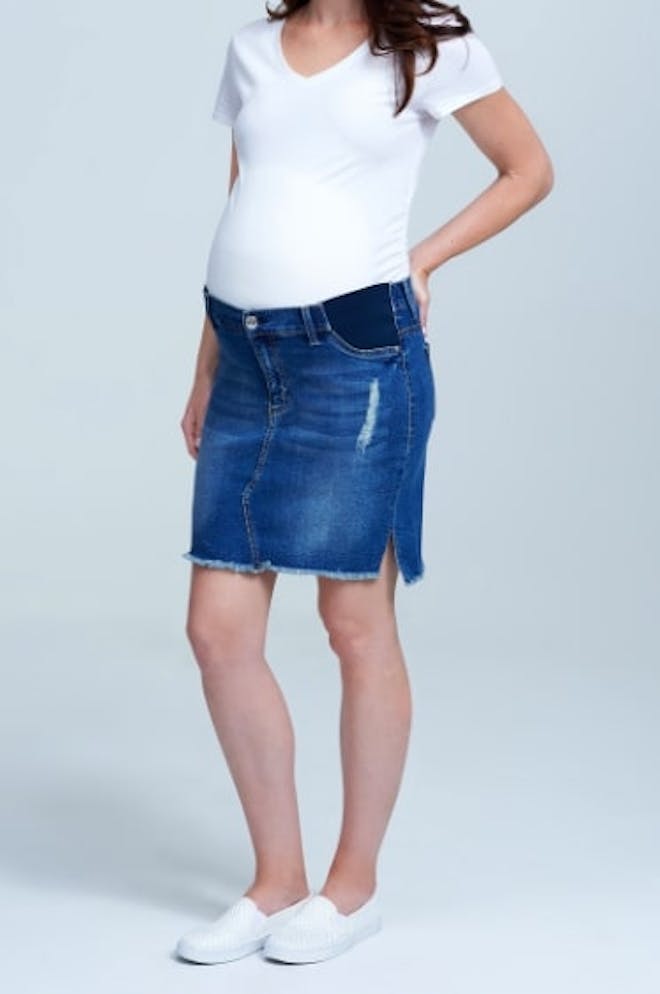 Seven7 Jeans SIDE PANEL FRAYED HEM DENIM MATERNITY SKIRT $48.00
This jean skirt offers the perfect balance of comfort and style for all new moms-to-be. Featuring an elasticized waist paneling, this skirt supports the back and can be worn even as you continue to grow throughout your pregnancy. This skirt frays at the end for a cool take on a classic piece, and has a light wash on the front for a vintage feel.

---
7/9
Maternity Jean Overalls
Maternity Jean Overalls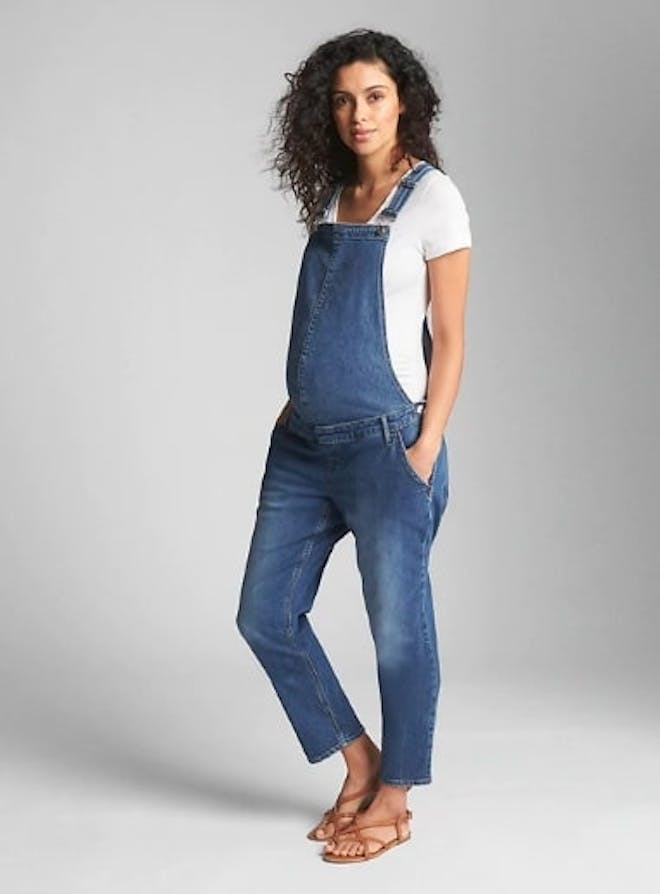 Gap Maternity Denim Overalls $56.00
These comfy stretch denim overalls from Gap feature a straight silhouette with a relaxed fit and are a perfect item to diversify your wardrobe during your pregnancy. These casual overalls feature a concealed, adjustable button closure at the side of the waist to give you room to grow.

---
2/9
Maternity Jean Dress
Maternity Jean Dress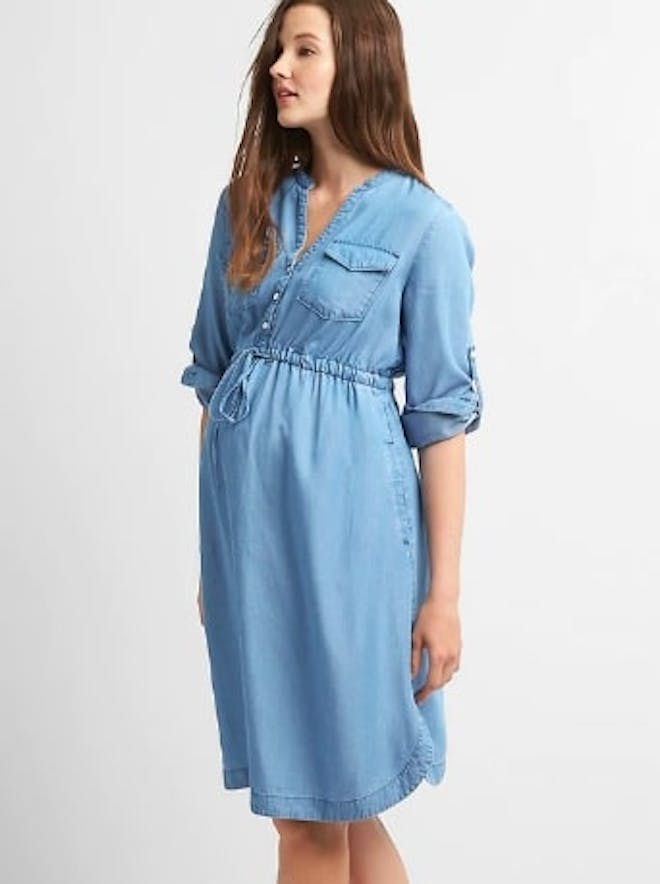 Gap Maternity Tencel Shirtdress $60.00
Gap's Maternity Tencel Shirtdress comes in a comfortable light blue and features a straight silhouette with an easy, flexible fit. The material is made from Tencel, a more sustainable fiber made from wood pulp and is sourced from responsibly-managed forests. The dress hits at the knee and has on-seam pockets and is perfect for warmer climates.

---
5/9
Maternity Jean Jacket
Maternity Jean Jacket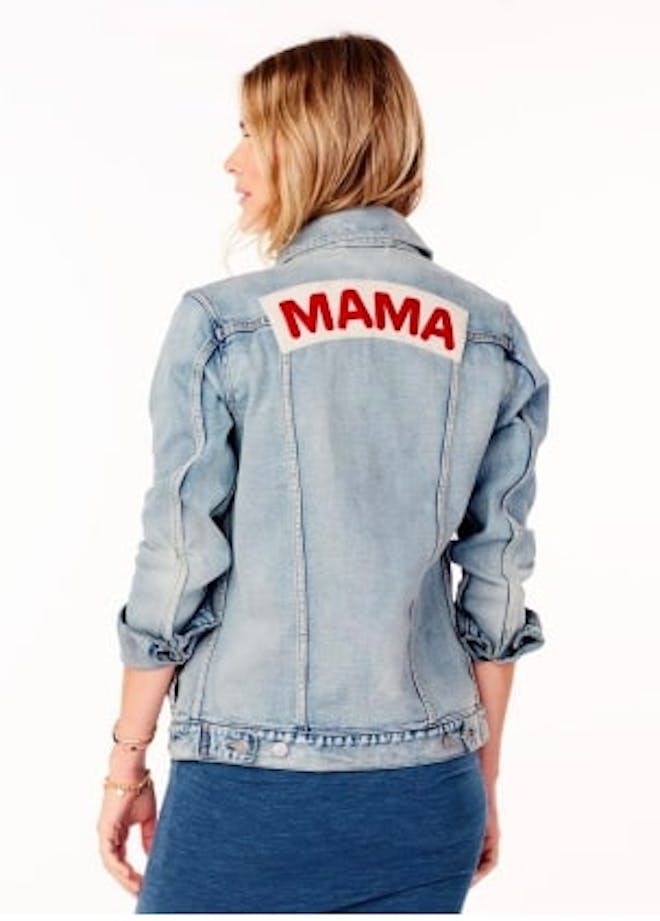 Ingrid & Isabel Mama Denim Jacket $128.00
This vintage-inspired light wash premium denim jacket is a fun way to proudly wear your upcoming motherhood! Featuring silver buttons and a chain-stitched "Mama" felt patch across the back, this is a perfect item to gift to a new mom or wear for pregnancy announcement photos. This comfy denim jacket has chest pockets with a button flap and welt front pockets for a cool, casual look.

---
4/9
Seven Maternity Jean
Seven Maternity Jean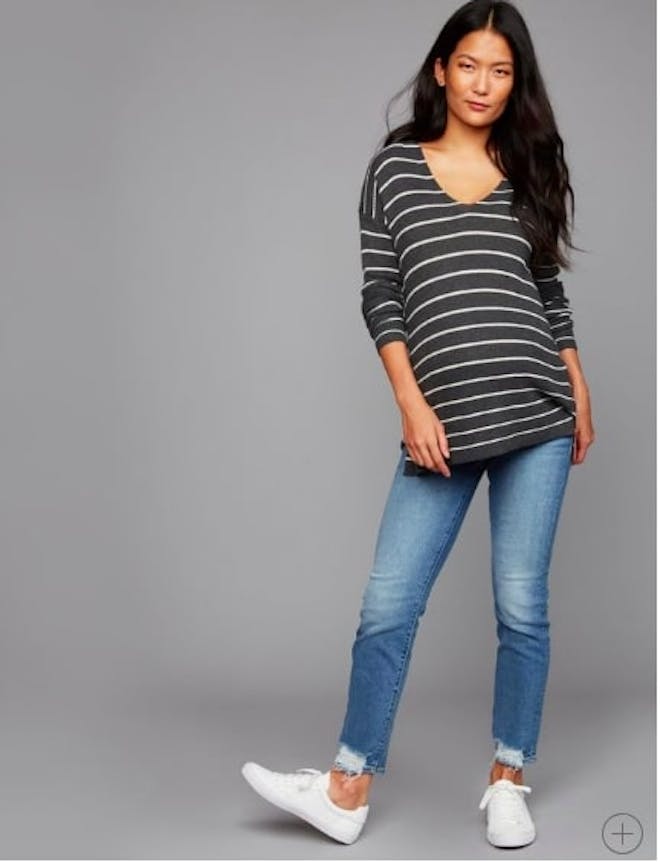 7 For All Mankind 7 For All Mankind Secret Fit Belly Luxe Vintage Ankle Skinny Maternity Jeans $149.00
These ankle-cut skinny maternity jeans feature a light vintage wash and fade around the knees. These luxurious jeans stretch well as you grow but tend to feel slightly tighter in the thighs as they are made of 82% cotton. These are perfect go-to jeans for everyday wear and are durable throughout every stage of pregnancy.

---
9/9
J Brand Maternity Jean
J Brand Maternity Jean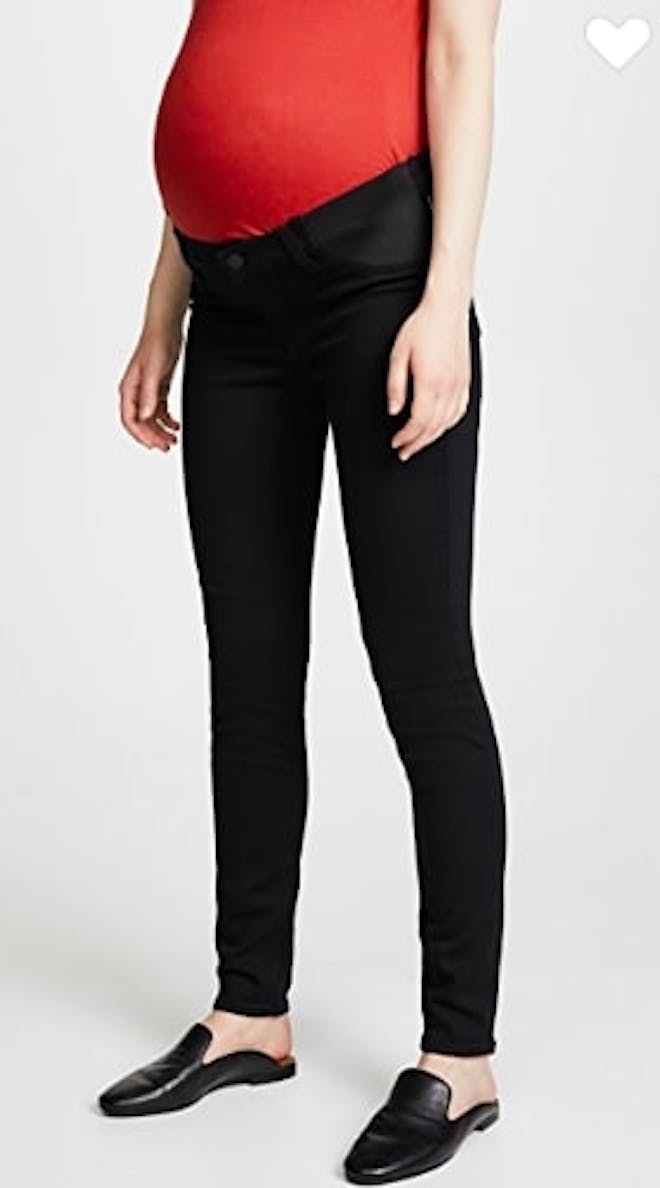 J Brand Mama J Super Skinny Maternity Jeans $198.00
J Brand Jeans always understand that first and foremost, maternity jeans should be comfy. These Super Skinny Maternity jeans are no different, and feature an easy stretch that feels more like leggings than stiff jeans. These jeans come in a sleek black denim, and have tonal elastic panels for support and faux pockets in the front. Perfect to be dressed up or down and offer a slimming, sophisticated look.

---
Research / Frequent Questions
How to Wear Maternity Jeans
Wearing jeans when you are pregnant is tough. Here are 5 things to keep in mind as you move through your pregnancy.
Think About Style
If comfort is the name of the game, go with something light and stretchy. If you still want to go out and be fab, think darker wash and heavier fabric.
Consider Your Whole Outfit
Keep proportions in mind and search for denim accordingly. If you go big on top with a tunic or similar, a skinny jean will balance the look.
Your Size Shouldn't Change
Maternity jeans are made for your growing belly, so don't think you will have to change your size to accommodate your changing shape. That said, know thine self and if you feel like you need a bigger size, go for it.
Maternity Jeans Don't Have To End When You Have Your Baby
Many maternity jeans can work as a relaxed fit pair once you give birth. This makes paying the premium price a little more manageable, considering they won't be on the shelf forever after 9 months.
Move Around Before You Buy
Make sure that you can move in your maternity jeans — trust me you will thank yourself later. Mobility become tougher and tougher as your move through your term, so anything and everything you can do to stay mobile should be done.
Pregnancy Belly Band & Other Options
Now that you have your tips down, let's go through all the options:
Wear any pre-pregnancy favorite as long as your bum and hips allow! These are a basic band that is usually doubled over and placed over the waist band of unzipped/unbuttoned jeans to hold them up and extend the waistband. The band can be doubled over to fit under the belly or made to a single layer to cover the belly as well. The pro is that you don't need to buy all new jeans, the con is that most women's pregnant bodies grow not just in the waist but also the bum and hips so that even with the largest waist band normal jeans can no longer be worn. So these are great to start with but at the end of the pregnancy most women will need more room.
Much like the Bella Band, they will allow you to wear your pre-pregnancy jeans and extend the waistband. This does not have the versatility of being able to cover the entire belly though. The pro over the Bella Band is that the belt should hold your jeans up better, though you will have the same issues with the belt as you will with the band.
Jeans with a Band Built in
These are much like the Bella Band but the band is built into the jeans, it is a lower rise band(about 4″ in width) and the band is not meant to go over your tummy. I thought these were great for the first 2/3 of the pregnancy, but as I got larger they became uncomfortable and if my shirt wasn't long enough you would be able to see the underside of my belly. The pro is that these really are great for the first 2/3 of the pregnancy!
Jeans with a Hidden Adjustable Waist
Now don't they tell you to imitate some child things in your adult life? These are just like kid jeans with the adjustable waist. They have the same con as the jeans with the built in band, being that they are great for the first 2/3 of pregnancy but you can grow out of them for the last 1/3. The advantage they have over the jeans with a built in band is that after you have your baby and you are still trying to work off that baby weight you can wear these jeans discretely.
Jeans with a Full Belly Panel
A pea in the pod is making the "secret fit belly" panel that is a full panel to go all the way over the tummy. I have to admit I really like these! They have them on many of the premium denim brands we love too! They will be comfortable the whole way through the pregnancy.
can you wear tight jeans in early pregnancy?
Some people will tell you not to wear tight jeans during pregnancy. For some reason, there's a myth out there that says doing so can hurt the baby.
That's not true. It's perfectly safe to wear slim jeans when you're pregnant.
However…
It's definitely not comfortable, especially as you get more pregnant. Feel free to wear slim-fit maternity jeans early on. But, you'll probably want to switch to tights and sweatpants in the later months of your pregnancy.
how do you choose maternity jeans?
Finding the best maternity jeans can be a difficult undertaking. When you're already overwhelmed by pregnancy, buying new pants is usually the last thing you want to do.
To make your shopping a bit easier, we've outlined a short guide on choosing maternity jeans:
Step 1: Wait until you start showing. There's no reason to buy maternity jeans until your belly starts getting bigger. Typically, this starts to happen 3-4 months into the pregnancy.
Step 2: Find your size. Usually, you'll wear maternity jeans in the same size as your normal pants. Manufacturers account for you growing stomach when they size these pants.
Step 3: Try 'em before you buy 'em. You may need to buy a size up. Make sure that they don't fit skin-tight. If you think you're going to keep growing, you should leave room to grow into.
Maternity jeans come in all styles, colors, and washes. Make sure that you buy a pair you like. The better you feel, the happier you'll be!
Can you wear maternity jeans if you are not pregnant?
There's nothing wrong with wearing maternity jeans if you're not pregnant
In fact, a lot of people do it. Women everywhere enjoy wearing jeans with a stretchy waistband that expands when you put them on.
As one writer says in a recent article for Philly Mag, "They fit exactly as normal jeans would, but they're comfortable. Really, really comfortable."
So, if you're looking for a comfy pair of jeans, these could be perfect for you. You shouldn't feel bad just because the tag says "maternity" on it.