Ripped, shredded and slashed jeans are always a symbol of Summer. We are very much used to distressed jeans throughout anytime of the year, however a trend that has exploded this season is jeans with slashes and rips down the front, making ripped holes instead of distressed areas.
We have seen many celebs wearing the Frame Le Color Rip jeans in both black and white and we are recently seeing the slashed Jimmy Jimmy jeans from Paige Denim out and about too. I'm pretty sure it's going to be a trend that pops up everywhere over the coming months so I have rounded up 16 of my favorite ripped and slashed jeans to buy right now! From brands like Frame, J Brand, Paige and Citizens to BLANK NYC, 3×1, RES and more! There's also lots of colors, ranging from black, grey white and blue! There's a pair for everyone of you!
The Best Black Distressed Jeans
Here are our favorite black distressed jeans, with a little about what makes each special…
9/350
best distressed black jeans"
best distressed black jeans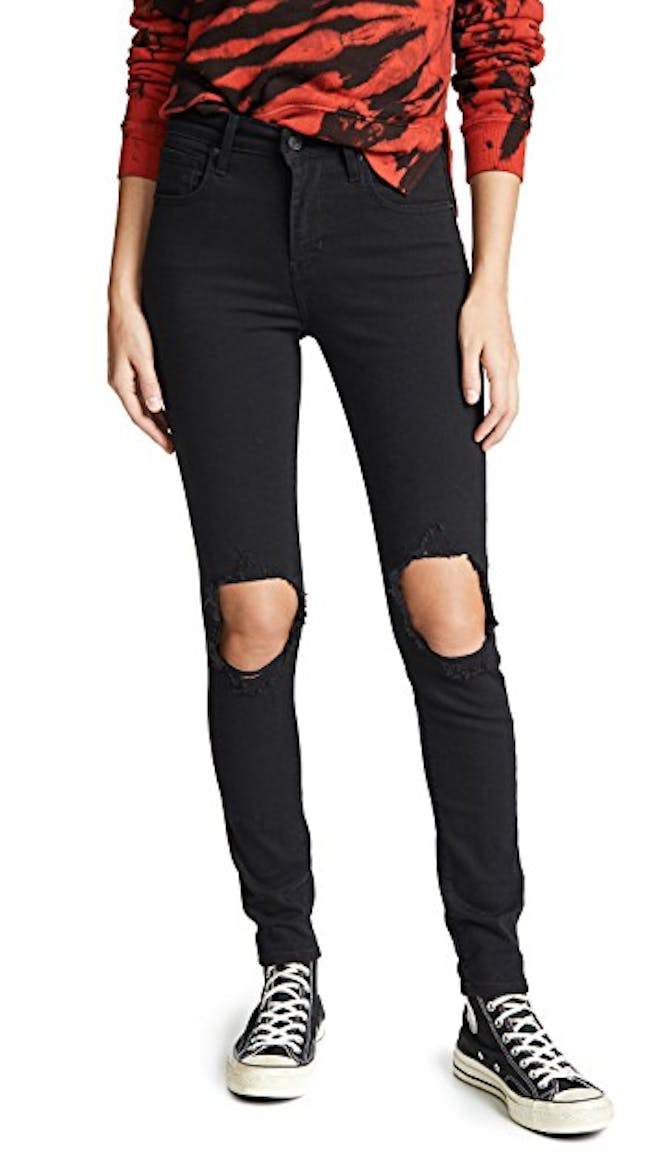 Levi's 721 High Rise Skinny Black distressed jeans
This signature Levi's design is a great take on distressed skinny jeans. They enhance the skinny silhouette and are a great formfitting jean that has a great distressed look. Great addition to any wardrobe. Easy to care for as well.
What We Love
Have always loved Levi's and they nailed the distressed look.
They were very comfy and the material was just stretchy enough to really add to comfort level
Things to Look Out For
For the price of these, I did not expect that the distressed knee would go halfway up the thigh. Disappointed , have to return.
Not as formfitting as promised. I prefer true skinny jeans.
---
9/350
black distressed denim"
black distressed denim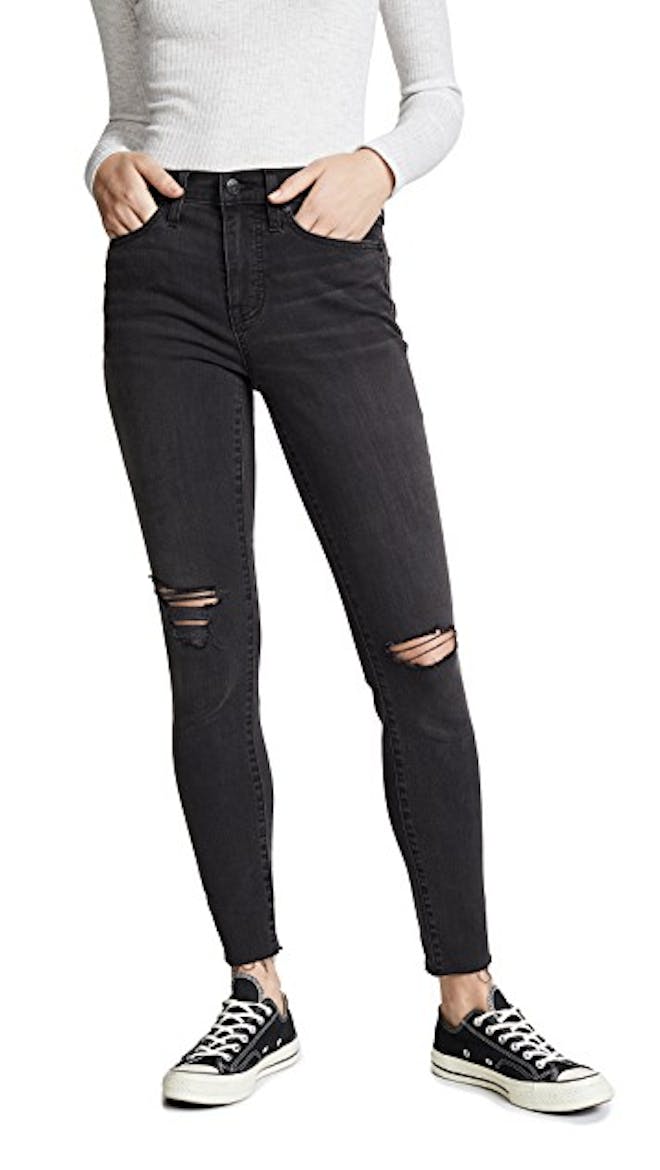 Madewell Black skinny distressed denim
These Madewell skinny black jeans are the perfect answer for accentuating long legs and skinny frame. They pay homage to the distressed look while staying true to skinny jeans. A great addition to any jeans wardrobe. Machine wash makes for easy care.
What We Love
Great fit. Hard to find perfect skinny jeans, these are it.
Love the style and the distressed look is on point.
Things to Look Out For
Not happy at all because they were way too small. Not true to fit.
---
9/350
distressed knee black jeans"
distressed knee black jeans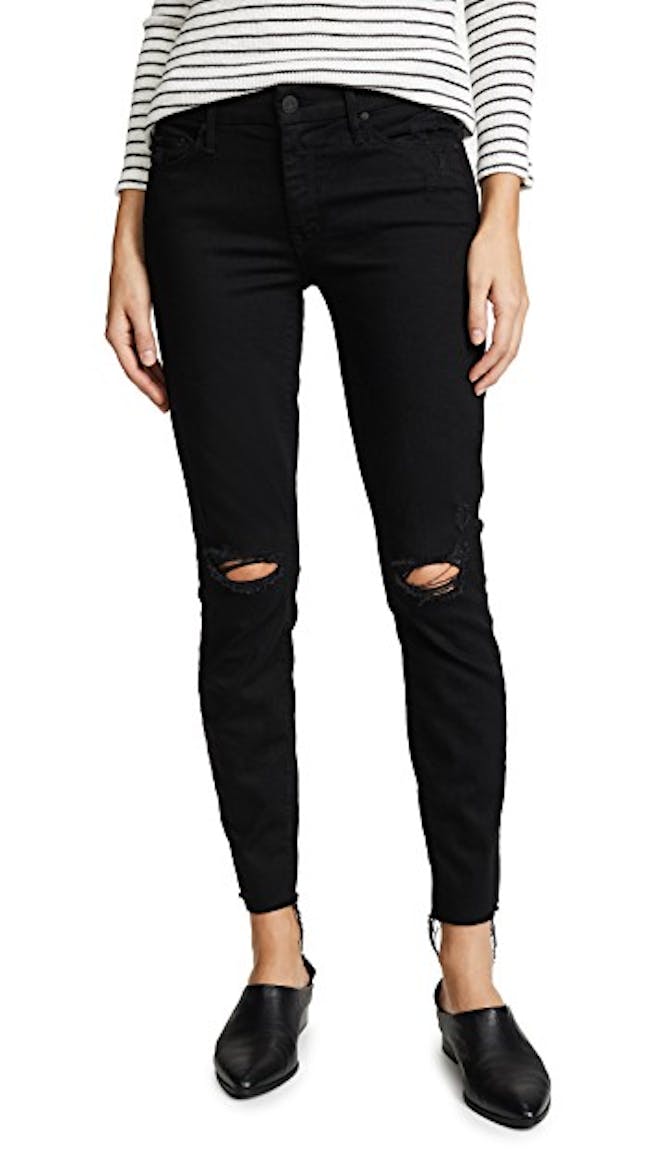 Mother Distressed look black jeans
These distressed knee frayed ankle jeans by Mother is a great way to pay homage to the skinny and distressed look jeans. They are a great look for most any event and comfort level is also a great plus.

---
9/350
flying monkey distressed black jeans"
flying monkey distressed black jeans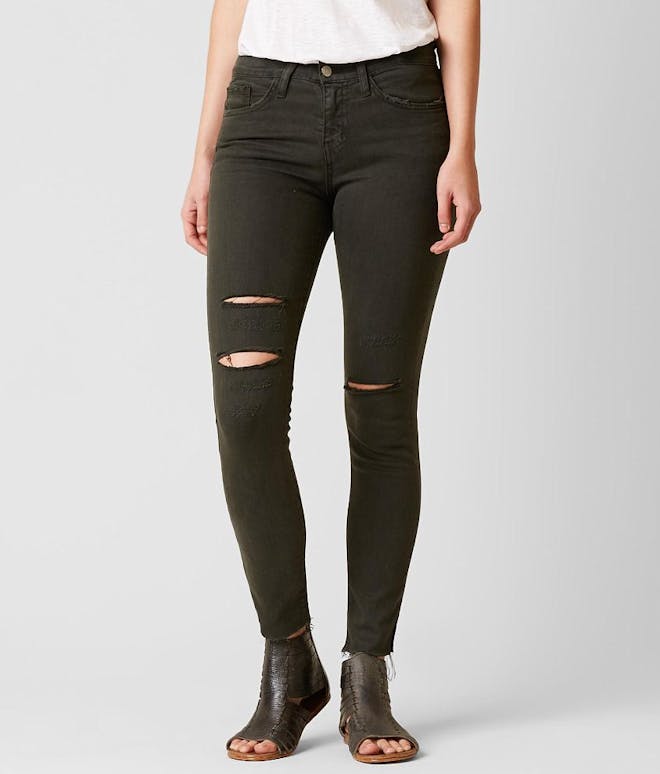 Flying Monkey Distressed Black Jeans
These Flying Monkey black distressed jeans are made right here in the USA and are a great mid rise stretch denim. Designed to fit slim through the hip and things, they accentuate the legs and create a great distressed look.
What We Love
Pleasantly surprised with the comfort level of these jeans.
Things to Look Out For
They were not black more of a charcoal
---
9/350
flying monkey black distressed jeans"
flying monkey black distressed jeans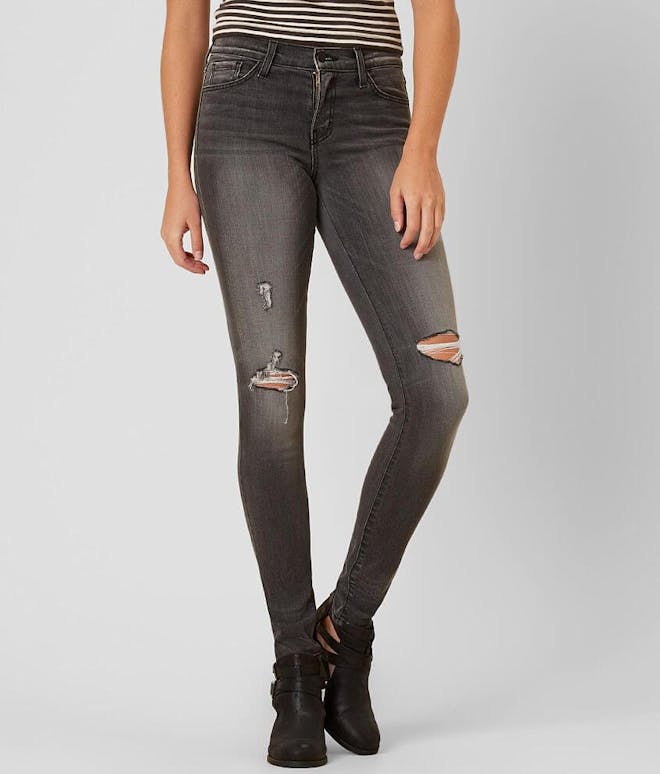 Buckle Flying Mokey distressed balck jeans
These Buckle Flying Monkey black distressed jeans are made to be a skinny jeans fitting well through the hip and thigh. Made to look distressed at the knees and some color fading. Made in the USA.
What We Love
Love that when you wear them all day, they are still stretchy and do not lose form.
Great coloring and effects for distressed look.
Things to Look Out For
Not true to size. They run very small, even though I ordered my normal size.
---
9/350
frame black ripped jeans"
frame black ripped jeans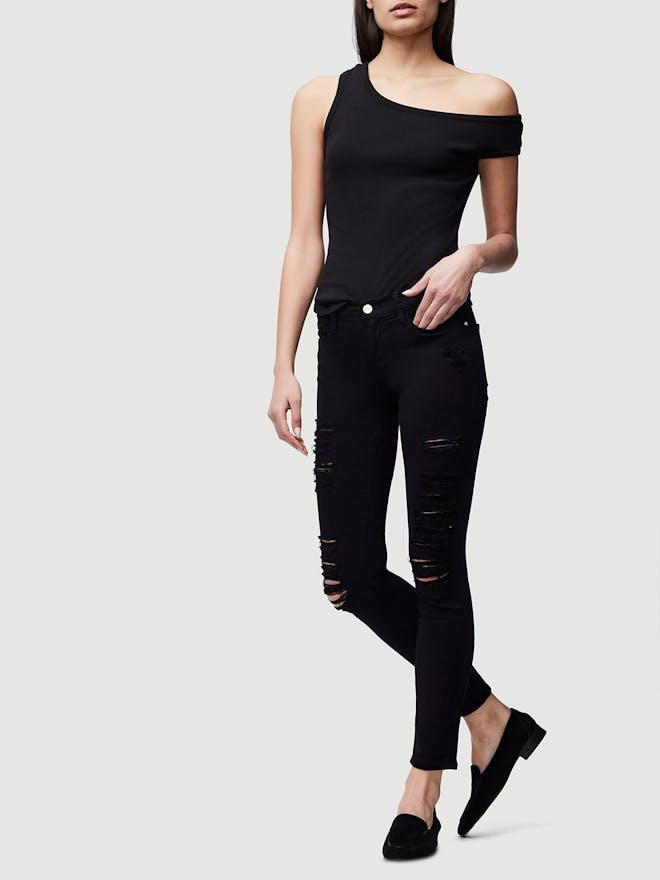 These Frame Black Ripped jeans are the absolute go to black jean. Inspired by Vintage jeans that have shredded holes and patches that have fading to give it that perfect distressed look. Made with premium denim that is a great stretchy material and keeps form.
What We Love
Great fit and the jeans are comfortable.
Was impressed with the material because it does not stretch out of shape
Things to Look Out For
The ripped holes in the picture look nothing like what I got.. Very disappointed
---
how to distress black skinny jeans
https://www.youtube.com/embed/U_mH2OepxkI&width=500&height=400
I know these jeans are created into a pair of shorts, however the concept is equally the same. She used sandpaper on the tougher edges to roughen them up a bit and the best way for making actual small distressed holes is by making slits where you want them and then putting them in the washing machine and dryer. Washing the jeans loosens up the fabric threads so they begin to fall out a little bit and then the chucking around inside the dryer pulls the threads out so they end up looking frayed. This is the easiest way to do it if you just want minimally frayed edges of the slits you created. It works well for shorts as the hemline which you chopped becomes really frayed as well. It's not the most ideal way though if you want a big destructed hole, this method is better for minimal wear and tear.
Now this video above is very useful if all you have lying around is a razor blade or scalpel. This method works really well for getting that look of vintage holes in your jeans with the white threads still showing through, so it's not a complete hole. I love this type of distressing the most as it doesn't show so much skin and it makes the jeans look roughed up and really worn in. To create this look, the razor blade isn't the only option, I will show you other ways in a minute, but it's definitely an easy way. You can see that she creates white thread holes really fast just by slicing the fabric and then scratching away at the dark blue threads. I know this method will sometimes actually cut some of the white threads and not leave them very neat, it also wont leave the overall hole shape tidy either, but it's good for getting the more vintage and carefree look.
This video is fairly short and it shows you just purely how to create the holes with the white thread still showing. Instead of using a razor blade like the above video, she used a pair of tweezers, scissors and a needle. However from experience you don't always need the needle, depending on the denim you have. After you make your slits in the denim, if you just tug at them a little bit to separate the blue and white threads, you can then start wiggling the blue threads loose as you pull them out with the tweezers. By doing this all the way along the 2 slits, it takes out every blue thread and just leaves the white ones. It's a long and monotonous process, but this is usually the result you get on your shop bought distressed jeans and it's actually very easy to do.
Now this video above is another way to create the white thread holes, however it's different to all the other methods I have seen before. Instead of creating slits and working within them, she cuts a hole and starts pulling the white threads loose instead of the blue and then chopping away the blue fray afterwards. I think this way creates more natural looking holes as it's not working within pre cut slits, it's going with the natural lines of the denim, however it's a much longer and time consuming process it seems. I haven't personally tried it myself, but I think I will. I do quite like the shape of the holes when they are done, rather than them just being squares.
So anyway, these are 5 of the best videos that I come across on YouTube when I was searching for over an hour and I think they highlight all of the different ways you can distress your denim. From minimal fraying to distressed holes and even fading, I think there are plenty of tips and ideas you can take away from this post for your own distressed denim DIY! I know it gave me new inspirations for my DIY that I like to do on my jeans! How many of you actually DIY your own jeans?
This video I found the most interesting. I have seen it before and I think I made a post on it a long time ago, however the post wasn't for this purpose. These jeans are raw and it reminds me a lot of the process I went through with my customizing challenge. Sandpapering the creases are a very good way of making natural and authentic looking fades, as that's where the jeans naturally fall. Then sanding lightly over the entire jean adds that worn in look and if you sand the belt loops, pockets and zipper fly that also creates a worn in feel.
I am not fond of the circle or the bleach spots he created in this video, but the sanding is one of the easiest and cheapest methods you can do to really make your jeans look worn in and distressed. He didn't create any distressed holes in this video, however you can easily do so by watching some of the others below.
How do you wash distressed jeans?
The best way to wash distressed jeans and make sure they do not rip any more is to put them in a mesh bag. That way they will be protected while washing with other clothes.
what are distressed jeans
I have noticed recently when I am looking online at denim that not many brands actually release distressed and ripped styles for men. Distressing is a huge part of women's jeans, and I remember some years ago that it used to be really popular among the men's denim as well. Brands like Diesel would be over populated with ripped styles and washes like 71J, 73J, 772 etc, which were insanely popular, they were some of the all time favourites.
When I was browsing the Diesel website earlier though, I noticed that there isn't one pair of distressed jeans for men on there… Times have really changed. In fact, when I was looking for a distressed pair of jeans to do the collage above, I had a tough time coming up with one.
My thoughts towards this have varied a lot. I got to thinking that maybe brands see men's denim differently to women's. Men in general are more likely to wear their jeans a lot longer and a lot more than women are and perhaps distressed jeans would just wear out too quickly. Then I thought that maybe men wear their jeans a lot harder and rougher than women do, so will probably end up creating their own holes or putting their foot right through one when pulling the jeans on (I've done this myself).
Then I got to thinking that maybe the times have changed and men just don't like distressed jeans as much as they used to, or the simple fact that designers have changed their way of thinking and have changed the times, even if guys still like the distressing. There are many many things that it could be, but my point to this post was to find out whether or not you guys prefer distressed denim over plain washes? And are you sad that they are really hard to come by now?
I know a lot of the times when I have a gorgeous pair of ripped jeans, either from AG or Rag & Bone, my boyfriend will ask me if the same wash exists for guys and I always have to tell him that unfortunately it doesn't and he's left disappointed. He genuinely loves the washes that Rag & Bone come up with and I agree, they have some beautiful ones, but it's a shame they don't come in men's cuts. I know recently they did release two ripped styles, so I truly hope they make more in the near future!
But brands in general, they definitely seem to have a more plain men's line in comparison to women's. I'm not saying that the non distressed jeans are no good, some of them are incredibly beautiful and look really nice on, it's just that I miss seeing the more ripped styles for guys. I know men love denim just as much as us girls do, sometimes even more, so I would definitely love to get your thoughts on whether or not you would like more inventive styles, just like they do for the ladies? Comment and let me know!
where to buy black distressed jeans
There are tons of places to find great distressed jeans. One note that is worth remembering is that distressed jeans tend to be more fragile than regular jeans.
If you plan on having your for a while, its worth spending more on a premium pair.
Last Updated on