Coated denim has been a trend for a few season's now and has really amped up the Denim game. Coating the denim happens when the finished garment is dipped in a liquid that resembles wax. When it dries, it adds texture and a leather like effect.
Coated Skinny Jeans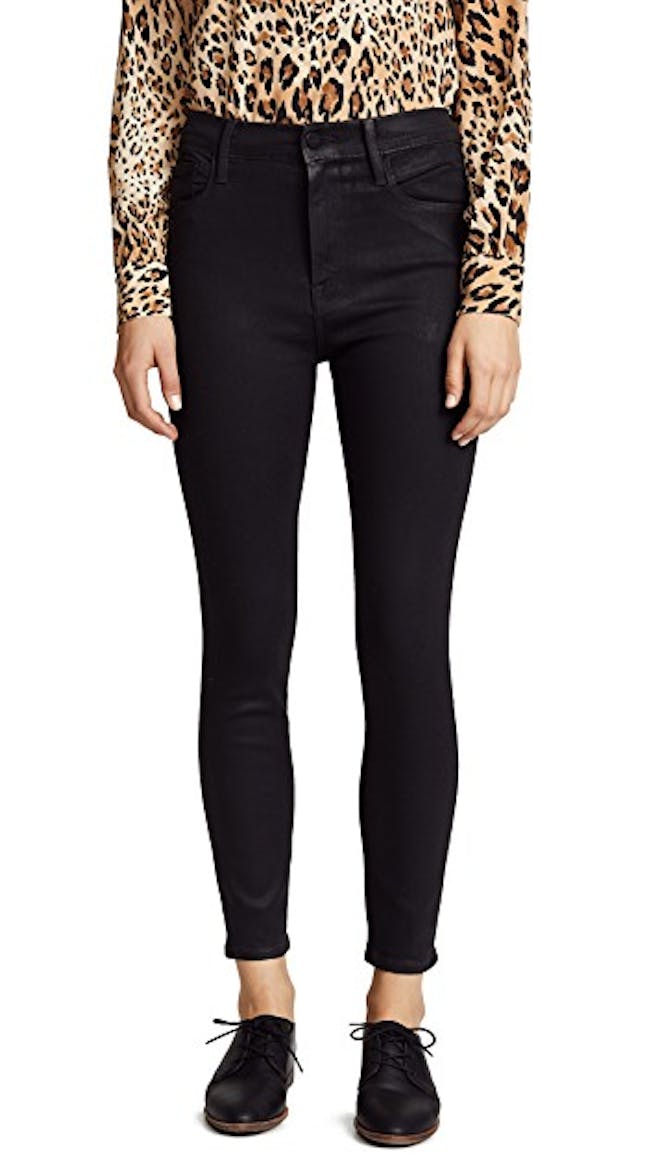 These coated Frame Ali High Rise coated jeans are made to be stylish and comfortable. They have a cropped profile and hidden zip fly in the front, Made in the USA and easy to care for, all you have to do is throw them in the washer. They are a snug fit which is what you want in your skinny jean.
Our Favorite Coated Jeans Explained
Here is a little about each of our favorite jeans…
1/8
zara coated jeans
zara coated jeans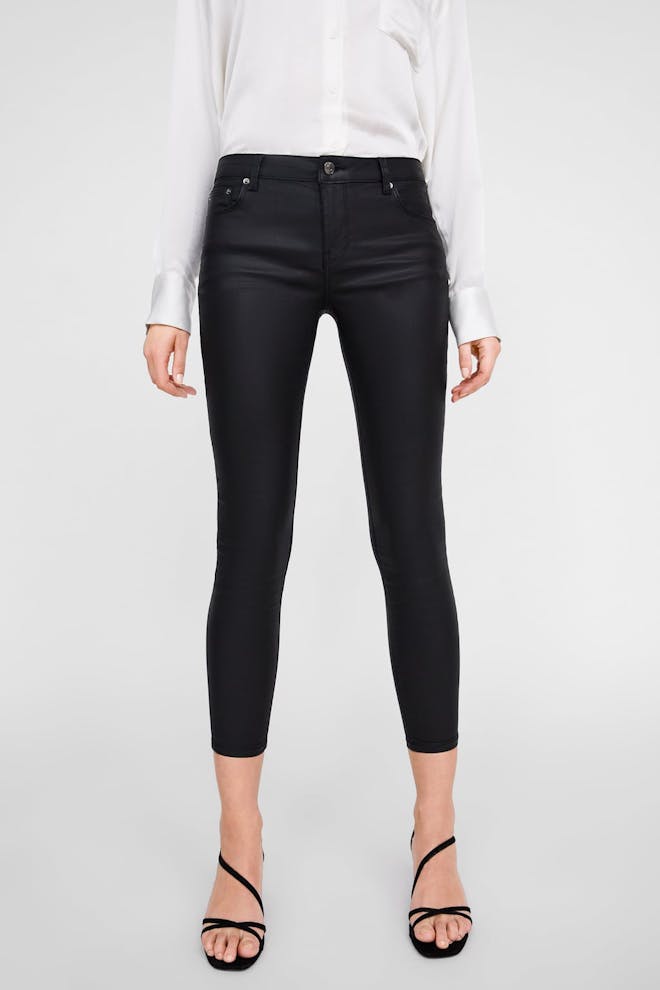 ZW Premium Skinny jeans for women are a great mid rise pant with a wax finish. Does have five pockets with button fly and zip closure. Able to machine wash. The straight leg comes to above the ankle. for a cute cropped look.
---
2/8
coated jeans mens
coated jeans mens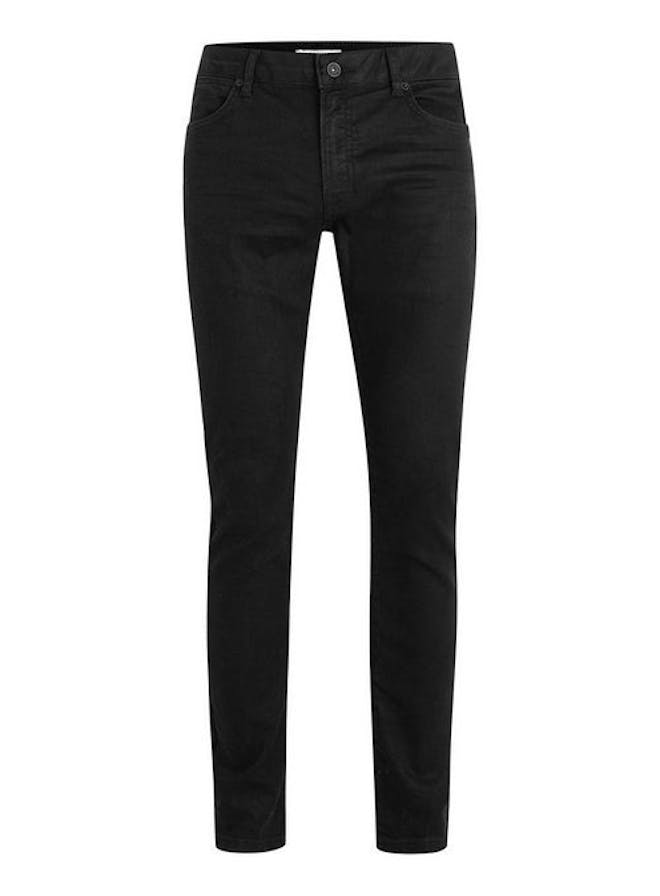 Topman offers a great Black oil coated stretch slim fit jeans that are mid rise with a tapered leg and made with stretch denim. Machine washable with five pockets, they are easy to care for and a great look for any time of the day year round.
What We Love
Affordable while being a great quality, love that and I am a student and got an extra discount.
Love the simple design and comfort of the stretch denim.
Things to Look Out For
They faded after about five washes, disappointing
They were not a perfect fit at the waist, and baggier than I thought they should be. Not true to fit.
---
3/8
wax coated jeans mens
wax coated jeans mens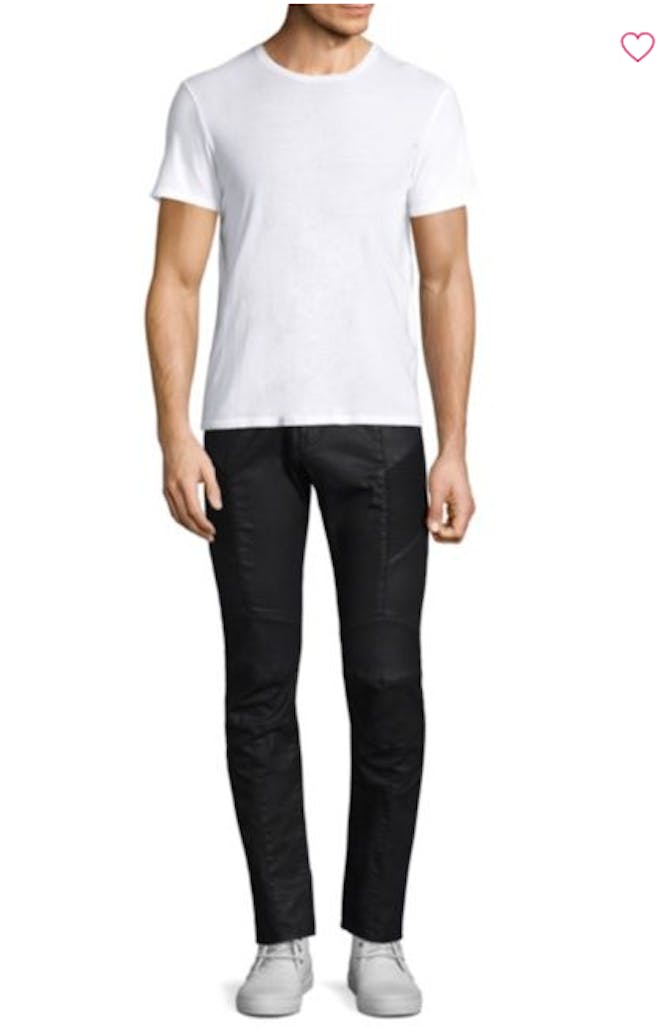 Pierre Balmain Mens Wax Coated Jeans
These cotton blend Pierre Balmain jeans offer comfort while making sure they are flattering to the frame. They are made in Italy, and have the look and feel of luxury while maintaining ease of comfort by being able to machine wash them. Can be dressed up or dressed down and go with just about anything in your wardrobe all year round.

---
4/8
coated black jeans
coated black jeans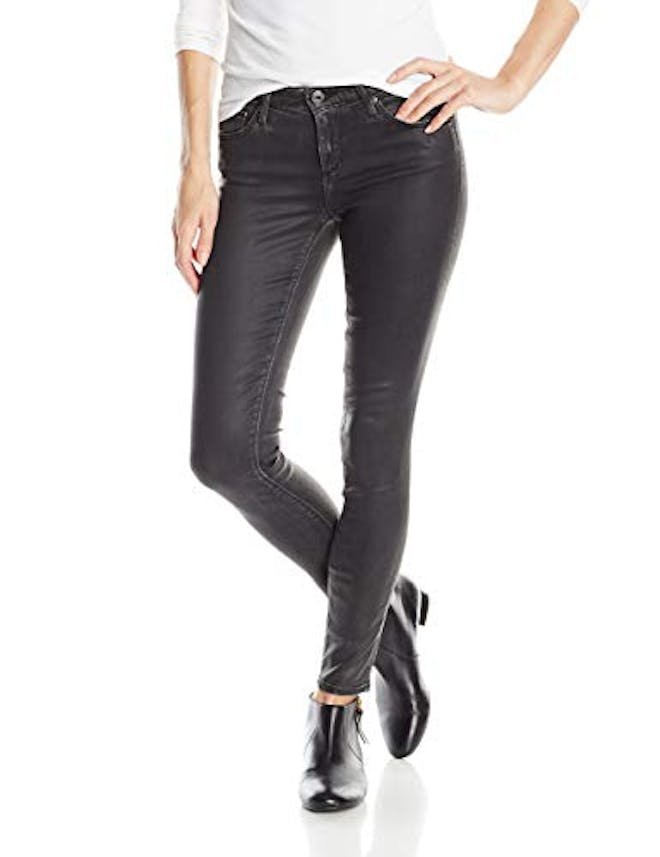 AG Adriano Goldschmied Coated Black Jeans
These coated black leggings are a cotton blend, skinny, low-rise, ankle jean and have the five pockets like other jeans and comfort afforded by leggings. Able to be machine washed for easy care and go with just about anything for day or evening wear.
What We Love
Super soft material and love the fit. Perfect for any occasion
Love the look of leather clothing, but not the discomfort of leather. These did not disappoint, got the exact look I was going for.
Things to Look Out For
Quite disappointed. These are leggings, period. The pockets in the front are fake which was disappointing because I always put my phone in my front pockets when I go out.
These are advertised as low rise, and they are not true low rise pants which was quite upsetting.
---
5/8
coated denim jeans
coated denim jeans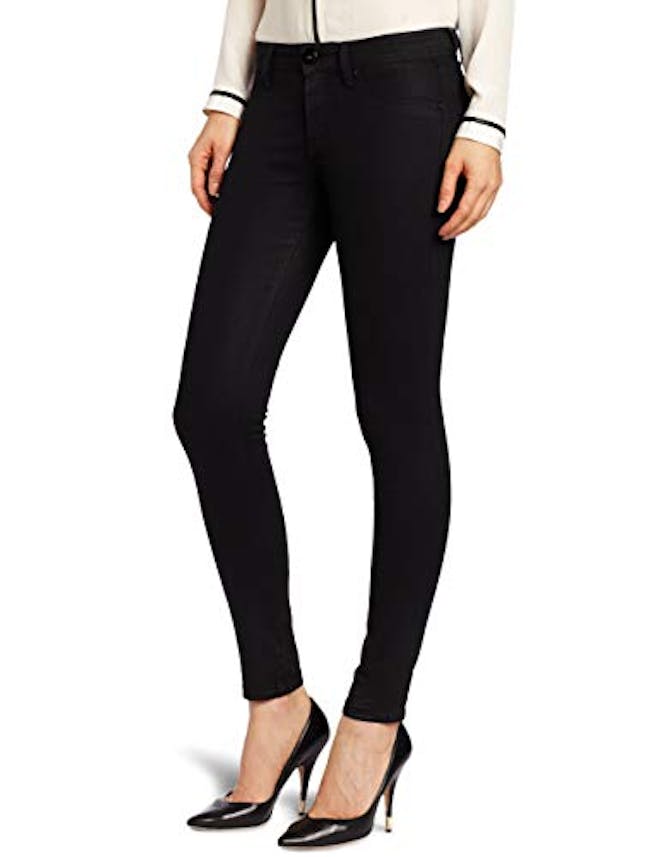 DL 1961 Women's Emma Power Legging Jeans Coated Denim Jeans
Pictured here is the wick colored DL 1961 Women's Emma Power Legging Jeans designed for a woman who loves comfort while looking stylish. These cotton blend, ankle length leggings can be worn out on the town or to run errands in. Can be dressed up with heels, but you can also wear your favorite sneakers with these as well and still look good. They are easy to care for and have that skinny fit women love.
What We Love
These jeans do have the perfect feel and fit of a legging.
Things to Look Out For
They were not true to size. I had to get a bigger size.
While these are advertised as black, it's kind of like they were a very dark gray, and the coating was added to make them black, disappointed because they felt almost like rubber
---
6/8
hudson coated jeans
hudson coated jeans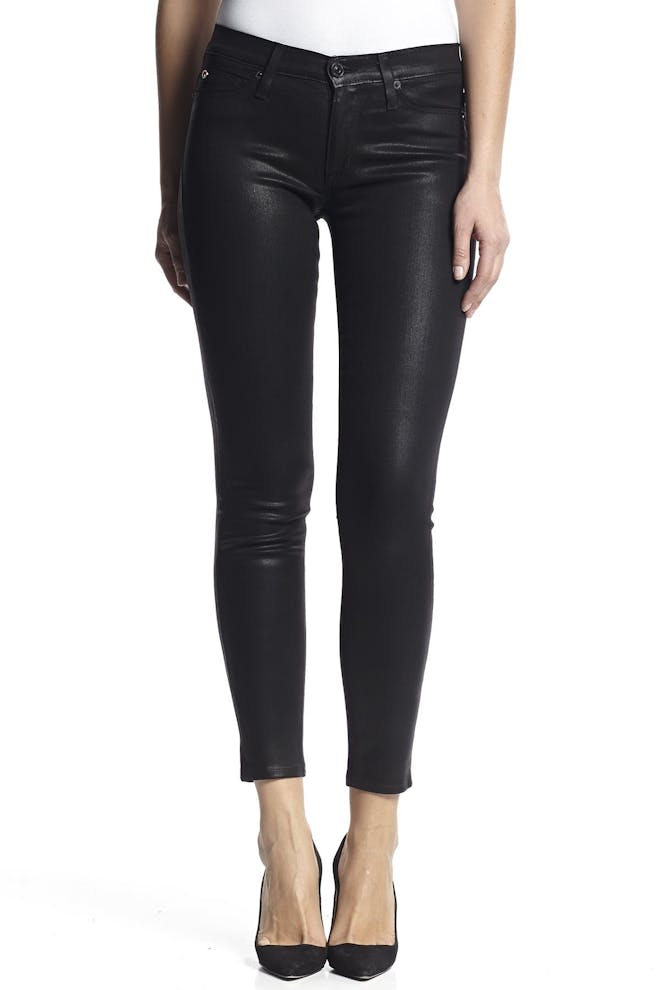 Nico Mid Rise Super Skinny jeans that are coated in black wax accentuate a slim profile and come to just above the ankle. They are snug and well fitted from waist to ankle providing that snug fit afforded by skinny jeans. The material is super soft to allow maximum comfort while looking stylish. While they are machine washable, wash as little as possible to maintain the jeans better.
What We Love
The material is absolutely heavenly. Wore these to work, and I am active, and these were great for comfort.
Things to Look Out For
I know it says that you shouldn't wash much to maintain the material, but after three washes, I was horrified at how they faded.
---
7/8
j brand coated jeans
j brand coated jeans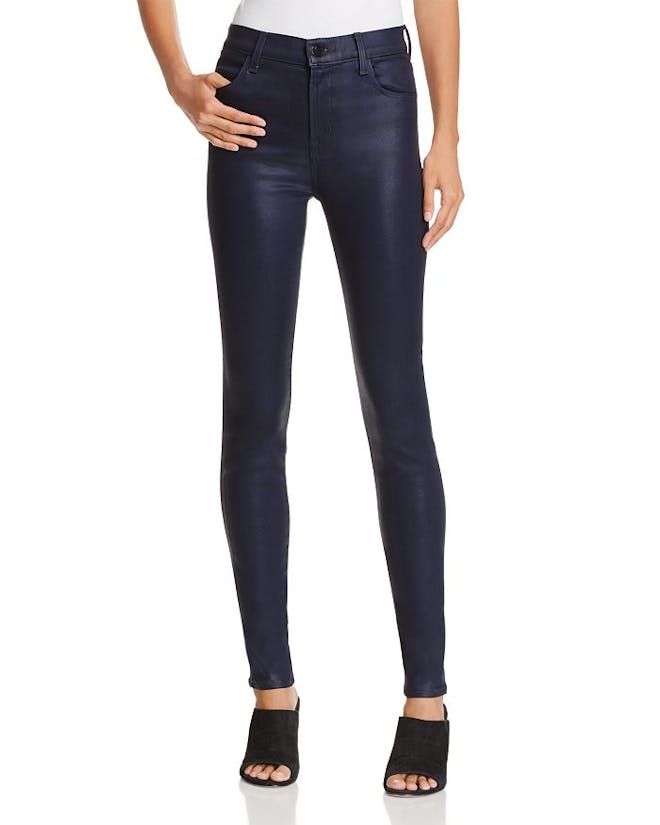 J Brand Maria HIgh Rise Coated Jeans Coated Jeans
If you want the leather look without the leather price and discomfort, these jeans are for you. They are made with Tensel technology that makes them maintain shape and slim fit. They are also easy to maintain care on because they can be washed in the machine
What We Love
Love these pants. They are very flattering to the figure, and "lift" the backside so to speak. Did not expect that they would fit so snug but be comfortable as well.
Love the leather look and these truly do deliver.
Things to Look Out For
They are not true to size. I had to roll the ankle up which is not flattering when looking for a skinny jean.
---
8/8
coated jeans womens
coated jeans womens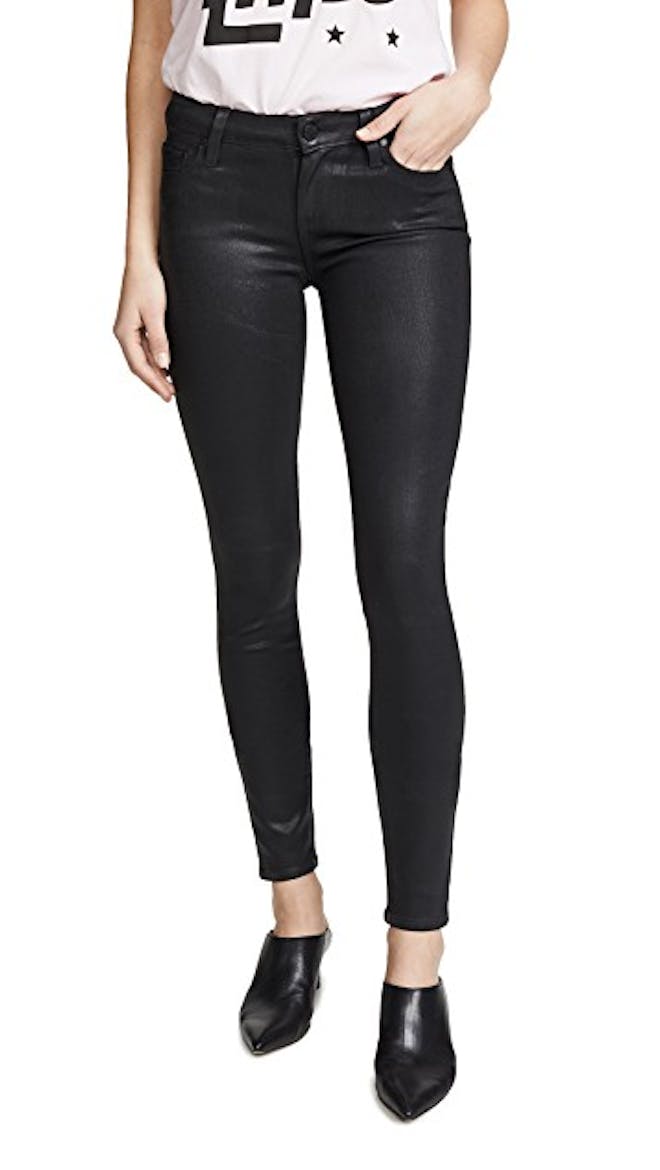 Paige Verdugo Coated Womens Jeans
A slick, shiny coating that fits your form perfectly while giving you comfort with the ultra skinny look. Five pockets, with button and zipper fly closure. These are super stretch material and dry cleaning is a must for these jeans.
What We Love
Love the fact that they have front pockets, a lot of skinny jeans do not.
Things to Look Out For
I love the look of these jeans. That being said, I am very busy and I hate they have to be dry cleaned. I need clothing that fits with my schedule.
They are not true to fit. They are way too tight if I buy my normal size.
---
What Are Coated Jeans?
Coated jeans are regular jeans by all accounts. They are put through a process during manufacturing that when the process is complete, your jeans have an almost shiny wax like appearance to them. Are especially popular for those looking for a leather type look as well.
What Are Wax Coated Jeans?
Waxed coated jeans are regular jeans put through a manufacturing treatment that will make jeans shiny but feeling very rubbery (waxlike) and provide a shiny glossy finish that resembles leather or pleather.
Pros of Wax Coated Jeans
They are a great alternative to leather or pleather jeans
Look much dressier than regular jeans
The textural outcome is very interesting.
It gives off a kind of rock, modern vibe when you wear them
Cons of Wax Coated Jeans
The texture can feel very odd and be a total dealbreaker for buying them.
Much more stiff than denim, so comfort is not a given in these jeans
Hard to layer because friction is a result of getting them on and off
My Textile Science explains the process:
The coating is generally done using pigment, acrylic or polyurethane coating. Pigment coating provides the denim a new look and experience after every wash. Acrylic and PU, however, act as a transparent coating. This protects the fading properties. It also gives the fabric a protective breathable layer with stain resistant properties. The luster and feel of the fabric are also improved.
Resin Coating is generally done with the help of wooden handle. A rubber squeezer is used to extract resin under pressure to form leather effect on denim garment. It is a neutral ( pH 7) cream-colored paste that is miscible in cold water and resistant to heat upto 200 degree Celcius. It is self catalysed and chlorine resistant.
The coating can be applied on the garment by screen, brush or knife edge. Machine coating is also possible. After applying coating the fabric is dried and cured at 150 degree Celcius of 5 minutes. Normally the coating are permanent in nature and able to sustain multiple launderings.
Just Jeans?
There are different types of coating that can be done, making this trend even more versatile. Not only is this wax type coating used on jean pants, but can also be used as trims, on jackets and tops. Try these on for size:
1. AG ADRIANO GOLDSCHMIED THE ALICE WESTERN COATED BLACK BLOUSE
2. OBJECTS COLLECTION ITEM COOL DENIM JACKET
3. J BRAND 403 LACQUERED JACKET BLACK QUARTZ
5. TOPSHOP MOTO COATED DENIM MOM SHORTS
6. ASOS CROPPED DENIM SHIRT WITH PLACEMENT COATING
How To Wear It
Every company seems to be jumping on the coated denim bandwagon, making it an affordable option for a little added style. For those of you that are a little timid about trying coated denim, here's a little guide to use for the perfect Fall/Winter outfit. You can keep it simple with the base of the outfit (white tee + jeans) letting the jeans speak for themselves. A strong coat enhances the look of the jeans and also adds another texture to your outfit, so no two items blend into each other. The boots add yet another texture and also tie in the look, leaving the accessories to finish everything off. If plaid is a little too "loud" for you, a black coat will do the trick and make the mix of textures pop a little more.
Last Updated on