Photo by DSTLD
Have you heard of DSTLD (pronounced distilled)? Chances are the brand has rung a bell or two. With backgrounds in the creatives and luxury market, founders Corey Epstein and Mark Lynn believe that great clothing shouldn't come at an extreme price tag.
To be able to cut costs, took away the noise and chose minimal, modern and lasting styles. Next, they cut out retail to make their pieces available at a 1/3 of the price that they would normally retail for.
Even better, the team is still able to provide sustainable materials, natural dyes, and eco-friendly practices and techniques.
If you have been on the hunt for a quality pair of jeans, DSTLD is definitely a brand that you should try. See our favorites below
DSTLD's Best Men's Jeans
Check out some of the great styles that DSTLD has below…they also offer women's, which you can find by scrolling below.
1/10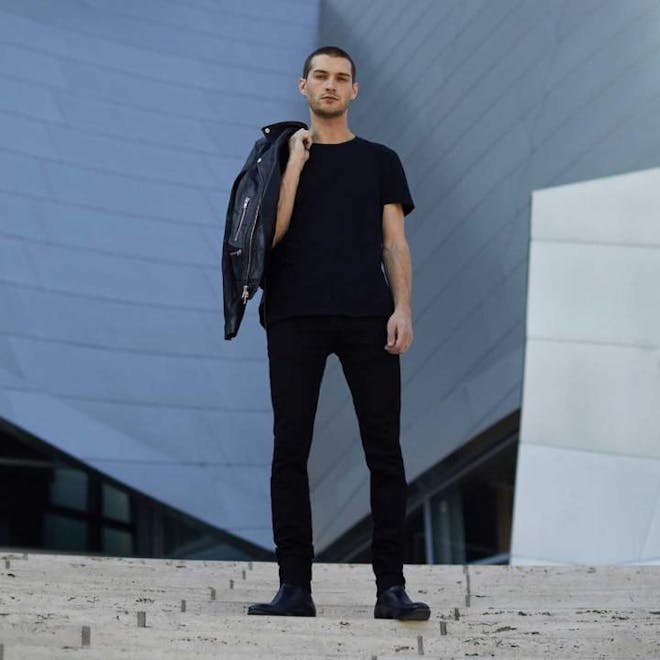 Fabric 93% Cotton5% Polyester 2% Elastane11.5 oz. denim Notes Skinny fit from hip to ankle Front rise 10″Five pocket silhouetteZip fly closurePr…
---
1/10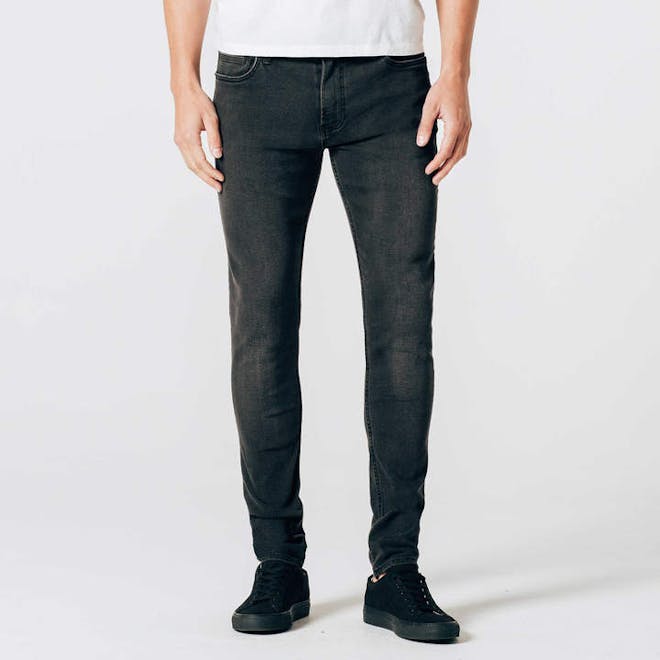 Notes Skinny, mid-rise fitFront rise 10″Tapered from thigh to ankleAvailable in multiple inseamsFive pocket silhouetteZip fly closurePremium No….
---
1/10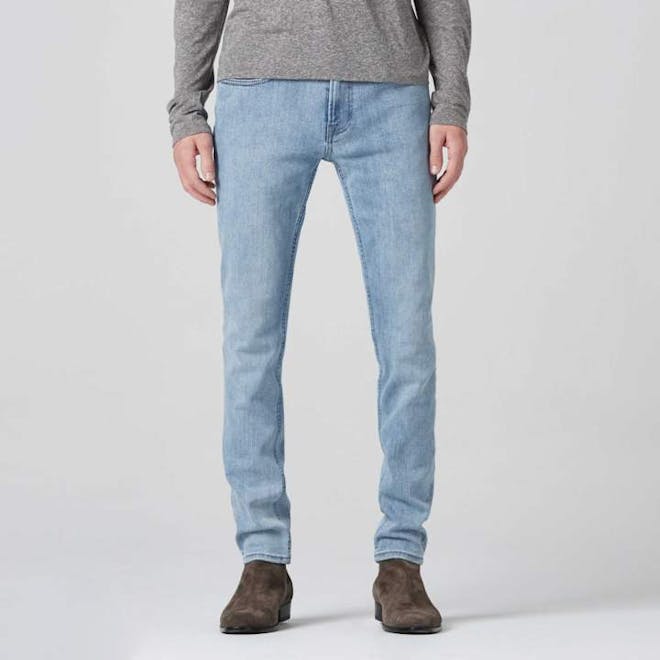 Care Machine wash cold, inside out with like colors Tumble dry low heat Do not bleach Warm iron if needed Fabric 94% Cotton 5% Polyester 1% Elas…
---
1/10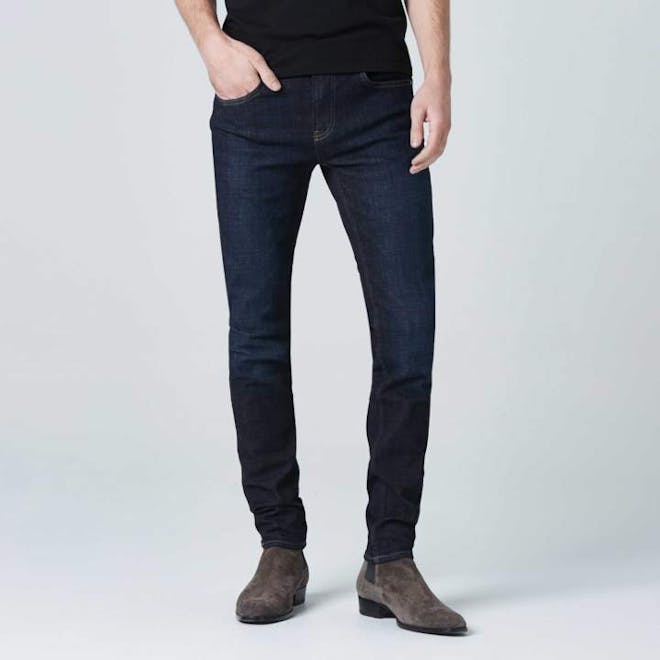 Fabric 94% Cotton5% Polyester1% Elastane12.5 oz. denim Care Machine wash cold, inside out with like colorsTumble dry low heatDo not bleachWarm i…
---
1/10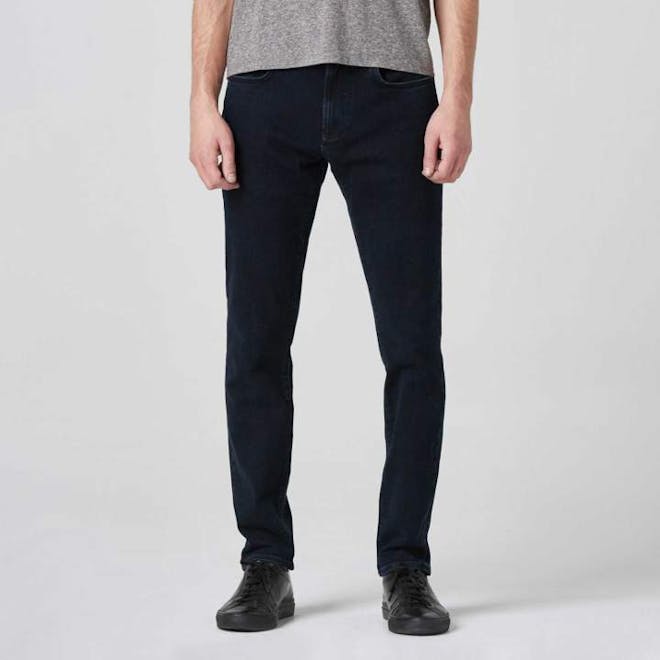 Fabric 94% Cotton 5% Polyester 1% Elastane 12.5 oz. denim Care Machine wash cold, inside out with like colors Tumble dry low heat Do not bleach …
---
1/10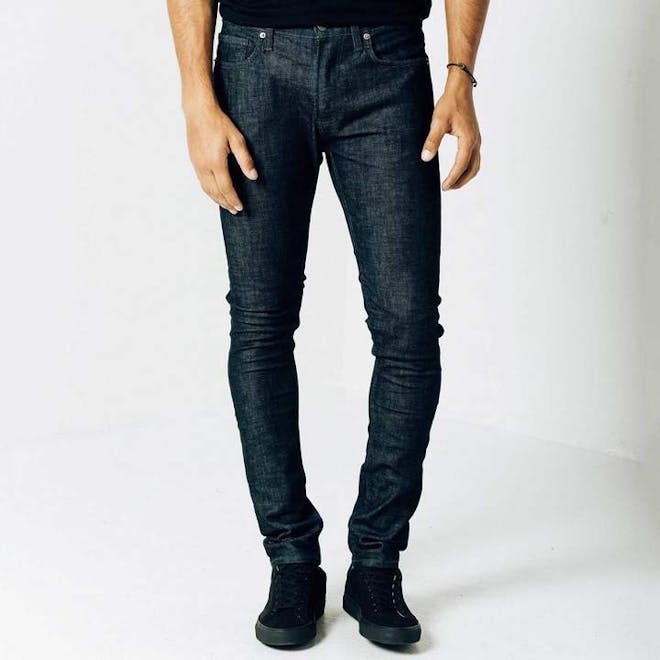 Fabric 98% Cotton 2% Spandex 12.2 ounce stretch denim Care Machine wash cold, inside out with like colors After wash, stretch back to shape then…
---
1/10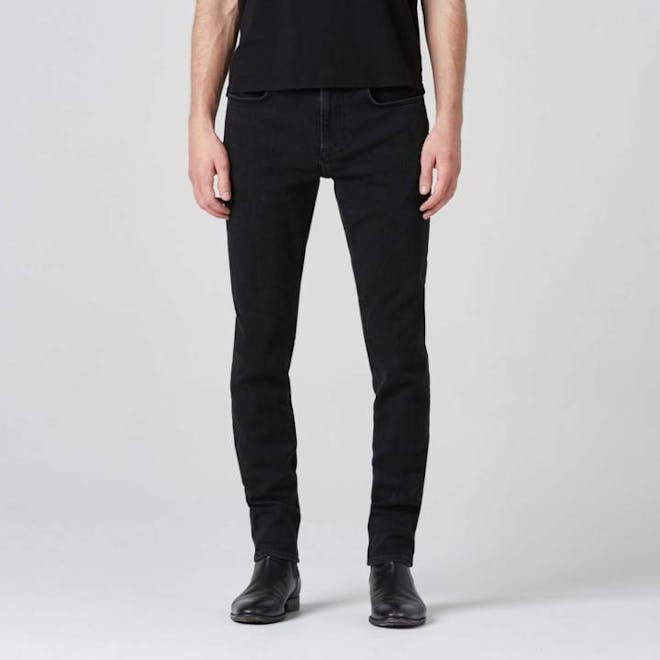 Description The skinny jean, all grown up. Stonewashed for softness with added stretch for sustained comfort and recovery, our Men's Skinny Jean…
---
1/10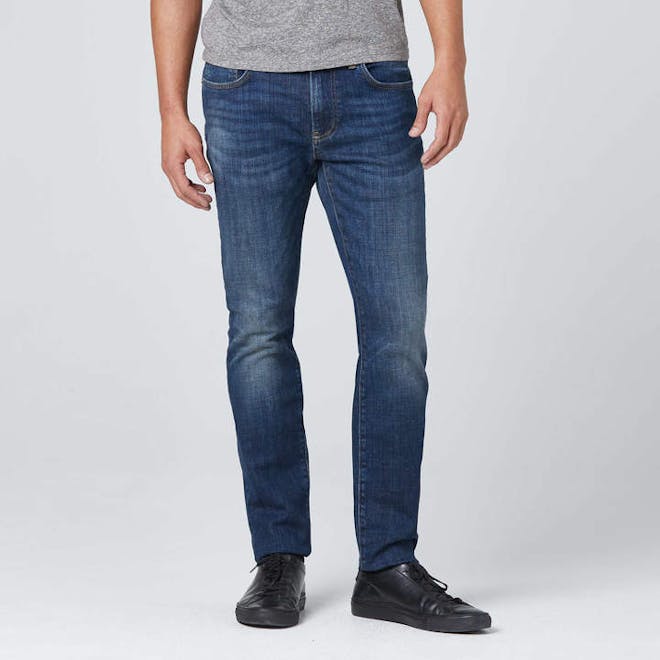 Fabric 94% Cotton5% Polyester1% Elastane12.5 oz. denim Notes Skinny fit through thigh with tapering from knee to ankle 10″ rise Five pocket silh…
---
1/10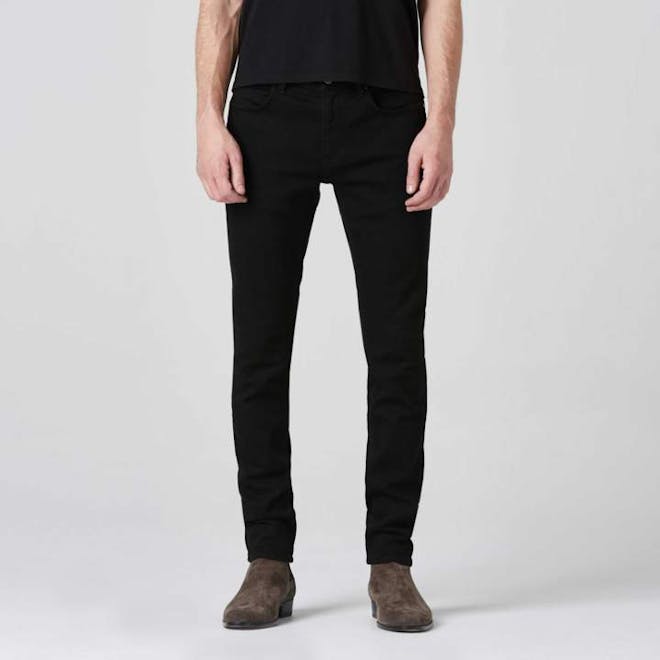 Care Machine wash cold, inside out with like colors Tumble dry low heat Do not bleach Warm iron if needed Fabric 99% Cotton 1% Elastane 10.5 oz….
---
1/10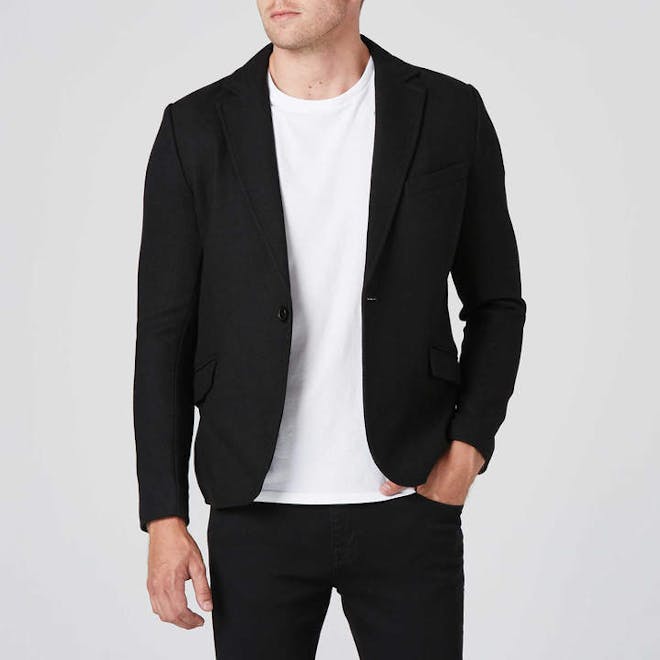 Notes Tailored fitLeather detail under collarNotched lapelButton closure at front and cuffsTwo front flap pocketsFour interior slip pocketsBack …
---
DSTLD's Best Women's Jeans
Now, 6 recommendations from their women's line.
1/2
Cashmere Sweaters
Cashmere Sweaters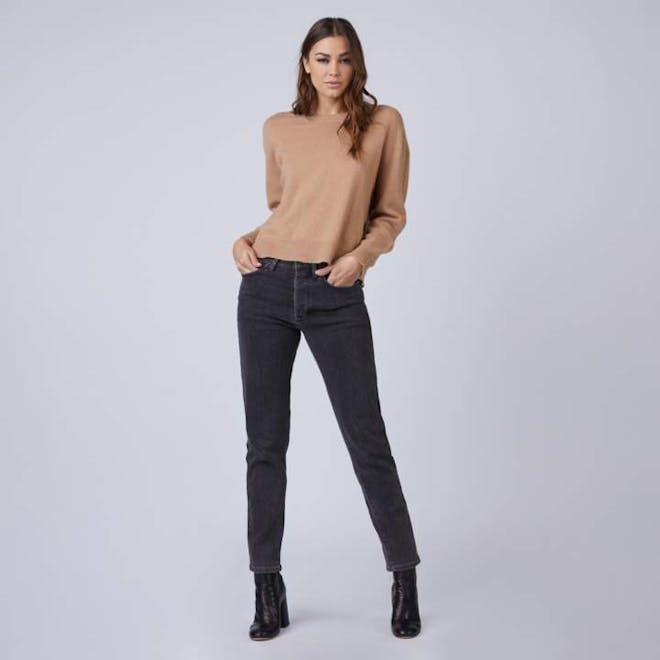 Description A timeless color, now from your favorite essentials brand.
---
1/2
Leather Jackets
Leather Jackets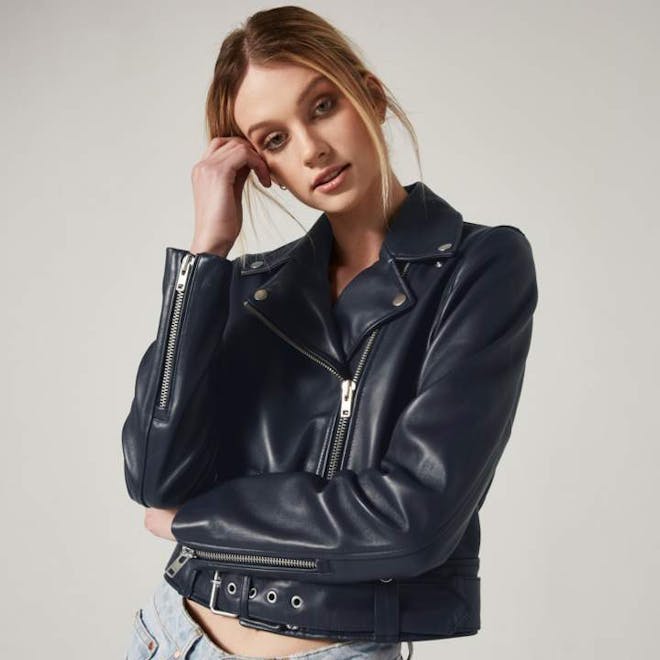 ---
Research / Frequent Questions
DSTLD fit
DSTLD is known for making high-end, form-fitting denim.
Their jeans range in size from ultra-skinny and straight-leg to high-rise, boot-cut, and flares. They even make "Mom jean" fits for those who want an authentic 1990's look.
One of the best things about DSTLD is that all of their pants are true to size. If the tag says your size number on it, you can be sure it'll fit comfortably.
DSTLD Jackets
Our DSTLD Interview
A few years ago when DSTLD had just launched, we had the privilege of interviewing their founders.
Mark Lynn and Corey Epstein are marketing/business gurus from Colorado that have a few businesses together and Anh Vu…well, she helped start the brand Nautica Jeans with John Varvatos so I don't really need to do any more convincing. This "denim A-team" is not only bringing you a great product but approaching the way you buy denim in a whole new way.
DSTLD Store in Los Angeles
Check out my interview with the DSTLD crew below, and enjoy shopping for their premium denim!
1. Tell us a little about DSTLD and what sets you apart from other premium brand denim?
Mark Lynn: DSTLD puts so much investment in the fit and make. You can see and feel this by the quality of the fabric and how it includes stretch for fit (no sag) and comfort, the richness of the dyes and washes, the premium hardware and intricate stitching (especially on the cuffs). With DSTLD's clean, modern styles part of the fit and make is in what you don't notice ÔÇö the fit achieves a second skin feeling and the make ensures we don't need to cover anything up with unnecessary (cheapening) elements.
Anh Vu: We design and craft our jeans using top-tier fabrics and the same mills as other top premium brands, however where you really see the difference with us is in our groundbreaking grading/tailoring systems for greater fit precision. Because we don't need to work on traditional retail timelines, we're also often first-to-market with highly modern fabrics and design techniques. In many ways, DSTLD is superior to other premium brands, only our line starts at $65. For women, we employ a dual-layer contoured waistband for a comfortable, figure-flattering close fit that eliminates the dreaded "butt gap" (guys: ask your girlfriends about this), a multi-point "bodymapping" system to ensure every size is cut to embrace and highlight the body, and ring-spun dual-flex yarns for super soft feel as well as superior stretch and recovery.
DSTLD Jeans
2. Where do you draw inspiration from for your collections?
Anh Vu: Our aesthetic is a mix between French minimalism and edgy street chic. Designing is an extremely collaborative process! Between working with Corey and Mark on the styles to come and executing the washes and finishes with the manufacturers, no detail goes overlooked. With DSTLD, it's all about clean, effortless style – no excess. You won't find anything meaningless, no crazy stitching for the sake of showing off. Instead I focus on perfecting the art of simple, streamlined design. Carefully detailing the fit and stitching scheme for every garment – specifying the size and shape of every last stitch, from fly to pocket lines to hem. Selecting the exactly right fabric and wash to make a pair of jeans look and feel amazing. I'm a little obsessive about design. You have to be, though, with something as nuanced as denim. For weeks I'll mull over how the pocket shape changes with subtle angles and when the denim is stretched along curves.
3. Where do you see DSTLD in 5 years? 10? What is your vision for the company?
We see DSTLD as becoming the biggest, most successful born online lifestyle brand. We want to change the way people experience luxury, because luxury isn't just a price point – it's innovation, it's utilizing the most advanced materials, and it's the experience in which you deliver all of the elements together. DSTLD is creating that experience.
DSTLD Studio
4. Who is the DSTLD Girl/Boy?
The DSTLD female/male is the new era of conscious consumer interested in purchasing fewer, better things. Things that focus on quality and innovation rather than of-the-moment trends. They're savvy and stylish with a streamlined, edgy-minimalist aesthetic.
5. You're only selling online, tell us a little bit about your business model and how it's changing the denim industry. (You can talk about the home fitting option here etc.)
Mark Lynn: The name DSTLD (pronounced ÔÇÿdistilled') is a double entendre of sorts, a nod to both our design philosophy and business model. To distill is to remove unnecessary elements so that only the essential remains. This applies to the modern, unembellished aesthetic of our label, as well as the disintermediation of the premium denim market: removing unnecessary third-party sellers who mark up product 200-300%, and — simply by virtue of carrying or "representing" multiple brands — are ineffective storytellers for any one brand.
Seventy-five percent of the designer jeans sold in the world are made in Los Angeles. We source our materials and develop our washes and finishes in the same factories as all the other premium players, but since we don't sell to third party retailers, we're able to keep our price point very desirable – our denim starts at $65.
We know that jeans are an intimate experience for women, which is why we've developed a home fitting program – clients choose three pairs of jeans to try in the comfort of their own home for up to 10 days, completely complimentary. Clients are only charged for what they keep.
6. Tell us a little bit about your background and how you came about starting DSTLD.

Corey Epstein: Honestly we found the denim business because we are in L.A, the denim capital of the world. With backgrounds in retail consulting and e-commerce, we questioned why premium denim cost so much, and set out to deliver a premium product at value. Our solution was to "distill" the business of denim, remove the "impurities" and unnecessary middlemen to create a "pure" denim brand, direct to you. Our lead designer, Anh, has a very diverse fashion background, from designing at couture houses in Paris to to launching Nautica Jeans with John Varvatos, and everything in between.
Last Updated on