We may earn compensation through affiliate links in this story.
Finding the perfect pair of skinny jeans among the millions to choose from is overwhelming. Knowing the difference between the fits, finding the perfect stretch content, the correct rise height, and leg length as well as finding a nice wash is a lot to do.
Skinny jeans have many more question marks than your average jeans. Like, are these too skinny? In 2018, do people even wear skinny jeans? What brands work for my figure?
This article will be your guide, answering those questions while helping you find the perfect pair of skinny jeans.
Ready? Let's Go
Editor's Choice
Mother from Saks Fifth Avenue $238.00
Distressed cuffs give these statement skinnys that touch of edge.
FAQ For Skinny Jeans
What Tops To Wear With Skinny Jeans?
Skinny jeans are a staple piece in every persons closet and can do no harm in picking out an outfit. There are many shirt and skinny jeans combinations that make an outfit with little no effort at all. The first best top to wear with skinny jeans is the classic button down white shirt tucked into skinnies. This can be paired with heels or sneakers to dress up or down. Other top combinations can be a simple sweater or a brightly colored, solid, or patterned shirt or sweater tucked into jeans. These tops do not always have to be tucked in and can be worn as is.
Non Basic Skinny Jeans
And a little about that makes each special…
1/3
Skinny Denim
Skinny Denim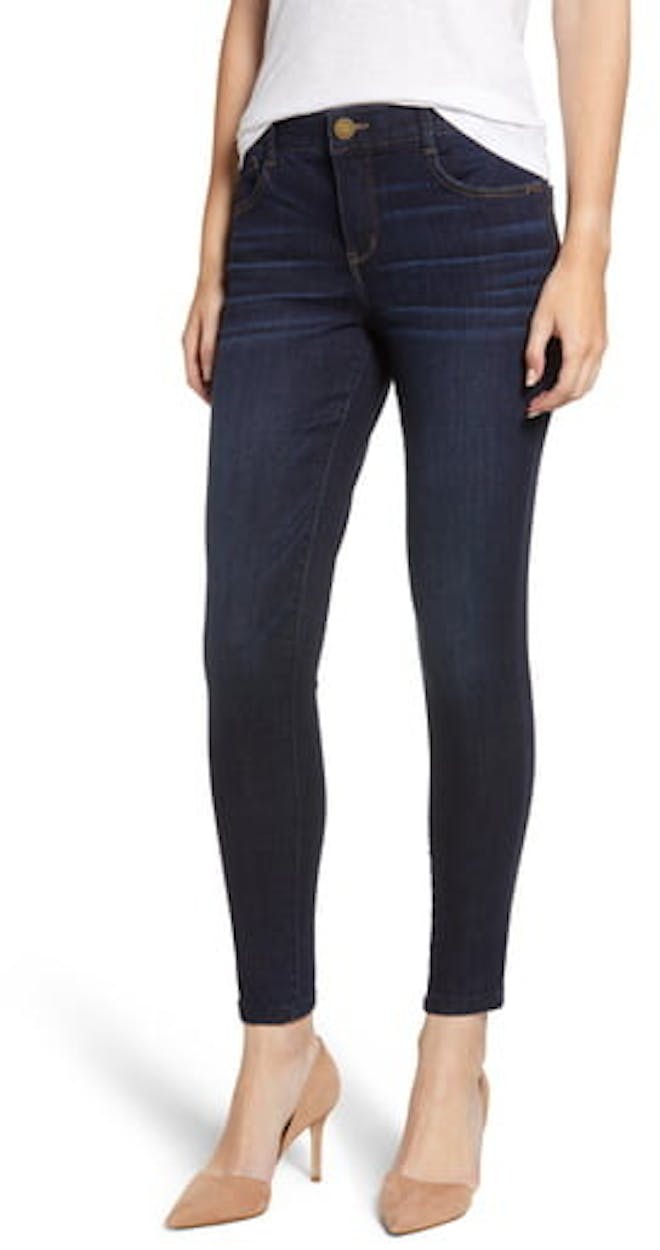 Wit & Wisdom from Nordstrom $78.00
Wear-with-anything skinny jeans feature chic ankle-length hems and stretchy indi.
---
1/2
Skinny Denim
Skinny Denim

Sam Edelman from Nordstrom $98.00
Whiskered blue and unfinished hems authenticate these wear-everywhere skinnies, .
---
1/1
Skinny Denim
Skinny Denim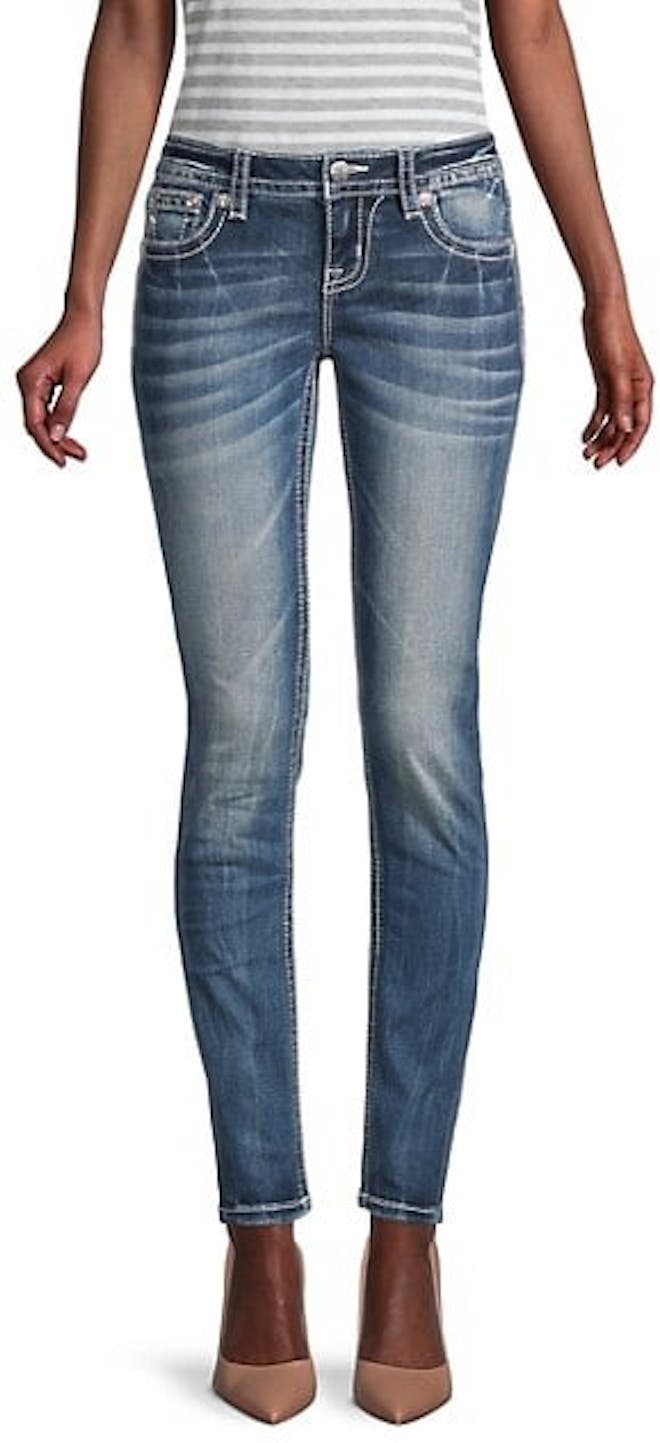 Miss Me from Saks OFF 5TH $99.00
Embellished embroidery at the back pockets give these skinny jeans an elevated l.
---
1/4
Skinny Denim
Skinny Denim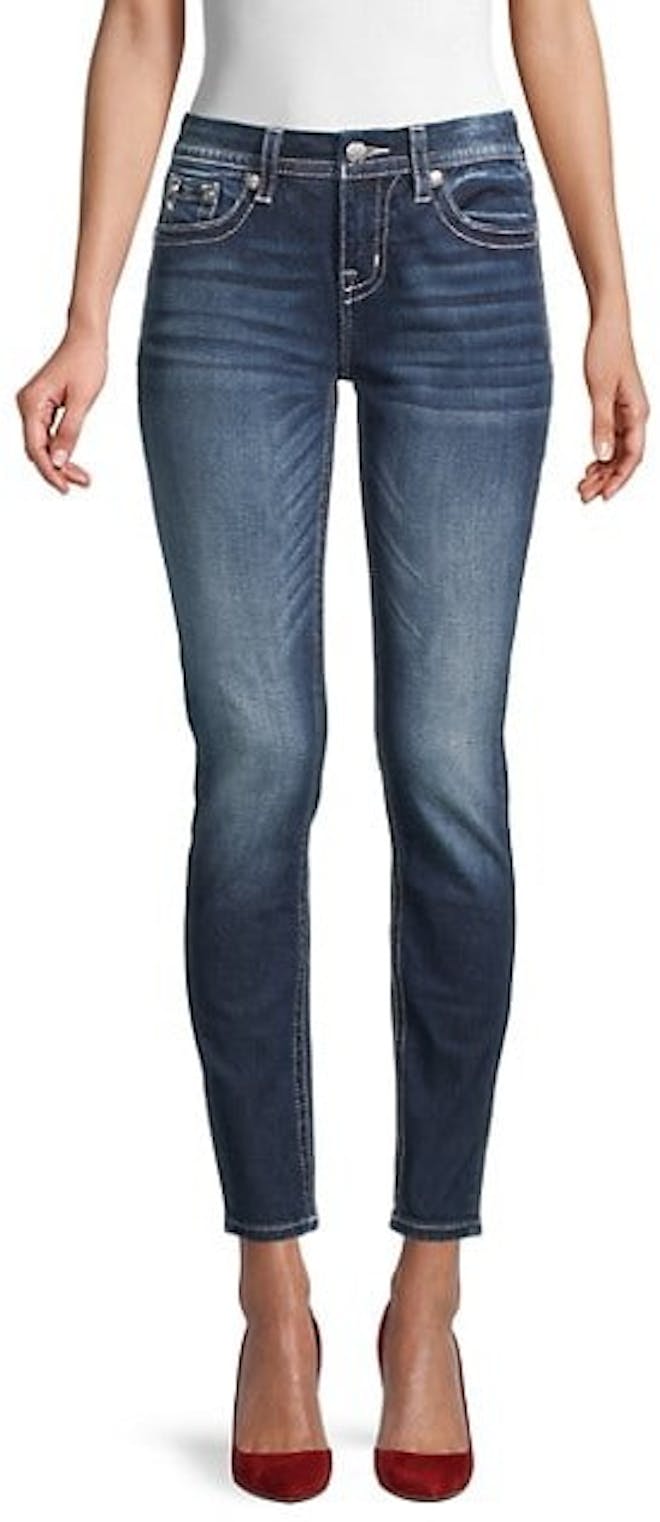 Miss Me from Saks OFF 5TH $104.00
Skinny jeans embellished with edgy studs, embroidered wings at the back yoke, an.
---
1/5
Cropped Denim
Cropped Denim

Mother from Saks Fifth Avenue $238.00
Staple cropped skinny jeans offering a unique uneven waistband.
---
What Kind Of Shoes Look Good With Skinny Jeans?
Classic combat boots look very stylish with skinny jeans. Just like jeans are easy to wear, these boots also can go with any look without looking uninteresting.
Knee high boots are also great. Not only are they a comfortable fit to wear due to the jeans being skinny, they also look sleek and perfect for winters.
Short heels are good with skinny jeans. Sandals and flats work well with jeans despite having more trouble with other types of clothing. This doesn't mean that high heels look bad! Skinny jeans are versatile in that you could also rock those stilettos.
How Skinny Jeans Should Fit?
Skinny jeans for are a staple to any outfit for both men and women and there are a set of guidelines to ensure that your skinny jeans compliment you and your body type perfectly. Skinny jeans refer to the opening of the jeans and are best worn at a right length that does not appear to be too short for the person.
Skinny jeans are best worn when they hit just at the ankle. Additionally, the color of the jeans should also compliment the body type of the person wearing. Lighter colors draw more attention to the shape of legs, and could best be substituted for darker jeans.
What Length Should Skinny Jeans Be?
Skinny jeans should be just the right length to avoid baggy fits or looking like an overgrown toddler. The first rule of thumb when it comes to finding the right length and fit is to avoid jeans that sag or fall at the knees or clump up at the back.
The next way to ensuring the perfect length and fit are to look for jeans that are not too short in the sense that they fall a great distance above the ankles or too long in the way that they pool around the ankles. This makes a person look either too tall or too short for their clothes. Consider shopping in petite or other special sections.