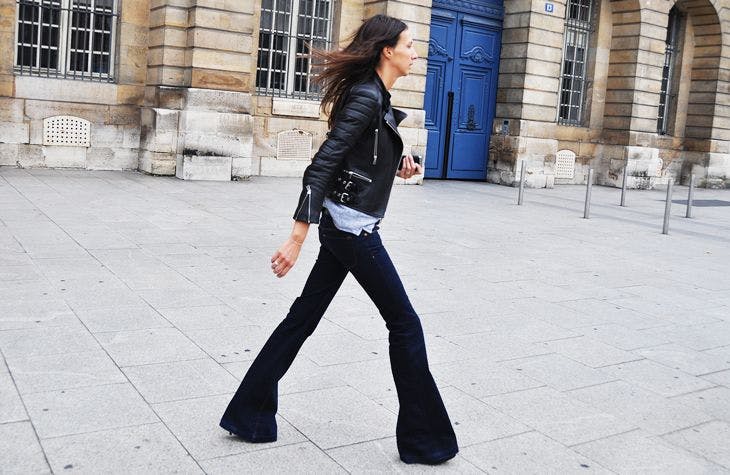 Geraldine Saglio in J Brand
From a mom skinny to the vintage-inspired skinny and of course the classic mid and high rise styles, skinny jeans live in every women's closet.
But when your skinnies bore you, the wide-leg is the perfect alternative when you want something smarter. Wide legs work casually, giving off a 1960s graceful look. They're perfect for going to work and then immediately out after. And they're the most popular denim trend of 2019.
Whether you choose the classic lengthy jeans or a pair that is more on-trend with frayed hems and cropped, the wide-leg is not outdated. You will look just as chic as the Instagram models who rock them so well.
Our Favorite Wide Leg Jeans Explained
Give your skinny jeans a break and give your ankles some breathing room with these styles…
How To Wear Wide Leg Jeans
You might think that flared and wide leg jeans are only suitable for the Spring/Summer season, but I think they can work really well during the Autumn and Winter months.
A few key tips to remember with flared and wide leg jeans
Start with the length If they are too long then they will look really sloppy, but if they are too short, they will look awkward, so make sure you hem them to the correct length. Do this by choosing your favorite shoes, or the shoes with the most common heel height in your collection, and then hem them with those shoes on to a length that's about 1/2″ off of the ground. Covering the shoes just creates the illusion that the legs go on forever and it really works. If you are quite petite, I recommend going for a slim bootcut as it wont swamp your frame so much.
Remember as well that bootcuts/flares always balance out curves, so if you are curvy, they can be a great style for you to keep your proportions in proportion. How many of you love wearing flares this time of year?
Wide legs aren't very practical when it's raining or snowing because the hems suck up the water, which makes you cold and wet, but when it's dry, they definitely make a statement!
Wash Advice
The dark indigo blues are perfect for that crisp, smart look with a blazer or shirt. I'm thinking Victoria Beckham or Rachel Zoe when I picture this look! The dark blues, which are more blue than indigo, are a little more casual and work really well with blouses or even t-shirts/sweaters, while the colored jeans or lighter blues can be worn a lot more casually. I find them to be really versatile and although they don't suit everyone, when you get flares right, they look amazing!