"You can be a farmer in those clothes", Amber Mariens says in Clueless. The once polarizing style of denim overalls made its comeback a few years back to solidify itself as a closet staple. Reinvented season after season, the styles of today are chicer than ever. Given new cuts, it's more than just that relaxed style that you just throw on to for a cleaning or art project, don't worry those styles are still available if they are your thing. There are skinnies, wide legs and even flares that you can layer over your favorite tee or sweater for looks that will get heads turning for the right reasons.
See the styles that will have you feeling more chic than an art student working on a piece.
Editor's Choice for Best Denim Overalls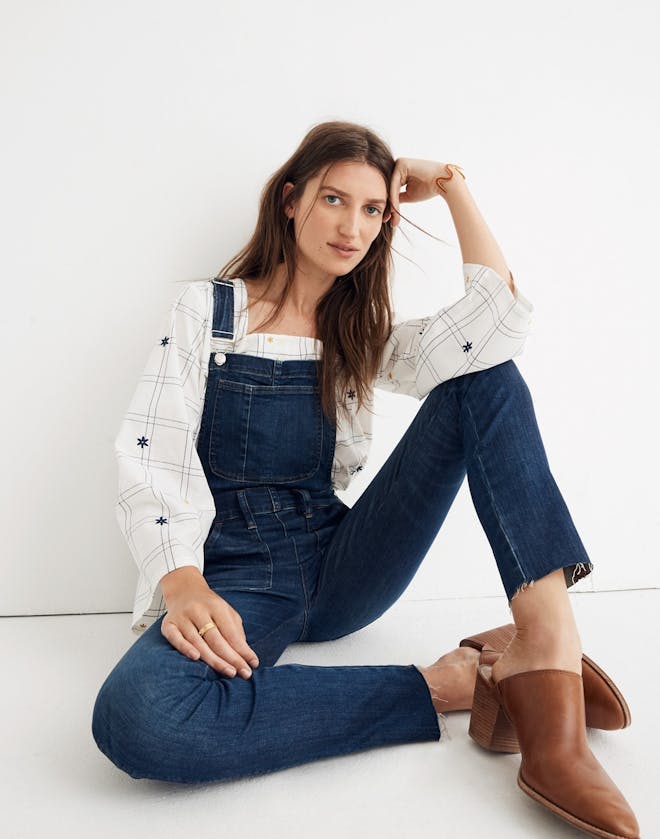 MADEWELL The Skinny Frayed Overalls $89.00
MADEWELL gave their signature trendy spin to the classic overalls by making it in a skinny cut and frayed hem, giving a modern and flattering spin to a style that can veer towards dowdy easily.
---
The Best Women's Overalls Shortlist
Click below to shop from our picks from their 2019 collection
our favorite jeans
---
Best Women's Denim Overalls Explained
Here are our favorite women's overalls in 2019, with a little about what makes each special…
1/14
Best Skinny Overalls
Best Skinny Overalls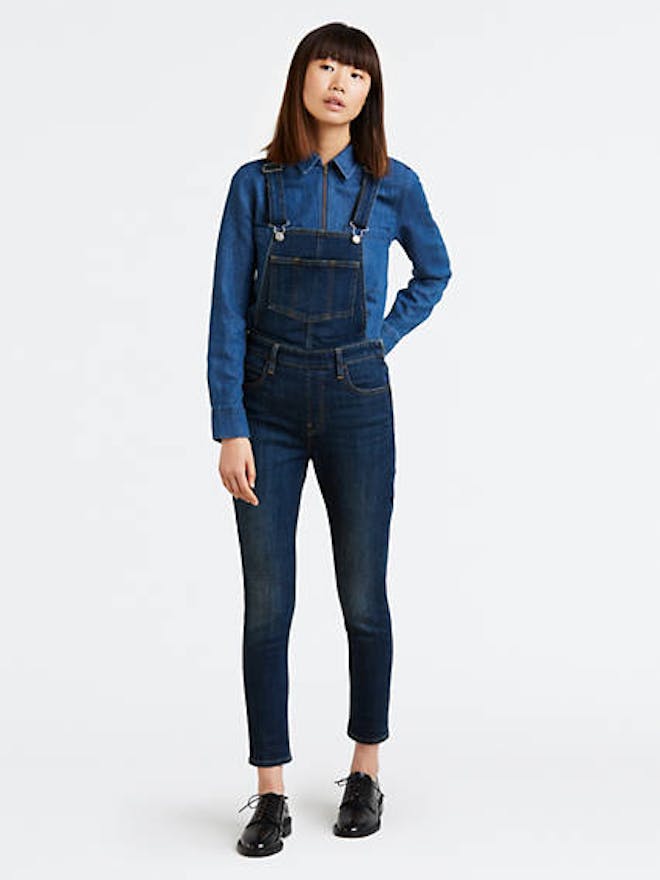 LEVI'S The Skinny Overalls $89.00
The first denim brand, of course, has their take on the skinny overalls. With their expertise, the style is flattering and comfortable enough to layer over turtlenecks for the colder months and transition over with a flouncy sleeve shirt for the warmer days.
---
2/14
Dark Denim Overalls
Dark Denim Overalls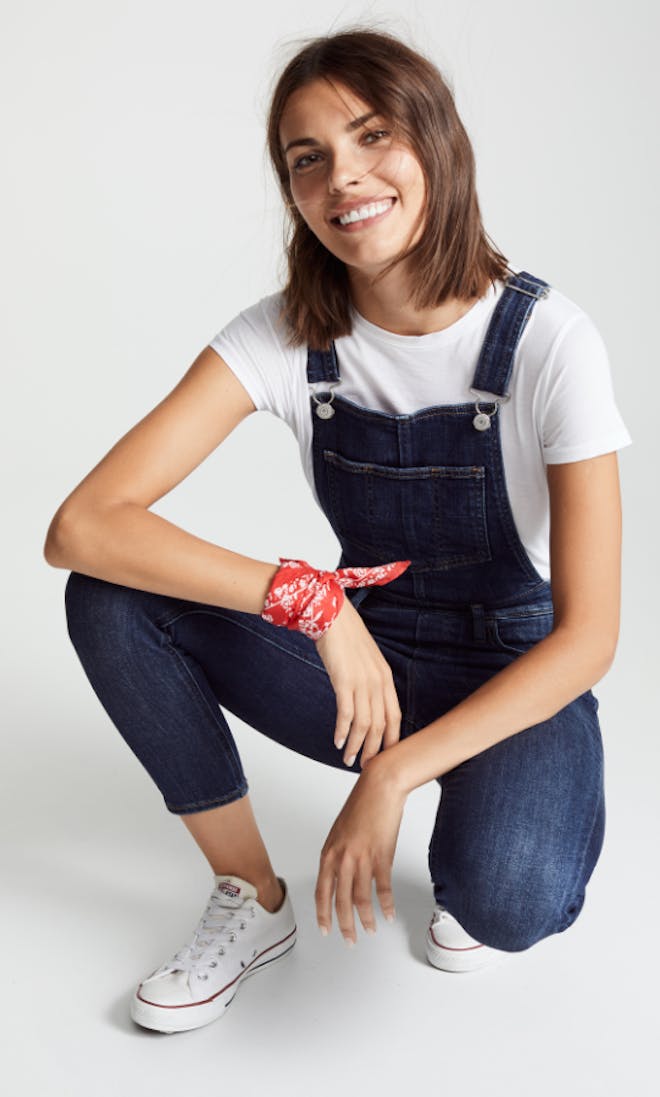 Skinny style stretch denim overalls in a dark color with crop cut, while still having the worn look.They zip on the sides and have adjustable straps.
---
3/14
Denim Overall Shorts
Denim Overall Shorts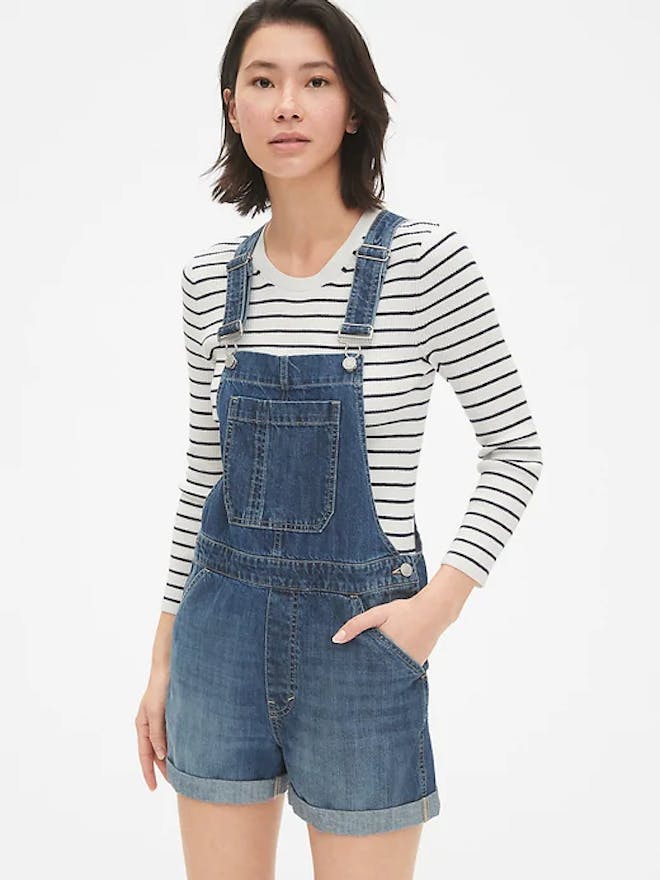 Overall shorts made with premium denim that does not stretch. There is side closure, cuffs stay rolled and has adjustable straps

---
4/14
Black Denim Overalls
Black Denim Overalls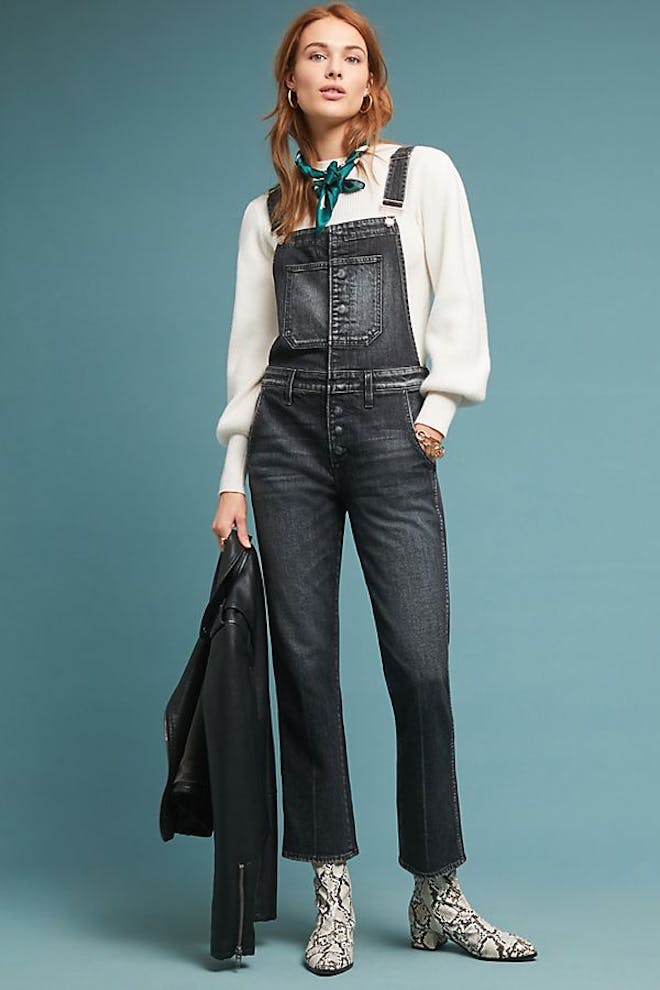 Overalls designed for those who love the feminine look. Machine washable comfortable overalls with front pockets, side snaps and adjustable straps.
What We Love
AMO is in Los Angeles and very trendy right now
Things to Look Out For
You are a little limited with where you can wear these, since they can't be dressed up
---
5/14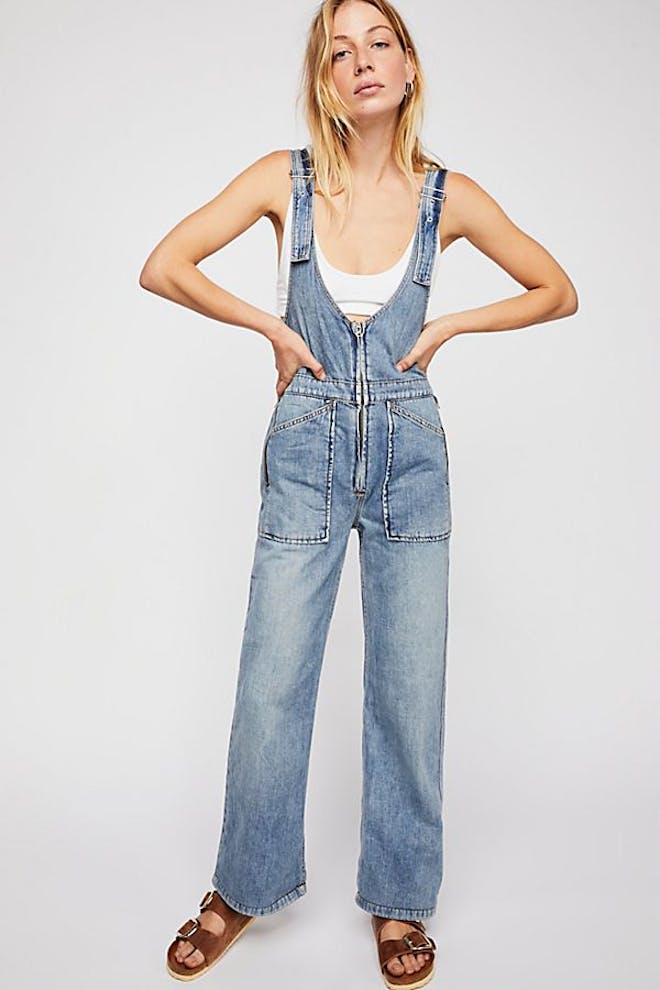 FREE PEOPLE The Juniper Jumpsuit $128.00
Overalls are one of the go-to workwear styles out there and seeing a more industrial inspired style is expected. FREE PEOPLE made the style that is still feminine by making it in a lighter fabric and toughening it up with zippers.

---
6/14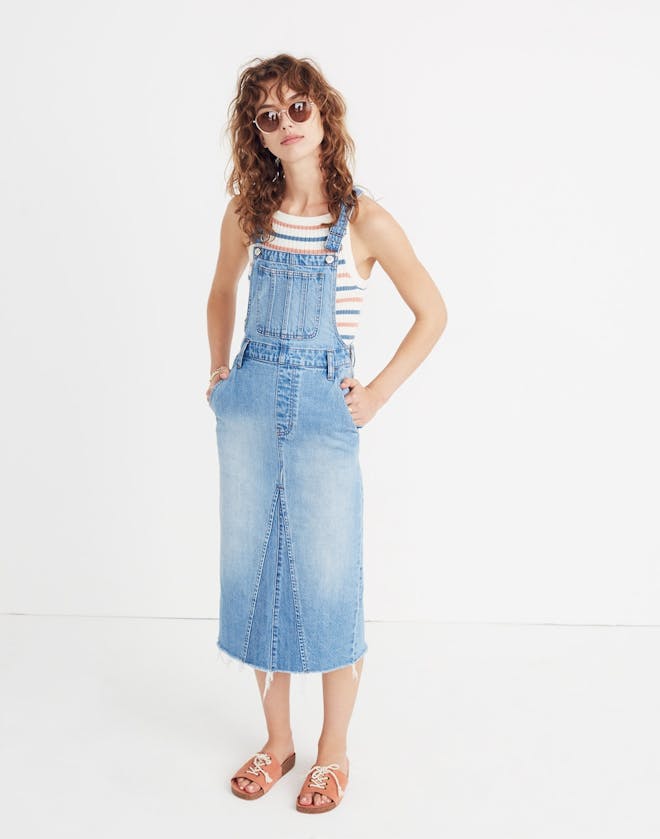 MADEWELL The Reconstructed Skirt Overalls $89.00
Overalls are not just limited to pant styles and MADEWELL also have a skirt style available. Giving vibes of STELLA MCCARTNEY, the reconstructed styles has an English quirk with the brand's signature California ease.

---
7/14
Distressed Denim Overalls
Distressed Denim Overalls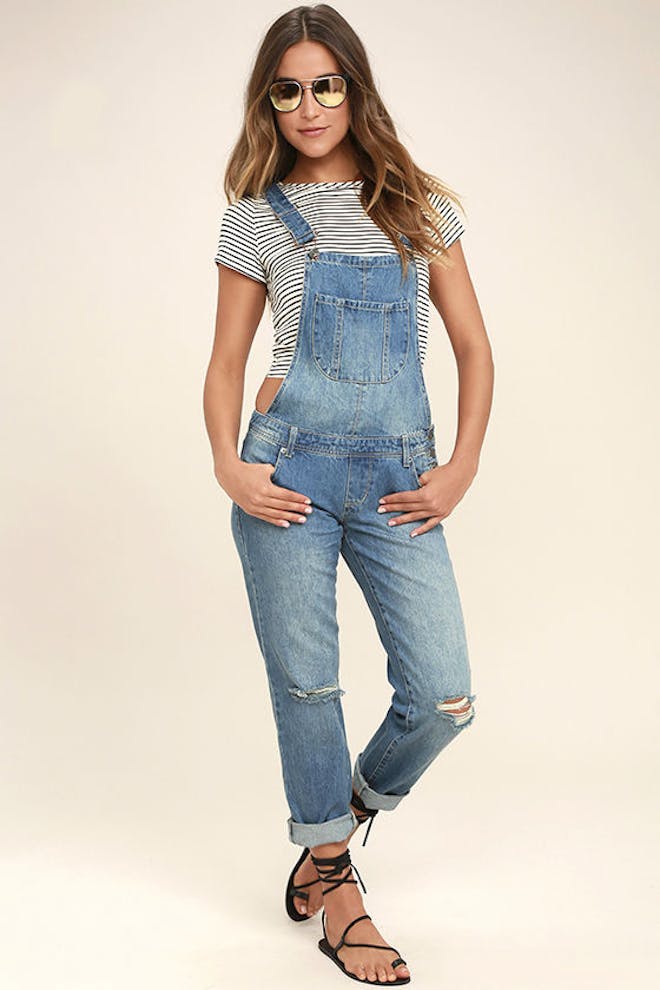 LULUS LEND A HAND Distressed Denim Overalls
Med. Wash overalls, with bib pocket , adjustable straps, front pockets as well, straight cut, button closures on sides
What We Love
Cute, playful look
I love the subtle distressing
Things to Look Out For
I only see s,m,l, not real accurate sizes..When buying online, I don't like taking time to talk to a sizing expert when there are so many other sites to buy on.
---
8/14
Maternity Denim Overalls
Maternity Denim Overalls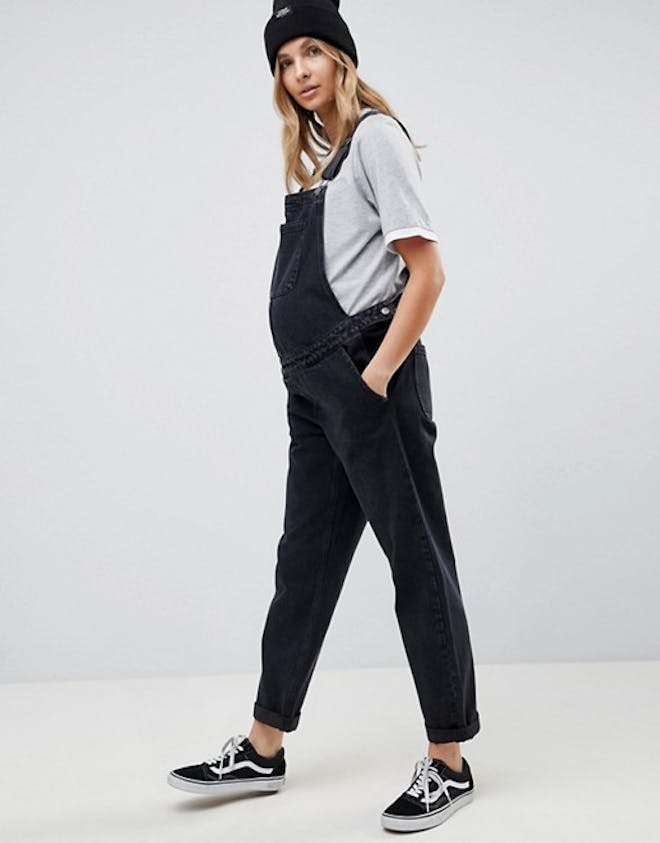 Maternity overalls made from 100% cotton with adjustable straps, a timeless design, pockets, buttoned sides with adjustable buckle straps as well. Variety of sizes and regular fit.
What We Love
It is nice to see maternity clothes by higher end designers, and for normal women
Things to Look Out For
WATCH THE SIZING CHART, HAS SIZES FOR UK AND US.
---
9/14
ISABEL MARANT ETOILE The Lashay Workwear Overalls $680.00
ISABEL MARANT took a less traditional sense with her Lashay Overalls for her ETOILE line. She did her signature masculine meets feminine spin by making a workwear inspired jumpsuit.

---
10/14
Denim Overall Skirt
Denim Overall Skirt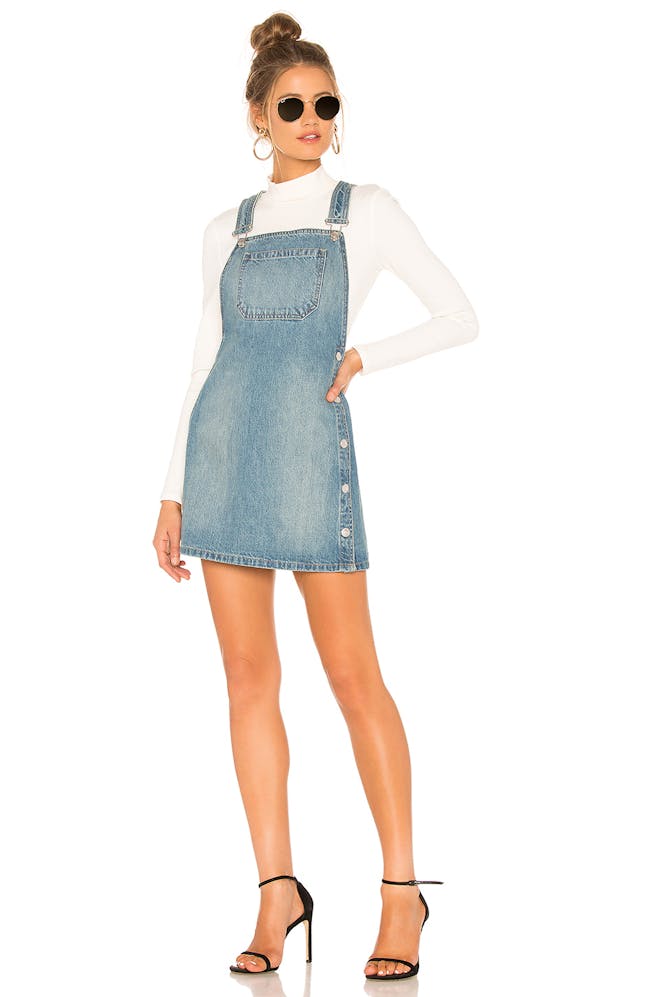 Cotton blend overall skirt, with adjustable straps, chest pocket. Material is lightly faded to provide vintage look.
What We Love
Seems versatile, can dress it up as well as casual
Things to Look Out For
Only see about six sizes offered
---
11/14
Best Overalls on a Budget
Best Overalls on a Budget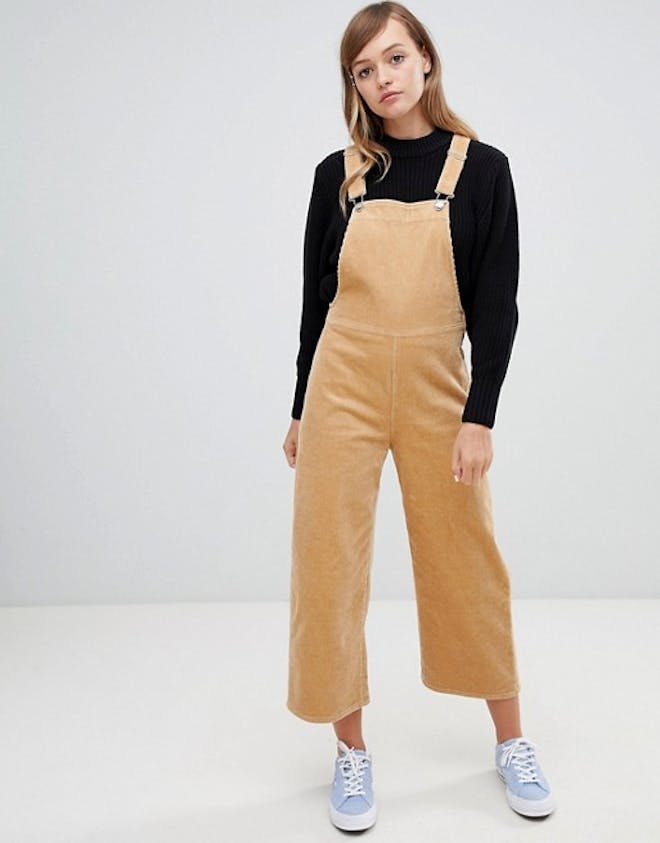 MONKI The Wide Leg Corduroy Overalls $44.00
Another corduroy pair of overalls that will have you giving your denim styles a break. This style by MONKI is a clean take with a pocketless bib, adding a more chic look that can easily be dressed up or down.
---
12/14
Plus Size Denim Overalls
Plus Size Denim Overalls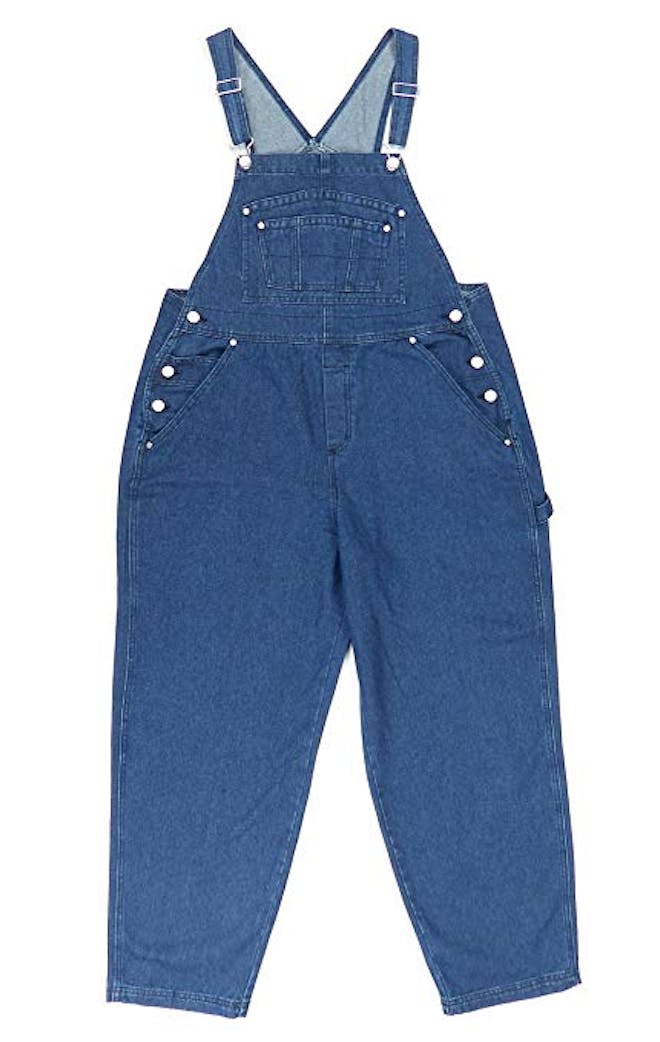 Bound Overalls PLUS SIZE OVERALLS
100% cotton jean bib overalls for plus size women. Six pockets as well as adjustable straps that come in various colors.
---
13/14
Levis Denim Overalls
Levis Denim Overalls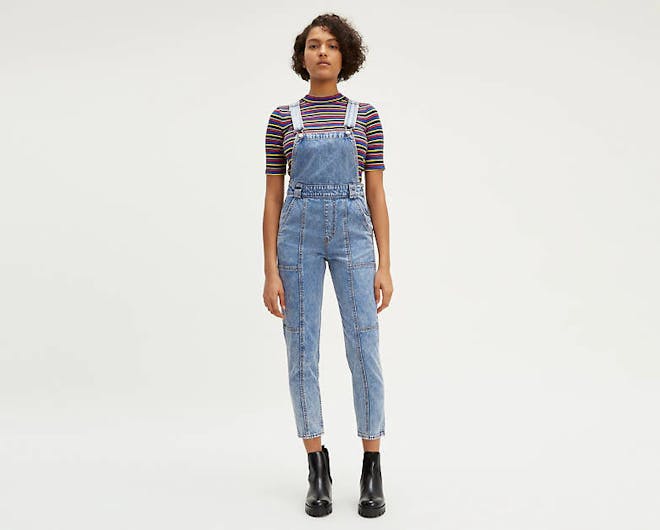 100% cotton denim overalls, not stretchy, adjustable shoulder straps, the side zips shut as opposed to buttons
---
14/14
Denim Bib Overalls
Denim Bib Overalls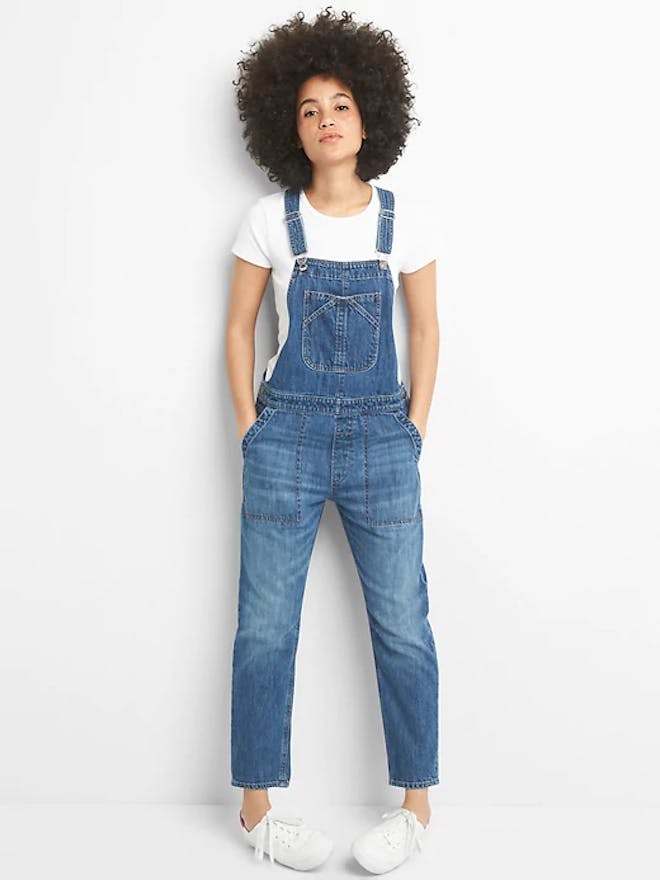 100% 1969 denim overalls with straight neckline, front slant pockets, med. Indigo wash, adjustable straps.
---
Flare Denim Overalls
Denim overalls took over last year, in the skinny version, but as flares are having a moment now, why not make overalls flared too? The best premium denim brands agree, Frame, Rag & Bone, and Stella McCartney have all released flared overalls.
So why not give this 70s vibe a try?
1/6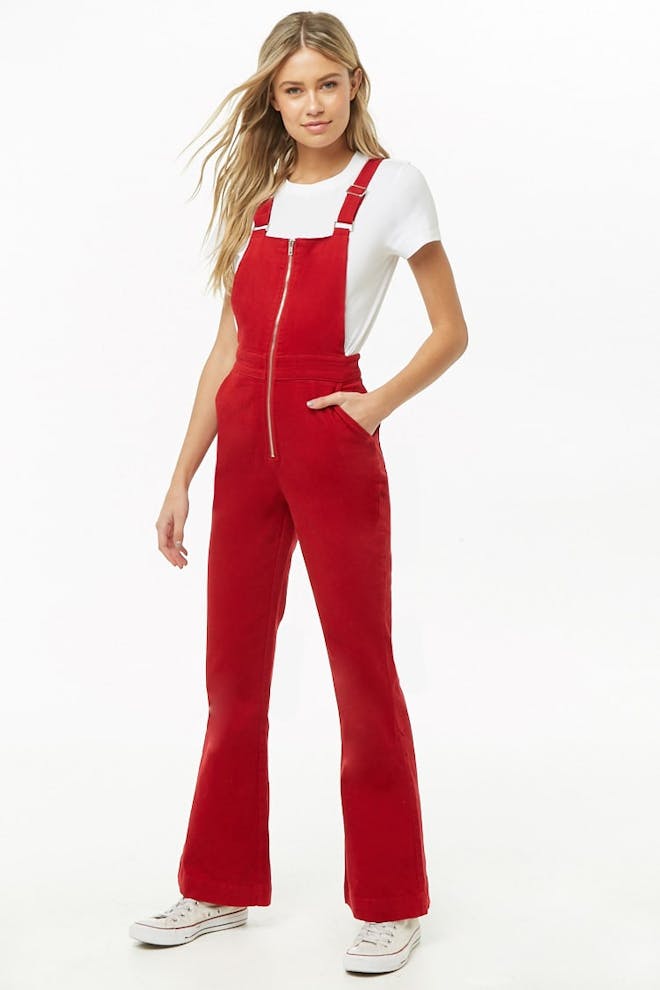 FOREVER 21 The Zip-Front Overalls $29.00
Yes you can wear a pair of red overalls without feeling like the Super Mario (yes, I know he wears blue). It is a fun style to give those neutrals a nice little punch of life.

---
2/6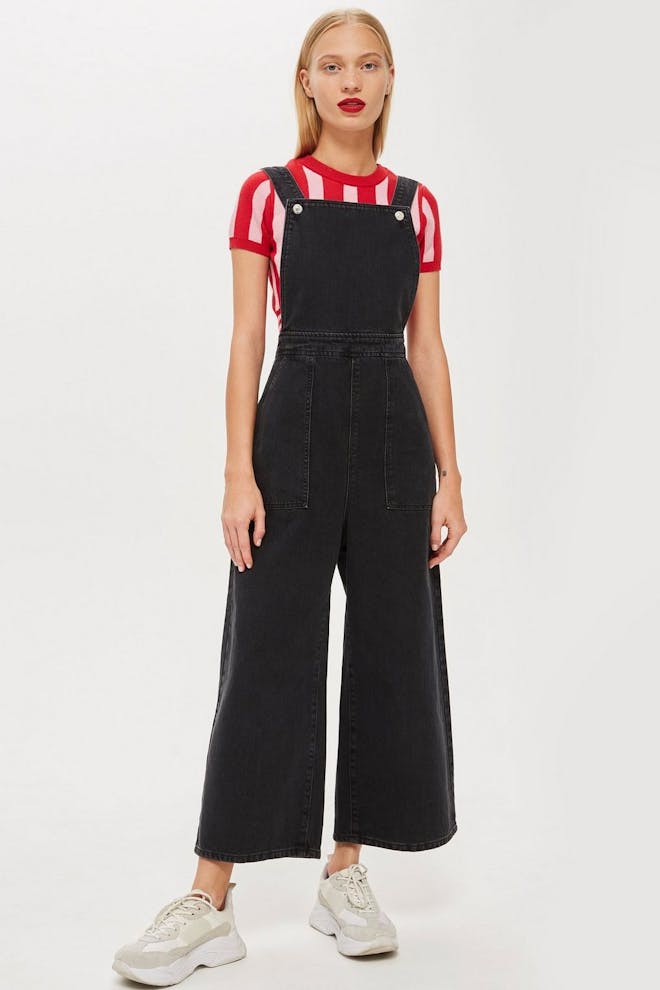 TOPSHOP The Cropped Wide Leg Overalls
TOPSHOP gave a wideleg spin to the trendy piece. Don't worry, this style won't drown you and is really flattering. The style hugs you in all the right places and still give your ankles some breathing room.

---
3/6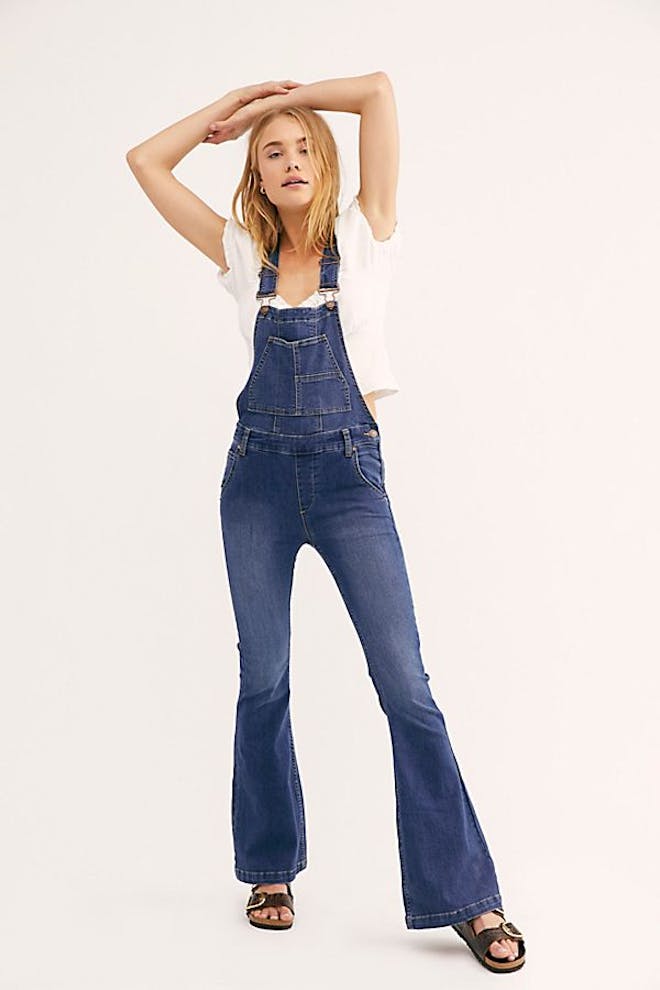 FREE PEOPLE The Carly Flare Jumpsuit $128.00
This boho, flared style by FREE PEOPLE still has that casual overall look in a flared cut that is flirty and feminine. It is the perfect style that you can get away with wearing during a night out.

---
4/6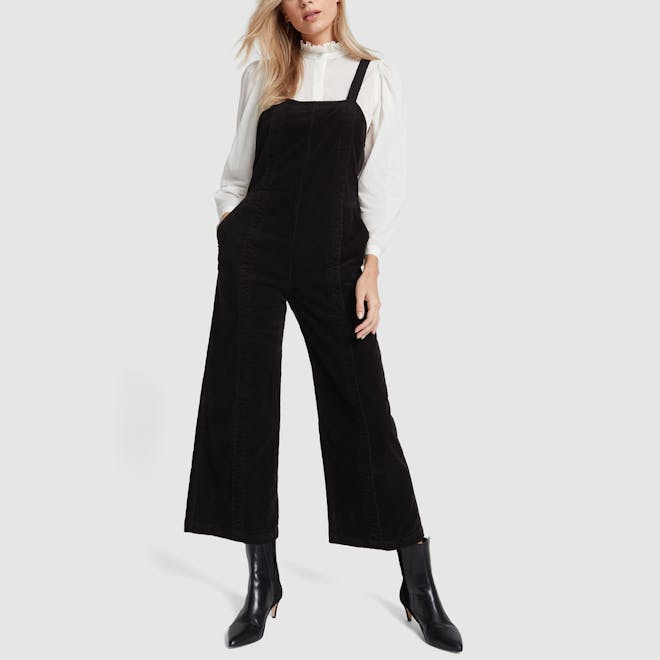 APIECE APART The Carmen Corduroy Overalls $119.00
Linear and sleek is the APIECE APART aesthetic. The Carmen is a clean take that has a lush feel from the corduroy fabric.

---
5/6
Flared Denim Overalls
Flared Denim Overalls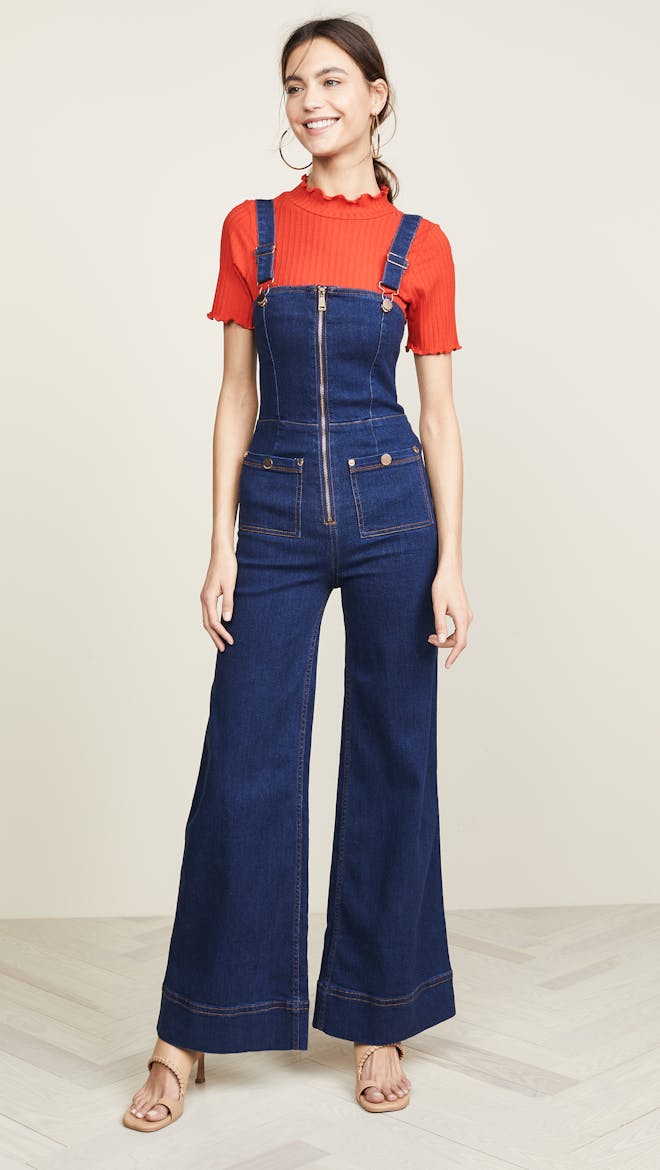 Imported stretch denim, able to machine wash in cold. Flare bottom with zip exposure bodice and straps that are adjustable with zip bodice is nice
---
6/6
Best Flare Overalls
Best Flare Overalls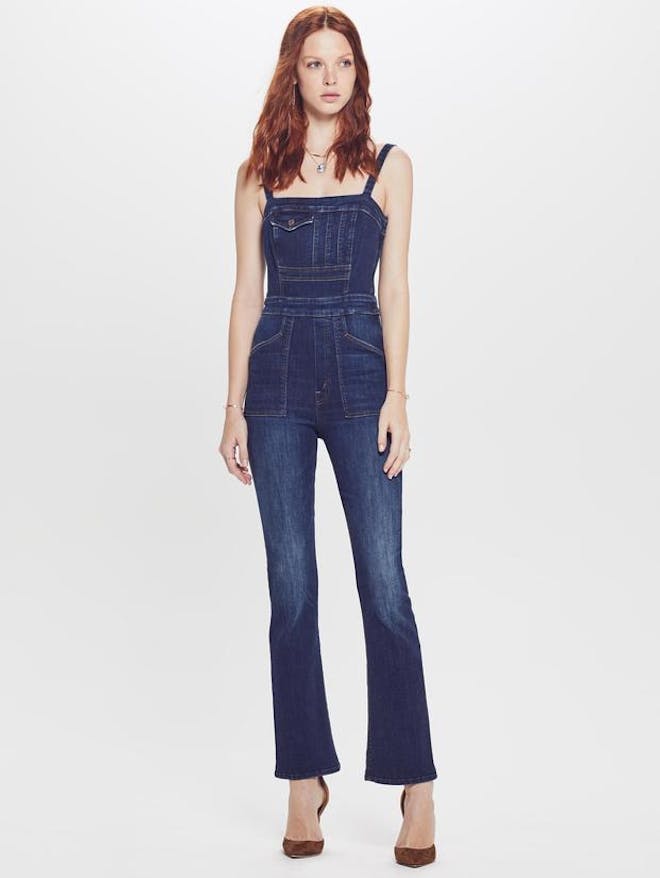 MOTHER The Pocket Hustler Overall $320.00
MOTHER is all about making the retro feel modern. Their Pocket Hustler Overalls is a chic and flattering spin on the style that will lift you in the right places and it has stretch. So you don't have to be worried about any restriction.
---
How To Wear Denim Overalls
Denim overalls are often very hard to style and make look fashionable when they are blue/distressed, since they look like work clothes. Though I really like some of the deep indigo washes out there, so if you are going with flared or skinny overalls, blue would work.
Otherwise, stick with black and an unconventional cut so that your overalls look more like a chic statement than your work clothes.
Styling Vintage Overalls
Check out your local thrift store and see if you can cuff a pair of extra large ones or cut the legs into shorts, it saves you money and you get a vintage type feel for no extra cost. Wear your overalls with a crop top underneath, a bathing suit top if you're headed to the beach or a pool, one clasp undone, with a white tee, a vintage tank or with a long sleeve shirt for these chilly Spring nights. If you're not ready for overalls, I totally feel you, but I think you should give them another whirl. Look how cute they are!
Styling Flared Denim Overalls
You can style them with a simple tight t-shirt, some sandals and round sunglasses for the ultimate vintage look or why not dress them up with a shirt and some wedges? However you wear them, I'm sure you can make them unique and one thing is for sure, you will definitely be on trend! Check out some of the coolest flared denim overalls that I have rounded up and some celebrity inspiration!
Shoes For Denim Overalls
And now to complete the look, the best shoes for your styling denim overalls. Shoes can be the toughest part, so here are a few ideas.
I layered a slim fitting gray turtleneck from Banjo & Matilda under these Frame overalls, with a maroon calf hair moto-jacket from J Crew for a little bit of texture. I finished with these check printed Vans slip-ons and fun patterned sunglasses from Kenzo. This look could easily be updated for warmer weather by switching the turtleneck for a tee and cuffing the overalls for a shorter length.
1/3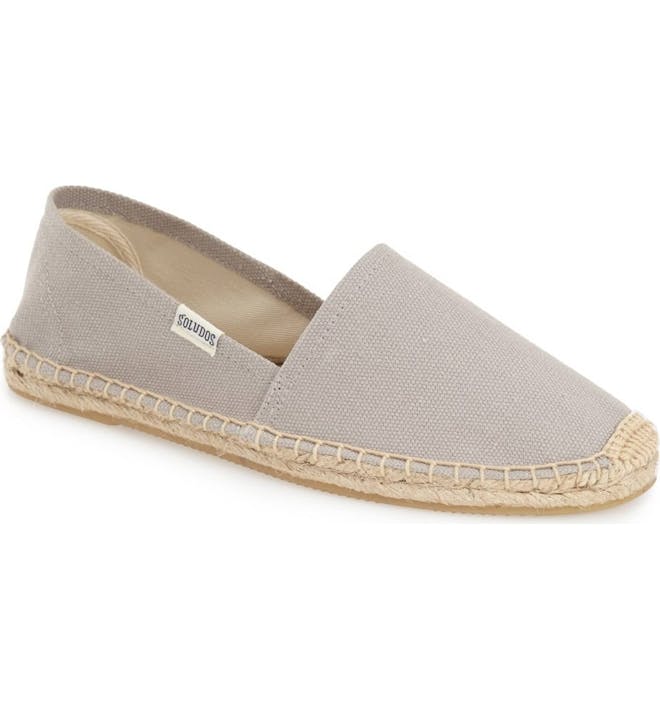 For the summertime only, these would look great if you were wearing a lighter wash pair, as they have that sort of boho look.

---
2/3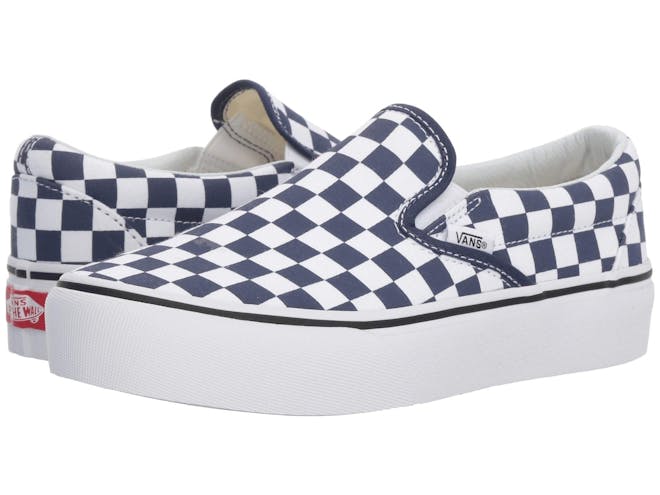 Classic, fun, and a little rebellious, these shoes will add just another touch of IDAF to your overalls look.

---
3/3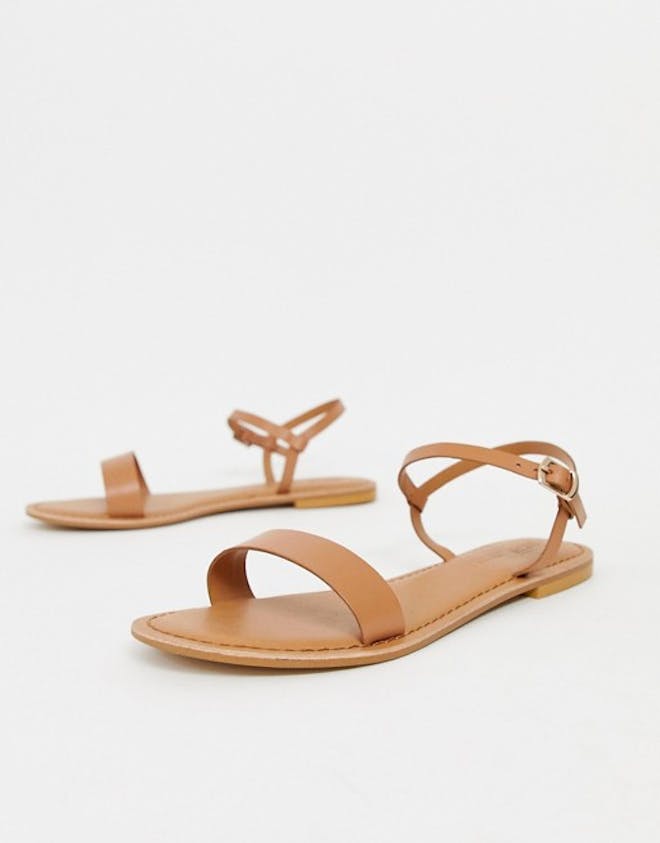 ASOS Flume leather flat sandals
Another summertime addition, these flats are minimal enough to not distract from your overalls, just giving them a subtle touch of class.

---
Last Updated on