Our Favorite Coated Jeans Explained
Here is a little about each of our favorite jeans…
1/1
Skinny Jeans
Skinny Jeans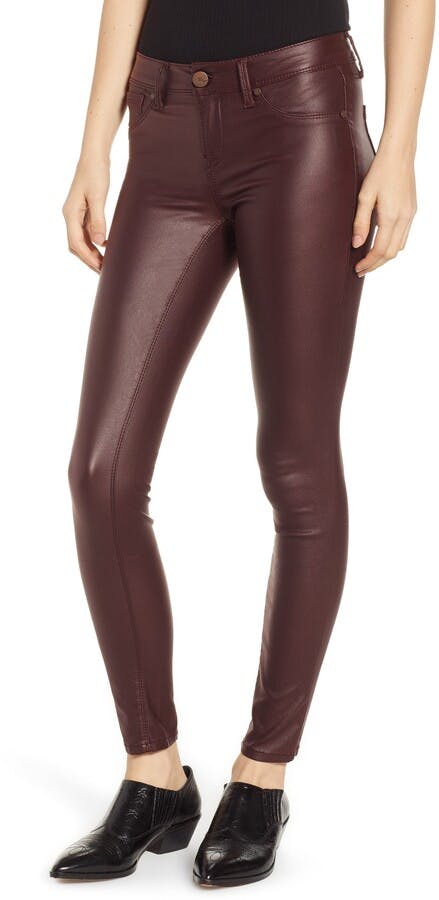 1822 Denim from Nordstrom $49.00
Coated for a cool faux leather look, these sleek black skinnies will add a dash of rock 'n' roll edge to your fall wardrobe.
---
1/8
Cropped Jeans
Cropped Jeans

L'Agence from Nordstrom Rack $119.97
L'AGENCE's signature svelte skinnies are updated with a silvery metallic coating that effuses space-age glamour.
---
1/3
Skinny Jeans
Skinny Jeans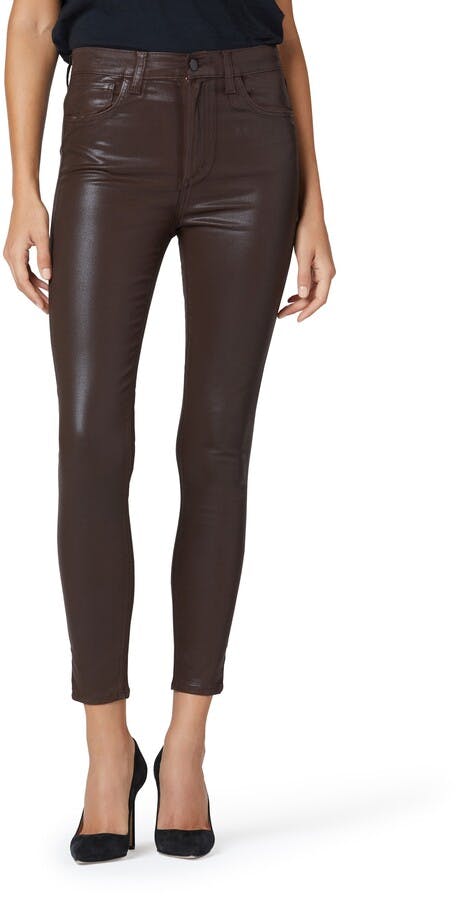 Joe's Jeans from Nordstrom $198.00
Coated for a cool faux-leather look, these sleek skinnies will add a dash of rock 'n' roll edge to your fall wardrobe.
---
1/4
Leggings
Leggings

L'Agence from Intermix $225.00
A wardrobe staple, the Rochelle leggings are cut from their coated black wash and flatter the figure with a seamless high-rise silhoue.
---
1/6
Flare Jeans
Flare Jeans
Frame from NET-A-PORTER $260.00
Skinny jeans will always be a dependable staple, but we're all for switching things up a bit – especially if it means tapping into this season's '70s .
---
1/6
Bootcut Jeans
Bootcut Jeans

L'Agence from Saks Fifth Avenue $275.00
Subtly lustrous style features a contoured waistband that fits securely just above the natural waist, while the design hugs from hip to knee before re.
---
1/2
Skinny Jeans
Skinny Jeans
AG Jeans from Shopbop.com $285.00
Fabric: Coated, mid-weight stretch denim Logo patch at back Ankle length, skinny silhouette Button closure with zip fly 5-pocket styling Shell: 60% co.
---
1/8
Bootcut Jeans
Bootcut Jeans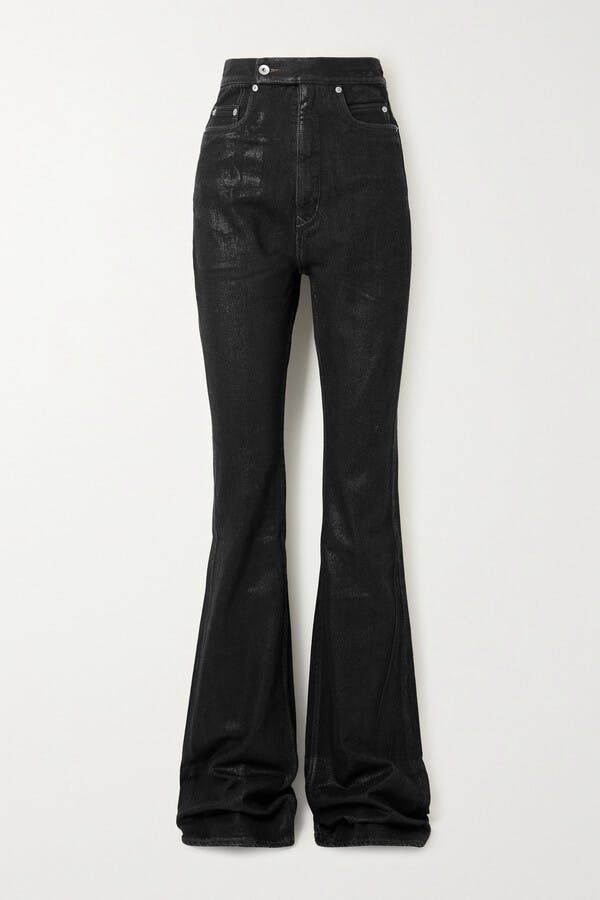 Rick Owens from NET-A-PORTER $950.00
Often playing with eye-catching fabrics, Rick Owens has treated these jeans with a subtle metallic coating that gleams under light.
---
what are coated jeans?
Coated jeans are regular jeans by all accounts. They are put through a process during manufacturing that when the process is complete, your jeans have an almost shiny wax like appearance to them. Are especially popular for those looking for a leather type look as well.
What Are Wax Coated Jeans?
Waxed coated jeans are regular jeans put through a manufacturing treatment that will make jeans shiny but feeling very rubbery (waxlike) and provide a shiny glossy finish that resembles leather or pleather.
Pros of Wax Coated Jeans
They are a great alternative to leather or pleather jeans
Look much dressier than regular jeans
The textural outcome is very interesting.
It gives off a kind of rock, modern vibe when you wear them
Cons of Wax Coated Jeans
The texture can feel very odd and be a total dealbreaker for buying them.
Much more stiff than denim, so comfort is not a given in these jeans
Hard to layer because friction is a result of getting them on and off
Can you wash coated jeans
What do you wear with your coated jeans
There are many ways you can wear your coated jeans. A sweater with a nice long jacket is great for a winter look.
As always a leather jacket is a great choice for any kind of jeans.
White tshirts with a blazer are always a great way to dress it up.
A nice cami with a long sleeve shirt partially unbuttoned will dress it up or down, whatever the mood.
How do you make coated jeans?
For the diy approach, get a clean pair of jeans. Iron them so they are flat. Mix 40% varnish with 60% black paint. Apply generously making sure to cover all the nooks and crannies. Let dry overnight, and you are good to go.