We may earn compensation through affiliate links in this story.
If you have a job that's hard on your clothing, you know that having a sturdy pair of jeans can be just as important as a sturdy pair of boots. Companies like Levi's and Wrangler have been the go to places to find high quality, tough denim.
Below, we show you the most durable jeans — the best choices for your money — and more…enjoy!
Editor's Choice
Editor's Choice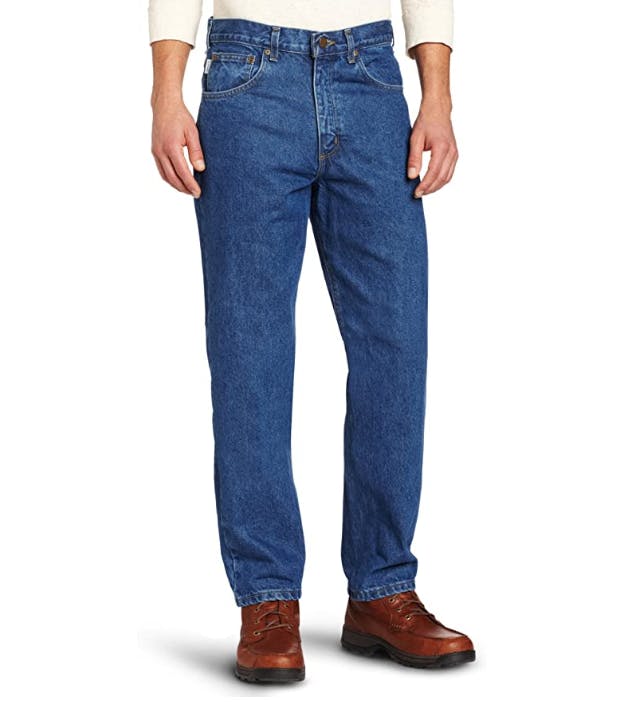 Carhart Carhartt Men's Relaxed Fit $34.99
Sturdy, relaxed fit, and perfect for everyday wear. Also the price is great.
Frequent Questions
What Are The Most Durable Work Pants?
There are different types of durable work pants and the best of the best are listed below:
Dickies Double Knee Work pant: These are double knee, made for comfort. They are stain resistant as well as having a built in pocket for the cell phone for men on the go.
Wrangler Riggs Ranger Pant: Well Wrangler is absolutely hands down one of the longest symbol of the American working man, especially cowboys. Durable, 100% cotton, and loop for the hammer, they are also built for comfort.
Tru-Spec tactical pant: They are great whether you are outdoors on the beat or great for working inside. They are tough to repel stains, comfy fit for the very active man, and will stand up to just about anything you can throw at it.
Tactical tactile work pant: These pants are made for the rugged lifestyle. They will hold up under intense circumstances and will endure the elements as well. Multi pocket cargo pants and made from a Teflon type material that resists many stains .
Carhartt workpants:These rugged pants made with material that is heavier cotton, big feature of carharrt which obviously is great for mechanics, is their warmth.
Duluth TRading co: Fire hose pants: Made for fireman on the go a great addition to anyone who does labor. Many pockets, stretchy pants material
Patagonia Iron Forge Hemp Double Knee Pants: Made for extra active and maximum mobility, heavier material is great for those on the go
NYCO Single KNee workpant: These are great for those who like the comfort and need for stretch material. A lot of extra pockets for gear you need.
Duck Canvas Work Pants; Made super heavy duty and heavier, more durable material, you will not be disappointed at all the fine craftmanship these pants offer.
Earnest Tasker Pant K CAnvas: Also known as being biker pants, these pants are flame resistant and spark resistant for much longer than other material out there for working men
Which Jeans Are The Most Durable?
Jeans that are prewashed and made of stretchy material are the most durable jeans, and can stand up to other kinds of jeans over a longer period of time than those that are not prewashed.
What Are The Most Comfortable Work Pants?
For the most part, over the past ten years, the go to work pants for comfort and durability is the Dickies brand. Carhartt is also a great brand for comfort
Are Dickies Pants Durable?
Do these classic durable jeans stand up today?
They are very durable. They are made for tough jobs and made to conform and be comfy for any activity.
How Many Years Should Jeans Last?
Good quality jeans that you pay around 200 or more for should really last you about a decade.
What Are The Best Work Jeans?
When it comes to getting the best overall work jeans, Dickies is the way to go. They are super durable, they have plenty of pockets and they are reinforced in all the right areas.
What Are The Strongest Jeans?
The most durable jeans out there are from Backcountry Denim Co.
Online Conversations About Durable Jeans
Here's an except from a Reddit review of Amazon's new "durable" jeans brand…
Hey peoples,
For science (and boredom) I ordered some super cheap 'Quality Durables' which is Amazon's new clothing brand.
So I got them super fast from Amazon prime today. If you want to stop reading now, the overall takeaway is that you get what you pay for. There's no false advertising here, they are raw, selvedge jeans, but it's nothing really to write home (or to reddit) about.
I didn't really take a lot because it's not really that interesting.
Click below to read the rest ↓
Durable Jeans Trend
Durable jeans have been steady for years
More Articles About Most Durable Jeans
A few articles we think you will be interested in