We may earn compensation through affiliate links in this story.
As one of the original premium denim brands, Rag & Bone has been a longtime favorite among the NYC, celebrity and so-chic crowds. Their commitment to high-quality in material and design keeps brand relevant, even after being established well over 15 years ago.
You can find them online at www.rag-bone.com and on instagram at www.rag-bone.com/
After reviewing Rag & Bone's reviews across all fits, they've scored a 4.34/5.
You can find their fit guide online at rag-bone.com/
Below, we take a look at the most popular & highest rated styles, along with interesting information, like when sales are coming up and more.
Research / Frequent Questions
Our Favorite Rag & Bone Jeans
And a little about what makes each pair special….
1/10

Perfectly faded denim sculpts your figure in ultraslim boyfriend jeans that work seamlessly with your casual weekend wardrobe. Fit: this style f…
---
1/10

from Saks Fifth Avenue $225.00
Retro-inspired high-rise silhouette fits slim through the hips and thighs and then flares to a frayed split hem. Five-pocket styling Zip fly wit…
---
1/10

Straight jeans with a faded and distressed finish are cropped at the ankles for a trendy look. Fit: this style fits true to size. If between siz…
---
1/10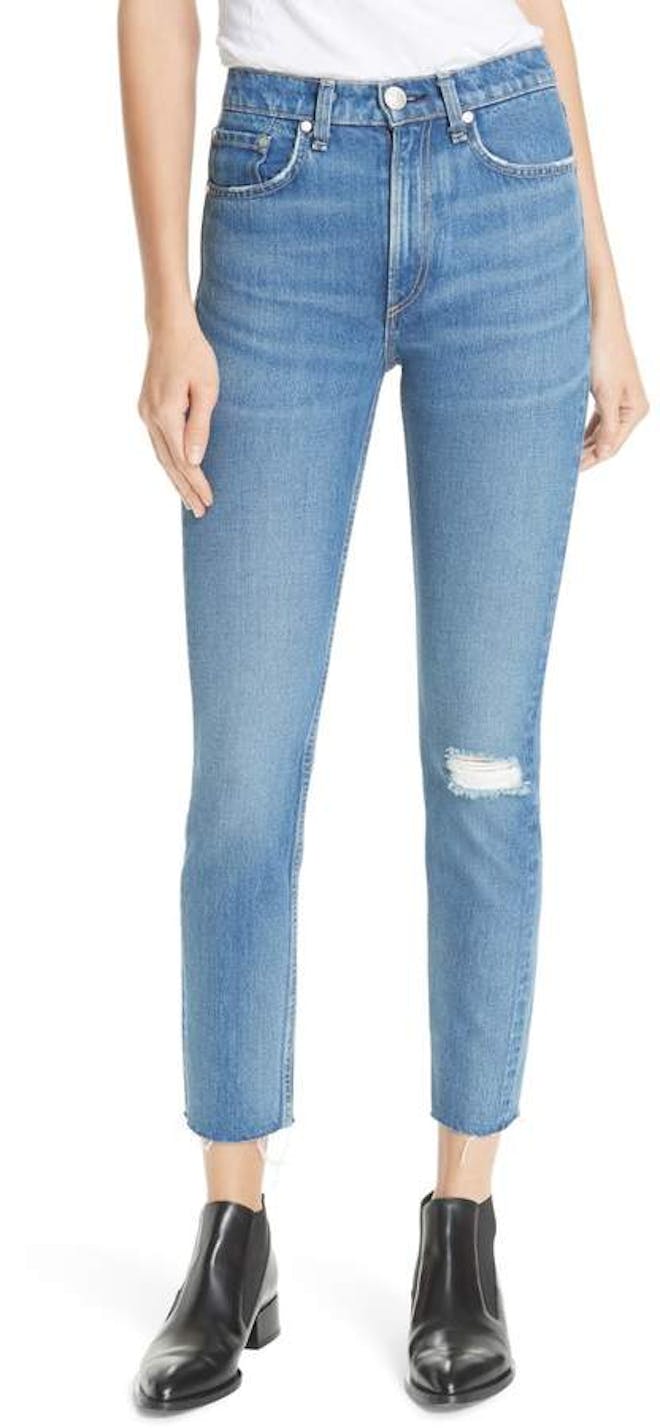 Made from faded denim that's perfect for wearing every season of the year, these high-waist skinnies flaunt your footwear with a cropped length….
---
1/10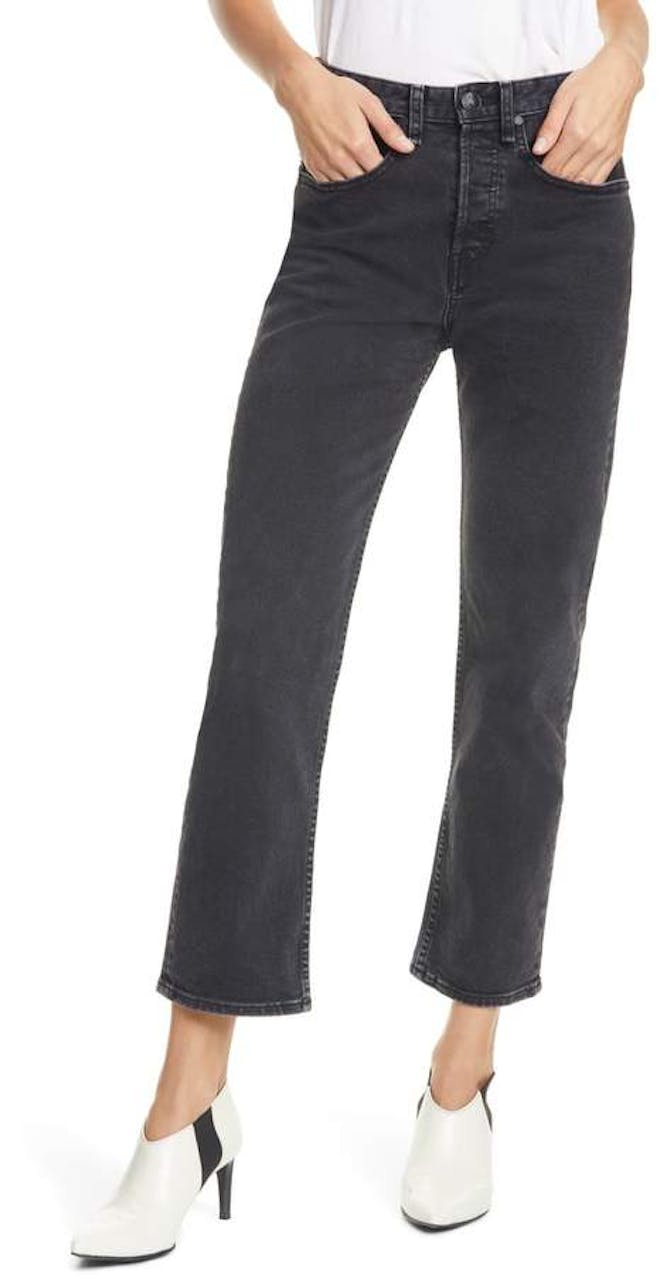 Straight out of the archives, these super-high-rise jeans are punctuated with grommets and finished with ankle hems worthy of your most fabulous…
---
Rag and Bone Jeans Sizing Chart
Before we get to the jeans let's talk a little about fit – one thing that Rag and Bone is well known for is its claim to have perfect fitting jeans.
Though it sounds like marketing talk, the truth is that their entire collection is very, noticeably comfortable. Check out the sizing details below via their fit chart.
Rag and Bone Women's Guide
Rag and Bone Size Up or Down?
Recent reports (2019) have shown Rag and Bone running a little big, so keep that in mind when looking. One thing to note is that the different fits are made of different material. Any blend material — that includes synthetics or elastic — will be more forgiving.
Rag and Bone Women's tend to run true to fit to slightly big.
If you don't want to go through the work of breaking in a traditional fabric blend like Rag and Bone, check out DL1961. They have a similar price point and are famously comfortable.
Rag And Bone Men's Picks
…and now our favorites from their men's collection
Rag And Bone Jeans Men
Rag And Bone Jeans Men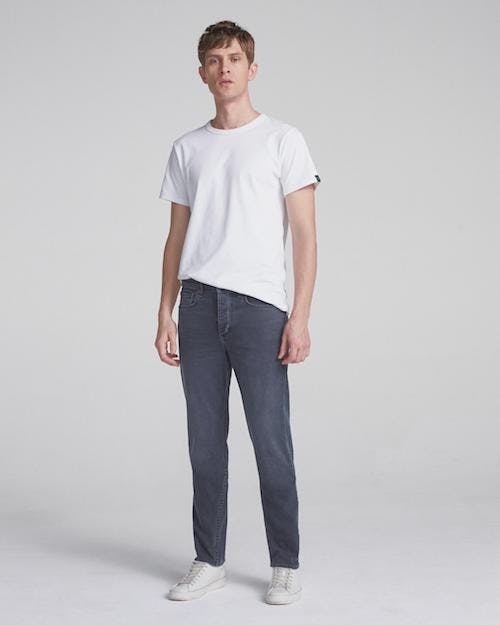 Rag & Bone Fit 2 in Minna $250.00
R/B's men's collection is simple, full of rich washes, and the perfect set of essential jeans. I personally really like fit 1, fit 2, and fit 3 from their collection, but the relaxed fit and grey wash of these jeans was my favorite.
---
Rag And Bone Boots Men
Rag And Bone Boots Men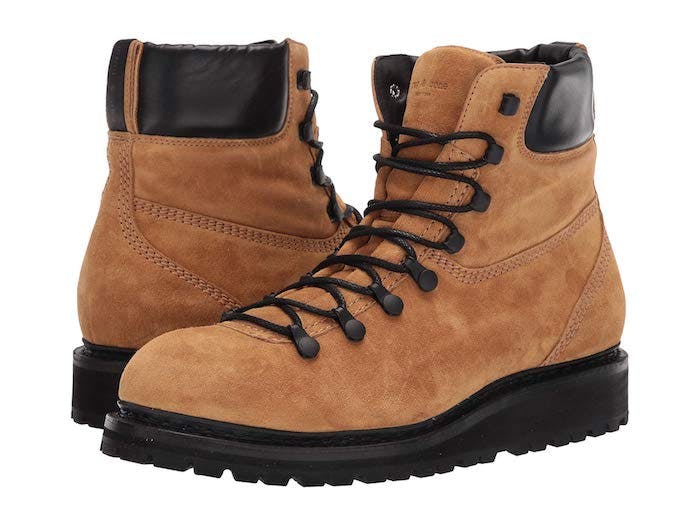 Rag and Bone City Hiker Boots $595.00
Rag & Bone's collection of boots are all very cool, but I loved these suede re-imagined duck boots. Perfect for Chicago in the winter.
---
Rag And Bone Jacket Men
Rag And Bone Jacket Men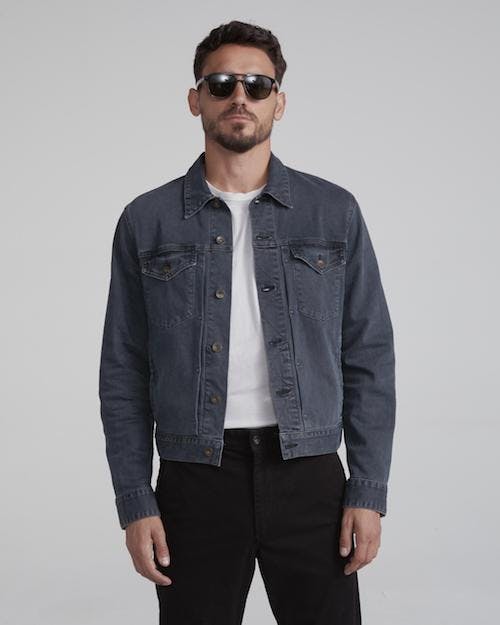 Rag & Bone Essential Jean Jacket $350.00
I've been looking for a grey wash denim jacket for ages and this is exactly what I want. I love the slate grey color, and the feel of the jacket.
---
1/6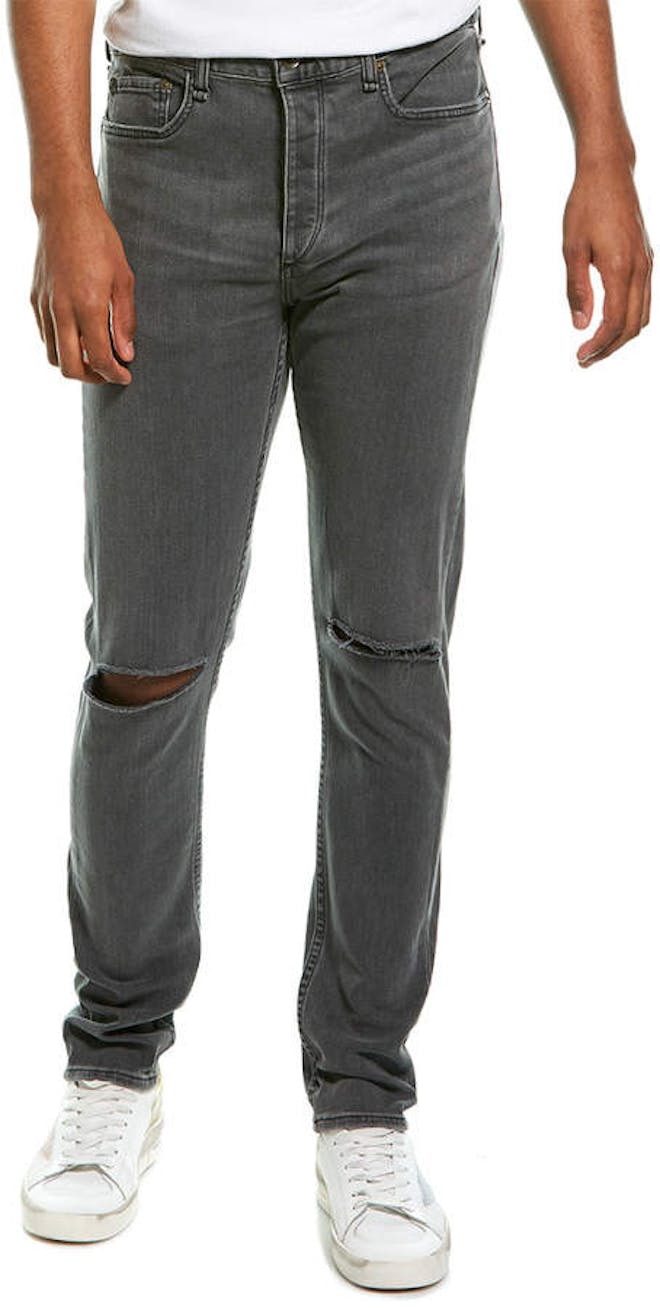 Color/pattern: distressed lorimer Inseam approximately 33in 10.5in front rise; 14in back rise Leg opening has an approximate 13in circumference …
---
1/6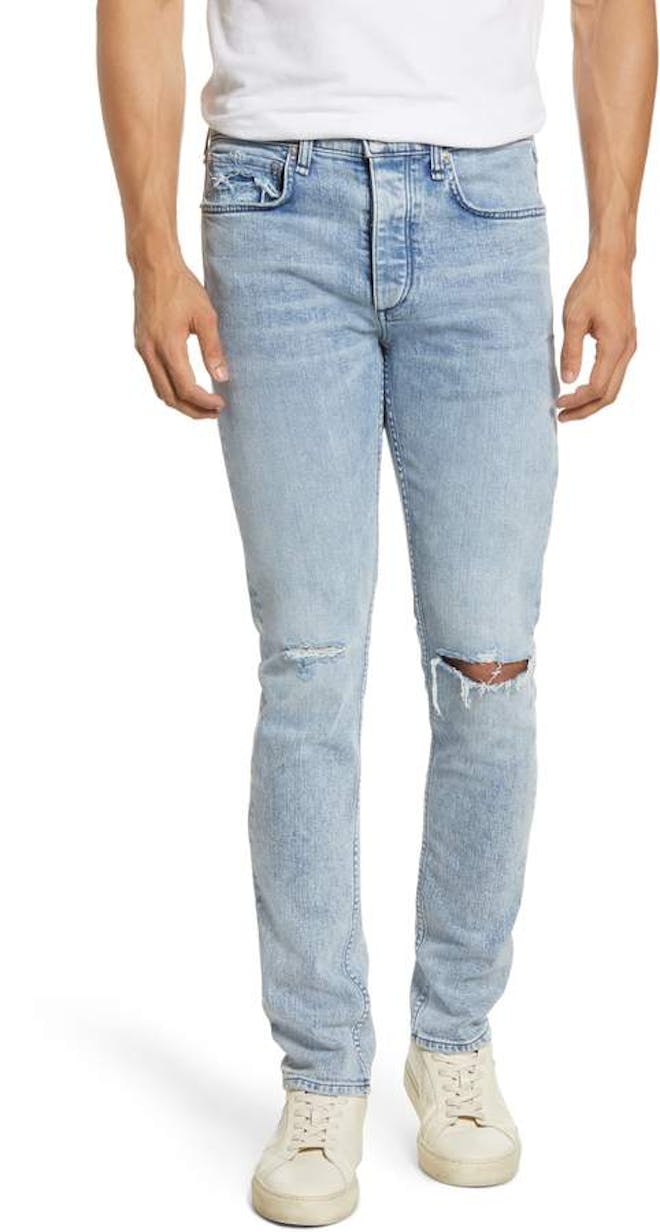 Fitted in the seat and contour-hugging through the legs, these skinny jeans sport nicks, rips and shreds that bring instant history to the faded…
---
1/6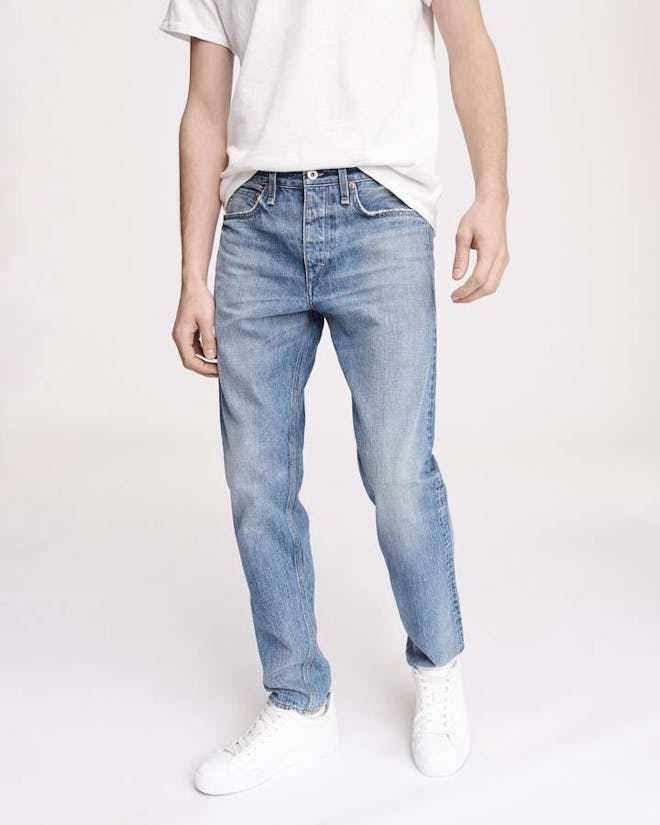 Description Named after our New York City home on 13th street and honoring our British heritage, West Thirteenth is our most iconic wash yet. In…
---
1/6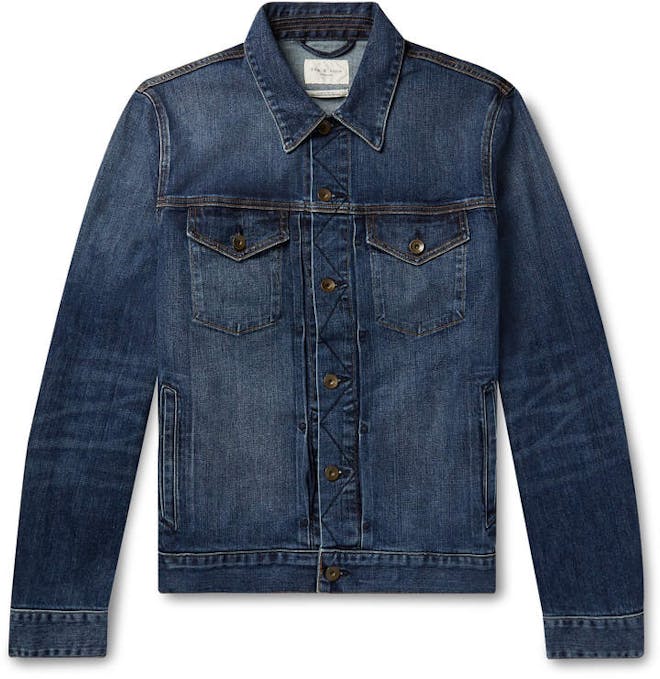 rag & bone's 'Definitive' jacket is cut from Japanese stretch-denim and has all the classic details of traditional trucker styles. The branded h…
---
1/6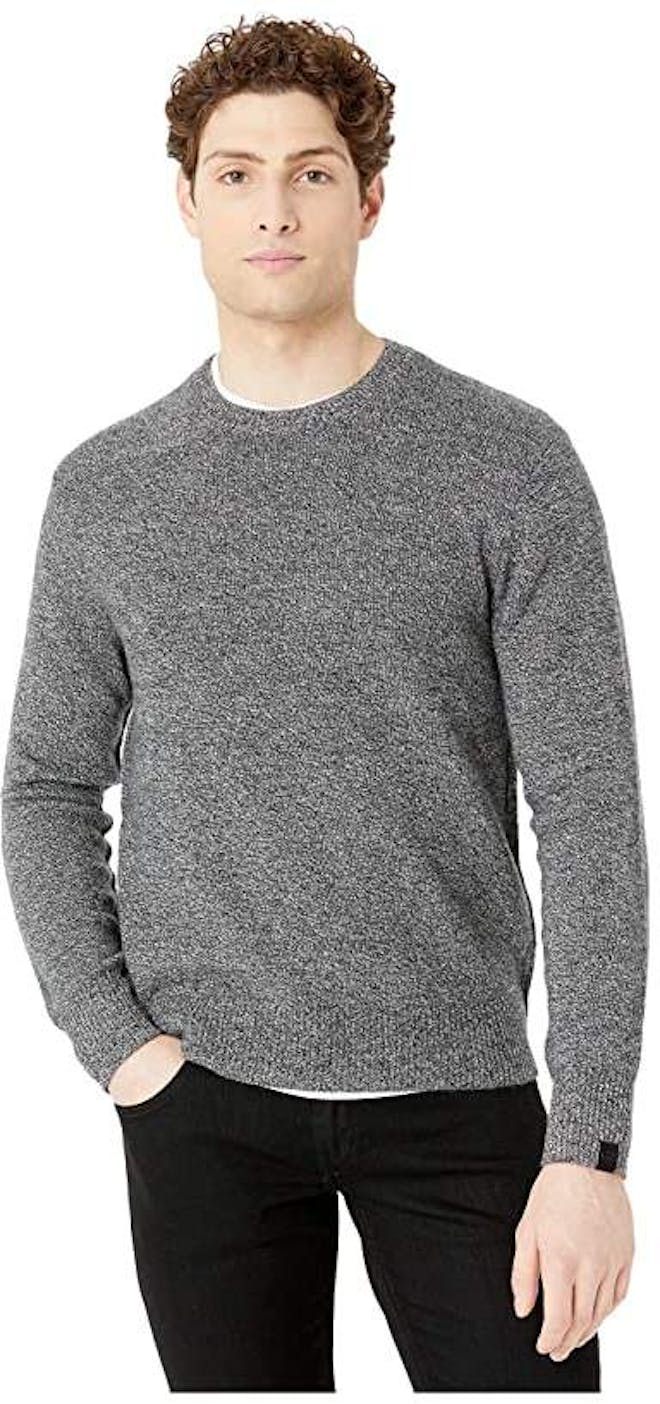 Your style is suave and sophisticated wearing the rag bone Haldon Cashmere Crew featuring a pull-over construction for ease of style. Straight h…
---
1/6

Tapered Japanese cotton twill cargo trousers in navy. Mid-rise. Four-pocket styling. Belt loops at waistband. Flap pockets at front and back leg…
---
Are Rag and Bone Jeans Worth It?
In the early 2000s, Rag and Bone established itself a one of the top "premium" denim brands. Since then, as we all know, there has been a huge boom in the amount of premium denim out there, so there are definitely more options to choose from.
With all these options, you must be asking, "Are Rag and Bone" worth it? Our answer is yes, with a few things to consider.
Rag & Bone jeans are great as essentials They are neutral enough in wash and fade that they can go with a lot of outfits, making them one of the more versatile premium brands.
Know thine self! Premium denim is all about fit, so if Rag and Bone fit you well, wear them all you want.
Rag and Bone are still fashion forward, so you will be chic wearing their denim — just ask Charlize Theron, Jennifer Garner, and Ariana Grande.
Brands Similar to Rag & Bone
If you like Rag & Bone, then check out…
Is Rag and Bone Made in USA?
Rag and Bone is made in the USA and based in Brooklyn New York
How many stores does Rag and Bone have?
They have over 700 stores worldwide, along with being sold in most higher end retail stores as well.
What Customers Are Saying About Rag & Bone
"Amazing quality and fit. Very flattering and the wash is
stunning."
About the Fit Sizing: True to Size / As Expected
"I ordered this shirt because I have it in black and love the fit. I saw this color and loved how it was neutral but not white or black. Unfortunately, when I received it was a dark dark olive, no where near the taupe color that is shown. Hate to return it but, not what I was looking for in terms of color."
About the Fit Sizing: True to Size / As Expected
"The idea of a jogger looking like a slouchy jean is good, h/e these where not for me. I don't particularly like how they look on the back, they make my behind look very strange.
I took an XS ( I am a size 24-25 in Rag&Bone), however on me they just sag. Sadly returned"
About the Fit Sizing: Larger than Expected
"This was an impulse buy and I'm so glad I bought them because they are very comfortable and look super cute on! Every time I wear them, I receive so many compliments!! I am 5'2 110lbs and I got the 24. They hit right at the top of my ankle."
About the Fit Sizing: True to Size / As Expected
"I ordered these jeans in a 25 due to the weight that I put on working from home for the last 9 months. They were too large even with my extra weight. Unfortunately they were sold out of the smaller sizes. But if your size is available I highly recommend these jeans. They are super soft, very comfortable, and have super stretch. Really ideal option to wearing leggings all day."
About the Fit Sizing: Larger than Expected
Popular Styles From Rag & Bone
The most popular styles…
Are Rag and Bone jeans worth it?
Rag and Bone jeans are worth the price because they are of high quality. They are made from very durable, thick fabric and are designed to last a long time.
Is rag and bone a luxury brand?
Rag and bone is a luxury brand.
Is Rag and Bone good quality?
Rag and Bone is a high-end clothing company that is known for its quality clothing.
What is Rag and Bone known for?
Rag and Bone is known for its contemporary, high-quality clothing.
More Articles About Rag & Bone
Rag & Bone Trends
Rag & Bone has been consistently popular over the last few years