We may earn compensation through affiliate links in this story.
The "jegging," a combination of the jean and legging has been a staple of the modern closet since the 2000s.
Though atheleisure is hot right now, all the stretch denim, comfort first jeans started with the jegging movement.
So ow do you style this jean + legging hybrid? According to Ben Taverniti, head denim designer for Hudson Jeans, "The jegging is a fashion essential this season because it provides the comfort of the legging and chic design of the jean. It's something that is very easy to wear and goes with anything in your closet.
To dress up your new jeggings, wear them with Christian Louboutins or dress them down with a beat up pair of Converse tennis shoes. You can wear them with a tank top or a more dressy top, a canvas bag or a Balenciaga."
If you love comfort, simplicity, and versatility in your jeans, check out our picks for the best jeggings below.
The Best Jeggings Explained
Our picks for the best jeggings…
1/6
Skinny Jeans
Skinny Jeans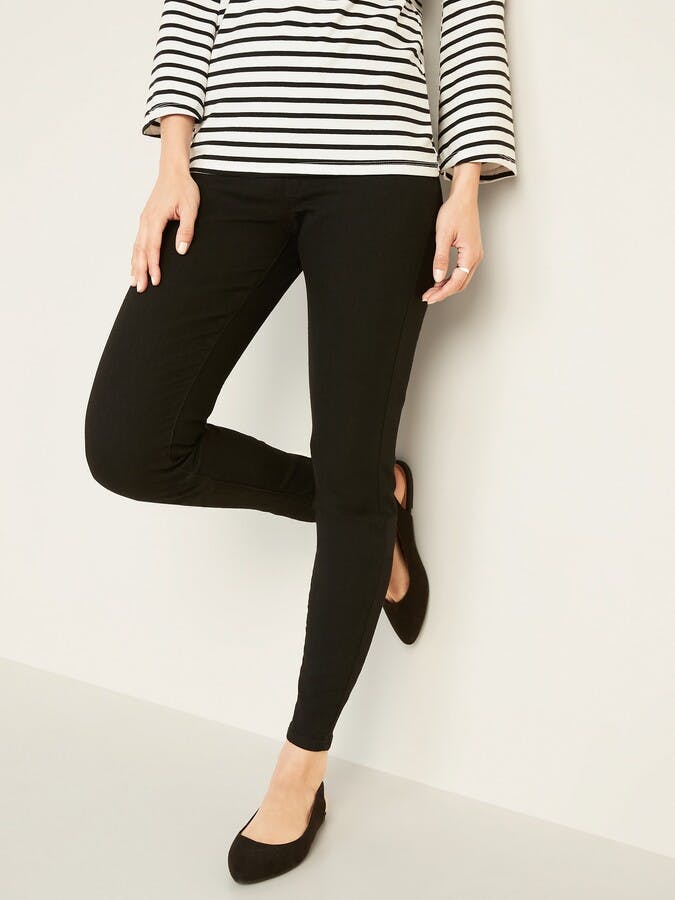 Covered-elastic, slimming-effect waistband.
---
1/1
Jeggings
Jeggings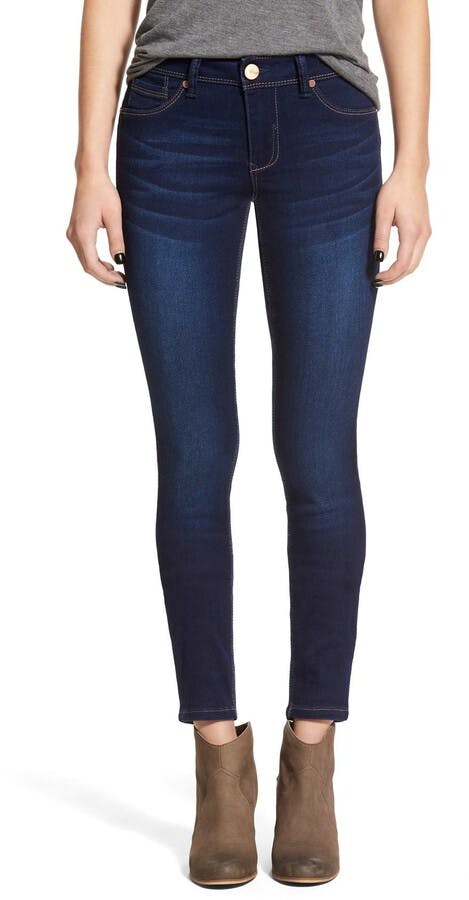 1822 Denim from Nordstrom $49.00
These soft jeggings with a low rise and clean, uncluttered styling are a pair you'll reach for again and again.
---
1/3
Jeggings
Jeggings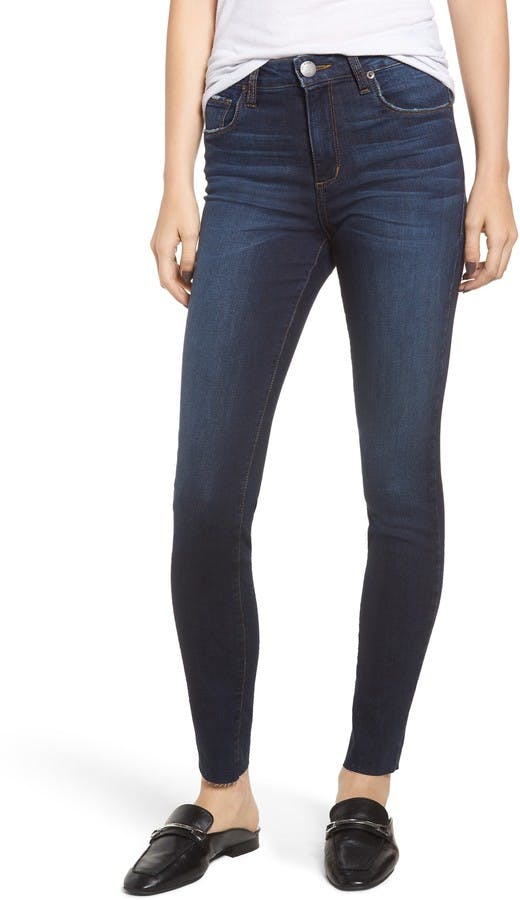 STS Blue from Nordstrom $49.00
Ever-so-subtle whiskering and fading add cool dimension to stretch-denim jeggings cut with raw ankle-length hems.
---
1/4
Jeggings
Jeggings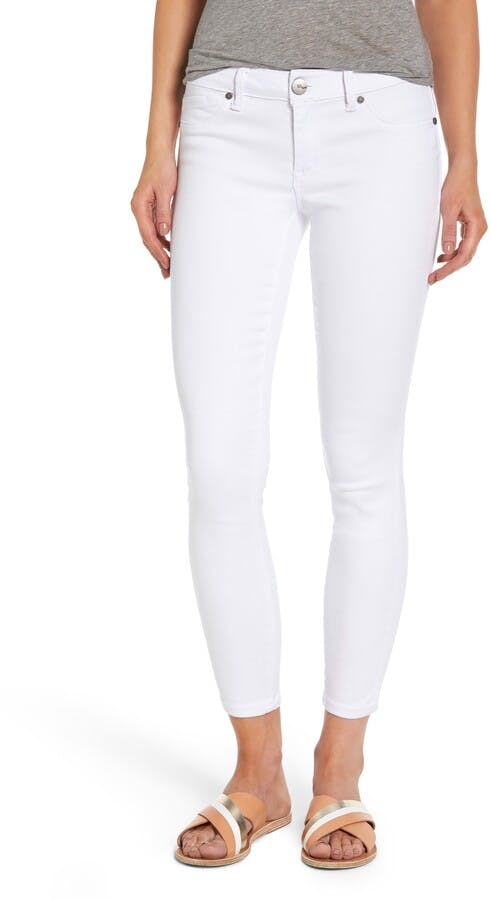 1822 Denim from Nordstrom $49.00
As fresh and bright as a sunshine-filled day, these supersoft jeggings are cropped to an ankle-baring length that's just right for warmer weather.
---
1/4
Jeggings
Jeggings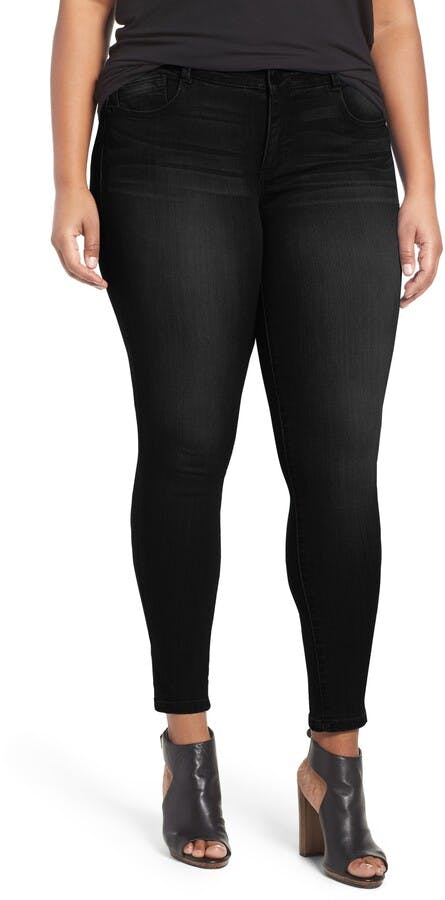 Wit & Wisdom from Nordstrom $78.00
Contrast topstitching highlights the sleek silhouette of super-stretchy jeans designed for a legging-like fit with a touch of whiskering to lend broke.
---
1/6
Jeggings
Jeggings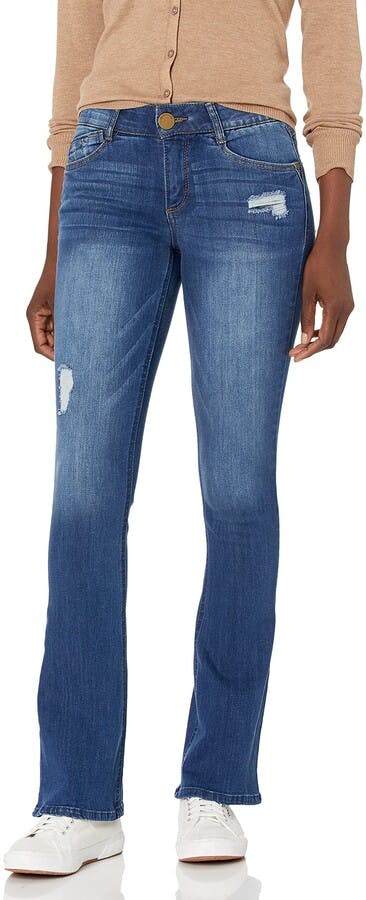 Democracy from Amazon.com $78.00
Democracy's signature "Ab"solution jean uses innovative construction that incorporates smooth, super-stretch denim, slimming panels to mold and hold, .
---
Research / Frequent Questions
Why Wear Jeggings?
Jeggings are a piece of clothing almost out of necessity. In the last five to six years especially, super skinny tight jeans were a go to for men and women alike.
What happened was a designer dreamed up the idea that as jeans were getting tighter and tighter and comfort non existent. They are jeans that have legging (spandex) material incorporated for versatility and comfort. So they are jeans with stretchy comfy material woven into the denim.
Best Place to Buy Jeggings
If your budget is that of a so called "Regular consumer", you can find quality and designer names that are affordable at target, kohl's, charlotte russe, maruice's and american eagle.
There are also leggings at stores such as old navy (a favorite for many because of fair pricing), walmart, forever 21 and online at amazon.
Best Jegging Brands
Hue is the go to for everything leggings, jeggings, capri, shorts and true to the name, they have just about every color imaginable. They have also cornered the market for jeggings for those that have awkward body shapes, such as big hips, yet short people. They come in long as well. Very reasonable prices beginning as low as 18.00, and that is regular price, not sale price.
For a great summer casual look, I would reccommend the sweatshirt denim cuffed capri, at only $18.00, they come in white as well, which is great if you want to attend an event with friends at a beach/waterfont event.
For everyday wear and go about town in comfort, even great for casual friday at work, I would get the hue essential denim leggings..Many colors and start at $38.00
Faded glory is a clothing brand that can be summed up in one word: affordable. It was created in 1993 by walmart as their main clothing brand and also accessories. Its primary audience is blue collar workers looking for style and variety while being able to afford the clothing, especially with larger families. Also created to make the walmart vision of the one stop shop for families, it soared to success because of walmart's inception of one stop shop. Customers loved the convenience.
I am a huge fan of thermal shirts for my sons in the winter. They all are outside people even in the cold. I could never get enough of these. They come in a variety of colors and sizes and reasonably priced anywhere from $15-$20.
Having had four children under five at one point, dressing them all could be very expensive. I loved the faded glory straight cut jeans for my daughter and three sons. They are durable, have the knee reinforcement and they are decent quality and hold up as well. The price is great starting at about $8 for toddler sizes and only going to about $16-$18 bucks for adults.