We may earn compensation through affiliate links in this story.
Founded in 2004, Paige jeans are all about fit. In fact, the brand's namesake, Paige Adams-Geller, was a well known fit model before starting her denim line.
After the launch of the first collection in 2005, the brand became an instant hit and garnered a huge following with the likes of Gwen Stefani and Rosie Huntington-Whiteley rocking Paige. (In fact, Rosie had a multi-season collaboration.)
Still one of the leading brands in the industry, the brand now has launched men's (worn notably by Bradley Cooper) and more offerings than just denim.
That said, their denim line is still fresh with prints and interesting cuts like the Nellie Jeans.
Editor's Choice
These scored a 5 out of 5 based on 136 reviews
The Best Paige Jeans Shortlist
our favorites
Research / Frequent Questions
The Best Paige Jeans For Women Explained
Here's is a little insight into what makes each pair of Paige jeans special…
1/0
Straight-Leg Jeans
Straight-Leg Jeans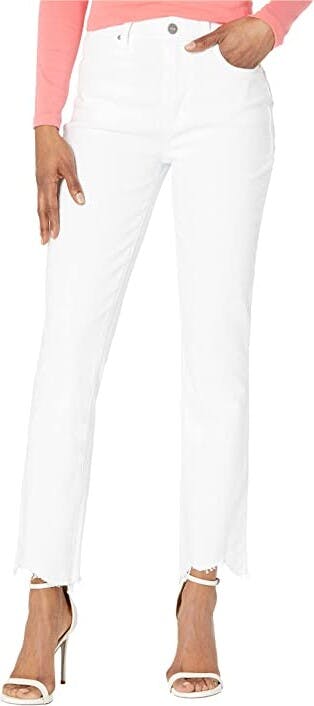 Be stylish and comfy in Paige Accent Crisp White/Destroyed Hem jeans!
---
The Best Paige Jeans For Men
Thought we wanted this review to be focused on Paige's women's line, a few readers emailed looking for men's suggestions.
1/9
Crewneck Sweaters
Crewneck Sweaters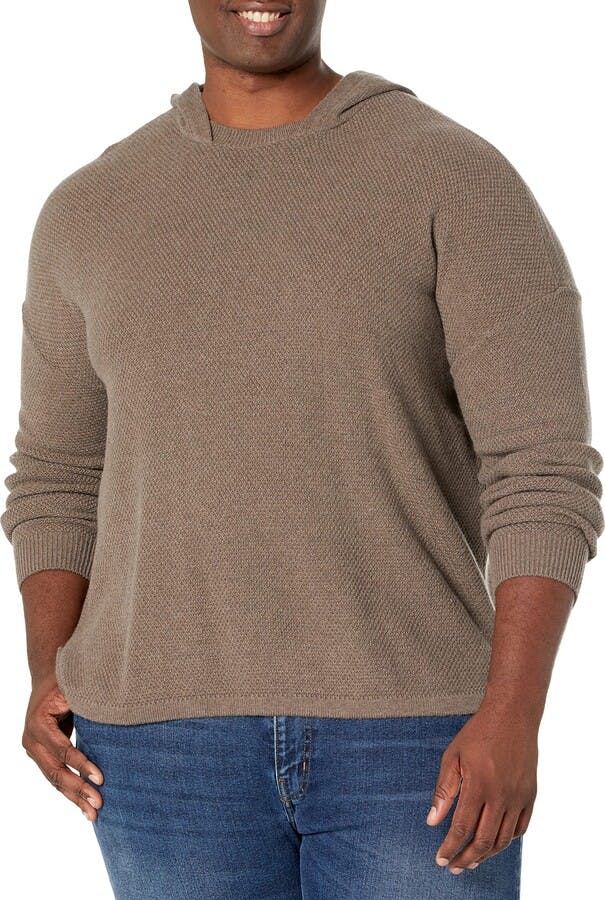 This hooded sweater is made with an ultra-soft combination of cashmere and wool, perfect for keeping you cozy!
---
1/5
Casual Pants
Casual Pants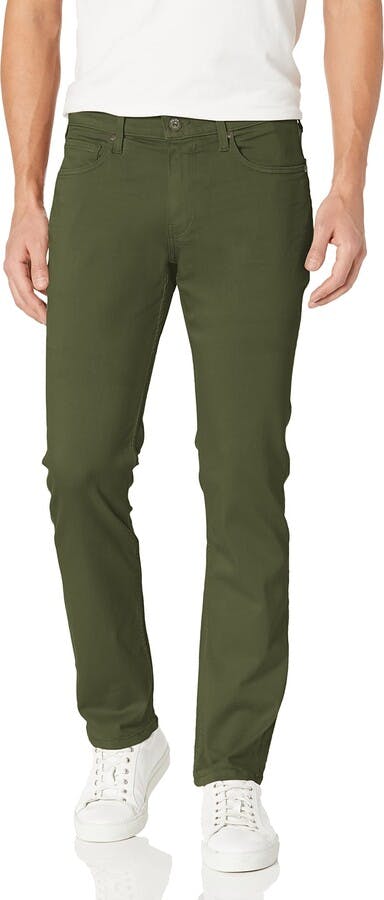 button closure
Try this: Our TRANSCEND denim jeans are designed for maximum comfort and flexibility. They hug your curves in all the right places and look great with any outfit. Plus, they feature a zip fly with button closure. Perfect for everyday wear!
---
1/7
Slim Jeans
Slim Jeans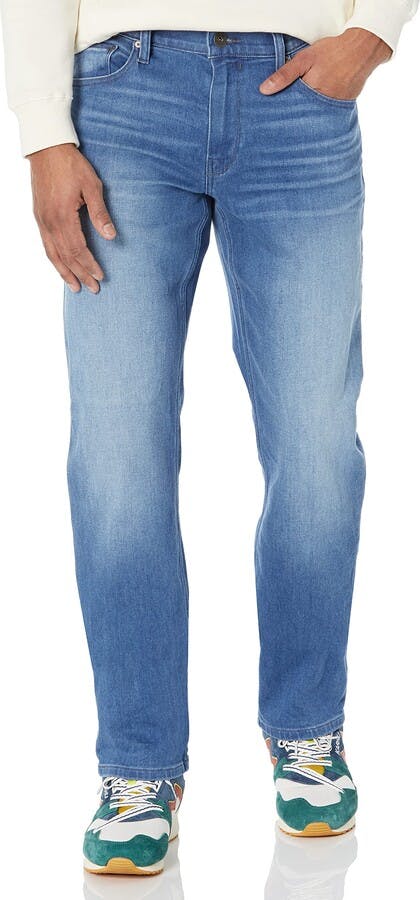 This TRANSCEND VINTAGE denim is a great mix of classic style and comfort. It looks like vintage denim but has plenty of stretch and recovery for maximum comfort.
---
1/3
Slim Jeans
Slim Jeans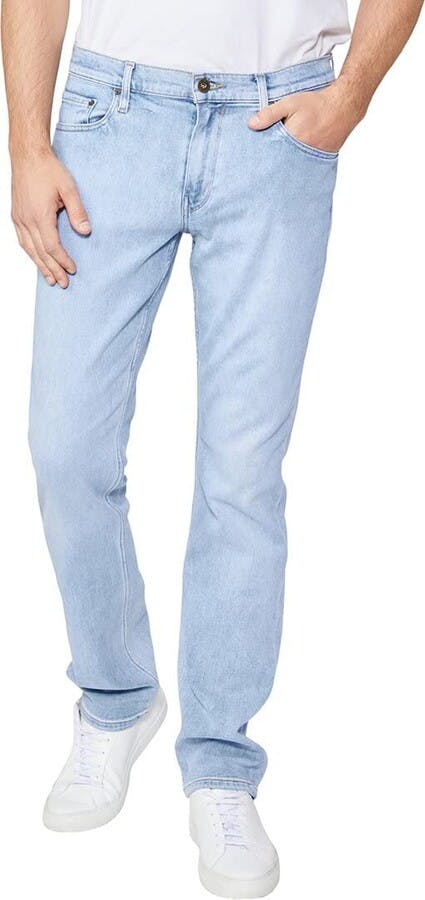 ean
This comfy and stylish pair of jeans is made from PAIGE Vintage denim, so you can get that awesome vintage look without having to break them in!
---
1/6
Straight-Leg Jeans
Straight-Leg Jeans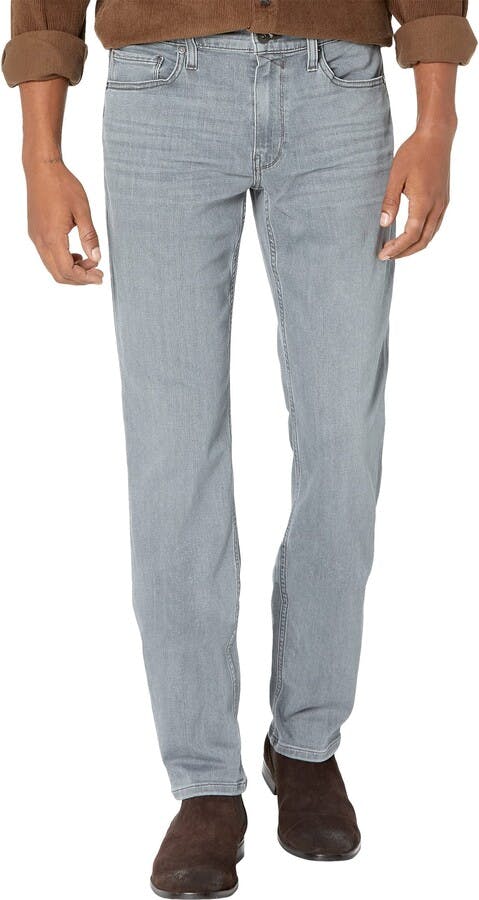 This pair of jeans is made from TRANSCEND denim, so you'll get a comfortable fit with stretch and recovery that lasts all day. They feature a straight leg fit and a zip fly.
---
1/7
Short Sleeve Shirts
Short Sleeve Shirts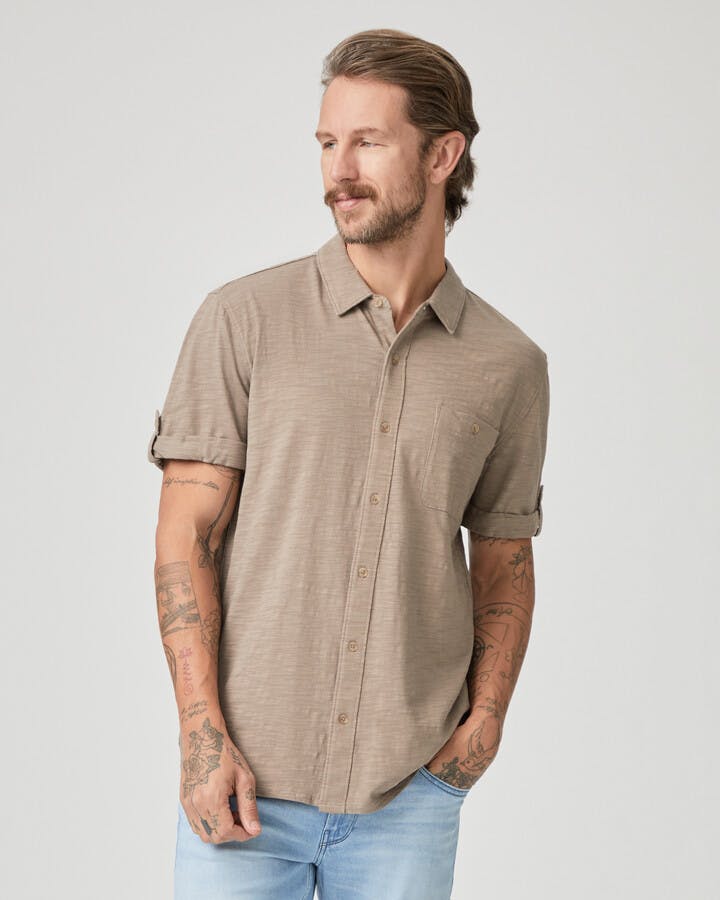 Check out our new short sleeve shirt! It's made out of super soft cotton slub jersey and has a stylish rolled sleeve with a button detail. Get yours today!
---
1/10
Straight-Leg Jeans
Straight-Leg Jeans

Try these mid-rise, straight fit trousers from PAIGE for a stylish look! They're made from a beige cotton blend, and feature a logo-debossed patch at the back, belt loops, front button and zip fastening, and two pockets.
---
1/5
Slim Jeans
Slim Jeans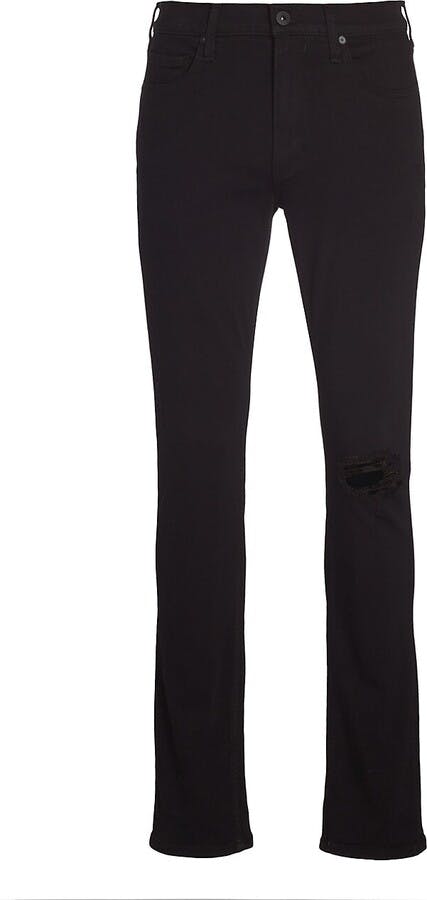 Paige from Saks Fifth Avenue $199.00
.
These classic jeans are designed to fit slim and are made with a comfortable stretch denim fabric.
---
1/10
Slim Jeans
Slim Jeans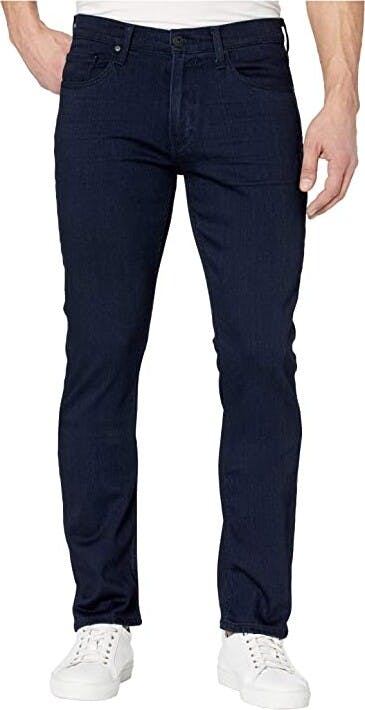 The PAIGE® Federal jean is the perfect mix of style and comfort. It's a must-have for any wardrobe!
---
1/3
Long Sleeve Shirts
Long Sleeve Shirts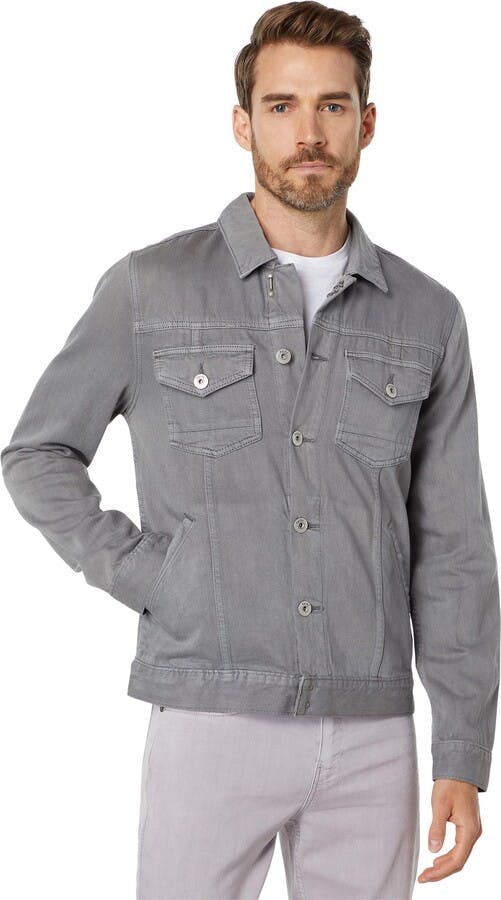 This denim jacket has a classic button-down design and is made from a blend of cotton and rayon for a super soft feel. It's pigment-dyed for a vintage look, and it has two chest pockets and slanted waist pockets.
---
Paige Jeans Fit Guide
With Adams-Geller's past as a fit model, fit is a huge focus for the brand. In my own experience — and after in depth research of their online reviews — Paige almost always fits true to size and is praised for their comfort and for not stretching out.
Part of this has to do with their signature fabric, called TRANSCEND fabric. It is a blended, lightweight fabric that Paige mentions all the time. Since Transcend is quite stretchy, you could size down if you wanted a tighter fit…just sayin.
There are a few jeans in the 2019 collection that still use traditional denim. Just keep your eyes peeled when shopping, as Paige always puts Transcend front and center when they use it.
Do Paige Jeans Stretch Out?
Paige's denim definitely has good stretch to them. They will form to your shape and hold you in. As I mentioned above, with the introduction of their TRANSCEND fabric, this is all offered in a buttery soft feel.
One huge perk of the Transcend fabric is that it keeps its shape, even after the jeans age and have been worn many times.
Paige jeans also tend to hold their color very well. One thing to now it that dark washes hold their color better as they contain less cotton. If you are looking for a dark blue or black with longevity, these by Paige are the best.
Brands Similar To Paige Jeans
What Customers Are Saying…
"Super cute, great material (stretchy) and well made but runs large. Recommend to size down."
About the Fit Sizing: Larger than Expected
"I'm 5'3, 100lbs typically wear a 24.
Bought the 24 and thinking about exchanging for the 23 – I recommend sizing down. Color is great. The length hits at the ankles, may be slightly cropped on someone taller. Wearing with ankle boots so I'll take them to get alterations up a few inches."
About the Fit Sizing: Larger than Expected
"Perfect fit and so comfy, one of the best jeans I've ever owned."
About the Fit Sizing: True to Size / As Expected
"Ordered AG Farrah and Paige Edgemont and Verdugo, all ran smaller due to fabric, LESS stretch than regular denim fabrics. AG Farrah in sz 26 was very tight, fine on legs, but not get buttoned up. Regularly wear AG and Paige and JBrand sz 25's. Stayed with going up 1 size in the Edgemont Black coated, sz 26 perfect!"
About the Fit Sizing: Smaller than Expected
"I have a muscular curvy figure and this squished my hips and rear. Gives you that flat back side look."
About the Fit Sizing: Smaller than Expected
Popular Styles From Paige Jeans
The most popular styles…
Paige Maternity Jeans
These jeans had a rating of 4.09 out of 5. You can buy a pair from BHFO for $34.99
More Articles About Paige Jeans
Paige Verdugo Jeans – A Review of Ankle, Skinny, & Black Verdugo …
Feb 10, 2019 … One of Paige's flagship jeans, the Verdugo is a the perfect "essential" for the
modern women's closet. Made with famous Paige fit, these jeans …
Denim Review: Paige Lennox Skinny in Black Shadow : DenimBlog
I have been wanting to try the Lennox cut from Paige since they have been
released being that they are their skinniest cut to date for men. I am always
intrigued …
DENIM REVIEW: Paige Croft Skinny in Howell : DenimBlog
My next review is on a pair of jeans that I have been looking forward to doing
since the cut first came out, the Paige Croft Skinny in Howell. As you all may
know, …
Jeans on Sale You Will Love
our favorites