Perhaps the best thing about fashion is that its always changing. Every year, designers, influencers, and everyday people are innovating an refining their personal styles. Together, these little choices amount to a sea of changing tastes and looks for all of us to enjoy and try out.
The introduction of premium denim, new fabric technology, and the timeless cool of jeans has put denim square in the middle of these fashion movements.
2019 is no different. Here are the best men's jeans for the new year.
Editor's Choice for Best Men's Jeans 🌟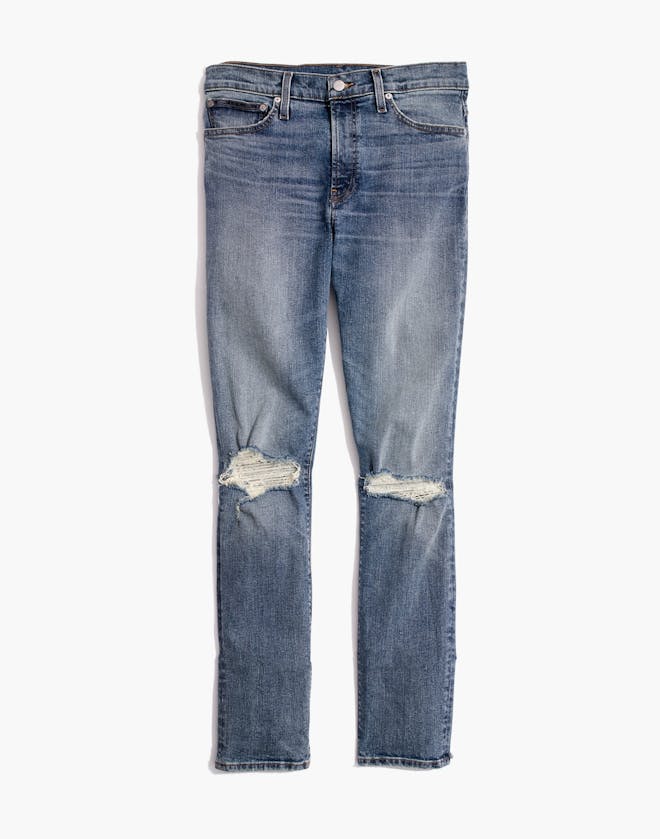 These are the jeans that you'd expect from a brand that has had a huge cult following for their women's line. Made of the same amazing quality these distressed jeans are made of Japanese denim and come in a skinny fit that is sure to not go away anytime soon.
The Best Men's Jeans Shortlist
The Best Men's Jeans Explained
When the new year is upon us, we all feel the need for a quick change and style is definitely the first thought that comes up. So here are some of the coolest jeans to try out for when you feel your closet is in need of a simple refresher.
1/13
Best Distressed Jeans
Best Distressed Jeans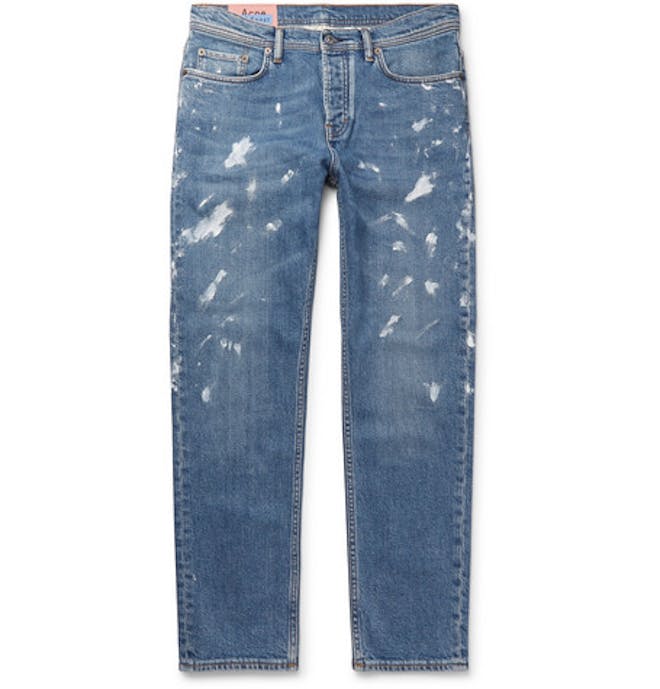 ACNE STUDIOS River Paint Splattered Jeans $360.00
You can expect to see paint splattered denim to be one of the biggest trends in 2019. ACNE shows that the trend can work in a subtle, inoffensive way with these jeans here.
---
2/13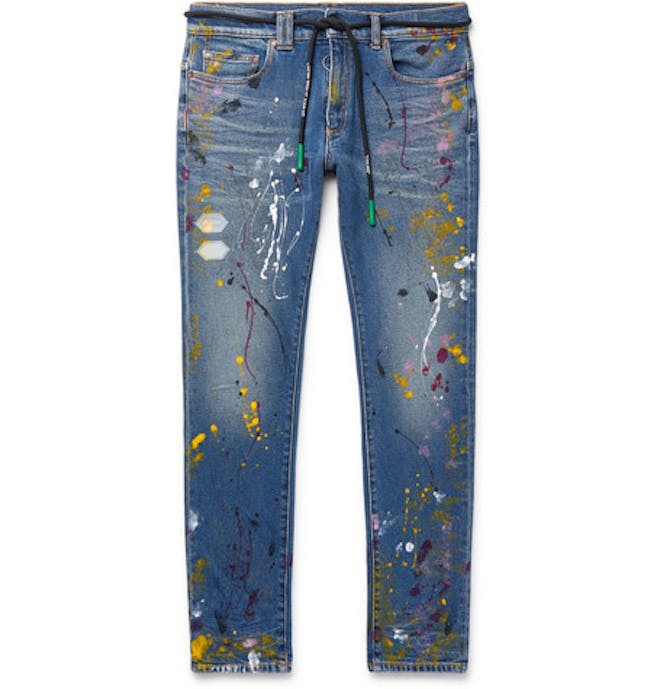 OFF-WHITE Skinny Paint Splattered Jeans $825.00
If you are looking to make a statement with the painted trend, try these out by OFF-WHITE. The Pollock-inspired splattering in earth tones give the jeans vintage vibes that work as a great contrast against the label's signature logo on the thigh.

---
3/13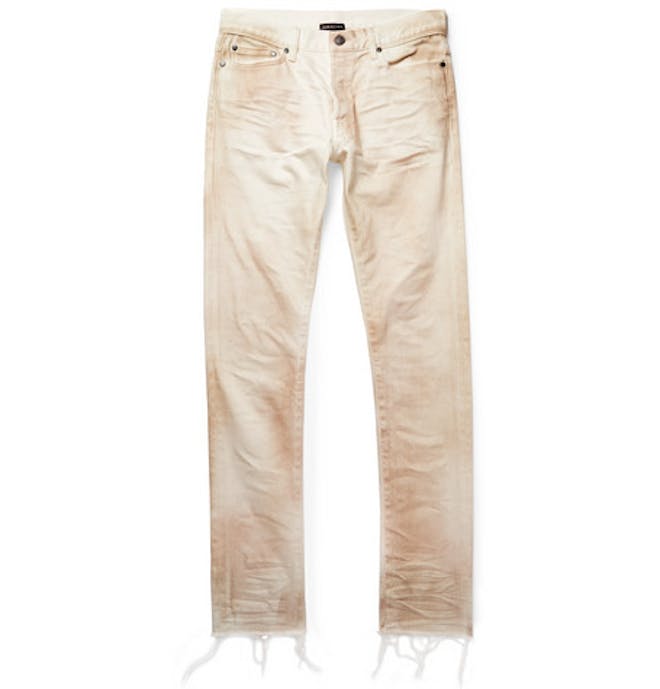 JOHN ELLIOTT Cast 2 Skinny Jeans $395.00
The team at JOHN ELLIOTT are masters when it comes to washes and they gave white denim new life with these here by bringing a chill attitude with the stains and a raw hem. These are sure to bring out your inner skate kid like the vibes of the 2019 Spring collection.

---
4/13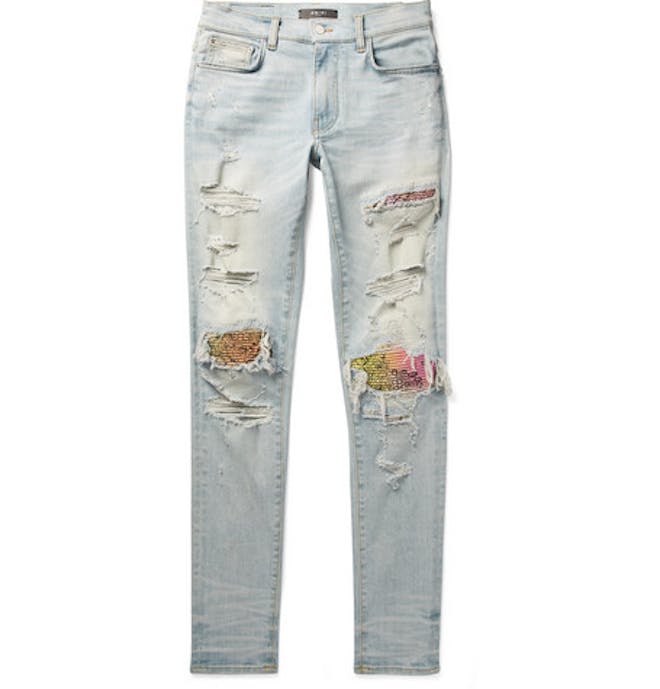 AMIRI MX1 Skinny Panel Jeans $1,050.00
You can always expect AMIRI to make some statements with their details. With their new MX1s they had some fun giving the ribbed leather a tie-dye effect and bandana printing.

---
5/13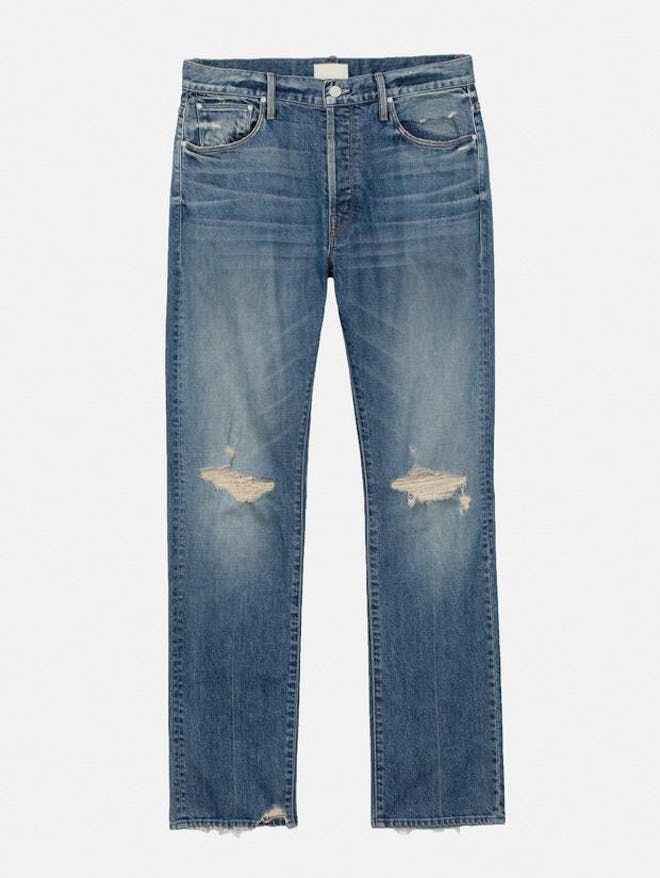 MOTHER is bringing their touch to men's denim. The new line has all the life that has made their women's line so popular, but for men. The styles have all the vintage love in cuts that any man can try out.

---
6/13
Tapered Jeans
Tapered Jeans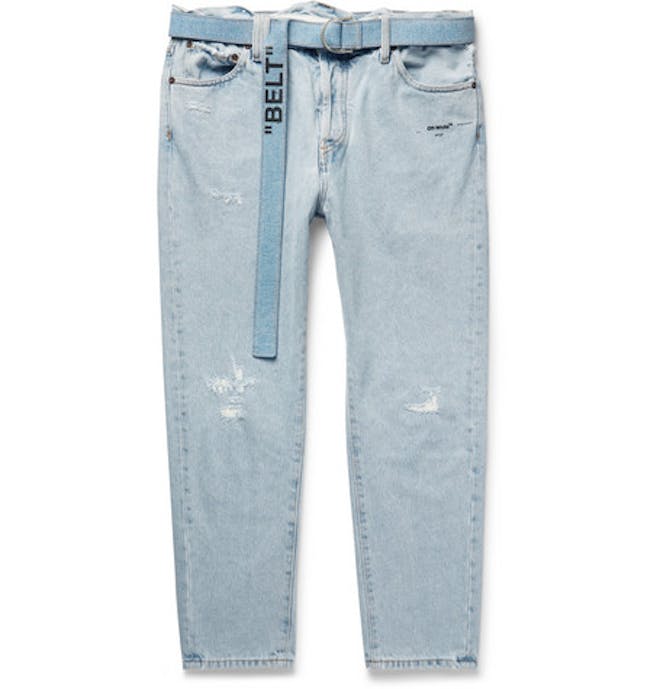 OFF-WHITE Tapered Belted Jeans $625.00
Vintage inspired denim is not going away anytime soon and expect to see powdery blue like these popping up throughout 2019 as it was one of the biggest trends on the runways.
---
7/13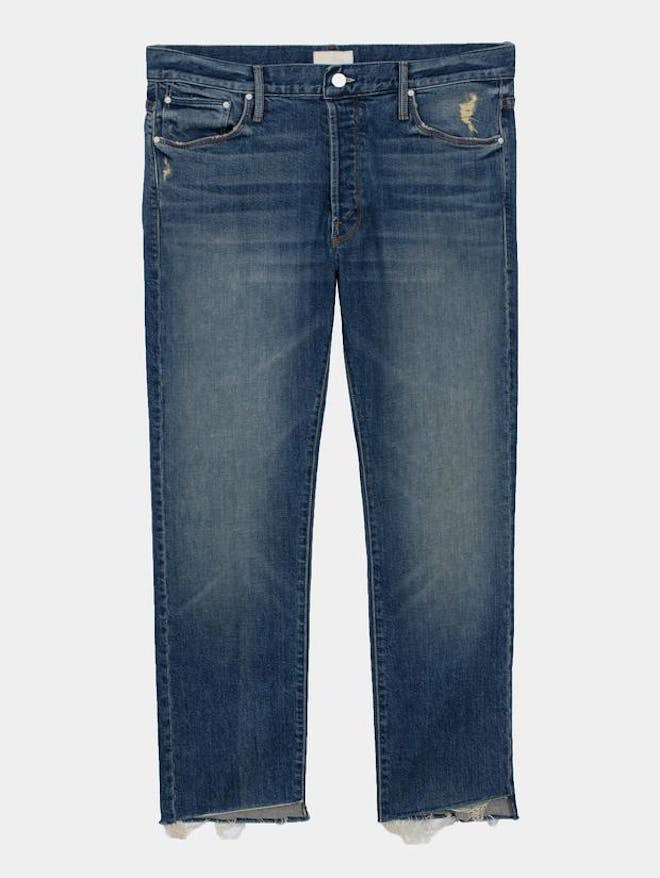 MOTHER The Neat Step Fray $228.00
A signature of MOTHER gifted over to the men's, their signature Step Fray. The angled hem gives a fresh feel to the raw hem that will still carry over to the new year. Making them the perfect style to wear with those high-top Chucks
---
8/13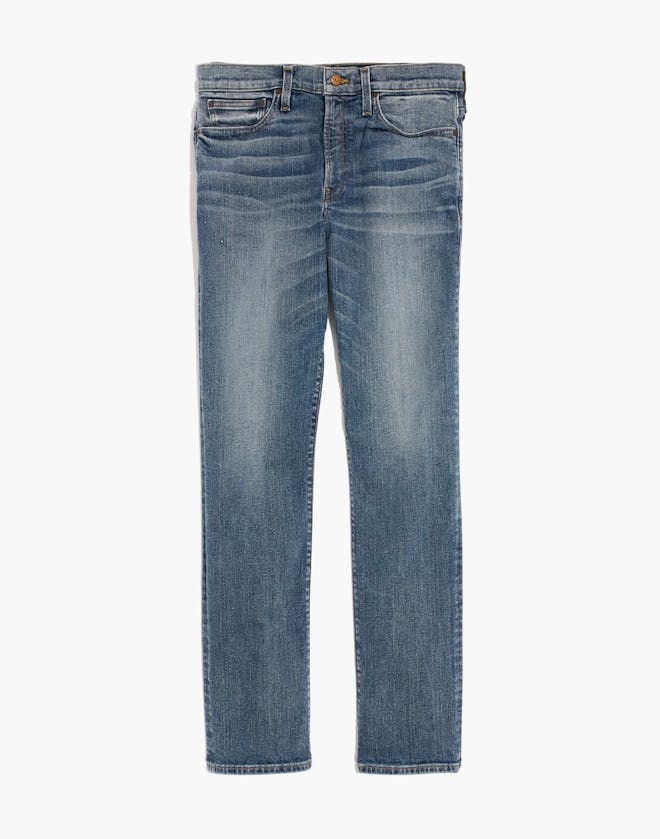 MADEWELL The Slim Jeans $128.00
If you are not looking to be bold this year and just looking for an update on quality, MADEWELL is the brand to help you transition into that. The Slim Jeans in Osgoode is a classic dark worn wash that will become your staple pair because it'll go with anything.

---
9/13
Straight Leg Jeans
Straight Leg Jeans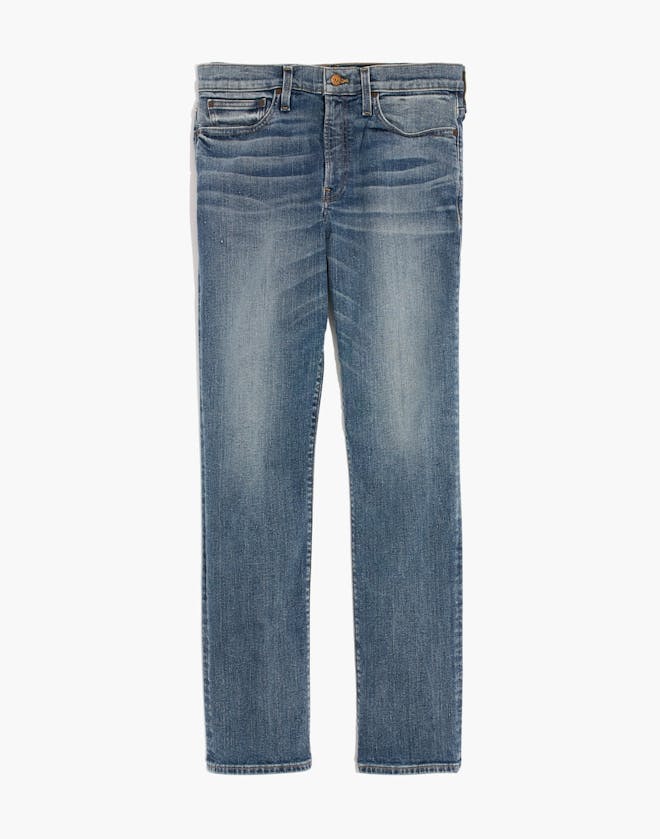 These are the straight cut that'll suit all body types. They have a balanced cut and come in a wash that is timeless and feels organic. The perfect style to dress up or down.
---
10/13
Black Jeans
Black Jeans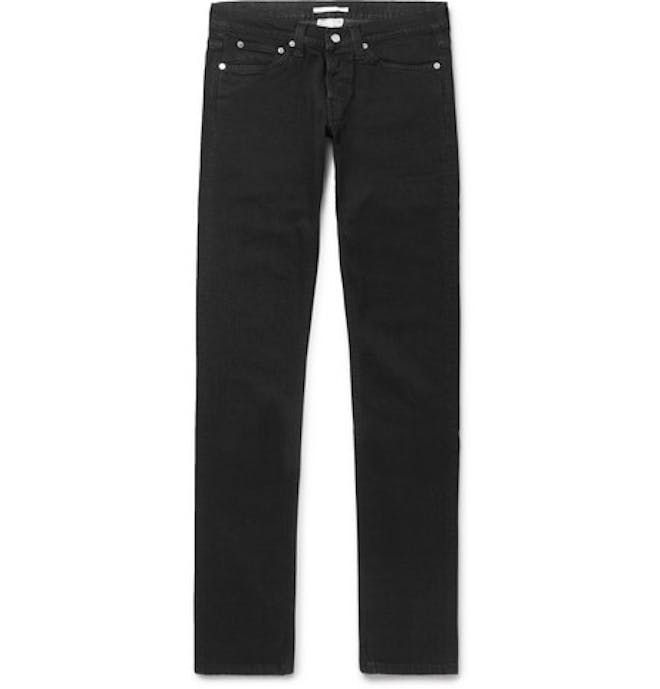 HELMUT LANG Masc Skinny Jeans $320.00
The core of the HELMUT LANG aesthetic is clininal. Clinical in the sense that the lines are always clean and minimal, like the Masc Skinny jeans here. They are the pair that you will be buying for their quality and craftsmanship.
---
11/13
Selvedge Jeans
Selvedge Jeans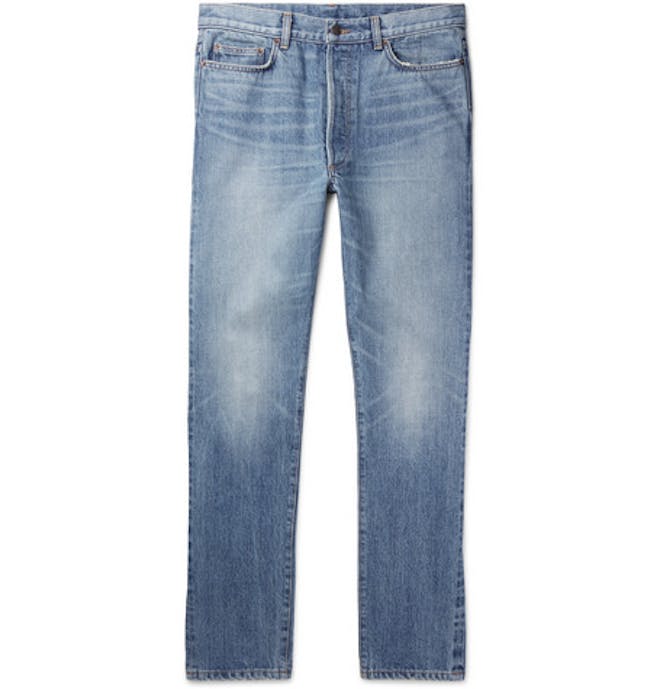 THE ROW Bryan Selvedge Jeans $750.00
Another brand that has a strong focus on minimalism, THE ROW. If you are having skinny jeans fatigue, try out this straight leg pair that is cut on the more generous side than slim. They have a cut that influences from the '90s without the overused grunge references attached.
---
12/13
Skinny Jeans
Skinny Jeans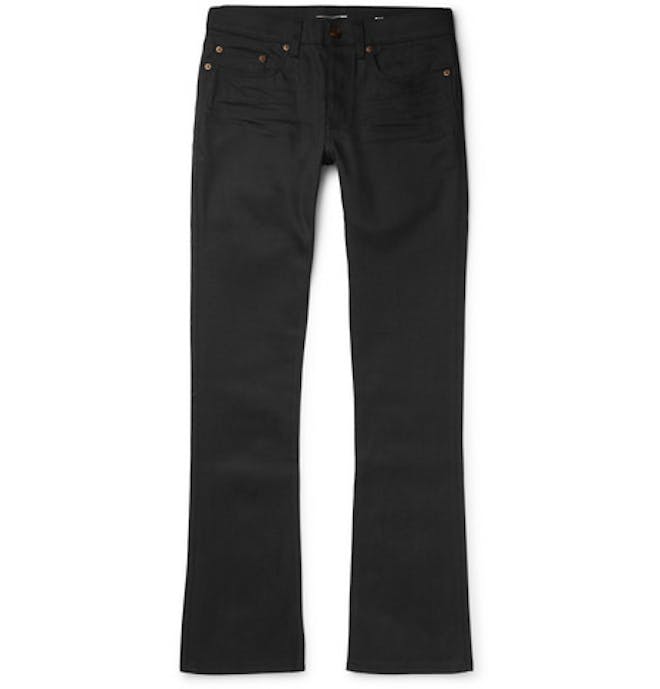 SAINT LAURENT Slim Fit Flared Jeans $690.00
One of the styles that will be causing some controversy this year, the bootcut or as SAINT LAURENT has named, Slim Fit Flares. They are an interesting pair for the alternative guys to try out. They are against the grain to what is expected and will bring a new vibes to your usual black skinny.
---
13/13
Waxed Jeans
Waxed Jeans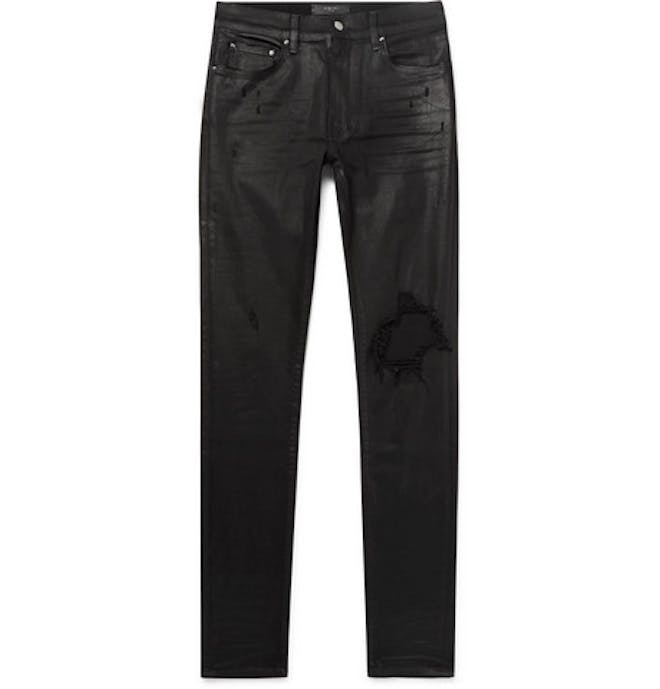 AMIRI Skinny Fit Waxed Distressed Jeans $750.00
Rock is the core of the AMIRI look. With these they offer some more attitude by giving their distressed jeans a leather like coating giving sheen and even more edge to just distressed black jeans.
---
Denim Shirts
For all you Jay Leno lovers out there, here are the denim shirts to complete your look.
1/2
Best Denim Shirt for Men
Best Denim Shirt for Men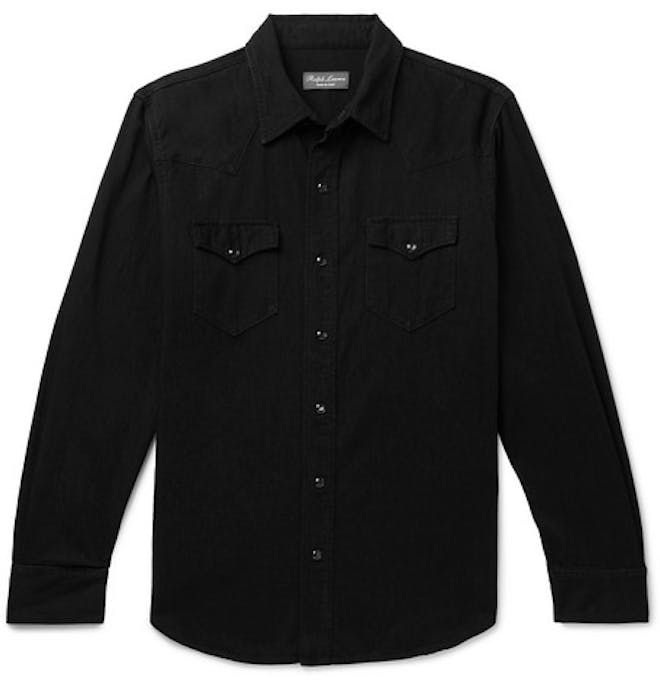 RALPH LAUREN Denim Western Shirt $525.00
You can never go wrong with Ralph Lauren and a style to try out this year, is the black denim shirt. We are talking about one that is pitch black and untouched. It's time to give those worn washes a break and try this clean take on the timeless staple.
---
2/2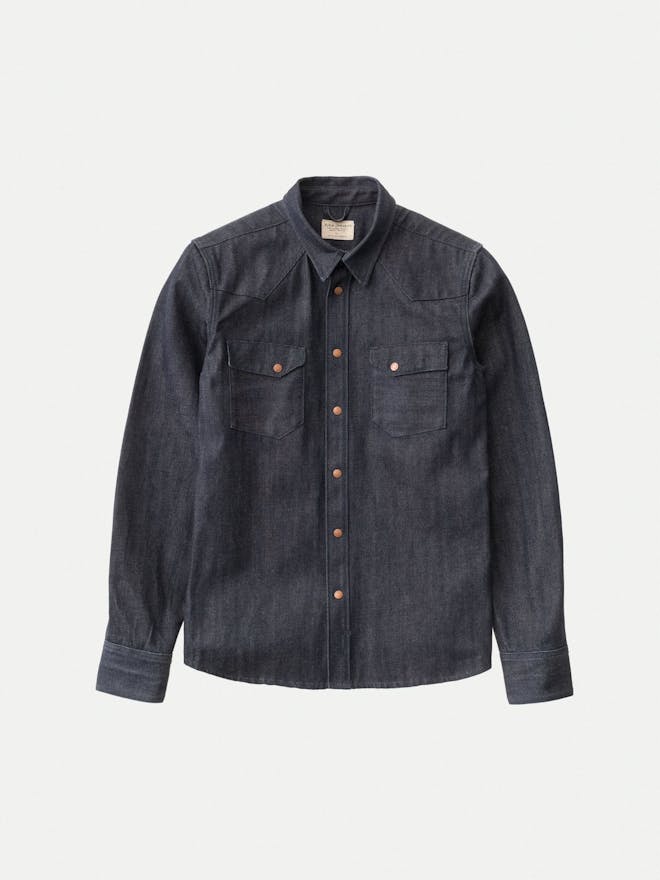 NUDIE JEANS Jonis Shirt $299.00
This is the perfect raw blue denim shirt made of a dry Japanese selvedge that will break in beautifully, but until then, it'll be the perfect pairing with some dark denim for a monochromatic look.
---